Hide Bonus Offers
| | | | | |
| --- | --- | --- | --- | --- |
| #1 | Bovada Sports | 50% Up To $250 | Visit Site | Bovada Sports |
| #2 | BetUS | 125% Up To $2,500 | Visit Site | BetUS |
| #3 | MyBookie | 100% Up To $1,000 | Visit Site | MyBookie |
| #4 | Everygame | 100% Up To $500 | Visit Site | Everygame |
| #5 | BetOnline Sports | 60% Up To $1,000 | Visit Site | BetOnline Sports |
8 Reasons Why Bovada Is a Legit Sportsbook

Anyone who has considered gambling on the internet is faced with selecting a safe, secure, and honest site. Horror stories abound, particularly from the industry's first couple of decades, when it seemed most online casinos were taking the Wild West nature of the internet quite literally.
No sheriff in town? Let's have a party—and make the shills pay for it. And pay we did.
We all learned to ask questions that we used to take for granted. In fact, we learned to ask plenty of questions.
So, we at GS have come up with a handy checklist of why we might—or might not—patronize a given online gambling site.
Length of time in business
Average rating across review portals
Number of other people using their site
Certifications/Licensure
Gaming Software
Quality of Customer Service
Ease of Deposit & Withdrawal
Social Media Presence
But how does this apply to Bovada? If you're wondering if Bovada is legit or not, I'll do the heavy-lifting for you.
Bovada Has Been in Business for a Long Time
Bovada was originally the America-facing part of Bodog, a reputable and long-lived online poker room and sportsbook. Bovada then separated officially from Bodog on December 14, 2011, to become a stand-alone entity concentrating on serving US players' gaming and gambling needs.
At that time, the American online gambling marketplace was beginning to blossom. Bovada had to work hard to please its exclusively American clientele and conform to the legislative requirements of 50 separate jurisdictions.
Bovada was largely successful and currently serves patrons in 45 of those states.
Bovada (and all other offshore online gambling sites) are not permitted to operate in Delaware, Maryland, Nevada, New Jersey, and New York.
While residents of those states cannot set up accounts with Bovada, visitors who earlier established accounts in the permitted state can gamble online while visiting the excluded states.
For most US players who live in states that permit play on Bovada, the site is safe for US players—if, for any other reason, it must be safe for US players. It has no other source of revenue.
But that's not the only reason, of course. Read on.
Bovada's Online Reviews Are Glowing
While we could cite some of the many commercial sites reviewing Bovada (and lauding it, in most cases), I think the best way to get a read on what users think about Bovada is to read what actual users say about Bovada.
So, here's a sample of comments about Bovada over the past couple of years, all pulled from various amateur forums dedicated to online gaming.
"Long time player at Bovada… Won ALOT and also lost ALOT… Never once have I had a problem with getting winnings out or felt scammed by games at any point." — Lucky54
"I've honestly never really had a problem on Bovada. The deposits are usually super fast. Most time I get my payout with 2 days, sometimes as fast as like 12 hours. I would recommend looking into bitcoin though. Makes the process 1000 times easier." — Pigman02
"Never had a problem with Bovada been live betting on the site for years. " — iclapmoms
"I've been with Bovada for 8 years now and haven't had any issues with them what so ever. When you think about it..it totally makes sense that Bovada wants to double check your ID information when you win upwards of 10K. I would assume it's for safety reasons but Bovada is a good book IMO. Customer service is extremely helpful as well."
Our review of Bovada notes Bovada's trustworthiness and is "a reliable online gambling site for US gamblers. They consistently pay out players promptly and have never been part of a major scandal."
Safety in Numbers: Other Bettors Love Bovada
Bovada does not report its traffic, and third-party sources on the internet wildly differ in their estimates of Bovada's traffic.
Perhaps the best-known traffic-tracking site, Alexa (which is shutting down this year, alas), is reported to have estimated that Bovada serves about 3.4 million visitors a month.
Another estimate from Semrush.com says Bovada sees about 7.5 million visitors a month, staying on the site for 22 minutes.
Still another source, similarweb.com, puts that number of monthly visitors between 23 and 34 million, with an average visit time of around eight minutes.
Whichever of those estimates is closest to the truth; Bovada likely gets millions of visits every month because it is a legitimate and trusted gambling destination for US players.
Bovada is Officially Certified & Licensed
When it was part of Bodog, Bovada was licensed by the Kahnawake Gambling Commission in Canada. That licensure ended in 2016 when the tribal organization elected to end all association with Bodog and any associated entities, such as Bovada.
Bodog moved its domain to bodog.eu, ending its association with the Americas.
Bovada soldiered on as an exclusively US-facing gambling site and was later licensed by Curaçao, a Caribbean Island nation popular among online gaming entities. According to this site, some 450 online gaming entities are licensed in Curaçao.
They Have Certified Brand-Name Gaming Software
The legitimacy, fairness, and honesty of Bovada's poker room and sportsbook services' server-side backend have never been seriously questioned in more than ten years of 24-hour assistance.
I've found no complaints about either that would cause me alarm or choose a different venue. Most of those I have seen are of the "my pocket aces got rivered by a gutshot draw—that never happens IRL!" variety.
The 250-plus casino games—from slots and casino card games to keno and bingo—are all from heavy hitters in digital gaming: RealTime Gaming and Rival Gaming.
A third provider, BetSoft, originally had games on Bovada. Still, according to reports, questions about some of that company's progressive jackpots led Bovada to drop BetSoft games from its offering. It's comforting to see a company reacting so strongly to even the appearance of impropriety.
Their Customer Service Quality is Top Notch
Having attempted to resolve multiple problems on various other online casino websites, I can attest to the importance of a fully functional and beneficial customer service department.
Bovada has several routes to problem resolution open to its patrons.
Live Online Chat
Their live online chat is a good first resort when you need a quick answer to a question. Bear in mind that while this is probably the fastest access, you'll get to Bovada's customer support, it's also the lowest end.
These folks are trained to fix widespread problems and answer simple questions. Think of them as Bovada's school nurse. They might be able to give you a bandage for your boo-boo or aspirin for your headache, but they're probably not qualified to provide you with a liver transplant.
Be realistic in your expectations.
Toll-Free Phone Customer Support
Their +1-888-263-0000 support number is your next stop. The toll-free number gives you access to actual live human beings who answer those calls 24/7.
This is the main place for accounting problems, complaints, or other resolutions.
Wait times are in the three-minute area, moving up to around seven minutes during peak usage.
If you're curious to know what your wait time could be if you called them right now, check this site.
Bovada Deposits and Withdrawals Are Safe, Fast, and Accurate
If your primary reason for asking the question "Is Bovada Legit" concerns how trustworthy they are when handling your money, this is the section you're looking for.
Deposits
Bovada accepts Bitcoin deposits and most major credit cards, including Visa, Mastercard, and American Express. You might be required to fill out a credit card verification form and may need to provide identification (particularly with your first deposit).
Your deposits are processed correctly and with dispatch. You'll also receive notification of any bonuses your deposit has earned you.
Like all other gaming sites, those bonuses will be paid out after a set amount of gaming. Any errors or delays in properly disbursing those bonuses have permanently been corrected quickly, as far as my review of complaints could discover.
Withdrawals
Like many online operators—gambling and otherwise—Bovada is moving toward increased use of Bitcoin and other digital currencies, so it's no wonder that the fastest way to withdraw funds from your Bovada account is via Bitcoin.
I've looked at numerous pro-level gambling sources to see what they thought of Bovada's accounting practices. The consensus is that Bovada is as trustworthy as your local bank to handle your money safely.
If you're curious about the specifics of withdrawals, here's an excellent how-to. According to reports, Bovada's BTC (Bitcoin) payouts complete within an hour.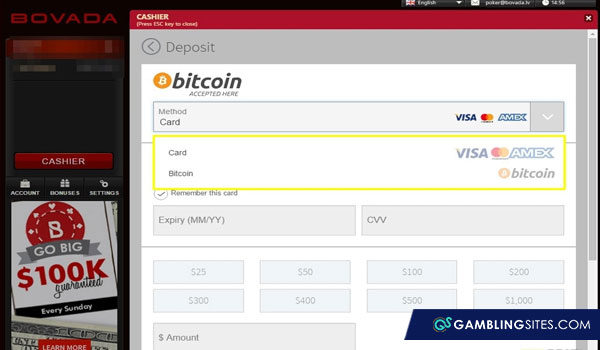 If you're still wondering if Bovada is safe after reading all of that, here's the skinny; yep!
Their Social Outreach is Strong & Engaging
You might be wondering how social media presence affects our perception of the legitimacy, honesty, or safety of Bovada. By way of explanation, let me pose a scenario:
Imagine being criticized in private, loudly, and in a crowded restaurant. Which is more damaging, or at least, more humiliating?
Imagine how committed a company has to be to put its problem resolution system on public display to frame that quandary better.
Bovada on Twitter
So Bovada has several accounts on Twitter. The main one, @BovadaOfficial, is where the company carries on a lively conversation with users and non-users alike.
There's also @Bovada_Casino, who focuses on all things, um, casino-y on Bovada. Then there's @BovadaPokerRoom, which probably has something to do with… well, you get the point.
You can always reach out to Bovada directly on Twitter, or just follow them for some clever tweets.
The Bovada Forum
If you like some in-depth info, you can always visit their forum, community.bovada.lv.
It's an excellent place to find actual Bovada customer reviews, rather than the anonymous sniping you often find elsewhere.
There, you'll also find patrons posting questions and criticisms of various site features—and you'll see the responses of Bovada representatives.
For my money, that feature —and the transparency it provides—goes a long way toward demonstrating Bovada is legit, a company committed to providing its customers with a quality gambling experience.
For a company to open itself up to public comment on the internet is, to my mind, an accurate indication that the company wants to deal with your complaints. And even better, it is willing to let the world watch while it works.
So, does Bovada's presence on social media and their forum answer the question "Is Bovada legit"? Not entirely, of course, but it does add some real depth to the perception that Bovada takes the good opinion of its customer base quite seriously, indeed.
Is It Safe to Bet at Bovada?
Let's face it -nobody wins every spin. Nobody has a 100%-win rate picking the ponies. You're a gambler, and you understand risk, and you know it is part of the gambling experience, as it is of life.
You ask that the game isn't rigged, the dice aren't loaded, and the RNG algorithm doesn't skew the cards. You'd probably like it if your money was handled with the same reverence and integrity your bank does.
I find Bovada impressive in all those circumstances. I'm not saying the company doesn't make mistakes, and I'm not saying every customer is delighted. That has never happened for any entity, corporate or otherwise, in the history of ever.
I am saying that Bovada has committed real resources and real money to ensuring that American gamblers have the best experience they can on their site.
A Final Comment
One last illustration that Bovada does take its customer base's good faith and goodwill seriously: In 2021, a sparsely clothed fan streaked the fourth quarter of Superbowl LV.
There was a prop on Bovada's sportsbook concerning the game, to wit: "Will a fan run onto the field during the game?" Coincidentally, the streaker made that bet—by his admission shortly after being removed from the field. To the tune of $50,000 (or so he said).
Bovada promptly refunded all the "No" wagers on the prop. And it paid all the "Yes" bettors, as well.
Except for one, of course: The streaker himself.
A spokesman for Bovada told reporters, "All of our players are on a level playing field, so if you bet 'NO' on this market, we will refund your bet."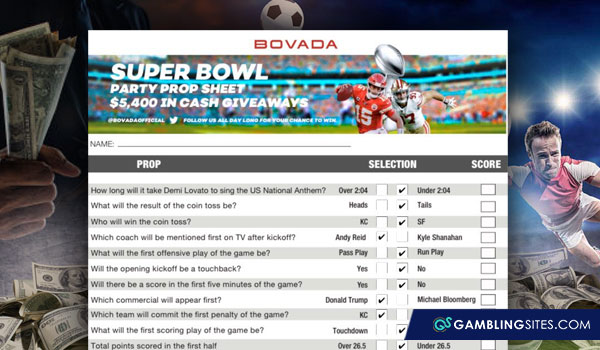 Additionally, we're honoring all those 'YES' wagers we've determined to have had no part in the betting irregularities. We'll be reaching out to all those players impacted by this event shortly."
That Bovada recognized both the victimhood of the "No" bettors and the innocent victory of the" Yes" bettors—even under such circumstances—says a lot about their integrity.
Is Bovada legit?
Yes, it is.
Of course, you don't have to just take my word for it. While I did break down why Bovada is legit, you should take a look and decide for yourself. Whether you're interested in further vetting or you're ready to bet, visit Bovada now.