Hide Bonus Offers
| | | | | |
| --- | --- | --- | --- | --- |
| #1 | Bovada Sports | 50% Up To $250 | Visit Site | Bovada Sports |
| #2 | BetUS | 125% Up To $2,500 | Visit Site | BetUS |
| #3 | MyBookie | 100% Up To $1,000 | Visit Site | MyBookie |
| #4 | Everygame | 100% Up To $500 | Visit Site | Everygame |
| #5 | BetOnline Sports | 60% Up To $1,000 | Visit Site | BetOnline Sports |
4 Reasons Why Tony Romo Isn't Done Just Yet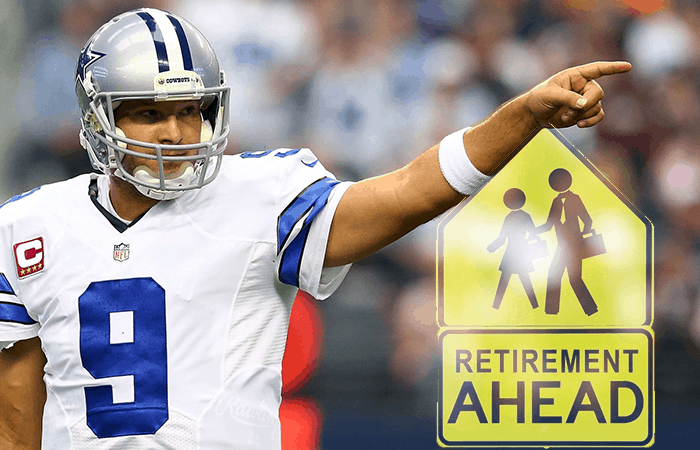 The NFL is set to lose another iconic player, as reports have emerged that Dallas Cowboys star quarterback Tony Romo is leaving the league for a career in sports media.
ESPN's Adam Schefter has reported that the Cowboys will release Romo, who will opt for a career in sports broadcasting, rather than pursue a starting position with another team in pro football:
Tony Romo is leaving football and going into broadcasting, even with Dallas planning to release him today, sources tell @toddarcher and me.

— Adam Schefter (@AdamSchefter) April 4, 2017
Furthering the reports of Romo's decision, Sports Business Daily has reported that Romo has agreed to a deal with CBS and is set to replace Phil Simms as the broadcast's lead NFL analyst.
As things stand, it looks like Romo is officially out of Dallas and has no intention to pursue his playing career. However, with Romo still only set to turn 37 in late April, is it possible this isn't the last time we've seen him grace an NFL field? Perhaps, and here's four reasons why:
He Can Still Play
Romo is likely motivated to retire from the NFL for three reasons: he has a sketchy history with back injuries, he might not love the idea of playing for a team other than the Cowboys and the money/situation elsewhere just isn't right.
There's also the possibility that for some reason Romo simply isn't wanted. That all potentially being true could derail any thoughts of a Tony Romo comeback, but for now we can at least hang our hat on the fact that the guy can still ball.
Last we saw him during a full, healthy season, Romo put up 34 touchdowns against just 9 interceptions. His 2015 season was marred by injury, but he returned to full strength after a back injury last preseason and looked sharp in his last appearance (even throwing a touchdown) in the 2016 week 17 regular season finale.
A healthy Romo is still an effective Romo, as he still has high level mobility, can make every throw from within the pocket and still has plenty of velocity on his throws. Romo wanting to play is obviously in question, but his ability to perform really shouldn't be.
He Will Be Needed
Romo can still play, but he may not want to. That doesn't mean teams won't come calling. If they aren't already, they could eventually. Denver and Houston can say what they want, but the reality is they are two title contenders with a strong option under center. They don't currently have that, so not chasing after Romo seems a bit silly.
There had been previous reports that suggested Romo only wanted to play for the Texans, while when the Tony Romo rumors first began the Broncos apparently topped his list. It's worth wondering who else Romo would keep an open mind to play for – especially if a big injury opened the door to an ideal situation.
Teams like Arizona, New York, San Francisco, Jacksonville and so many others could come calling, depending on what their quarterback depth charts winds up looking like.
He'll Get the Itch
Where Romo could wind up if he indeed opts to return is anyone's guess and whether or not he acts on any desires to return is also a toss-up, but the idea that he'll have an easy time ditching pro football is a joke. Romo has always loved playing football and he can't enjoy the idea that his time in Dallas (and the NFL) ended due to injury and being supplanted by a guy that is now the face of the franchise that he was once the poster boy for.
Beyond all of that, Romo will want to flat out play again. That doesn't mean he will return, but Romo will miss the game and if he doesn't keep himself distracted with his new job or other activities, he may find potential openings interesting down the road.
That's the other angle to consider here. Romo can take all of 2017 off and still ponder a return to football. Some are speculating that Romo unseating Simms at CBS suggests he's in it for the long haul, but we've seen broadcasting shakeups in the past. Should Romo change his mind and find a team that wants him that he wants to play for, no contract is going to keep him from doing what he wants.
He Can't Go Out Like This
The driving force behind anything Romo does with the NFL going forward has to be finding a way to orchestrate a better ending to his career. Romo was still an elite level passer just a couple of years ago and if he can just stay healthy, it's quite arguable that he can still be that guy.
Whether Romo believes that or not isn't the point, though. If his ego gets in the way of logic or the risk of further injuring himself, Romo could eye a Super Bowl run with a contender or take any job to put up some more numbers and deliver a better ending that the one he's currently settling with.
Tony Romo Prediction
As interesting as a Tony Romo return could be, the odds are a big deal with CBS cements his retirement from the NFL. Romo is a quality personality and he knows football, but he also knows that a protected future is far better than an uncertain present.
A lot had to go into Romo's decision, but he probably didn't want to leave Dallas, he had to have concerns about his back and he had to be wanted by his new team enough to get proper compensation, be handed the starting job and also feel like he's playing for a real shot at a title.
For whatever reason, the right combination wasn't there for Romo and he opted to only play for the Cowboys and go out on his own terms. That should lead to a comfortable long-term broadcasting job that he'll probably enjoy, be good at and make a nice living off of.
With this new gig, Romo still gets to be close to the game and he even remains somewhat in the limelight.
One interesting thought, of course, is if Romo's would-be interest in broadcasting is only lukewarm and designed to up his asking price for the Texans or Broncos. It's not that crazy to consider, as Romo could have this story leaked (or his agents could) and force Houston, Denver or any other interested teams to call his bluff.
If Romo had a specific salary in mind to risk his body further and help a team take that next step, this could be his last ditch effort to force them to give him what he wants. If not, it seems like Romo is comfortable with leaving the game behind for a job he probably wants at some point, regardless.
For now, it does look like Romo is done in the NFL and once he takes this broadcasting gig officially, we doubt he ever returns to the playing field. That opens the door to other veterans quarterbacks like Jay Cutler and Colin Kaepernick to fill roles moving forward, while also removing an awkward cloud from above Dak Prescott and Dallas, as a whole.
Romo seems content to us, but it's interesting to consider a potential return at some point. Do you think he's done? Think this report is a leak and he's positioning himself for his new team? Tell us your thoughts on Tony Romo's retirement in the comments below!