Real Money Scratch Offs to Play Online in 2020 – My 10 Favorite Scratch Card Games

You know how you used to have to go to the corner store to buy your lottery tickets, and you were limited to your own state's lottery? Well, that has gone the way of the dodo.
Now, you can pick numbers and play the lotteries of many states, right from an online casino. Better convenience (than a convenience store!) and a much broader selection of lottery games and jackpots.
Well, these same online casinos also offer you the opportunity to play real money scratch cards as well. Yes, you are probably wondering, "Well, how do you scratch a virtual scratch card?"
You can tap the options, and the hidden values will appear. You don't need a coin, but the play is exactly the same.
Here are my 10 favorite online scratch offs. These games offer frequent wins, provide visual appeal, and keep me coming back time and again. The themes range from sports to casino table games to fairy tales and other whimsical options.
Treasure Tree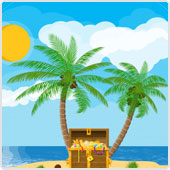 When you visit an online casino, you can often find real money scratch cards under "Specialty Games." Treasure Tree is an adorable—but potentially lucrative—scratch game.
Here is how it works. You place your bet and hit the "Play" button. That button gives you a fresh scratch card (an online image with multiple hidden amounts). Then, instead of looking for a dime and scratching off that shiny wax on traditional scratch cards, you simply tap, "Reveal All."
Many different options will appear, such as 10x bet, 20x bet, even 500x bet! If you receive three matching items (in the particular game I am currently playing), then you win that prize. You can also win free games.
PowerCash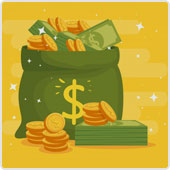 This game looks like more of a traditional scratch card than the cutely illustrated Treasure Tree game. However, what PowerCash has over regular, physical scratch cards is that on old-style, traditional scratch cards, there would only be one winning amount per card.
For instance, you would match three amounts, from $2 to $100 to $1000 or higher, and win that prize. But in the PowerCash online scratcher, you can win multiple amounts because cards can come with three of one win as well as three of another win, and even three matches for a third win on the same card.
This lottery style also differs from Treasure Tree in that in PowerCash, the winning amounts are set, just as with a regular scratcher. But with Treasure Tree, your winnings depend on how much you bet. For instance, a win in PowerCash will say "$100" or "100 Euros." But in Treasure Tree, the win will say, "10x your bet," or "100x your bet."
Thus, when I am betting a significant amount, I will play Treasure Tree, and when my funds are limited, I will play PowerCash.
Royal Poker
This is my favorite type of scratch off, but it is more interactive than the others. In the above two cards, Treasure Tree and PowerCash, you scratch all of the hidden areas to see if there are matches.
In Royal Poker, you are "dealt" two cards. What this means is that the card will already have two cards face up. Then, there are five cards arrayed above these two face-up cards, with their values hidden.
You are meant to choose three of the five hidden cards to determine your poker hand. If your three scratched choices create a winning hand with the two face-up cards, you win the prize associated with the hand.
For instance, three of a kind will offer a small win, but a royal flush will get you the jackpot. I appreciate this element of choice in a game; it just makes the whole experience more enjoyable.
Sudoku Panda
This game is also interactive to an extent, but you don't have a choice of scratch areas, the way you do with Royal Poker. However, because I am such a fan of Sudoku, I do enjoy this scratcher.
In Sudoku Panda, you are given a card that is a Sudoku board. Most of the numbers are filled in, but one square in each horizontal line must be scratched to reveal the number underneath.
If the number that you reveal by scratching is the one number needed to complete that line properly, you win the prize for that line. I enjoy this scratch card because it takes a little while to complete, and the graphics are appealing.
This card, unlike others I have seen, also has a "wild card" feature. If you scratch off a square to see if the correct number is hiding underneath, and you reveal a pawprint, that acts as a wild, and you automatically win that line and its associated prize.
Keep Smiling!
This real money scratch card uses emojis as game symbols. You are given eight sets of hidden emojis per card, and you scratch off each Post-It that hides the emojis. If the emojis in each pair match, you win the associated prize.
You do have the option to touch a button and have all the emojis revealed at once, but it's definitely not as much fun, in my book. This is a perfect scratcher to enliven your workplace. (But I didn't tell you that!)
Keep Smiling does offer some significant wins, in addition to more standard scratch card jackpots. If you enjoy seeing new emojis and having your day enlivened by something fresh and cute, this is the game I'd choose.
Master Mix
This scratch off game is fresh and clever. There are ten lines, offering ten chances to win. A wizard is shown on the left of the scratch card, holding one black ball and one red ball.
In each of the ten play lines, there are four open circles. As you scratch, these circles will reveal a certain pattern of black and red spheres. The arrangement of these balls will determine your winnings.
There is a list to the right of the scratch area that tells you which combination of black and red balls wins which prize.
The Fairy Tale
This scratcher shows a castle with five turrets, each with a window. You scratch each window to determine which character hides behind it. You may find a witch, a dragon, a fairy, a pirate, or other fairy tale creatures (including a genie, my personal favorite).
In this scratcher, the winning prize is set. There is only one prize offered per card. Thus, it does not have the number of wins available that some other scratchers have, but it is somewhat interactive, and I do appreciate the appealing illustrations.
Playing this scratcher makes me want to watch the live action version of Aladdin one more time. And that brings me to a good point. All of your gambling—whether poker or slots or scratchers—should create a good mood. The game should be so enjoyable that even if you don't win, you are enjoying yourself.
Thus, when I seek out online casinos, I look for those that offer games with high-quality graphics and engaging soundtracks. Scratchers won't have soundtracks, of course, but the latest slot music can be catchy, even impressive.
Horoscope
Horoscopes and jackpots? Sign me up. This scratcher offers all 12 signs of the western zodiac on the card. You choose which sign you want to play and are taken to a game unique to that symbol.
Naturally, I tend to choose my own symbol, Leo, but I will occasionally choose the horoscope symbols of friends and family, as well.
Once you choose your symbol, you will be presented with a sheet of four scratch cards. You then determine how many of those cards you wish to play. If you hit max bet, all four will be scratched for you.
Match three symbols on any card and win the prize on that card. What I like best about this game is that each symbol actually gives you a real horoscope. Today, my Leo horoscope tells me, "Do what you love, and all else will follow."
There is another scratch card with a similar theme, called "Zodiac." The art on this scratch card is well done, but because it doesn't give me a horoscope, I tend to choose the Horoscope scratch card when I am in a mystical mood. No patchouli necessary.
Super Hippodrome
This is one of a few real money scratch offs based on horse racing. The card will show a racetrack and horses lined up at the gate. There is an open field, and the starting gun is waiting on you to press "play."
Once you release the horses from the starting gate, a winning combination will show up on the screen. If any of your horses reach the finish line in the order required by the winning combination, then you win the prize. Several horses can come in in the proper places, and you thus have a chance to win as many prizes as there are horses.
I enjoy horse racing, and I also appreciate scratch cards that are clever and unique. Thus, this scratch card is a go-to for me when I haven't visited the tracks at Santa Anita, Golden Gate Fields, or the Downs in Albuquerque for a while.
Roulette
Just as I play Super Hippodrome when I can't be at the racetrack, so, too, do I play the Roulette scratch card when I am missing my online casino play. I love the casino "vibe," and scratch cards that feature roulette, poker, 21, and other table games take me to that space very quickly.
In this scratch card, there are five hidden numbers. Before scratching them off, you spin the roulette wheel. The ball will bounce until it comes to rest on a winning number.
Once the winning number is clear, you then scratch off all five numbers. If any of them match the winning number, you win the prize.
If you enjoy this scratch card but have never played roulette in a casino, know that the play is the same. There is nothing intimidating about casino roulette. You simply put your chips on your lucky number, the dealer will spin the roulette wheel, and when the ball stops, you will know if you've won.
This is a scratch card to choose if you want to be in Vegas, but circumstances are keeping you elsewhere. Buffet not included.
In Closing
There are more than 100 real money scratch cards online for you to choose from, and more are being introduced all the time. You will soon find your favorites. Shop around among online casinos, as the offerings will likely vary somewhat.
To get you started, here are our top recommended online casinos right now. They all offer to play scratch offs for real money.
AUGUST
Casino of the Month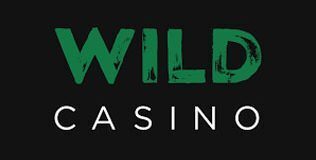 Welcome Bonus
250% up to $5,000
Read Review
Visit Site