Ranking All of the XFL Uniforms From Best to Worst

The XFL is a new football league that picks up pretty much as soon as the NFL wraps up for the season. The league is composed of eight teams from across the nation.
Some of our other writers are covering the XFL from just about any betting angle you could imagine, from predicting the XFL championship winner to early weekly betting lines to XFL DFS advice, all of which you can find grouped together in our XFL blog.
But in this post, I provide my commentary on a more colorful aspect of the new league: the uniforms we can expect to see. Below are all XFL uniforms and logos ranked from best to worst.
Note: the current popularity of superhero movies, comic book franchises, and books and films based on myth and history seem to be reflected in the uniforms of this new brand of football, which sets it apart from the NFL in this aspect, at least.
#1 – Seattle Dragons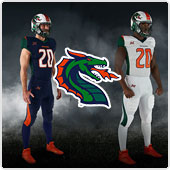 Colors are an eye-popping green and orange combination, occasionally on light grey or slate-grey background
Standout feature: Dragons on the helmets!
Seattle is home to some pretty cool sports art already. The stylized bird of the Seahawks logo is inspired by an ancient depiction of an eagle mask, from the Kwakwaka'wakw tribe of the Pacific Northwest. The logo for the Seattle Mariners is a compass, and the symbol of the Seattle Pilots, a long-gone baseball team, was a ship's wheel with angel wings, because pilot boats are the angels of any port.
So it should come as no surprise that Seattle's newest team has a pretty cool logo. The fact that it's a dragon exceeds all expectations, however. What kid is not going to want this gear?
The dragon is shown in green, with orange and dark blue accents, on a white helmet. It's spitting fire, of course. I'll be one of the first to get the ballcap version.
#2 – New York Guardians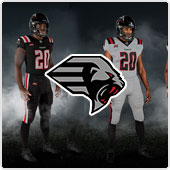 Colors are black, grey, and red
Standout feature: Gargoyles with razor-sharp teeth on helmets and sleeves
I am loving what is shaping up to be a mythologically rich league. Gargoyles reportedly protect a city from harm, hence the fit between the logo and the team name.
The colors could be ho-hum, but on these uniforms, they're punchy. The dark shirt and pants create impact. I suspect people who love to wear Raiders gear will gravitate toward the Guardians, for the faint air of menace the uniforms seem to create.
#3 – DC Defenders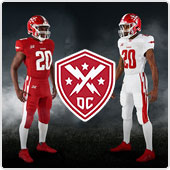 Colors are bright red, white, and black
Standout feature: Double lightning bolts on a shield with three stars (an expert in heraldry might say, "two embattled stripes with barbs, upon a field of blood, with stars of many rays in triplicate," or some such)
This uniform is cool for its simplicity, and, you know, for the shield. Dragons, gargoyles, and shields! I can't wait!
The helmet prominently features the lightning bolts, white on a red background. The shield, in conjunction with the acronym "DC," is going to have people thinking of comic books and superpowers.
#4 – Tampa Bay Vipers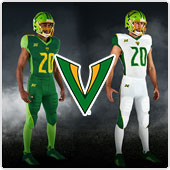 Colors are lime green, grass green, gold, and white
Standout feature: Bright colors, unique in a world of blues and reds. Also, snakes are cool and scary
This XFL team has two logos. One is a capital "V" colored in grass green and gold. The lines are sinuous and eye-catching. The team also has gear that sports the face of a viper, fangs bared.
The helmet is lime-green, with the green-and-gold "V" emblazoned on each side. The viper logo has been seen on a few game jerseys, but not all. We'll have to see what the team decides on for home and away uniforms. However, the snake pic is on ball caps and other Vipers gear.
This XFL team's jerseys will either be white with green accents or green with gold numbers. Either way, the lime helmets will make this an easy team to watch.
#5 – Dallas Renegades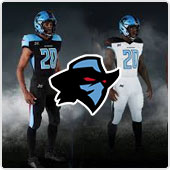 Colors are light blue, black, and red
Standout feature: The menacing, red-eyed bandit on the helmet
The colors are a bit ho-hum, given that blue is probably the most-favored color for sports jerseys (along with red and white). But the uniform is saved from blandness by the logo on the helmet and also the game pants, which at this point are slated to be black with a blue triangle lined in red on the outside of each thigh. When worn with the black game jersey, it's a powerful combination.
There's something about monochromatic sports jerseys that feels more imposing than uniforms where the shirt is a different color from the pants. Remember the USSR hockey team from the 1980 Olympics, with their all-red uniforms, looking superhuman and terrifying?
#6 – St. Louis BattleHawks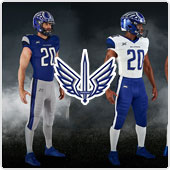 Colors are royal blue, navy blue, and grey
Standout feature: The team name is striking, and the winged helmet is eye-catching
Who doesn't want to support a team with the name the BattleHawks? But the uniform is blue, blue, and more blue. With a little grey thrown in to liven things up. I like when teams — like the Vipers — shake up the status quo a little bit.
The helmet has a notable design, with grey and white wings on a royal blue background. The royal blue is brighter than what we typically see on field, and that's a nice touch. If the entire uniform were this color, it would be a standout uniform, and if the jersey had wings on the shoulders, even better. But so far, the jersey looks to be white with blue numbers, with nary a tattoo-esque wing to be seen.
#7 – LA Wildcats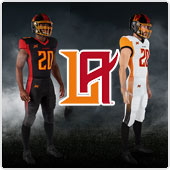 Colors are orange, red, and black
Standout feature: The color scheme is excellent, but their logo disappoints
I love Los Angeles, I love big cats, and I love this team's colors. But its logo is a capital L and a capital A. Seriously? In a league of vipers and dragons and comic book shields, I expect a little more from a team that makes its home in the land of Disney and Hollywood and perfect, Technicolor sunsets. Yeesh.
Granted, the uniform is pretty impressive, with black bottoms and tops with orange numbers. But the alternate version, the white jersey with orange numbers, is not at all memorable. Orange with red numbers would make more impact and be more intimidating on the field.
One final word: There are four vertical stripes on the helmet that could signify a wildcat's slash, but it's not obvious enough that that's what it is. Just looks like stripes. I would have had the rest of the helmet peeling back, as if from a wound, but I wasn't consulted.
#8 – Houston Roughnecks
Colors are navy, grey, and red
Standout feature: Reworked Houston Oilers logo
Rather than going with something new, something cutting edge, as the teams at the top of my list have done, this team is going with a symbol that's already familiar to the Texas football crowd: the derrick that was the symbol for the Oilers for more than 20 years.
Sometimes retro throwbacks are fun and engaging, but this one doesn't do anything new and interesting with the theme. The team ends up looking like "the Oilers' Second Chance."
I'm disappointed. Texas is huge, it's proud, it's recognized the world over. Why not a white rhino? That would be a killer symbol to denote a powerful team. But there are no rhinos in Texas. Oil it is! They'll just have to hope the OPEC countries don't create an XFL team.
I will admit that the stars on the sleeves of their game jerseys are unique. If there was any doubt these players were from the Lone Star State…
In Conclusion
Merchandise sales are going to be a strong source of revenue for the XFL and its franchises, I surmise. I already want several of the caps and a few shirts. That's even before I know which team I support or even before getting a good look at which team to target when betting on the XFL.
Some of the swag is just so dang epic.