Hide Bonus Offers
| | | | | |
| --- | --- | --- | --- | --- |
| #1 | Bovada Sports | 50% Up To $250 | Visit Site | Bovada Sports |
| #2 | BetUS | 125% Up To $2,500 | Visit Site | BetUS |
| #3 | MyBookie | 100% Up To $1,000 | Visit Site | MyBookie |
| #4 | Everygame | 100% Up To $500 | Visit Site | Everygame |
| #5 | BetOnline Sports | 60% Up To $1,000 | Visit Site | BetOnline Sports |
Ranking the Most Overrated UFC Fighters of All Time

Who are the most overrated UFC fighters of all time, and why?
This question gets thrown around by fans quite a lot. And invariably, someone jumps straight at Conor McGregor. And while questions concerning if McGregor is the most overrated fighter of all time are valid, would you be surprised to learn that there are others I'd put before him?
Overrated UFC fighters are ten a penny, and fans and pundits tend to get carried away with rating some of them. We have seen hype trains derailed spectacularly, and others with so much potential fall apart like a cheap suit when put to the test. But some have gone way overboard where the following athletes are concerned.
Let's get this ranking list of the most overrated UFC fighters in history with a name that might make some gasp in horror.
13. Holly Holm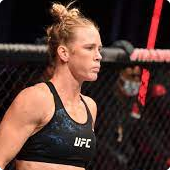 Nationality: American
Division: Women's Bantamweight
UFC Titles: One
She was a destroyer in the boxing ring and one of the greatest female pugilists of all time. She has great hair and seems like a cool person.
Holly Holm is a lot of things. And that includes being up there with one of the most overrated UFC fighters in history. Of course, that is tough to swallow for fans of "The Preacher's Daughter," so allow me to explain why she's on this list.
First, the New Mexico native lost to every true high-level fighter she fought inside the Octagon. That is if you discount Ronda Rousey. Will we be discussing if Ronda was overhyped? Maybe. But let's stick to the woman who effectively ended her career.
| | | | |
| --- | --- | --- | --- |
| Event | Opponent | Result | Date |
| UFC 239 | Amanda Nunes | TKO (head kick and punches) | July 6th, 2019 |
| UFC 219 | Cris Cyborg | Decision (unanimous) | December 30, 2017 |
| UFC 208 | Germaine de Randamie | Decision (unanimous) | February 11, 2017 |
| UFC on Fox: Holm vs. Shevchenko | Valentina Shevchenko | Decision (unanimous) | July 23, 2016 |
| UFC 196 | Miesha Tate | Technical Submission (rear-naked choke) | March 5, 2016 |
Besides that, a huge betting upset over "Rowdy," Holm has never beaten a true championship-level fighter in the UFC. Not one.
Yet, some talk about the former world champion as if she was an all-time great. She's not. Her predictable style and penchant for losing when it matters most make her one of the UFC's most overrated fighters in history.
A champion without a single, successful defense, Holm will always be remembered for one of the most satisfying victories seen in the sport of mixed martial arts. But if you don't believe she is also among the most overrated MMA fighters of all time, think again.
12. Cody Garbrandt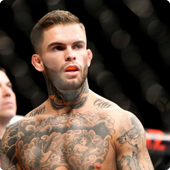 Nationality: American
Division: Bantamweight
UFC Titles: One
At one point in time, it seemed unlikely that we would have been talking about Garbrandt in the context of the most overrated UFC fighters.
It felt special when "No Love" put on a clinic to dethrone the great Dominick Cruz at UFC 207 in December 2016. Few had expected him to beat Cruz, let alone make an absolute mockery of him. It felt like something special, and Garbrandt was touted as the future.
Cody was now set for superstardom with the UFC bantamweight title around his waist. All he needed was a rival to help aid his rise to the top. And he got his, in the form of former teammate, T.J. Dillashaw.
A fight was set for UFC 217 in November 2017. Dillashaw stopped Garbrandt in two rounds. But fans found a way to make excuses for No Love. Even when Dillashaw stopped him for the second time, they continued to attempt to mitigate damage.
Pedro Munhoz revient face à José Aldo ce samedi.

Retour sur le KO qu'il a infligé à Cody Garbrandt ?pic.twitter.com/FBSNMEQaU3

— ARENA (@MMArena_) August 4, 2021
Unfortunately, Garbrandt would lose a third-straight fight. This time by vicious KO at the hands of Pedro Munhoz. It was clear that the American was struggling, but it wasn't just down to confidence, as some suggested.
A sensational knockout win over Rafael Asssunscao gave him his first victory since becoming the bantamweight champ, but Rob Font outclassed the one-dimensional puncher in his next outing.
Garbrandt decided a move down in weight could re-ignite his career. Kai Kara-France stopped him inside the first round.
I have no concerns about adding Cody to this list of the most overhyped fighters in UFC history. While he was unfortunate to emerge at a time when the UFC's promotional machine was in full hype mode, he was never as good as some thought.
One swallow does not make a summer.
11. Donald Cerrone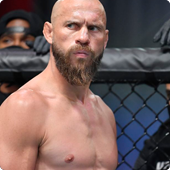 Nationality: American
Division: Lightweight/Welterweight
Titles: None
From "No Love" to dearly loved, Donald Cerrone is a fan favorite. One that you had better watch your mouth with where diehards are concerned.
Is "Cowboy" Cerrone overrated, though? Let's be honest here — he's one of the most overrated UFC fighters of all time. And his place on this list is difficult to argue against.
Although an all-action legend of the game, most of what fans love about Cowboy has little to do with the effectiveness of his style. An excellent kickboxer with underrated grappling skills, Cerrone was never championship level. Neither at lightweight or welterweight.
Of course, that's not to say he didn't have his moments. Wins over top-level guys like Eddie Alvarez, Charles Oliveira, and Benson Henderson are standouts.
He had an excellent eight-fight streak between November 2013 and May 2015 to earn him a shot at the lightweight title against Rafael dos Anjos. Unfortunately for the Minnesotan, he folded like a hot bar of chocolate when his big moment arrived. – Standout
A great fighter and a truly awesome guy, Cowboy was one of my favorite competitors to root for in the promotion. But unfortunately, he was a little oversold.
The latter stage of his career saw him become arguably the most beloved gatekeeper there was, and he stepped up when the call came. But facts are facts. If we're talking about the UFC's most overrated fighters in history, I can't look past him.
10. Anthony Pettis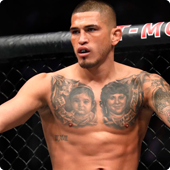 Nationality: American
Division: Lightweight/Welterweight
Titles: One
Like Cerrone, Pettis is another fighter that was overrated in the UFC beyond their true strengths.
Alongside his stints at 155 and 170, Pettis competed at featherweight and even challenged Max Holloway for the interim title before stopping in the third. A champion of both the UFC and WEC lightweight divisions, it would be wrong to say this guy was a dud.
But as for one of the greats? No, I don't believe even the most ardent fanboy of Pettis would be as bold as to suggest that. However, his prowess inside the cage was, at point, overblown when compared to his skillset.
Pettis was a very flashy and entertaining striker. One, you might say, who deserved the "Showtime" moniker adorned on him. But he was also very impulsive and capable of making the silliest of mistakes. These will ultimately lead him to nine losses under the UFC banner if you count his loss to Clay Guida on The Ultimate Fighter.
A truly entertaining mixed martial artist. But the hype around this guy, especially between 2011 and 2015, was ridiculous. Although I loved watching him when he was in form, Pettis remains one of the most overrated fighters in UFC history.
9. Miesha Tate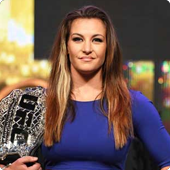 Nationality: American
Division: Women's Bantamweight
UFC Titles: One
While we're taking names of the most overrated UFC fighters, how's about ol' "Cupcake" herself?
Miesha Tate won a UFC bantamweight title by beating Holly Holm, which led some to believe she could finally replace Ronda Rousey as the face of women's MMA. But those plans were quickly put to rest when Amanda Nunes submitted her at the 3:16 mark in the first round of their title fight at UFC 200.
Nunes went on to cement herself among the true greats of the sport. Miesha, however, retired straight after that loss at just 29. -Standout
While that was her decision, and it was one to be respected, it did highlight Tate's mental fragility. If she didn't back herself to put in the hard work and try again, some believed she was just not cut out to be a fighter.
Now, that is ridiculous. Tate was good. She just wasn't that good. The former champion's talents were superbly exaggerated by some who recognized her as the rival of Ronda Rousey and somehow surmised that this made her elite-level.
Tate beat just one elite female in her career in Holly Holm. You may recognize that name from the first entry on this list of the most overrated UFC fighters of all time.
She made a comeback in 2021, beating 44-year-old Marion Reneau before losing to Ketlen Vieira.
8. Vitor Belfort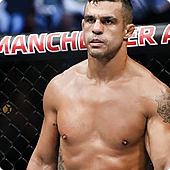 Nationality: Brazilian
Division: Middleweight/Light Heavyweight
Titles: One
Who woulda thunk it?
Putting Vitor on a list of overrated UFC fighters isn't as sensational as some would have you believe. Sure, he was a former champion who was instrumental in the rise of mixed martial arts. As well as competing at middleweight and light heavyweight, Belfort also competed at heavyweight.
Another excellent fighter who was just severely overrated by fans. What's worse, there are numerous reasons to believe that Vitor Belfort was a cheater. Several failed drug tests and the whole "TRT Vitor" thing don't sit well with me.
When the UFC hooked up with the United States Anti-Doping Agency (USADA) in 2015, many fighters looked very different. Both in terms of their abilities and their physiques. No one stood out quite as sore as Belfort, however.
Belfort has taken flak from all quarters for allegedly bending the rules throughout his UFC career. But even at the times when it was alleged that he was juicing, he still failed to carve out a legendary run. Yes, he won the light heavyweight strap under the promotion's banner in 2004 against Randy Couture. Only to lose it to the American less than six months later.
Belfort lost every other title shot he had in the promotion. But what matters most is that his biggest wins will always be dubious.
Still, years after leaving the UFC, Vitor Belfort is one of the most overrated MMA fighters of all time. And I don't understand why.
7. Conor McGregor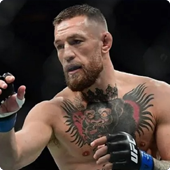 Nationality: Irish
Division: Featherweight/Lightweight
UFC Titles: Two
Is Conor McGregor overrated? If the answer is yes, surely McGregor is one of the most overrated UFC fighters in history?
Look, we all know McGregor is overrated. Ask any Conor hater, and they will tell you that. But beyond the whole fiasco about the "Champ-Champ" never defending a title, many overlook the nuts and bolts of why "The Notorious" is overrated.
First, this nonsense about the Dubliner being a crap fighter is headshaking dumb. At featherweight, he was phenomenal, beating the likes of Max Holloway, Dustin Poirier, and Chad Mendes en route to the title. His 13-second KO of Jose Aldo is the fastest knockout win in UFC title fight history.
However, when McGregor moved up in weight, things were not the same. There is a reason for this, of course. And anyone who knows the strengths and weaknesses of Conor McGregor will know why.
At 145, the Irishman enjoyed a sizeable reach advantage over most of his opponents. This, combined with an excellent left-hand and genuine stopping power, made him a tough nut to crack. His phenomenal mental game also laid the way for many of his big victories.
DIAZ vs MCGREGOR!!! pic.twitter.com/QYKzvnz87j

— danawhite (@danawhite) August 20, 2016
While an admirable choice, McGregor's decision to fight Nate Diaz at welterweight backfired. It also proved that he was not as effective against bigger guys. If he couldn't get his opponents out of there, he would gas out and fade as the fight went on—his contestable win over Diaz in the rematch notwithstanding.
Although he is arguably the most hated figure in the promotion, this doesn't make him the most overrated fighter the UFC has ever had. Undefeated at 145, his only losses at lightweight have come against Khabib Nurmagomedov and Dustin Poirier. He is 2-1 at 170-pounds.
Yes, McGregor deserves to be on any list of the most overhyped UFC fighters of all time. A lot of his success in the promotion was down to smart matchmaking and the occasional gift. But let's not get carried away — I can name six other athletes that fans overestimated more.
6. Chuck Liddell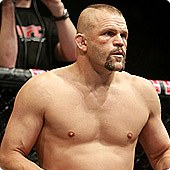 Nationality: American
Division: Light Heavyweight
UFC Titles: One
Oh, no. Not "The Ice Man?" Sorry to break it to you, but Chuck Liddell is overrated. He was when he was competing and still is by those who remember the "glory days."
Yes, they were glorious days indeed. Simple times, if you will. Watching the mohawked mad man punching his way to the top is still engrained in my memory. Chuck was a beast, and diehards adored him for putting it all out there.
The only problem is that labeling Lidell as one of the most severely overrated UFC fighters in history is akin to heresy in some quarters. Now, call me an MMA heretic if you will, but it's the truth. The American was just not as good as history wants you to believe.
But what about the Pride days, you ask? Yeah, he was a beast back then. But when he returned to the UFC, he was being touted as one of the finest examples of a mixed martial artist we have ever seen. And he was anything but.
Liddell's biggest wins are the following.
Randy Couture – KO (1) – UFC 52
Tito Ortiz – KO (2) – UFC 47
Kevin Randleman – KO (1) – UFC 31
He beat both Couture and Ortiz twice; it must be said. He also had a couple of other sizeable wins.
But an all-time great? Sure, his name deserves to be up there. But as time goes on, that debate is going to be much easier to shut down. His contribution to bringing MMA into the mainstream should never be ignored, but he was vastly overvalued as a fighter.
Liddell lost six of the last seven fights of his career. Five by stoppage. While the trilogy fight against Tito was a joke, the rest of them were not.
A very good fighter, sure. I'm not willing to buy into this crap about him being the best light heavyweight of all time, though.
5. Brock Lesnar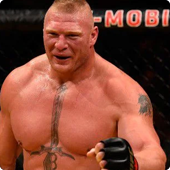 Nationality: American
Division: Heavyweight
UFC Titles: One
Why is Brock Lesnar overrated so much by casuals? He was never a great mixed martial artist.
The hulking former wrestler and pro footballer turned mixed martial artist looked the part. But as anyone with even the slightest fight game experience knows, looks can be deceptive. And that works both ways.
Let's take a glance over Lesnar's UFC record.
No Contest – Mark Hunt – UFC 200
Loss to Alistair Overeem – TKO – UFC 141
Loss to Cain Velasquez – TKO – UFC 121
Win Over Shane Carwin – Submission – UFC 116
Win Over Frank Mir – TKO – UFC 100
Win Over Randy Couture – TKO – UFC 91
Win Over Heath Herring – Decision – UFC 87
Loss to Frank Mir – Submission – UFC 81
Yeah, that's it. That's Brock Lesnar's record in the UFC.
The guy is nowhere near the level of some of the top heavyweights the promotion has seen. Before being destroyed by Cain Velasquez and Alistair Overeem, he had a couple of decent wins and ran to pro wrestling.
Seriously, anyone looking to argue a case against Lesnar as one of the most overrated fighters in UFC history has a tough task on their hands.
4. Tito Ortiz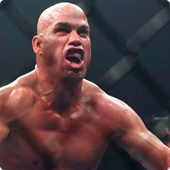 Nationality: American
Division: Light Heavyweight
UFC Titles: Two
Like Liddell, even hearing the name Tito Ortiz takes us back to better times.
But while "The Huntington Beach Bad Boy" was a key figure in the UFC in the early to mid-2000s, some are ready to die on a hill dedicated to him being great. Trust me, I don't know anyone with an above-average interest in MMA who feels that way, but the internet is a truly shocking place.
Ortiz was a two-time champion who beat guys like Evan Tanner, Ken Shamrock, Vitor Belfort, and Forrest Griffin. A solid wrestler, the Californian was not the greatest striker and soon became easy work for the emerging talents in the light heavyweight division.
After winning Shamrock in their trilogy bout, Ortiz would score just one win from his next nine fights. That was a submission victory over a young Ryan Bader at UFC 132 in July 2011.
As overrated as oysters.
3. Jorge Masvidal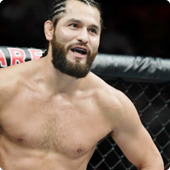 Nationality: American
Division: Lightweight/Welterweight
Titles: None
If we're talking about the most overrated UFC fighters of the 2020s, can anyone top Masvidal?
Now, before you throw your Tapout hat at the screen, hear me out. Masvidal was a good fighter. The same can be said for everyone on this list. But his prowess has been hyped to a seriously ridiculous point.
The man is known as "Street Jesus" was one of my favorite gatekeepers in the UFC. You knew what you were getting from the Floridian, which was usually a fight to tune in for. He'd win some; then he'd lose some. But he was as entertaining as they came.
Masvidal experienced a career revival in 2019 when he smashed Darren Till, much to the surprise of those who had bet on the Scouser to win. Then, Masvidal sent Ben Askren into the shadow realm with a five-second flying-knee KO.
WHAT A KO ?@USMAN84kg left Jorge Masvidal out on the mat and ran over to Dana White. pic.twitter.com/Xp2kLNAesj

— ESPN MMA (@espnmma) April 25, 2021
He then made it three from three by beating Nate Diaz to win the "BMF" strap, which saw his stock catapult. Suddenly, he was being marketed as one of the best fighters in the promotion. But three straight losses to Kamaru Usman (2) and Colby Covington — including the most brutal of knockouts in their rematch at UFC 261 — proved that Masvidal was not as ferocious as the fanboys thought.
But he never was an elite guy. The former Strikeforce standout never got a title shot at 155-pounds and was easily beaten in his two at welterweight.
Masvidal is overrated. But he's not the most overrated fighter in the history of the UFC.
2. Nate Diaz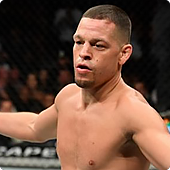 Nationality: American
Division: Lightweight/Welterweight
Titles: None
Is Nate Diaz the most overrated UFC fighter in history? No. But he's pretty close.
Diaz was a lightweight gatekeeper making $20k to show and another $20k to win. That was until events came to pass that led him into taking a fight with Conor McGregor at short notice. The rest, as they say, is history.
But it just irked me to see the UFC upselling Diaz as better than he was following the win over McGregor. What was even more excruciating to witness was the excessive editorials and supposed "experts" blowing smoke about the Stockton-native's supposedly amazing skillset. The fact of the matter was and still is that Diaz was never really that good.
In the context of all-time greats in the sport, he can't be considered. If we're talking about greatest UFC fighters in UFC history, Diaz's name doesn't feature. As simplistic as it sounds, if McGregor had not chosen Nate as a stand-in opponent, he would have retired with a whimper.
Diaz fought for the UFC lightweight title just once, losing to Benson Henderson. The highlights of his career were beating featherweight champion Conor McGregor at welterweight and a decision win over Donald Cerrone. That's it.
I love Diaz as a warrior, but he is one of the most overrated fighters in sports history.
1. Ronda Rousey – The Most Overrated UFC Fighter Ever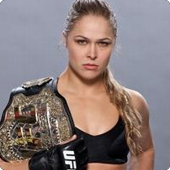 Nationality: American
Division: Women's Bantamweight
UFC Titles: One
Was it ever going to be anyone else? Ronda Rousey is the most overrated fighter in the history of the UFC. And I don't think we will ever see anyone topping her.
Now, if you would have told anyone before her fight with Holly Holm in 2015 that she would top any list like this, they would have labeled you nuts.
Rousey was the face of the promotion until Conor McGregor slept Jose Aldo to become MMA's most marketable commodity. She had destroyed everyone that was put in her path and had transcended the promotion to become one of the most famous names in sports.
It came to a point where Rousey believed her own hype. Despite having laughably average striking skills, she fancied herself as a boxer. The Olympian, who had claimed that she could beat Floyd Mayweather in a "no-rules" fight, would then drift off into a solipsistic fantasy world before crashing down to earth with a thud.
Rousey, who some believed could hand half of the male bantamweight their broken teeth, reached her ceiling in November 2015. One month before McGregor stunned Aldo, Holly Holm smashed the judoka to pieces, exposing her as a one-trick pony.
But rather than retiring, Rousey — who was frank about her depression and suicidal ideations following the loss — was matched up with Amanda Nunes. And we all know what happened there.
A great fighter when faced with average opposition, Rousey was brutally exposed by Nunes. Unsurprisingly, she then decided to call it a day, instead opting to hook up with the WWE.
Topping lists of the most overrated UFC fighters of all time is not how many had expected Ronda's legacy to end. But it is what it is.
More of the Most Overrated UFC Fighters in History
That brings my list ranking of the most overrated UFC fighters to a close.
Controversial? You might think so, especially as there were a few names that could have easily made it onto the list. For example, Randy Couture, Chael Sonnen, and B.J. Penn are guys that are considered by some to have been overhyped or overrated.
The same can be said for Frank Mir, Uriah Hall, Kelvin Gastelum, and Wanderlei Silva. But ultimately, I felt the 13 above were the right choices under the circumstances.
If you feel differently, there is a comments section at the bottom of this page. Drop me a line and let me know your thoughts! Or, if you're feeling shy, hit up our UFC and MMA blog for more fight content!