Hide Bonus Offers
| | | | | |
| --- | --- | --- | --- | --- |
| #1 | Bovada Sports | 50% Up To $250 | Visit Site | Bovada Sports |
| #2 | BetUS | 125% Up To $2,500 | Visit Site | BetUS |
| #3 | MyBookie | 100% Up To $1,000 | Visit Site | MyBookie |
| #4 | Everygame | 100% Up To $500 | Visit Site | Everygame |
| #5 | BetOnline Sports | 60% Up To $1,000 | Visit Site | BetOnline Sports |
Ranking the 9 Greatest Indy 500 Races of All Time

The Indy 500 is often referred to as "The Greatest Spectacle in Racing." There are many prestigious auto racing events in the world, but I'm not sure anything tops the Indy 500.
Indianapolis Motor Speedway has hosted the IndyCar race for over 100 years. There have been so many thrilling moments that it's tough to pick the best Indy 500 races of all time.
Many great races didn't make this list. Let's check out the best Indy 500 races.
9. 1960 Indy 500
The 1959 Indy 500 featured an exciting battle between Rodger Ward and Jim Rathmann. Ward came out on top, but Rathmann looked to avenge that defeat in the 1960 Indy 500.
Ward, Rathmann, Eddie Sachs, and Troy Ruttman spent the first half of the race battling for the lead. It was a super competitive race, with no driver leading for more than 15 laps. Ward had an early issue on pit road, leaving him back in the pack.
Rodger Ward @ Indianapolis, 1960, Ward stalled his car on his first pit stop, the time loss restarting the car resulted in a 2nd place finish instead of a 2nd consecutive Indy 500 win. pic.twitter.com/11tzSiHqN8

— Andrew (@Basso488) August 23, 2020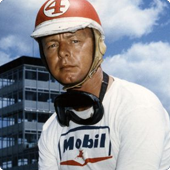 Sachs and Ruttman had issues halfway through the race. At this point, Ward had overcome his pit road issue, so it was a battle between him and Rathmann. Their battle is what makes this one of the top Indy 500 races.
It was anyone's race as the pair swapped the lead 14 times in the second half. The final 45 laps didn't see either lead more than seven consecutive laps. It looked like Ward would earn his second straight Indy 500 victory, but a late tire issue slowed him down.
Rathmann took advantage, passing Ward with four laps to go. He went on to win his first career Indy 500. A legendary duel between two drivers made this one of the best Indy 500 races.
8. 1985 Indy 500
The 1985 Indy 500 is one of the best Indy 500 races ever because of the comeback by Danny Sullivan.
Mario Andretti had the dominant car, leading 89 of the first 119 laps. Sullivan was running near the front, and he made a move for the lead on lap 120. Sullivan passed Andretti but immediately spun.
The legend of Danny Sullivan's "Spin and Win" in 1985 is forever etched into #Indy500 History.

STORY ➡️ https://t.co/tYPa7YYLXU#IMSMemoryLane | #LegendsDay pic.twitter.com/34NVd6hRuX

— Indianapolis Motor Speedway (@IMS) May 18, 2018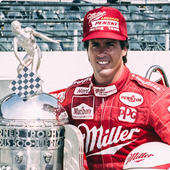 There was some luck and skill involved with Sullivan not hitting the wall and Andretti not hitting Sullivan. Sullivan's quick spin kept him in contention for the win.
There were 80 laps left in the race, so Sullivan had plenty of time to recover. Well, Sullivan only needed 20 laps to work his way to the lead. There were three cautions in the last 60 laps, but Sullivan held the lead. He overcame the spin to win the Indy 500.
It's not often you see an Indy Car spin without having an issue. It was one thing not to hit anything, but to maintain race-winning speed was impressive. He led the final 67 laps to overcome Andretti's dominant day.
Sullivan's comeback performance makes this one of the best Indy 500 races in history. It's hard to top a performance like that.
7. 1989 Indy 500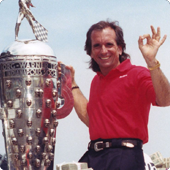 The 1989 Indy 500 featured a battle between two inexperienced drivers in, Emerson Fittipaldi and Al Unser Jr. Fittipaldi was one of the greatest Formula One drivers. Still, he only had one oval win in Indy Car. Unser was trying to live up to the hype of his father.
Fittipaldi started on the pole and quickly established himself as the car to beat. He battled with Michael Andretti, but Andretti blew an engine with less than 40 laps to go. It looked like Fittipaldi had the race in the bag, but Unser was within striking distance.
The final restart saw Fittipaldi pull away from Unser, but lap traffic brought Unser to his back bumper. Unser passed Fittipaldi and began to pull away, but lap traffic gave Fittipaldi one last chance.
Fittipaldi moved to the inside but made contact with Unser. The contact sent him into the wall, ending Unser's chances of winning the Indy 500. Fittipaldi came around to capture his first career Indy 500 victory.
A thrilling finish is a common theme for the best Indy 500 races. Unser was on the wrong side in 1989, but he went on to win the Indy 500 in 1992 and 1994.
6. 2014 Indy 500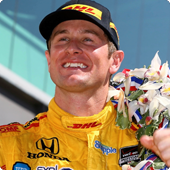 Ryan Hunter-Reay was one of the top contenders in the 2013 Indy 500 but fell short in third place. In 2014, Hunter Reay returned with plenty of speed.
We didn't see his speed on display until the race's second half. Hunter-Reay started 19th, so it took him a while to make it to the lead. Once there, he established himself as one of the best cars.
Ultimately, the race came down to Hunter-Reay, Helio Castroneves, and Marco Andretti. A late red flag forced a six-lap shootout. Andretti was right behind the other drivers, but the battle for the win was between Hunter-Reay and Castroneves.
The pair traded the lead in the final three laps, but Hunter-Reay held off Castroneves to win his first Indy 500 by 0.060 seconds. This marked one of the closest finishes in Indy 500 history.
Hunter-Reay had the dominant car, leading 56 laps in the second half. He went toe-to-toe with a three-time Indy 500 winner in Castroneves and defeated him. That late dual is why this is one of the top Indy 500 races.
5. 2011 Indy 500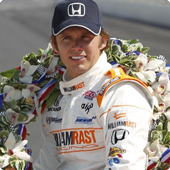 The 2011 Indy 500 marked 100 years since the first race at the Brickyard. It wasn't the 100th race since the race didn't occur during WWI and WWII, but there was extra attention surrounding it.
Scott Dixon and Dario Franchitti dominated the race, leading 124 of 200 laps. However, the race came down to fuel mileage. A few drivers pitted before the race went back to green with under 40 laps to go in hopes of making it to the end.
The three drivers attempting to stretch the fuel were Franchitti, Bertrand Baguette, and J.R. Hildebrand. Baguette led nine laps but pitted with four laps to go. Franchitti slowed way down as he tried to save fuel.
Hildebrand was well on his way to becoming the first rookie to win the Indy 500 since 2001. Then, turn four happened.
Hildebrand was one turn away from winning the Indy 500 but slammed into the outside wall. He had enough momentum to make it to the finish line, but Dan Wheldon pulled ahead to win his second Indy 500.
The Indy 500 race rankings must have this as the wildest Indy 500 finish. I'm not sure if we'll ever see a finish like that.
4. 2006 Indy 500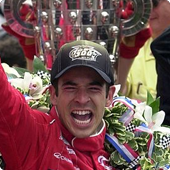 The 2006 Indy 500 will go down as one of the top Indy 500 races because of Michael and Marco Andretti's performance. Marco was a 19-year-old rookie, looking to continue the legacy of his father and grandfather.
Dan Wheldon looked poised to win back-to-back Indy 500s as he dominated the race. Sam Hornish Jr. was the only other driver to lead over ten laps. Wheldon was cruising to victory until a late flat tire.
A late timely caution put Michael Andretti in the lead, with Marco in second. The race came down to a four-lap sprint between those two and Hornish.
It didn't take long for Marco and Hornish to pass Michael. Hornish nearly took the lead with two laps to go, but Marco slammed the door. It looked like that gap gave him a big enough margin to win the Indy 500.
However, Hornish put together one last charge.
Hornish had a big run coming off turn four. He shocked everyone by passing Marco just before the finish line to win the Indy 500. Hornish came from so far back to deny Andretti the Indy 500.
A photo finish is why the Indy 500 race rankings have the 2006 race in the top five.
3. 1992 Indy 500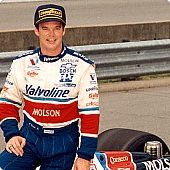 There have been many great Indy 500s, but there's a consensus top three for ranking Indy 500 races. The order may vary, but I'm going with the 1992 Indy 500 for my No. 3 pick.
The race had action before the start, with pole-sitter Roberto Guerrero crashing on the pace laps. That set the tone for a crashed-filled day that featured 13 cautions.
Michael Andretti dominated the race, leading 160 laps. Andretti had a nearly 30-second lead with 12 laps to go, but his car suddenly began to slow. A fuel pump issue ended his day with less than 15 laps to go.
Without Andretti, it turned into a battle between Scott Goodyear and Al Unser Jr. Unser passed Goodyear just before cautioning to take the lead. That set up this frantic run to the finish.
The closest finish in Indy 500 history! Al Jr. duels Scott Goodyear for the win in 1992. #Indy500 @alunserjr pic.twitter.com/fWIEbcFcQo

— IMS Museum ? (@IMSMuseum) March 15, 2022
Unser did a great job holding Goodyear back, but he mounted one final run on the front stretch. Goodyear came up a mere 0.043 seconds in the closest Indy 500 finish of all time.
It was another heartbreaking finish for an Andretti, but that cleared the way for one of the best Indy 500 races.
2. 1991 Indy 500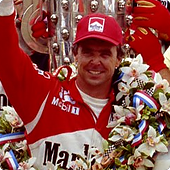 One year before a thrilling finish between Scott Goodyear and Al Unser Jr., we saw a tremendous battle between two IndyCar legends.
Rick Mears aimed to become the third driver to win four Indy 500s but his week got off to a rough start. Mears crashed in practice, leaving him with a foot injury. He kept the injury a secret and somehow scored a record-breaking sixth Indy 500 pole.
Mears led the first 11 laps, but the race quickly became a battle between Michael Andretti and Emerson Fittipaldi. Andretti controlled the opening portion, but Fittipaldi overtook him midway through the race.
Ultimately, Fittipaldi suffered a gearbox issue, leaving the race in Andretti's hands. However, Mears took over when Andretti had to pit for fuel. A late caution set up a great battle.
Take a #tbt trip back to 1991 for Rick Mears' 4️⃣th #Indy500 win. ?

Did you see Rick Mears join the exclusive 4-time winner's club?#INDYCAR | #IsItMayYet pic.twitter.com/aYgbFMA9Ax

— Indianapolis Motor Speedway (@IMS) October 28, 2021
Andretti passed Mears on the outside to take the lead. It looked like he would pull away to win his first Indy 500, but Mears passed him right back. Mears led the final 13 laps en route to his fourth Indy 500 victory.
A great battle between two legends in Mears and Andretti made it easy for ranking Indy 500 races. This is one of the top Indy 500 races.
1. 1982 Indy 500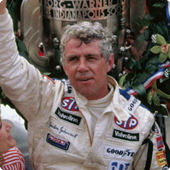 There are many great Indy 500 races, but the consensus will tell you that the 1982 race is the best of all time. The craziness started before the green flag as Kevin Cogan's car veered into the outside wall, collecting Mario Andretti.
A.J. Foyt led the first 22 laps, but it was anyone's race from there. A few drivers spent time out front before Rick Mears established himself as the car to beat. Although, he would have one challenger in Gordon Johncock.
The two spent the second half of the race going back and forth. Tom Sneva briefly held the lead, but it came down to Mears and Johncock.
Johncock took the lead with 40 laps to go, but Mears stayed right behind him. Johncock held an 11-second lead after pit stops, but Mears tracked him down. That set up this memorable finish.
There was so much anticipation in the final few laps. Before 1982, there was never an Indy 500 closer than 2.5 seconds. It was unheard of to see two drivers battled to the finish line.
Mears made up a huge gap, but Johncock held him off to win his second Indy 500. It's special when you can hear the crowd over the car engine.
Betting on the Indy 500
The Indy 500 is the biggest motorsports race globally. It doesn't matter if you're a NASCAR, Formula 1, or just a sports fan. People will come out to watch the Indy 500.
Thankfully, we've been blessed to see the best Indy 500 races. The Indy 500 always has a ton of hype, and these races lived up to it. We can only hope we see more legendary races at the Brickyard.
You can also bet on the Indy 500 every year. If you're ever interested in doing so, feel free to look at the IndyCar racing betting guide.
IndyCar Betting Guide