Ranking the Greatest Goalkeepers in Major League Soccer History

The US has produced a host of world-class goalkeepers over the years. From Kasey Keller to Brad Guzan, and from Tim Howard to Brad Friedel, America has continuously churned out excellent shot-stoppers.
Naturally, Major League Soccer has benefitted from the seemingly never-ending production line of top goalies.
Of course, many of the country's best glovemen have enjoyed successful careers in Europe and beyond. But in this post, I will be ranking the greatest MLS goalkeepers of all time.
Join me as I share my take on the best goalkeepers in Major League Soccer history.
10. Donovan Ricketts
Appearances: 188
Shutouts: 59
After making a name for himself with English side Bradford, Donovan Ricketts began his journey to become one of the best MLS goalkeepers of all time when he joined the LA Galaxy in 2008.
The Jamaican shot-stopper – who made a century of international appearances for the Reggae Boyz – played 90 matches for the Galaxy, helping the Carson club to win the MLS Cup in 2011, as well as two Supporters' Shields.
The two-time MLS Goalkeeper of the Year went on to play for Montreal, Portland, and Orlando before returning to the Galaxy for a brief spell in 2015.
When it comes to talking about the greatest goalkeepers in Major League Soccer history, you can't leave Ricketts out of the conversation.
9. Zach Thornton
Appearances: 282
Shutouts: 82
Aside from a short loan stint at Portuguese giant Benfica, Zach Thornton spent the best part of two decades in MLS – representing five different clubs.
The Maryland native began his professional career with the MetroStars back in 1996. However, it's safe to say that he is best known for his achievements with Chicago Fire.
Thornton spent eight years in Chicago and guided the club to one MLS Cup, one Supporters' Shield, and three Open Cups. During that time, he also picked up the first of his two MLS Goalkeeper of the Year awards following the Fire's 1998 MLS Cup triumph.
11 years later, the iconic gloveman was named Goalkeeper of the Year for a second time. Many believed that Thornton was past his best when he joined Chivas USA in 2008, but he proved his doubters wrong in style.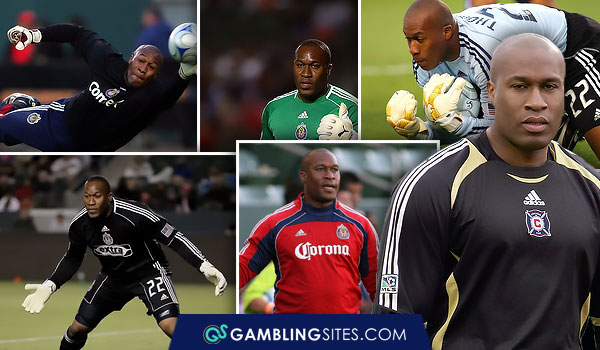 8. Luis Robles
Appearances: 250
Shutouts: 74
Considering that Luis Robles spent a large portion of his professional career in Germany, certain American soccer fans might not view him as one of the top MLS goalkeepers of all time. But in my eyes, the New York Red Bulls legend thoroughly deserves his place on this list.
Following spells with Kaiserslautern and Karlsruher, Robles joined the Red Bulls in 2012 and went on to play over 250 matches for the club.
Between 2013 and 2018, the Arizona-born goalie won three Supporters' Shields with RBNY. He also gained special recognition for his efforts, picking up the Goalkeeper of the Year award after playing a pivotal role in the team's 2015 triumph.
Robles finished his career at expansion club Inter Miami before retiring at the end of the 2020 campaign. He may not have finished on a high, but there is no denying that he is one of the best Major League Soccer goalkeepers ever.
7. Stefan Frei
Appearances: 304
Shutouts: 85
The only active player among my top ten greatest MLS goalkeepers of all time, Stefan Frei is still going strong for the Sounders. In fact, only three men have achieved more shutouts than the 35-year-old in the league's history.
Believe it or not – Frei has never actually been named MLS Goalkeeper of the Year. He finished third in the 2017 rankings before finishing second in 2018. Still, his record speaks for itself.
The former Switzerland U15 international led Seattle to the Open Cup and Supporters' Shield double in 2014 before winning two MLS Cups in the next five years. Oh, and he was also named the 2016 MLS Cup MVP.
With one All-Star appearance and one Save of the Year Award to his name, Frei must be viewed among the best goalkeepers in MLS history. Look what he has achieved so far!
Canadian Championship: 2009, 2010, 2011
US Open Cup: 2014
Supporters' Shield: 2014
MLS Cup: 2016, 2019
MLS Cup MVP: 2016
MLS All-Star: 2017
MLS Save of the Year Award: 2018
6. Matt Reis
Appearances: 287
Shutouts: 78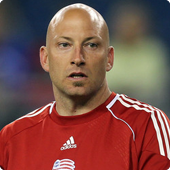 There aren't many goalies who have picked up more Major League Soccer silverware than Matt Reis. I mean, the Atlanta native won seven trophies across a hugely successful ten-year spell – representing the Revs and the Galaxy.
Despite only spending four years in Los Angeles, Reis won the MLS Cup, Open Cup, CONCACAF Champions Cup, and two Supporters' Shields.
But when he swapped LA for New England in 2003, he took his game to another level.
Reis made almost 300 appearances for the Revs and even earned himself a couple of USMNT caps. Considering legends like Kasey Keller, Tim Howard, and Brad Friedel were around back then, Reis can be proud of his international exploits.
We're halfway there! Are you ready for my top five goalkeepers in MLS history?
5. Jon Busch
Appearances: 309
Shutouts: 86
For a guy who only picked up one USMNT cap, Jon Busch enjoyed a phenomenal career.
Not only did he keep 86 clean sheets in 309 regular-season games, but he also boasts an exceptional record in Playoff matches – conceding 17 goals in 18 postseason games while also racking up six shutouts.
Busch began his MLS journey with Columbus, winning the Open Cup in 2002 before clinching the Supporters' Shield in 2004. After a couple of years in Chicago, he moved to San Jose and added another Shield to his collection in 2012.
During his time with the Quakes, Busch made a club-record 138 saves in a single season during the 2014 campaign. Pretty impressive, right?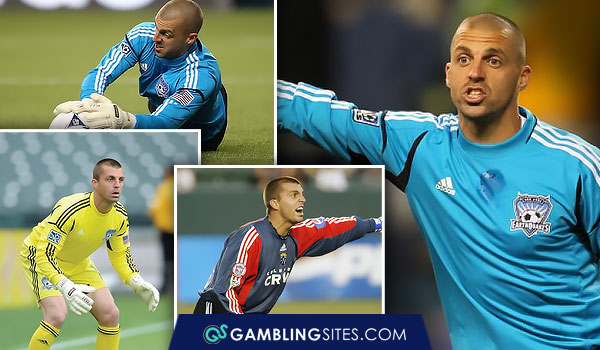 4. Tony Meola
Appearances: 250
Shutouts: 63
To this day, Tony Meola holds the record for most shutouts in a single Major League Soccer season. The famed gloveman kept 16 clean sheets between the sticks for the Kansas City Wizards back in 2000 – one more than Jimmy Nielsen managed for the same club in 2012.
But it's fair to say that Meola will always be remembered for more than just his shutout record. Indeed, the ex-Wizards and Red Bulls star made a century of appearances for the USMNT and was widely regarded as one of the best players of his generation.
Remarkably, Meola is still the only player to have won the MLS MVP award. He scooped the prize after leading the Wizards to MLS Cup glory in 2000, having enjoyed that record-breaking year.
Unfortunately for Meola, he only spent ten years in Major League Soccer. If his MLS career had been longer, he would have almost certainly ranked higher on my list.
3. Joe Cannon
Appearances: 341
Shutouts: 90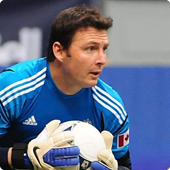 Across a coveted 14-year career in MLS, Joe Cannon made just under 200 appearances for San Jose. He also spent time in Colorado, Los Angeles, and Vancouver, although he is best known for his feats with the Quakes.
The 2001 MLS Cup winner secured two Goalkeeper of the Year awards in three years between 2002 and 2004. On top of that, he was named to the MLS Best XI and was even an MVP finalist.
Having shone for San Jose, Cannon was poached by French club Lens. However, he failed to break into the first team and returned to the US six months later.
If things had worked out for Cannon in Europe, things could have been different. But when you consider what he achieved in his homeland, few would argue that he isn't among the greatest goalkeepers in MLS history.
2. Kevin Hartman
Appearances: 416
Shutouts: 117
With his iconic blond hair, Kevin Hartman always stood out on the pitch. But let's face it – it was his stellar performances between the sticks that make him one of Major League Soccer's best goalkeepers ever.
With a whopping 416 regular-season matches in the bank, Hartman sits third on the league's all-time appearance leaderboard. He also ranks second in the shutout charts, having kept well over 100 clean sheets over the years.
Hartman spent nine successful years with the Galaxy, winning just about every trophy on offer. As well as the two MLS Cups, two Supporters' Shields, and two Open Cups, he played a key role in the club's 2000 CONCACAF Champions' Cup triumph.
Following spells with the Wizards, FC Dallas, and RBNY, Hartman hung up his gloves in 2013. Nicknamed El Gato (Spanish for "the cat"), his unrivalled reflexes and agility made his almost unbeatable.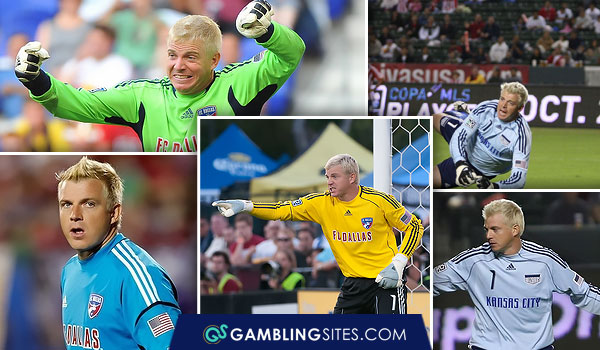 1. Nick Rimando
Appearances: 514
Shutouts: 155
Holding the Major League Soccer records for most appearances, wins, shutouts, and saves, there is absolutely no denying that Nick Rimando is the greatest MLS goalkeeper of all time.
Rimando doesn't just hold numerous records, though. The Californian is also one of the most decorated goalies in the league's history.
Rimando guided the Miami Fusion to Supporters' Shield glory in 2001 before adding another Shield to his collection with DC United in 2006. Having also won the MLS Cup with DC, he then led Real Salt Lake to the ultimate prize in 2009.
The legendary goalkeeper finally retired in 2019 following a two-decade career in MLS. He will forever be remembered as the league's best shot-stopper.
MOST MLS SHUTOUTS (INCLUDING PLAYOFFS)
Player
Matches
Shutouts
Shutout %
Nick Rimando
553
167
30.2%
Kevin Hartman
464
128
27.6%
Zach Thornton
319
94
29.5%
Closing Thoughts on the Best MLS Goalkeepers
That concludes my look at the greatest MLS goalkeepers of all time.
I know what you're thinking – where is Tim Howard? Where is Brad Friedel? And what about current players like Brad Guzan and Andre Blake?
While Howard and Friedel were obviously amazing goalies, they spent most of their careers in England, as did Guzan. Blake could well become one of the best goalkeepers in Major League Soccer history, but he still has time to get there.
Anyway, I'm sure you'll agree that guys like Rimando, Hartman, and Meola are more than worthy of their spot on this list.
If you're more interested in what goes on at the other end of the pitch, I have already ranked every MLS Golden Boot winner. Check out the post below!