Hide Bonus Offers
| | | | | |
| --- | --- | --- | --- | --- |
| #1 | Bovada Sports | 50% Up To $250 | Visit Site | Bovada Sports |
| #2 | BetUS | 125% Up To $2,500 | Visit Site | BetUS |
| #3 | MyBookie | 100% Up To $1,000 | Visit Site | MyBookie |
| #4 | Everygame | 100% Up To $500 | Visit Site | Everygame |
| #5 | BetOnline Sports | 60% Up To $1,000 | Visit Site | BetOnline Sports |
Ranking the Contenders for the All-Ireland Senior Football Championship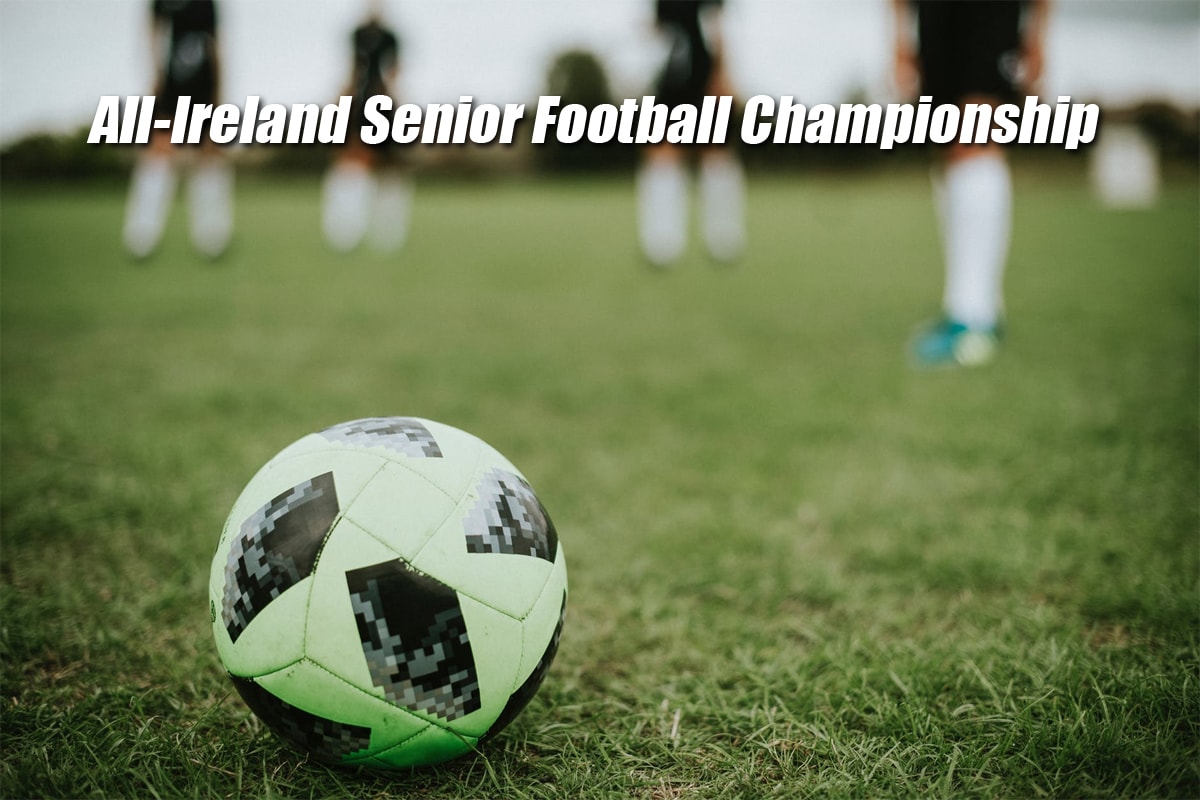 Dublin is the team to beat in this year's All-Ireland Senior Football Championship.
Just as they were last year and the year before that. And the year before that, too. You might as well add 2015 to that…
Look, the point is that Ireland's most dominant football force of the 2010s has set the benchmark for the sport. Having won four Sam Maguires in a row, Jim Gavin's men are on the verge of making history — if they can make it to five.
In order for Dublin to be knocked off their perch, the likes of Donegal, Kerry, Tyrone, and Mayo will need to produce something special.
Then again, there are some who believe that Connacht champions Roscommon could do the business. Cork and Meath are also outsiders but will not be heading into the final stages of the season without giving it their all.
So, will the Dubs make history, or is it time for another county to step up and take over?
Let's see what the bookies think.
All-Ireland Senior Football Championship 2019 Winner
The odds below are taken from 888sport. They are accurate at the time of writing but subject to change.
Dublin
-200
As you can see, Dublin is the unsurprising favorite at -200.
The gap between The Dubs and second-favorites Donegal (+700) is quite large. This certainly speaks a lot about the strength of the leaders of the pack.
Just behind Donegal is Kerry at +750. The Kingdom will be confident of doing well in this year's championship, but these odds put them close to the likes of Tyrone and Mayo at +800 and +900, respectively.
Roscommon (+5000), Cork (+6600), and Meath (+100000) are not expected to go all the way. That said, anyone can beat anyone on the day, right?
2019 Super 8 Groups and Fixtures
Following the round 4 of qualifiers, the two Super 8 groups have been settled.
Mayo overcame western rivals Galway to join Meath, Munster champs Kerry, and Ulster titlists Donegal in Group 1.
Leinster champions Dublin and Connacht kings Roscommon join Tyrone and Cork in Group 2.
The first round kicks off with all provincial champs playing in front of home crowds before the second round at Croke Park in Dublin.
Let's take a look at the groups, fixtures, and the road to the All-Ireland final.
Group 1
July 14: Donegal vs. Meath – MacCumhaill Park, Ballybofey
July 14: Kerry vs. Mayo – Fitzgerald Stadium, Killarney
July 21: Mayo vs. Meath – Croke Park, Dublin
July 21: Kerry vs. Donegal – Croke Park, Dublin
August 3/4: Mayo vs. Donegal – MacHale Park, Castlebar
August 3/4: Meath vs. Kerry – Páirc Tailteann, Navan
Group 2
July 13: Roscommon vs. Tyrone – Dr. Hyde Park, Roscommon
July 13: Dublin vs. Cork – Croke Park, Dublin
July 20: Cork vs. Tyrone – Croke Park, Dublin
July 20: Dublin vs. Roscommon – Croke Park, Dublin
August 3/4: Cork vs. Roscommon – Páirc Uí Chaoimh, Cork
August 3/4: Tyrone vs. Dublin – Healy Park, Omagh
All-Ireland Football Championship Semi-Finals
August 10/11: Group 1 Winner vs. Group 2 Runner-up
August 10/11: Group 2 Winner vs. Group 1 Runner-up
All-Ireland Football Championship Final
September 1: Semi-Final Winner 1 vs. Semi-Final Winner 2
Dublin -200
In pubs and local clubs around Ireland this year, fans from rival counties have been — and will continue to be — discussing Dublin's weaknesses.
More to the point, whether the most dominant football team of the decade is on the slide.
Should Jim Gavin's men go on to secure an unprecedented five in a row, he will surely go down as the greatest Dublin manager of all time. Hell, even the greatest manager in the history of football.
Following years of looking a class apart on the island, some believe Dublin might find it a little harder in 2019.
There is no real reason to suggest that the defending champions have major problems or anything; it's just that most outside of the capital are hoping this is the case. Sure, they lost three league games and didn't make it to the Division 1 final, but that is hardly a cause for concern.
Dublin's dynasty has come with constant criticism. Whether it is the larger pool of players to choose from, the fact that they will play two group games in the national stadium at Croke Park, the advantages with finance…
In reality, Dublin has not really changed from last year. The panel is still the best in the country. They have the right blend of youth and experience. They have the best manager. They have arguably the best player in the country — and the greatest midfielder ever — in Brian Fenton, too.
They might not be the free-scoring team of old in terms of goals, but they are the gold standard.
Donegal +700
If there is one man that can push Dublin to the edge this year, it is Michael Murphy.
Donegal's captain fantastic is one of the best footballers in the country and a leader par excellence. With one All-Ireland and five Ulster titles under his belt, Murphy is widely considered as the greatest player in the county's history.
Ask the man himself, and he will likely brush away any notion that he is more important than the players that surround him. While others will argue with that, the sense here is that this is a team game. Every man in the yellow and green must do their bit.
Off the back of their performances this year, I am with the oddsmakers in believing that Declan Bonner's men are the second-best group of players in the country. As such, they should be second-favorites for the Sam.
They have no glaring weaknesses in attack, defense, or in the middle of the park. Team cohesion and morale are no problems up north, either. However, squad depth is not great; a few injuries to key players could be very bad news for Tír Conaill.
If they can top the group, Donegal could set up a final with Dublin. The chances are that they would need a big result in Castlebar in the final game to do so, though.
Kerry +750
Coming in behind Donegal is Kerry at +750.
While certainly capable of going all the way in 2019, I don't believe they are quite ready. Sure, Peter Keane has an envious amount of young talent to choose from and a potent attack that can cause any team trouble.
Yes, even Dublin.
Paul Geaney and David Clifford are among the best in the country when on form, but confidence seems to be a problem at times. By beating Mayo at home in the first game, Kerry can get their tails up and plot a run to the final.
Kerry's most conspicuous weakness is in defense, however. Against running teams and under the high ball, to be more specific.
They will need to be on form and up for it in their three games in order to have any chance of even dreaming of putting their hands on the Sam Maguire. If like last year, they lose their first game, Kerry might find it an uphill battle.
With a match away to Donegal the following week, Kerry need to get a good start under their belts, and the county knows it.
Tyrone +800
Dark horses or genuine contenders?
In my opinion, Tyrone can go all the way.
Why? Well, there is plenty of quality around the park. A solid attack and reliable defense are balanced by cohesion in midfield. The manager, Mickey Harte, is one of the most experienced and tactically aware coaches in the game, too.
Cathal McShane is a player I rate very highly, and I expect him to be at the heart of everything that goes well for Tyrone. Mattie Donnelly is another player that will need to stand up tall for the Red Hand.
Having suffered in last year's All-Ireland final against Dublin, Tyrone will be desperate to show that they are an improved team. With a well-working kicking game and some stand-out talent, they can win their first Sam Maguire since 2008.
Two away trips to Roscommon and Cork can provide Tyrone with the perfect springboard. Their final game is at home to Dublin, which could set things up very nicely indeed.
Mayo +900
Is this the year that Mayo breaks "the curse"?
Ireland's greatest underachievers have gone an incredible 67 years without a Sam Maguire. In that timeframe, they have appeared in nine losing finals.
Now, while "the curse" might not be something to take seriously, Mayo's inability to get the job done at the highest stage is. For the quality of players that the team has had over the years, it is criminal that they haven't won even one final.
Betting on Mayo to win the Sam is, therefore, something that takes a lot of balls.
Stephen Rochford was replaced by former manager James Horan following the Green and Red's failure to reach the Super 8s. Horan won the League Division 1 in his first campaign back in charge, injecting some confidence into the county's fans.
Still, even though the team has the type of experience that any championship winners need, it can sometimes be a case of the same old story for Mayo. They just can't seem to win games when it matters and have difficulty closing matches out.
Confidence is something that builds with success, so this could be the year Mayo puts decades of pain behind them.
Mayo's investment in youth seems to be working well for them, but injuries have not exactly been great. Like a couple of other teams, squad depth could come back to haunt them.
If Horan's men can get something in Killarney, they will believe. And why shouldn't they?
Roscommon +5000
The Rossies have the momentum behind them.
Following an excellent outing against Galway in the Connacht Final, the champions of the west are riding high. This kind of confidence can inspire a team that the bookies don't feel have the quality to win an All-Ireland.
Not that this will trouble Roscommon at all. Rather than paying attention to the odds in front of them, they will, instead, be focusing on doing better than last year. History is history, but they flopped big time in 2018.
Anyway, you either win or you learn. Following Roscommon's tame performances in losses to Tyrone, Donegal, and Dublin in last year's Super 8s, they will be hoping that stage fright isn't a habitual occurrence.
The first game of Roscommon's Super 8s campaign is at home against Tyrone. A win here would set them up nicely for a shot at Dublin in Croke Park, even if they won't be targeting a win here.
If anything, a win in that first game is all they should be focused on.
Lose that, and it's another uphill battle.
Meath +100000
A young, vibrant team has given The Royals something to believe in.
According to the bookies, they are the highest-priced side out of them all. Part of the reason for their mammoth price is that they have little experience at the highest level and were playing Division 2 football last season.
Still, I think this is a side that can potentially cause a little damage.
Despite being in the toughest of the two groups, Meath can get an upset on the day. Although I don't see them making it to the semi-finals, they could be the reason that Kerry, Donegal, or Mayo fail to progress.
Donal Keogan and Padraic Harnan are two quality players, and they have some nice firepower to complement a well-balanced defense and midfield.
Meath could be a team for the future, certainly, but I don't see them getting out of this group. Out of all the teams remaining, they probably have the worst squad depth and are a little too green, overall.
Cork +6600
The Rebels are not considered as candidates for this year's All-Ireland.
There are a number of reasons for this, including their recent relegation to Division 3. Inconsistency is the driving factor here, and it is not surprising that a team lacking cohesion and talent should yield hit and miss performances as a result.
Cork's first game up is against Dublin in Croke Park. You couldn't ask for a tougher test than that. In some ways, it could be a blessing in disguise for the men in red as a good performance could instill some confidence.
Unfortunately, you need more than confidence to win games at this stage.
Another thing to consider here is that Cork has made it this far off the back of wins over Limerick (Division 4) and Laois (Division 3). They put in a decent performance against Kerry, but a loss is a loss.
Cork's second game up is against Tyrone at home. By the end of play in that match, the county should already know its fate.
Don't expect much.
Who Will Win the All-Ireland?
There are some good teams remaining in the Super 8s.
Donegal and Kerry, in particular, look the best qualified to trouble the mighty machine that is Dublin.
Tyrone and Mayo are also capable of going all the way but would need a lot of luck and some mega performances to get there. Oh, and don't forget staying injury-free, which is easier said than done.
As it stands, the best team in the country is Dublin. It is hard to back against them, and, given that they are chasing history in 2019, they will need no motivational speeches.
At -200, I feel Dublin deserve that price. If anything, I think it represents decent value for a team that has been so dominant and is exceptionally strong in every department.
I see Dublin earning that fifth Sam Maguire in a row and making history on September 1.
Don't you?
Final Thoughts
Will Dublin win the All-Ireland Senior Football Championship? Can Mayo snap "the curse"? Do Donegal have the quality to go all the way, or will we see an outsider like Meath shock the country?
The true answer here is that we simply don't know what will happen. That said, a team like Dublin comes around once in a generation… if that.
For those of you in Ireland that fancy The Dubs to go all the way — or believe Cork can shut everyone outside the county up — head over to the top betting sites and give it a shot.