Ranking the 10 Worst Teams in MLS History

If you follow MLS, chances are that you know a lot about the league's best teams. LA Galaxy in 2014, DC United in 1998, Toronto FC in 2017 – all of these sides could be considered as the best Major League Soccer teams of all time.
But what about the worst teams in MLS history?
Everyone always remembers the teams that win trophies and achieve greatness. But at the opposite end of the spectrum, I think it's fun to look back over the years and discuss the teams that are famous for all the wrong reasons.
Get ready – there are some really bad teams on this list! Join me as I rank the ten worst MLS teams of all time, based on their points per game ratio.
10. New York Red Bulls (2009)
Points: 21
Games: 30
Points per game ratio: 0.70
A 3-0 loss to the Sounders on the opening day of the season set the tone for the Red Bulls dismal 2009 MLS campaign – and things didn't get any better from there on.
Led by Colombian head coach Juan Carlos Osorio, the Red Bulls only managed to win two of their opening 22 matches, with a 13-game losing streak – 11 losses, 2 draws – spelling the end of Osorio's time at the club.
Richie Williams was appointed as interim head coach for the final eight matches of the season, and although he oversaw a slight upturn in form, the team ended the year with just five wins from 30 outings.
FINAL EASTERN CONFERENCE STANDINGS – BOTTOM THREE (2009)
Team
Wins
Draws
Losses
Goal Difference
Points
Toronto FC
10
9
11
-9
39
Kansas City Wizards
8
9
13
-9
33
New York Red Bulls
5
6
19
-20
21
Not only did the Red Bulls finish the campaign 12 points adrift at the bottom of the Eastern Conference, but they also ended up nine points behind the Earthquakes in the overall standings.
Despite the endeavors of Juan Pablo Angel, who scored 12 goals that year, the Red Bulls' efforts – or lack of – in 2009 see them rank among the worst teams in MLS history.
9. FC Cincinnati (2020)
Points: 16
Games: 23
Points per game ratio: 0.69
We all know that 2020 was a difficult year for everyone. But in Major League Soccer, no team suffered more than FC Cincinnati.
The Ohio outfit almost made it onto this list with their dreadful showing the year before. The expansion club won just six games in 2019, ending the season with a points per game ratio of 0.71. But in 2020, things got even worse.
Granted, Jaap Stam's side had fewer opportunities to make an impact. Due to the health crisis, all the teams in the Eastern Conference played just 23 regular-season games in 2020 – 11 less than the season before.
Still, after suffering 15 defeats, Cincinnati only managed to accumulate a measly 0.69 points per game.
To make matters worse, Stam's men netted just 12 goals throughout the entire campaign – 11 fewer than their nearest rivals. Having fired no less than 14 blanks across the season, it is hardly surprising that Cincinnati is one of the worst MLS teams of all time.
8. Toronto FC (2012)
Points: 23
Games: 34
Points per game ratio: 0.68
I know what you're thinking – Toronto FC can't possibly be one of the worst teams in MLS history.
In recent times, TFC has consistently finished towards the top end of the Eastern Conference. The Canadian side even finished a whopping 12 points clear at the summit of the Supporters' Shield standings in 2017, before going on to win the MLS Cup that year.
But before Toronto became an MLS powerhouse, the club endured some tough times.
MOST GOALS CONCEDED – MLS REGULAR SEASON (2012)
Team
Goals Conceded
Toronto FC
62
Chivas USA
58
Portland Timbers
56
Montreal Impact
51
Colorado Rapids
50
Aaron Winter's men conceded an unforgiveable 62 goals during the 2012 season, losing 21 of their 34 matches. Five wins and eight draws left the Reds with a points per game ratio of 0.68, with the closest club – New England Revolution – sitting 13 points ahead in the East.
Nowadays, TFC is a feared opponent. But back in 2012, Toronto was viewed as a joke in Major League Soccer.
7. Kansas City Wizards (1999)
Points: 20
Games: 32
Points per game ratio: 0.63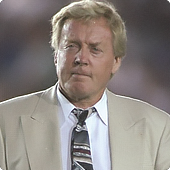 Since the club's rebranding in 2010, Sporting Kansas City has won the MLS Cup, as well as clinching three US Open Cups. However, the Kansas City Wizards tarnished the club's history by recording one of the worst MLS seasons of all time in 1999.
Major League Soccer only consisted of 12 teams back then, with six teams in each conference. But despite playing 32 games, the Wizards only managed to pick up 20 points.
The team boasted a host of USMNT legends at the time, yet players like Alexi Lalas, Chris Henderson, and Preki were unable to prevent their side from suffering 24 defeats.
Three different head coaches tried – and failed – to save the Wizards in 1999. Englishman Ron Newman was sacked following a run of seven straight defeats at the start of the season, with Ken Fogarty placed in temporary charge thereafter.
Bob Gansler was appointed as the club's new permanent head coach, yet a seven-match losing streak saw the Wizards end the campaign in the same manner as they started it.
Remarkably, the Wizards weren't even the worst team during the 1999 MLS season…
6. Real Salt Lake (2005)
Points: 20
Games: 32
Points per game ratio: 0.63
Interestingly, Real Salt Lake ended the 2005 campaign with the same points per game ratio as the Wizards in 1999. But after finishing the season with a goal difference of –35, as opposed to the Wizards' –20, RSL arguably deserves to rank higher.
The Claret and Cobalt didn't get off to the worst start in 2005. Under the guidance of John Ellinger, the Utah club registered three wins, two draws, and three defeats across the opening eight games.
However, RSL's campaign quickly went downhill after that.
LONGEST LOSING STREAKS IN MLS HISTORY
Team
Season
Consecutive Games Lost
MetroStars
1999
12
Real Salt Lake
2005
10
Orlando City
2018
9
New England Revolution
1997
9
New England Revolution
1998
9
Toronto FC
2012
9
Ellinger's men only managed to win two of their next 24 matches, suffering 19 defeats along the way. Worse still, ten straight defeats between August and October saw Real Salt Lake record the second-longest losing streak in MLS history!
Keep reading to find out which team performed even worse than RSL in 2005.
5. San Jose Earthquakes (2018)
Points: 21
Games: 34
Points per game ratio: 0.62
It's fair to say that San Jose has experienced the highest highs and the lowest lows that Major League Soccer has to offer.
MLS greats such as Jeff Agoos, Landon Donovan, Dwayne De Rosario, and Chris Wondolowski have helped the club to secure two MLS Cups and two Supporters' Shields over the years. But there have also been plenty of difficult periods.
Unfortunately, the 2018 season was a real low point for the Quakes.
Despite winning just four of their opening 28 matches, it took the San Jose hierarchy until September to finally part ways with head coach Mikael Stahre. By that time, the Earthquakes were already destined to finish rock bottom of the standings.
Steve Ralston was named as interim head coach for the remainder of the season, although the team still ended up losing seven of their final eight games.
The Quakes conceded 71 goals on their way to finishing ten points adrift at the bottom of the Western Conference. To this day, only two teams have conceded more goals in a single MLS season.
4. Chivas USA (2005)
Points: 18
Games: 32
Points per game ratio: 0.56
Chivas USA didn't hang around for the long. The California-based club – a subsidiary of Mexican side Guadalajara – only spent ten years in Major League Soccer, yet the Goats still managed to register one of the worst-ever seasons in MLS history.
If you thought that Real Salt Lake performed poorly in 2005, wait until you hear how Chivas fared that year.
Somehow, the Goats ended up finishing two points behind RSL in the Western Conference, winning just four of their 32 matches. Averaging little over half a point per game, Chivas USA is undoubtedly one of the worst Major League Soccer teams of all time.
Head coach Thomas Rongen only lasted a month before he was fired, leaving Jabier Ledesma in temporary charge. Dutchman Hans Westerhof was brought in to steady the ship, yet he was unable to stop the rot.
Surely it can't get any worse? Well, it does.
3. Tampa Bay Mutiny (2001)
Points: 14
Games: 27
Points per game ratio: 0.52
Chivas USA's time in MLS may have been short-lived, but Tampa Bay Mutiny's was even more brief.
The Florida outfit only featured in six MLS seasons, winning the very first Supporters' Shield back in 1996. But shortly after recording the third-worst campaign in the league's history, the club dissolved in 2001.
In fact, the Mutiny still holds the record for fewest points in a single MLS season. Granted, the team only played 27 games in 2001. But taking 14 points from a possible 81 in inexcusable.
LOWEST POINT TALLIES IN MLS HISTORY
Team
Season
Points
Tampa Bay Mutiny
2001
14
MetroStars
1999
15
DC United
2013
16
Chivas USA
2005
18
There were three conferences back then – Eastern, Central, and Western. The East's bottom club – DC United – picked up 26 points, while Colorado Rapids – the bottom team in the West – claimed 23 points. That gives you an idea of just how bad the Mutiny was!
Even with iconic Colombian midfielder Carlos Valderrama leading the side, Tampa Bay Mutiny's 2001 campaign will always be remembered as one of the worst MLS seasons ever.
2. DC United (2013)
Points: 16
Games: 34
Points per game ratio: 0.47
Only one club has won more MLS Cups than DC United. I mean, the Black-and-Red is unquestionably one of the most successful sides that Major League Soccer has ever produced.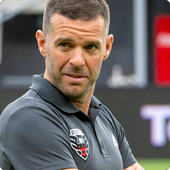 However, in 2013, things went horribly wrong.
Head coach Ben Olsen was only a couple of years into his tenure back then, with DC heading into the 2013 campaign on the back of a solid second-place finish in the Eastern Conference the season before. But it's safe to say that Olsen's men failed to pick up where they left off.
The Black-and-Red managed just three wins throughout the entire year, scoring 22 goals in 34 games. The rare victories were spread out, too, with 12 and 13-match winless runs coming at different stages in the season.
Even Chivas USA managed to accumulate ten points more than DC in 2013 – and we already know how bad the Goats were.
Still, believe it or not – DC's woeful points per game ratio of 0.47 isn't the worst in MLS history.
1. MetroStars (1999)
Points: 15
Games: 32
Points per game ratio: 0.46
Having finished the season with a miserable points per game ratio of 0.46, the 1999 MetroStars are officially the worst MLS team of all time.
Of course, the Red Bulls have since become a genuine force in Major League Soccer, winning three Supporters' Shields between 2013 and 2018. But it goes without saying that the MetroStars era tarnished the club's reputation.
The New York side suffered a mammoth 25 losses in 1999 – a record that still stands to this day. The MetroStars also endured the longest losing streak in MLS history that year, suffering 12 straight defeats between July and September.
We've already covered the Wizard's dreadful 1999 campaign, yet the Kansas City side managed to claim five points more than the MetroStars. To rub salt into the wounds, the Wizards even thrashed the MetroStars 6-0 that season!
The MetroStars would go on to finish atop the Eastern Conference in 2000, although their 1999 capitulation still casts a shadow over their subsequent achievements.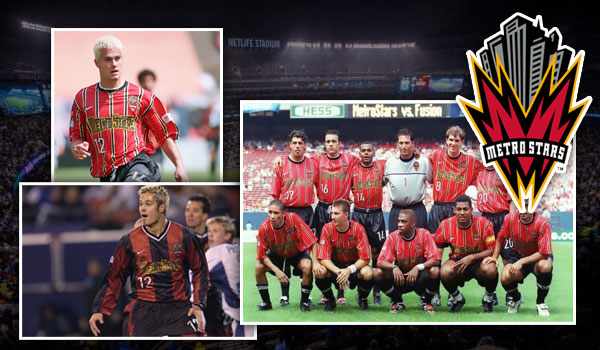 Conclusion
It's official – the MetroStars' awful 1999 season means the New York franchise is the worst team in MLS history.
Sure, the Red Bulls have done their best to put that fateful campaign behind them in recent years. But unfortunately, the history books don't lie.
Will we ever see an MLS team record a lower points per game ratio than 0.46? Well, they would have to endure a terrible season, that's for sure. Of course, it could happen. But it is highly unlikely.
I have also ranked the worst EPL teams of all time, so make sure you check out that post, too.