Quarterback Rankings for Fantasy Football in 2018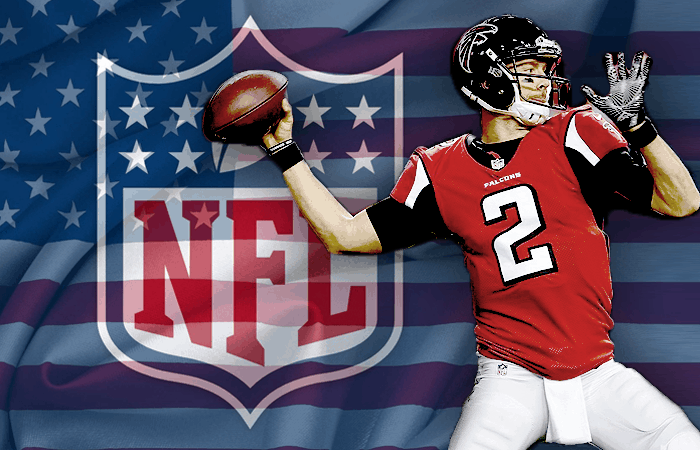 We're already into the month of August, and that means only one thing for me and my friends.
It's time to get ready for our beloved fantasy football season and draft our teams!
The quarterback position is known as the most important on the field, as a team simply cannot sustain success without a signal-caller who is at least competent. I see some aging QBs around the league, and I'd be a bit nervous about drafting some of them to be my starter.
On the flip side, I see some young quarterbacks in this league who are poised to have breakout seasons.
The plan is to release my rankings for the other skill positions over the coming days so that you can have a leg up on your fantasy football competition this upcoming year.
Being that a team's success generally hinges on the performance of their quarterback, I figured that this was a good place to start.
To make things a bit more organized, I decided to group the top-32 fantasy QBs based on different tiers, with tier 1 being the best in the league, all the way down to the tier-4 quarterbacks, who should be used as nothing more than bye week replacements.
Without any further ado, let's jump into the rankings.
Tier-1 Quarterbacks
I'll start with the cream of the crop, and five quarterbacks I rate very highly.
1 – Tom Brady
Do I really have to pull your leg very hard to convince you that Tom Brady is the top option at quarterback?
Most teams in the NFL would be in shambles if they had a 41-year-old man leading their offense. The Patriots wouldn't have it any other way, as "Tom Terrific" is coming off a year in which he led the NFL with 4,577 passing yards.
Don't worry about Brady's age. He has defied all odds and astonishingly gotten better as he has gotten older, mimicking some sort of fine red wine.
Over the past 4 years, he's thrown 129 touchdowns compared to just 26 picks, and he carries a quarterback rating of 103. The Patriots offense will have as many chances to score touchdowns as any team in the league, and you should be absolutely stoked if you get Brady on your fantasy team this year.
2 – Aaron Rodgers
Many touts have Aaron Rodgers ranked at the top (ahead of Brady), and I'm okay if you share that belief. His arm talent and skill level are undeniable. I just don't see the Packers offense being as "high-powered" as the Patriots.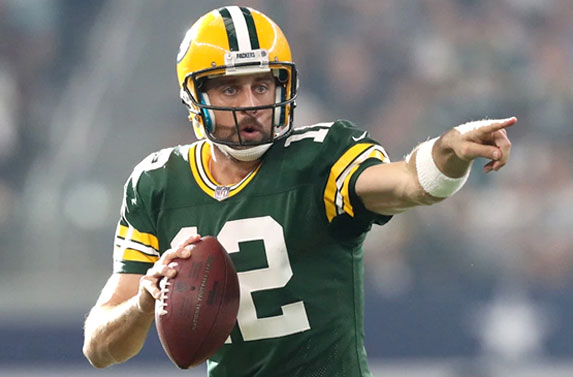 With that being said, this team can only go as far as A-Rod takes them, so I wouldn't be surprised to see HC Mike McCarthy unleash #12 in a big way in 2018. I don't expect Green Bay to effectively run the ball in 2018, not to mention that the rest of the NFC North is filled with solid run-stoppers.
I expect Rodgers to be chucking it around 35 times per game this season, and that should result in some pretty sweet stats.
3 – Russell Wilson
Here's a guy who led all quarterbacks in fantasy scoring in 2017, and he'll have a chance to do the same in 2018. You already know about Russell's prowess with his feet, but you probably didn't realize that Wilson actually led the entire league in 2017 with 34 touchdown passes.
That's right – the dude threw for 3,983 yards and led the league in touchdown passes and is still a threat to rush for 500+ yards and a few TDs on the ground this upcoming season. He's got speed on the outside with Tyler Lockett and Doug Baldwin, and newcomer Brandon Marshall should be a legitimate red-zone threat.
Draft Wilson with confidence and know that the high floor and high ceiling are both secure.
4 – Drew Brees
If you are looking to draft a quarterback who you can pencil in for about 5,000 yards passing, go ahead and select Drew Brees. The heart and soul of the Saints team has averaged 4,925.6 yards passing over his last 10 seasons to go along with 35.4 TD passes per year during that span.
He's about as solid and consistent a quarterback as you'll find in this league. When it comes to your fantasy starter, that's a really good thing.
Brees is going to get you plenty of 300-yard passing games, thanks to targets like Michael Thomas and Alvin Kamara to spread the ball around.
At 39 years old, Drew has a lot more mileage on his tires than some of the young guns in this league. However, I am more than content with rolling him out as my starter, as I predict he'll end the year as a top-5 fantasy QB.
5 – Carson Wentz
I actually wouldn't be shocked if Carson Wentz ends the year ahead of guys like Aaron Rodgers or Drew Brees, but he still has to go out there and continue proving he belongs in this category first.
After posting 33 touchdown throws to just 7 interceptions, Carson clearly took a huge step towards superstardom during his sophomore campaign. If it weren't for his unfortunate knee injury, we'd probably be talking about Wentz as the 2017 MVP recipient.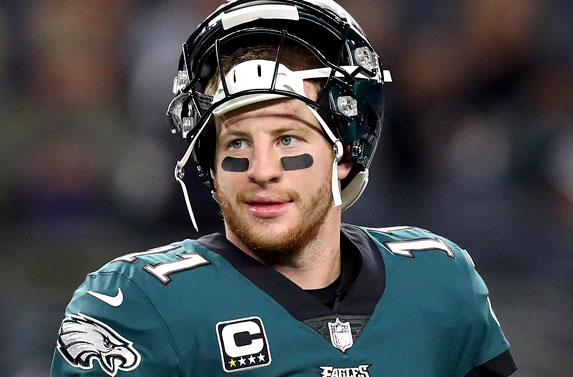 The Eagles are so loaded on offense that all Wentz has to do is be the conductor that leads this orchestra. Whether its Alshon Jeffery, Nelson Agholor, or their new deep threat Mike Wallace, Wentz has a bevy of options at his disposal. Throw in stud tight end Zach Ertz and rookie Dallas Goedert, and we're talking about arguably the best offense in the league.
Tier-2 Quarterbacks
There are 10 quarterbacks I'd place in the second tier, and these are as follows.
6 – Deshaun Watson
The former Clemson QB was on his way to an incredible rookie season. Then Deshaun Watson's year was sadly cut short when his right knee gave out during practice before their Week 9 game.
The good news is that Deshaun Watson is on track to be ready for the season opener after his rehab appears to have gone favorably. After throwing 16 touchdown passes over his last 4 games in 2017, Watson showed that he is more than capable of being ultra-productive at this level.
DeAndre Hopkins might just be the most skilled wide receiver we have in the National Football League, and Will Fuller can fly down the sidelines and haul in the deep ball. The fact that Watson will be a factor running the ball on broken plays means that his fantasy upside is off the charts.
If you are looking for a guy who has the ability to take the league by storm this year, Watson may be your guy.
7 – Cam Newton
Talk about a quarterback that is a fantasy threat with their feet, Cam Newton doesn't even have to play well to score points for you in your league. Since Cam entered the league in 2011, he has averaged a remarkable 617.1 rushing yards per season. He's rushed for 54 touchdowns in 7 seasons for an average of nearly 8 rushing TDs per year.
He'll be logging cheap yards when he tosses screen passes to Christian McCaffrey, and he's got more than a few receivers who can stretch the field. With Greg Olsen back as Cam's safety blanket, Newton's fantasy floor is among the highest in the league at the quarterback position.
8 – Matthew Stafford
If this ranking was based off arm talent alone, Stafford would find himself in the top 3. The leader of the Detroit Lions franchise has thrown for at least 4,257 yards every year since 2011.
Golden Tate and Marvin Jones obviously aren't the deadliest 1-2 punch at the wide receiver position, and the Lions are still searching for more playmakers who will be able to step up and contribute. But the fact of the matter is that Stafford is a threat to lead the NFL in passing yards every year and has thrown as many as 41 touchdowns in a single season.
First-year head coach Matt Patricia had the privilege of watching Tom Brady lead a team for the better part of 14 years. If he can transfer any of the advice he gleaned from Tom during that time, he can help Stafford take the next step towards being in the upper echelon of NFL quarterbacks.
9 – Philip Rivers
Despite the fact that Philip Rivers will turn 37 years old during the 2018 NFL season, I actually think the former N.C. State QB has quite a bit left in his tank. The fact that he has 7 children running around at home helps keep the Chargers QB nice and youthful.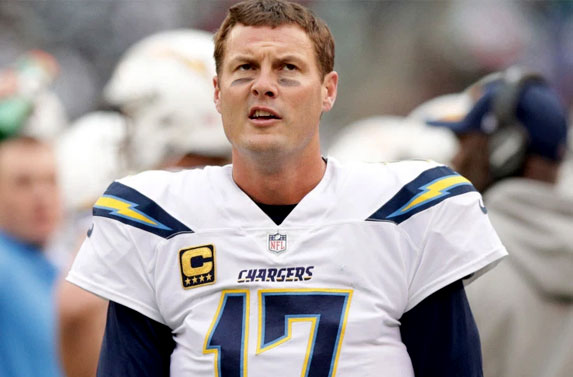 What will help Philip keep his motor running on the field in 2018 is the fact that the Chargers roster might be the most complete it has been since Rivers came into the league back in 2004.
Coming off a year where Rivers threw more than 4,500 yards and 28 touchdowns and was the 7th-highest-scoring fantasy QB, you could do a lot worse than having this guy as your starter.
Contrary to popular belief, I prefer Philip over guys like Big Ben and Captain Kirk.
10 – Kirk Cousins
The Minnesota Vikings have everything in place to make a run at the Super Bowl. It might very well come down to how Kirk Cousins performs in his new city.
What concerns me about Kirk is that if you look at his last three seasons since becoming a full-time starter in this league, he really hasn't shown any signs of improvement. The good news for you is that his decreasing completion percentage and slight uptick in interceptions thrown won't kill your fantasy team too badly.
Adam Thielen and Stefon Diggs give Kirk a couple of bona fide wideouts, and Kyle Rudolph is a serious red-zone threat.
When it's all said and done, look for Kirk to be over the 4,000-yard mark in passing and upwards of 27-30 touchdown passes. That is certainly borderline-top-10 material.
11 – Jared Goff
I slotted Jared Goff at 11, but I truly think that is about his floor. This is a guy who might be drafted as a top-5 QB in 2019, so you may want to get on the bandwagon now.
After just 7 starts as a rookie in 2016, the keys of the Los Angeles Rams offense were handed over to Goff in 2017. He responded by going 11-4 over the course of the first 15 games, with the Rams opting to sit Goff in their meaningless Week 17 contest.
After an impressive 28/7 TD/INT ratio and over 3,800 yards thrown in just 15 games, I expect Goff to take another stride towards being one of the top signal-callers in the entire NFL.
He'll now have a new toy in Brandin Cooks, while Robert Woods and Cooper Kupp return as dependable targets. Todd Gurley's dominance only helps Goff's cause, giving the former Cal QB no reason not to shine in 2018.
12 – Ben Roethlisberger
Ben Roethlisberger is in a terrific situation once again to score a bunch of fantasy points in 2018. With Antonio Brown putting up staggering numbers and Le'Veon Bell running loads of routes out of the backfield, Ben's numbers are almost certain to be inflated.
Only Tom Brady and Matthew Stafford finished 2017 with more completions than Big Ben, but that doesn't come without a price. Roethlisberger has averaged 14.3 interceptions per season over his last three, but he's always a threat to put up a few massive games each season.
He wouldn't be my choice as the most consistent QB to start week in and week out, but he's still a viable starter in a standard 12-team league.
13 – Patrick Mahomes
Speaking of upside, Patrick Mahomes might just have the most of any of the young quarterbacks in the NFL. The former Red Raider will get his first taste of being a full-time starter in this league after he was promoted to being the Chiefs starter during the offseason.
His athleticism and arm strength are unparalleled, and he has a plethora of weapons around him to help bolster his statistics. In terms of quarterbacks outside of the top 12, Mahomes has an opportunity under Andy Reid to turn a lot of heads around the NFL community.
Like Goff, I think Mahomes is a guy who experts may be touting as a top-5 fantasy QB in 2019. Others in your league will be high on him as well, so don't be afraid to reach for Mahomes ahead of other notable QBs.
14 – Matt Ryan
Matt Ryan is a guy whose fantasy numbers took a hit in 2017 due to the Falcons leaning a bit more on the running game than in past years. His 342 completions and 529 attempts were Ryan's fewest since 2009.
I don't think he'll get back to the 4,944 yards and 38 touchdowns thrown he accumulated during his MVP run in 2016, but I do expect Matt to throw for more than the 20 touchdowns he threw last season.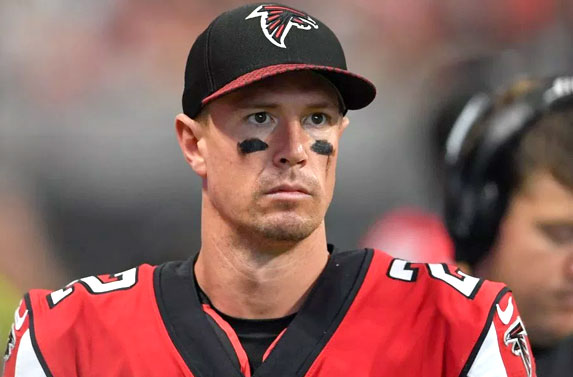 GM Thomas Dimitroff drafted Alabama WR Calvin Ridley, who will pair nicely with their other former Crimson Tide wideout Julio Jones. What may take away from Ryan's touchdown total again is that OC Steve Sarkisian will again make sure that both Devonta Freeman and Tevin Coleman are getting their fair share of touches.
With that being said, I still think Ryan surpasses 25 touchdowns and should approach 4,500 yards passing. This is enough to be right on the fringe of a top-12 fantasy quarterback.
15 – Jimmy Garoppolo
I know the motivation is there, and I know Jimmy Garoppolo has the skillset to be an elite quarterback in the NFL.
What I'm not sold on is that "Jimmy GQ" has enough speed and talent around him to put up big enough numbers to be a top-10 fantasy QB. Starting wideout Pierre Garcon is well past his prime, and Marquise Goodwin and Trent Taylor are still pretty raw.
With no serious running game to speak of, Jimmy could find himself facing defenses that are sitting back, and that could prevent Garoppolo from really taking off.
HC Kyle Shanahan will hope that Jimmy can take some of the leadership skills he gathered from the Patriots organization and apply them in San Francisco.
Despite having all the tools to be great, I think Jimmy and this group are a playmaker or two away from being a high-octane offense. Jimmy has the upside to be a QB1, but he is more of a high-end QB2.
Tier-3 Quarterbacks
Let's take a look at the ten quarterbacks I've placed in the third tier.
16 – Derek Carr
Here's a guy down in tier 3 that could easily emerge as a tier-2 or quite possibly even a tier-1 quarterback. Derek Carr now has the benefit of having Jon Gruden to lean on for advice. After watching Gruden talk and work with quarterbacks over the past few years during his "QB Camp," there is no doubt in my mind that Gruden can help Carr elevate his game to a whole new level.
Once Derek's raw talent is entirely unearthed, the sky will be the limit. Veteran wideout Jordy Nelson will be the perfect complement to Amari Cooper and Martavis Bryant, and I actually think this passing game could take off.
Carr has missed just 2 games in 4 seasons as a professional, and I believe his breakout year is yet to come.
17 – Andrew Luck
It's painful to talk about Andrew Luck down in tier 3, but there's a huge cloud of uncertainty hanging over the former Stanford Cardinal standout. Considering how appallingly the Colts organization has handled and managed Luck's injury, I'm more than cautious on banking that Luck returns to his normal self.
If Andrew is able to come back healthy and stay on the field for 16 games, then whoever drafts him in your league will likely have wound up with a huge steal.
Who steps up and catches balls other than T.Y Hilton and Jack Doyle is still up in the air, but I can't push aside Luck's football IQ and ability to sling it around the field. Once you have your starting QB solidified and your skill positions intact, go out and grab Luck. The fruition of that pick could be huge.
18 – Alex Smith
The Redskins brought in Alex Smith via trade to replace Kirk Cousins. While Alex won't have Travis Kelce to rely on, a healthy Jordan Reed at tight end could go a long way towards helping Smith get comfortable with his new role in the nation's capital.
Free-agent acquisition Paul Richardson gives Alex speed on the outside, and Jamison Crowder is a trustworthy target in the middle of the field.
In terms of a top-end backup fantasy quarterback, Alex Smith is near the top of that list due to his consistency and ability to gain yards with his feet.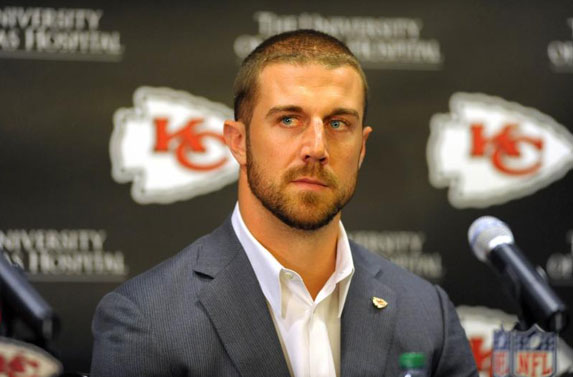 Draft Alex as your number-2 QB and feel safe knowing that if your starter goes down, Smith can be plugged in and deliver a solid chunk of points for your team. Who knows? He could wind up as the 5th-highest-scoring fantasy QB again like he was in 2017!
19 – Dak Prescott
After Dak Prescott's rookie season, everyone and their grandmother were ready to hail this guy as a top-10 fantasy QB. Then reality set in after Dak's productivity leveled off during his sophomore campaign.
When comparing his first and second seasons as the Cowboys' starting quarterback, it wasn't pretty.
Prescott finished 2017 with fewer yards, fewer TD passes, a lower completion percentage, and significantly more interceptions (13 as opposed to just 4 as a rookie) during the year in which he was supposed to show improvements.
He's lost his top two targets in Jason Witten and Dez Bryant, and I'm afraid it could be a long year for the Cowboys passing game.
I would not feel comfortable rolling out Dak as my everyday fantasy quarterback, so draft Dak as your backup plan, not your starter.
20 – Marcus Mariota
I like Marcus Mariota as a player and think he's got plenty of skills to be a successful quarterback in the NFL. But the fact of the matter is that he took a major step back in 2017 after playing tremendously the year before.
He only threw 13 TDs last year and was still somewhat limited running the ball. With Mike Vrabel coming over from Houston for his first crack at an NFL head coaching gig, only time will tell how aggressive the Titans will be with their play-calling.
Mariota gets the dreadful Colts secondary in Week 11. I recommend those of you who draft Tom Brady or Jimmy Garoppolo (both have bye weeks in Week 11) to handcuff the pick with Mariota as your backup. He is capable of being a top-12 fantasy QB; he'll just have to go out there and prove it first.
21 – Ryan Tannehill
Thank goodness for Miami fans that the Dolphins organization has turned the page on the Jay Cutler era and put that travesty to bed. Ryan Tannehill will be back under center in 2018 after recuperating from a gruesome left knee injury.
DeVante Parker is looking to grow into a major contributor, and Danny Amendola was acquired from New England to replace Jarvis Landry in the slot position. The more the Dolphins trail in games, the more that Tannehill will be asked to throw, and that's a good thing from a fantasy perspective.
If you wind up with Jared Goff or Patrick Mahomes as your starter, they'll both have byes in Week 12. Snag Tannehill as your backup, as he'll be indoors against a porous Colts secondary.
22 – Case Keenum
After a stellar season guiding the Vikings to the NFC Conference Championship game, Keenum was unwanted in Minnesota. Luckily for Case, he found a home in Denver and received a 2-year deal worth $36 million.
UP until this point, he's been unable to shake the theory loose of him just being a "game manager." However, if Denver's defense can get back to where it was a few years ago, moving the chains and not turning the ball over might not be the worst recipe for this offense.
Although Manny Sanders and Demaryius Thomas are both another year older, they are still more than adequate wide receivers in this league. You could certainly do worse than having Keenum as your backup, but you might be in trouble if you're starting him routinely.
23 – Blake Bortles
Blake Bortles has gotten a bad rap, and I'm not saying it's not partially deserved. But the fact of the matter is that this defense is so good and the Jags' running game is so solid that HC Doug Marrone doesn't need Bortles to throw for 300 yards and 3 touchdowns every game.
Jacksonville's formula for success is to ground and pound with Leonard Fournette and shut teams down when they're on defense. Given this information, don't expect Blake to throw for gaudy numbers like some other quarterbacks in this league.
Draft him accordingly in the late, late rounds, as strictly a bye week replacement.
24 – Eli Manning
Whether it was the unavoidable effects of Father Time setting in or a horrendous offense around him, Eli Manning sputtered big time in 2017. So much so that now-estranged head coach Ben McAdoo resorted to starting Geno Smith in a Week 13 game against the Raiders that ended Manning's string of 210 consecutive starts.
The good news for Eli is that it's a new year with a new, offensive-minded head coach in the building. Rookie Saquon Barkley should help relieve some of the burden that will be on Eli's shoulders, and WR Odell Beckham Jr. has recovered from his left ankle injury.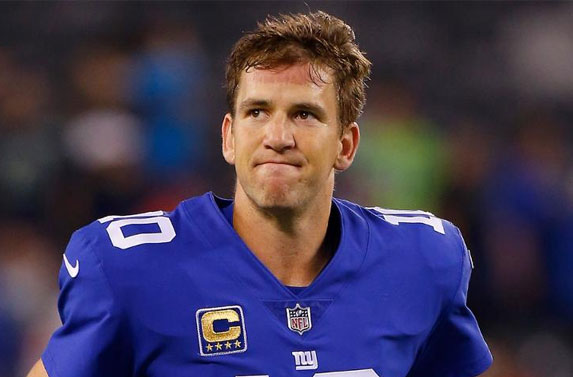 At 37 years old and not likely to not be a factor in the NFC East division, it's hard to imagine what's motivating the two-time Super Bowl MVP to continue taking a beating in the Big Apple. This could be Eli's last year in the league, and I don't expect him to be a consistent fantasy option.
25 – Andy Dalton
Andy Dalton has unfortunately shown bits of regression over the past few years as the Bengals' starting quarterback. The "Red Rocket" completed a paltry 59.9% of his passes in 2017 and had a total QBR of just 41.1, which finished 25th among the 30 qualifiers.
Wide receiver A.J. Green is still a star in this league, and Tyler Eifert is a handful for the opposition in the red zone. John Ross is looking like he'll be a factor after hardly playing at all during an injury-riddled rookie season, so there is some hope for Dalton and this offense.
It's still not enough for me to feel confident in drafting Dalton, but I guess you could do worse as your backup if the QBs go off the board early in your draft.
Tier-4 Quarterbacks
There are seven quarterbacks remaining, and these are the ones in the lowest tier for the upcoming season.
26 – Mitchell Trubisky
The Chicago Bears wide receiving core had to be the worst in the league in 2017. Even with the addition of Allen Robinson, the 2018 group isn't looking a whole lot better.
It's going to be awfully tough for Mitchell Trubisky to be fantasy-relevant in 2018, as he's just in a difficult position to truly succeed from a statistics perspective.
In 12-team leagues with one starting quarterback, I don't see any need to draft the Bears QB at all. Unless you are desperate and all these other names have already been taken, hopefully, you'll only use Trubisky in the direst of situations.
27 – Joe Flacco
Have you ever head that saying, "If you don't have anything nice to say, then don't say anything at all"?
If I stay true to that motto, then my discussion on Joe Flacco ends right here. I almost replaced Joe with Raven's rookie Lamar Jackson, but it's still uncertain if the former Louisville Cardinal will get the reps this season.
Joe threw for just 3,141 yards last year and had an 18/13 touchdown to interception ratio. He's gotten another year older and hasn't been a legitimate or consistent starting quarterback for a while now. In 10 years as the Ravens' incumbent starter, he's never thrown less than 10 interceptions.
Stay away from drafting Joe Flacco, because I could see this team turning to Jackson by Week 8 or 9.
28 – Tyrod Taylor
Tyrod Taylor will open the 2018 season as Hue Jackson's starting quarterback in Cleveland. How long he is able to fend off 1st-overall pick Baker Mayfield is the question everyone is asking themselves in "the 216."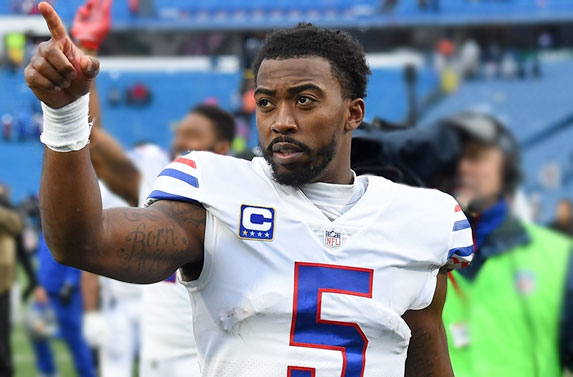 Tyrod's rushing ability gives him a decent floor, but I don't expect Taylor to attempt enough passes to really move the fantasy needle. One thing I would keep on eye out on is the Browns' latter portion of their schedule. If your fantasy playoffs run from Week 14-16 and Taylor is still starting in Cleveland, he'll be licking his chops.
I see home games versus the Jets and Lions and a road game at New England, where they'll likely be trailing and forced to throw. This is some serious "fantasy goodness" and a dream scenario for a quarterback to pad his stats.
29 – Sam Bradford
Sam Bradford has shown flashes of brilliance since he was drafted in 2010. The problem is, it has been just that – flashes.
Consistency and staying healthy have always been Sam's downfall, and now he has rookie Josh Rosen breathing down his neck for playing time. It's only a matter of time before Bruce Arians decides to go with the former UCLA Bruin QB, so I see absolutely no reason to draft Bradford.
If and when he struggles early on, the plug will be pulled, and Sam's days as the Cardinals starter will be behind him.
30 – Josh McCown
Josh McCown is going to open the year as the Jets starting quarterback, but he'll have to play lights-out for that to still be the case by Week 17.
He'll have a fairly soft schedule to start the season, as games against the Lions, Dolphins, and Browns should allow him to put up some decent stats early. But the writing is on the wall in East Rutherford, and Sam Darnold is the quarterback of the future for this squad.
Josh is no more than a stop-gap until the Jets organization feels that Sam is ready to take the field. With that, I don't recommend drafting someone who's just there for the interim.
But at the same time, I wouldn't be surprised at all to see McCown start the year with decent numbers and help some teams get out to fast starts in their fantasy leagues.
31 – Jameis Winston
If you draft Jameis Winston, you'll have to wait until at least Week 4 unleash him into your lineup. Winston was suspended for 3 games by the NFL for exhibiting some less-than-stellar behavior during an Uber ride in March of 2016.
Quite frankly, if I was running the Buccaneers franchise like the Glazer family does, I would have cut ties with this dude a while ago. He clearly doesn't take this professional football thing seriously and has proven to be a liability to the football team.
The Buccaneers franchise is going nowhere in 2018, and I believe they should take a hard look at a drafting a quarterback in the 2019 Draft. It's a shame, too, because Mike Evans is an absolute stud, and Jameis has had chances to build serious rapport.
Jameis has underachieved and underperformed so far in his professional career, and I don't see 2018 as a step in the right direction. Don't draft Jameis. There are 30 other better options.
32 – Baker Mayfield
Baker isn't someone you necessarily need to draft (depending on the roster construction and rules of your league), but he's actually a guy who could end up having a huge impact.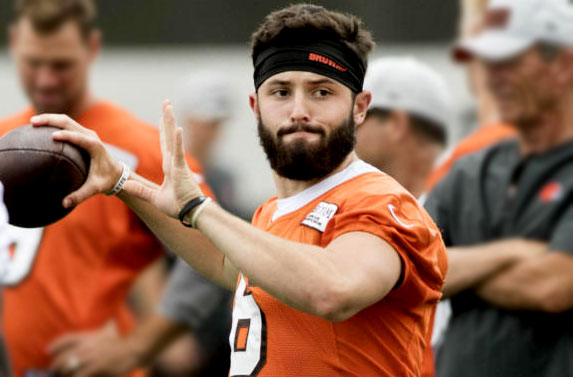 Remember when I went over the Browns opponents during weeks 14-16? Well, if Baker has been inserted by then (which I fully anticipate happening), then the former walk-on at Oklahoma could be the difference-maker that carries you to a league title.
I promise you that if he's in there, it won't be just to turn around and hand the ball off. If you lose sight of him on draft night, just keep close tabs as the end of the season nears, when your fantasy postseason is looming.
The Wrap-Up
When it comes time for your fantasy football draft, you have to be willing to trust what you believe. My quarterback rankings might not be the same as Matthew Berry's. I can promise you that Field Yates and Adam Schefter will have different opinions than I do about the quarterback position.
I suggest you glance at not only my rankings but compare and contrast them with the others you see. Use a combination of what you read and learn about each quarterback and decide where exactly you think each one falls.
These are just my thoughts, although they are based on diligent research and years of experience playing fantasy football. My intention was to give you another point of view, whether that's similar to or different from the ones you read on ESPN or Yahoo Sports.
I truly hope this fantasy football quarterback rankings sheet helps you win your league this season. Those with any questions or comments, feel free to reach out to me via Twitter.
Otherwise, I'll see you back here soon for my RB, WR, and TE rankings that will be released shortly!