Printable Bracket for March Madness 2019 – Plus Advice on Running Your Own Contests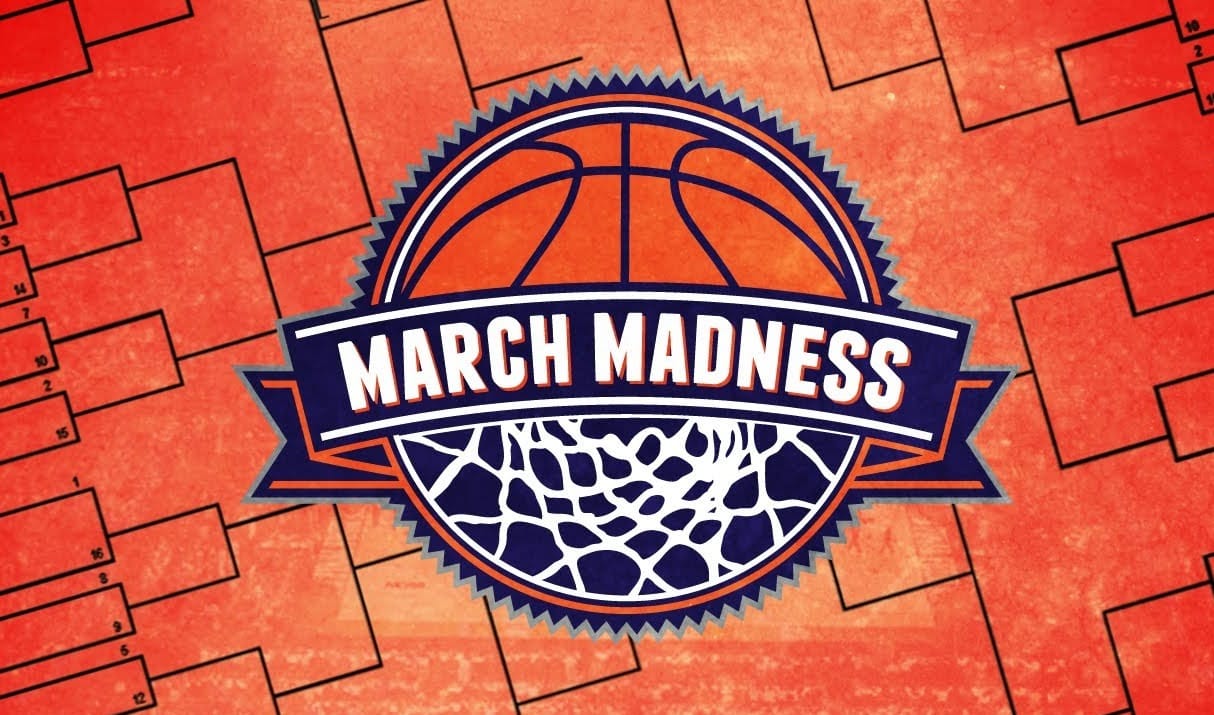 March Madness is almost upon us.
The NCAA Division I Men's Basketball Tournament is without a doubt one of the most highly anticipated sports events in the US.
Not only does it usher in the start of spring, but it provides many hoops fans with a great excuse to access their inner clairvoyant.
It also provides basketball betting enthusiasts with opportunities to make serious money on wagers.
You just know that offices, bars, and almost every other form of workplace across the nation will see colleagues of all shapes, ages, and sizes aiming to fill out the perfect bracket.
Well, if only it was that simple.
Multi-billionaire Warren Buffett proved this theory in 2014 when he dangled $1 billion in front of the American public, claiming that he would hand it over to anyone who completed the perfect March Madness bracket.
Although acting like the annoying older brother who offers you fifty bucks if you can do a handstand on your skateboard without falling flat on your face, Buffett proved a point: it's almost impossible to get it 100% right.
Some argue that the odds of a perfect bracket are 1 in 9.2 quintillion, while others argue it's a little less. Which is still stupidly, ridiculously high.
Anyway, that shouldn't put you off from trying. Especially when Janet from complaints is certain that she can get the perfect bracket this year and knows what Cinderella teams are going to shock.
That being said, it's the taking part that counts, right?
In this post, I'm going to give you everything you need to run your own March Madness contests and fill out your bracket. I've even included a printable March Madness bracket.
March Madness: The Basics
March Madness — although estimated to cost employers across the US billions each year — is a tradition that we can all get on board with. Although, if you don't know what you're doing, it can be a little confusing.
If like me, you are not one to be deterred by a challenge, you'll be all right. After all, what's the big deal about a little confusion that cannot be cured with the right information?
In reality, there's nothing complicated about filling in a March Madness bracket. Making the right predictions, however, is not going to be easy. That said, this is why it's so much fun to take part.
March Madness in a Nutshell
March Madness is a term used for the NCAA men's basketball tournament
The tournament consists of 68 teams
Those 68 teams are the highest-ranked from approximately 340 schools across the country
Prior to the tournament starting, Selection Sunday (March 17 in 2019) sees the competition's Selection Committee rank each team from 1 to 68
The highest-ranked team (number 1) in the tournament is usually the best-performing team in the regular season and the conference tournament prior to March Madness
In the opening round, four teams (known as the First Four) are eliminated from the tournament, leaving 64 teams for the first round
Of the 64 teams, there are four regions of 16 that are each ranked between 1 and 16. The ranking number is the team's seed
A seeding system ensures that the best-ranked teams avoid each other until later in the tournament
First-round games usually see the No.1 ranked team plays the No.16 ranked team, with the next highest playing the next lowest (No.2 vs. No.15, No.3 vs. No.15, and so on)
The tournament progresses with one team being knocked out in each game until there is one left standing
March Madness Schedule
Here are all the dates you need to know ahead of this year's March Madness.
| ROUND | SITE | 2019 DATES |
| --- | --- | --- |
| Selection Sunday | N/A | March 17 |
| First Four | Dayton, OH | March 19-20 |
| 1st/2nd Rounds | Hartford, CT | March 21/23 |
| 1st/2nd Rounds | Salt Lake City, UT | March 21/23 |
| 1st/2nd Rounds | Des Moines, IA | March 21/23 |
| 1st/2nd Rounds | Jacksonville, FL | March 21/23 |
| 1st/2nd Rounds | Tulsa, OK | March 22/24 |
| 1st/2nd Rounds | Columbus, OH | March 22/24 |
| 1st/2nd Rounds | Columbia, SC | March 22/24 |
| 1st/2nd Rounds | San Jose, CA | March 22/24 |
| South Regional | Louisville, KY | March 28/30 |
| West Regional | Anaheim, CA | March 28/30 |
| East Regional | Washington, D.C. | March 29/31 |
| Midwest Regional | Kansas City, MO | March 29/31 |
| Final Four, National Championship | Minneapolis, MN | April 6/8 |
Betting on March Madness
Betting lines are set to move up and down over the next few weeks as more and more betting enthusiasts choose their March Madness winners.
As it stands, the top four favorites look like this.
Latest Odds to Win 2019 March Madness
The odds above, provided by Bovada, are accurate as of February 21, 2019. As previously mentioned, these will change in the days and weeks leading up to March Madness.
If you are looking to simply back the winners of the tournament, then you can place your bets right now. There's absolutely nothing stopping you from doing so.
In 2018, there was an estimated $10 billion wagered on the event, with only a small fraction being placed through Vegas.
Much of that figure would be accounted for by the millions taking part in office pools and March Madness competitions across the country.
A sizable chunk of it would also come from those using the many online betting sites offering March Madness wagers. This is the easiest and most convenient way to bet on the tournament, and opens up lots of betting opportunities.
Types of March Madness Bets
There are numerous types of bets that you can place on March Madness.
Although specific types of bets — such as what players will feature, score, and perform better in certain games — will not be known until fixtures are announced, these bets will be available to you when the tournament format is decided.
Just like betting on any game of hoops, you will have a wide range of betting options at your disposal.
The most common March Madness bets include the following.
Moneyline
Point spread
Prop bets
Totals
Moneyline wagers are the easiest bets to place on a March Madness game. You're simply placing a wager on a team to win a game.
Point spreads are a bit different. Unlike the moneyline, bookmakers will aim to even the playing field between teams that differ in strength. To make odds as equal as possible between both teams, the stronger outfit will start the game with a points deficit, while the weaker team will be given a points advantage.
If the stronger team starts with a -5.5 points deficit, they must win by 6 points or more for you to win your bet. Conversely, a team starting with a +5.5 advantage must win by any score or lose by 5 points or less for you to be successful.
Prop bets can range from the basic to the ridiculous. For example, the exact minute that a first three-pointer is scored, or a commentator saying the name of a vegetable during a broadcast. During events like March Madness, the bets can be pretty crazy and obscure.
Totals are also known as over/under wagers. These bets involve bookmakers setting a combined score for both teams in a game, or by half-time, the first quarter, etc. Your job is to predict whether the game or period sees both teams score more or less than what the oddsmakers have set.
There are other bets that you can avail of ahead of March Madness, but these are the main ones.
Three Golden Rules for Filling out Your March Madness Bracket
You may already have a long-time strategy that you plan to use when it comes to filling out your bracket.
That said, it always helps to consider things you might not have previously.
Here are a few simple tips for you to think about when filling out your March Madness bracket.
A Good Start Is Everything
There are no guarantees that first seeds will clean up. In fact, since the first year of seeding in 1979, there has only been one occasion when all four first seeds made it to the Final Four.
If there are even a fair number of participants in your March Madness pool, things can still come down to just a few points at the end of the tournament. This is why it's key to get off to a good start.
Another tip to help you start as you mean to go on is to pay attention to betting spreads. A fascinating stat: prior to the beginning of last year's competition, teams favored by 6 points or more won 87.8% of games.
You can't argue with stats.
Upsets Happen… Deal with It
Upsets will happen. In fact, it wouldn't be March Madness without a couple of underdogs knocking out stronger seeds.
There has only been one year since 1979 — and that was in 1997 — that all No. 2 seeds made it to the Sweet Sixteen. So it's a good bet that one of the No. 2 seeds will crash out in the second round.
This logic can also be applied to No. 3 seeds. If you want to dig deeper into stats and look for telling signs, try to identify second or third seeds that have won 60% or less of their last ten games. Also, consider things like turnover rates and poor three-pointer throwing stats.
Be Realistic
You could go absolutely crazy and start predicting all No. 16 seeds to knock out No. 1 seeds. After all, UMBC's unbelievable win over top overall seed Virginia in 2018 was one to savor. It had never been done before.
So, should you predict a similar thing happening this year? Well, no. That would be bracket suicide… or brackecide. Which is not a word, but totally should be.
Anyway, to the point. There are reasons behind the seedings system, and they are, for the most part, accurate. No team in the No. 16 seed category had ever knocked out a No. 1 seed in the first round prior to last year.
By all means, don't play ultra-conservatively, but make sure you don't bust from the get-go, Mr. Chalk.
Running Your Own March Madness Contest
Although creating your own March Madness contest is not rocket science, it will require some hard work. It pays to ensure you enjoy yourself when setting up your own competition, and you can only really do this once you know what you're doing.
Running your own March Madness competition should be fun. Just remember that you're taking responsibility. If you feel you are up to the challenge and can commit to overseeing everything in a responsible manner, by all means, be the man!
However, if you're going to let the pressure get to you to the point that you jump ship after the first round, it might be an idea to let Jason — that dude in IT with the hipster mustache and weird zebra-print shoes — have his moment in the spotlight.
And we all know he wants the attention.
Regardless, here are a few do's and don'ts for running your own March Madness contest.
Do
Ensure you know what you're doing. If you can't fill in your own bracket and have no idea how the tournament works, you're probably not the person to be running the competition
Make sure to distribute brackets to everyone entering your competition
Clearly set out the rules of the competition so that they are clear, fair, and cannot be misinterpreted. These should include the points scoring system
When setting up a competition at work, ensure that HR and management are cool with you doing so
Figure out an entry fee that is fair and reasonable and keep track of who has paid up. Also, keep the money safe!
Have fun. That's what it's all about. Don't let the "power" go to your head and turn you into the office Stalin
Don't
Assume that no one else is running a competition in the office. Check first to avoid stepping on anyone's toes
Completely forget your job as safety inspector of the Springfield Nuclear Power Plant, leading to a meltdown crisis as you concentrate all of your efforts on your bracket
Charge excessive entry fees
Advertise prizes such as a brand-new Escalade or a two-week vacation to the Bahamas for the winner if you can't honor them… because you can't
Spend the entrance fees and prize money on tacos, margaritas, and 2Pac air fresheners on your lunch break
Above all, forget to provide clear instructions regarding entrance fees, bracket completion deadlines, how to pay, and everything else required of the entrants of your competition
Your Printable March Madness Bracket for 2019
As you will agree by now, things are starting to make a little more sense, right?
By Monday, March 18, Selection Sunday will have assigned the seeds. You will then have most of the information you need in order to work on your bracket.
That being said, Monday, March 18, is the morning after St. Patrick's Day. If you enjoy a drink or two on the celebration of all things Irish, make sure you have a hangover cure handy!
Anyway, before you do anything, you need to print your March Madness bracket.
You can get yours here.
Before you decide on what kind of March Madness competition you want to run, let's take a look at some of the best types out there.
Three Alternative Types of March Madness Contests
If the standard bracket pool is not really your cup of beef, then you can always look towards alternatives.
The most important thing to consider when suggesting one of these to colleagues, friends, or family is how they might react to them. At least, initially.
After all, many participants of March Madness contests are familiar with the traditional, standard points scoring format.
If you want to try something new, check one of these bad boys out.
The Survivor Pool
If you have ever participated in an NFL Survivor Pool, you'll get the hang of this one easily enough.
The rules are simple: choose a winning team over every one of the ten days of the tournament. If your choice is beaten, you are out of the pool.
The Draft Pool
This is a take on the regular March Madness bracket.
Those participating in the draft pool will aim to draft the teams that will progress the furthest in the tournament.
The Sweepstakes/Blind Draw Pool
This one is fun for those who do not have the time nor attention to partake in other types of pools.
Simply put, write down the names of each of the 64 teams on a piece of paper before folding them up and putting them into a hat, box, or anything else of that ilk. Each participant will "blindly" choose a piece of paper, and that will be their team for the rest of the tournament.
Final Thoughts
March Madness is almost upon us.
The buzz is growing across the nation for what should be an excellent competition, and I, for one, cannot wait to get started.
For those who will complete their first ever March Madness bracket, the information above should, for the want of a terrible pun, fill you in.
More than anything, this time of year provides participants with a chance to go head to head against friends, family, and co-workers. Although the perfect bracket has never been done before, every year, we have another opportunity to see that change.
Well, we can only hope, right?
Regardless of what happens this year, March Madness 2019 will see bets galore. Backing your team to go the whole way is always fun, but seeing bold predictions come through can often be a worthy substitute.
As 2018 proved, anything can happen. Whether we will ever see a shock like UMBC's crazy win over Virginia happen again is something to be decided in the future.
For now, let's just have some fun.