Previewing the NCAAF Pac-12 – Is Oregon the Team to Beat in 2021?

Four of the five P5 conferences have an odds-on favorite sitting atop the betting sheet. The one that doesn't happens to have four schools bunched at the top and what appears to be as many as six other legitimate contenders.
There's a lot to unpack in a Pac-12 preview for the 2021 college football season – from quarterback competitions to a program welcoming in the #1 recruit in America.
Let's dip our toes in by taking a look at every team in the conference. I'll finish by unveiling my Pac-12 predictions.
Oregon Ducks
Pac-12 Odds: +225
2020 Record: 4-3
Reports circling in Eugene throughout the spring are that as many as four guys are in the running to take over at quarterback following Tyler Shough's departure (transferred to Texas Tech). I'm not buying in for a second – expect true freshman Ty Thompson to be handed the keys to the Ducks offense straight from the get-go.
The way Mario Cristobal has gushed about Thompson, it seems fairly easy to read between the lines.
"Ty is an exceptional talent. Ty is a guy who doesn't come around very often. The excitement around him is extremely high. He was the alpha dog of the Elite 11. He may be the best quarterback in the country."
Pretty lofty praise for a guy who is yet to suit up, but perhaps this statement isn't so far-fetched. If you want to see a confident young QB make a bevy of throws hitting his receivers perfectly in stride, just take a glance at these Ty Thompson highlights.
As for Oregon's defense, the DE/LB combo of Kayvon Thibodeaux and Noah Sewell might be the best defensive "1-2 punch" in all of the FBS.
Arizona State Sun Devils
Pac-12 Odds: +400
2020 Record: 2-2
Things are setting up for a fruitful year in Tempe. Herm Edwards doesn't have to play the Ducks in 2021, he gets the Trojans on his home field, and he's returning a laundry list of starters on both sides of the ball.
The Sun Devils led the Pac-12 in scoring defense (23.3 ppg) and scoring offense a season ago (40.3 ppg), plus they've added some sincere weapons to help support Jayden Daniels.
Tight end Jalin Conyers comes over from Oklahoma, while Bryan Thompson (Utah) and Elijhah Badger (academically ineligible in 2020) offer depth on the perimeter.
Currently sitting at +400 to be the last team standing in the conference, ASU is hoping to march into the Rose Bowl for the first time since Jake Plummer was leading the charge some 25 years ago.
USC Trojans
Pac-12 Odds: +400
2020 Record: 5-1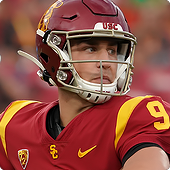 Waving goodbye to Amon-Ra St. Brown and Tyler Vaughns isn't the end of the world. It simply opens the door for Drake London and Bru McCoy to see increased loads. Throw in rising sophomore Gary Bryant Jr. and Kedon Slovis has a trio of NFL-caliber wideouts at his disposal.
With that being said, will Slovis have enough time in the pocket to allow his pass-catchers to go to work?
The early favorite to be the #1 pick in the 2022 Draft regressed in 2021, in large part due to a poor protection scheme. Per Brandon Marcello of 247Sports, USC averaged 7.2 negative-yardage plays and 2.5 sacks (allowed) per game. Both of those marks ranked 11th (out of 12 teams) in the conference. To make matters worse, left tackle Alijah Vera-Tucker is off to the NFL as a top-15 pick.
Clay Helton's defense needs a major facelift after losing several key pieces to the draft, but landing defensive end Korey Foreman (#1 overall recruit in 2021) is a pretty good place to start. The Trojans catch a break not having to face Washington or Oregon in crossover play, but a road game at Notre Dame looms in late October.
Washington Huskies
Pac-12 Odds: +450
2020 Record: 3-1
Jimmy Lake won three of four games in what was a small sample size in year one at the helm. There's not a ton to gather thus far, but here's what we know going into 2021.
A sincere QB battle is taking place between three very different types of players.
Dylan Morris was the starter in 2020 and is the most mobile of the trio. Colorado State grad transfer Patrick O'Brien is the biggest of the bunch (6'5" 245 pounds) and offers the most experience. According to quarterbacks coach John Donovan, O'Brien has been the most impressive QB during spring practice.
And then there's incoming freshman Sam Huard – one of two five-star frosh joining the Pac-12 this season. The top pro-style QB in the 2021 class has the highest ceiling of any Washington quarterback and a pedigree that's hard to ignore. Both Sam's dad (Damon) and uncle (Brock) starred under center for the Huskies and each went on to play in the NFL.
A stiff road test in Ann Arbor awaits on September 11th, but UDub dodges USC and gets Oregon and Arizona State in Seattle.
UCLA Bruins
Pac-12 Odds: +1200
2020 Record: 3-4
UCLA loses a key member on both sides of the ball in DT Osa Odighizuwa and RB Demetric Felton. The good news is Chip Kelly lured in a pair of four-star defensive linemen, plus Brittain Brown is coming back after busting out in last year's finale (29 carries for 219 yards).
Dorian Thompson-Robinson is also returning for a fourth season after playing much more under control in 2020.
Dorian Thompson-Robinson – By the Numbers
Year
Games
Completion %
Yards/Attempt
TD
INT
Passer Rating
2018
9
57.7
6.8
7
4
122.3
2019
11
59.7
7.5
21
12
134.9
2020
5
65.2
8.1
12
4
156.3
Assuming he and Kelly stay on the same page in the upcoming season, DTR could be a sneaky pick to win the Pac-12 Offensive Player of the Year.
With the offense seemingly in good hands, it'll be interesting to see if the defense can continue making strides. After being among the worst units in the country in 2019 (gave up 6.5 yards per play), the Bruins were much better slowing down their opposition (allowed 5.2 yards per play in 2020).
Overall I'd be a bit higher on UCLA in this Pac-12 football preview, but the difficulty of their schedule could eventually catch up. Aside from being matched up with the top two teams in the North, the Bruins non-conference slate is far from a bargain (Hawaii, LSU, Fresno State).
Stanford Cardinal
Pac-12 Odds: +1400
2020 Record: 4-2
Davis Shaw needs to roll up his sleeves if Stanford is going to compete for a Pac-12 title in 2021. Seven Pac-12 schools signed at least three four-start recruits. The Ducks inked 19 while the Trojans nabbed 14.
The Cardinal grabbed one (Aaron Armitage, DE).
Did I mention that Stanford's quarterback, best receiver, top two offensive linemen, and leading cornerback all got drafted into the NFL?
Credit to this squad for reeling off four straight victories to end 2020, but this looks like a 6-6 team in 2021 at best. Stanford surrendered a whopping 222.0 rushing yards per game and clocked in dead last in the conference in defensive pass efficiency.
Who wins the starting quarterback job remains to be seen (Jack West or Tanner McKee), but expect to see more frowns than smiles on the sidelines in Palo Alto.
Utah Utes
Pac-12 Odds: +1600
2020 Record: 3-2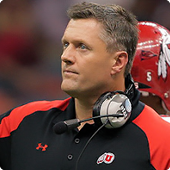 With Cameron Rising shelved all of spring as he recuperates from an injury, one of the Big-12 transfers is likely to take command under center. Or possibly even a true freshman.
Between Charlie Brewer (Baylor), Ja'Quinden Jackson (Texas), and Peter Costelli (#8 dual-threat QB in 2021), Kyle Whittingham has plenty of options.
The QB room isn't the only positional group in Salt Lake City that was beefed up through the transfer protocol. Chris Curry (LSU) and T.J. Pledger (Oklahoma) will immediately vie for carries in a system that ran the ball on 53.95% of their plays a season ago.
The Utes should be strong on defense and be able to hold their own in the South Division. However, strolling into Pac-12 play unscathed isn't all that likely. Utah travels to BYU and San Diego State on back-to-back Saturdays in September.
Colorado Buffaloes
Pac-12 Odds: +2000
2020 Record: 4-2
Don't expect the Buffaloes to storm out of the gates to a 4-0 start this time around. A couple of arduous tests in September (vs. Texas A&M, vs. Minnesota) are likely to thwart Colorado from gaining any momentum heading into conference play. On the subject of the Buffs schedule, it's brutal throughout with road games at ASU, Cal, Oregon, UCLA, and Utah.
Home games versus USC and Washington are anything but cupcakes.
Karl Dorell led a culture shift and has the program headed in the right direction, and Brendon Lewis looks like he's on his way to becoming one of the top quarterbacks in the conference. RB Jarek Broussard is a beast who excels at evading tacklers.
Most yards after contact per carry this season:

? Jarek Broussard – 4.8 pic.twitter.com/oCaIgSNsus

— PFF Draft (@PFF_College) December 29, 2020
Those are the positives that stand out in Boulder. Unfortunately, there are some negatives outside of the ruthless schedule.
Losing K.D. Nixon to USC is a big blow, and the Buffaloes were one of four Pac-12 teams that didn't obtain a single four-star recruit.
Washington State Cougars
Pac-12 Odds: +2000
2020 Record: 1-3
I'm hesitant to call the Cougars a true sleeper in this Pac-12 preview. But don't sleep on Wazzu.
Washington State added Tennessee transfer Jarrett Guarantano to compete for snaps under center, which is significant given the incumbent starter is serving a suspension and couldn't take the field in the spring. No timetable is set in stone for Jayden de Laura to be back – adding more mystery to the QB situation in Pullman.
In any case, Nick Rolovich's offensive prowess should put the Cougars in prime positions to put points up on the board. The problem is can WSU's defense do a better job at getting off the field?
Ranked 116th out of 127 qualifiers in third down defense, Washington State gave up 38.5 points and more than 300 passing yards per game. They simply capitulated on defense.
California Golden Bears
Pac-12 Odds: +2500
2020 Record: 1-3
Cal didn't begin their season until November 15th and wound up playing four games in 20 days.
And that was it.
We can chalk Bill Musgrave's first year as the Golden Bears OC as a lost season. The limited on-field preparation combined with the stop-and-go schedule never allowed Cal to get into a rhythm, but that changes in 2021.
Musgrave has had time to work with Chase Garbers, on top of the fact that the Golden Bears snagged a trio of four-star pass-catchers who will impact the offense right away. In fact, Cal earned the #3 ranking behind only Oregon and USC in 247sports.com's 2021 Pac-12 Football Recruitment Rankings.
Also boding well for anyone wanting to gamble on Cal in their Pac-12 football predictions, 10 of the 16 seniors from 2020 opted to utilize their free season of eligibility that was granted by the NCAA.
Perhaps the biggest obstacle standing in the way of Justin Wilcox and company making progress is a six-pack of road games. Cal squares off with USC in Berkeley, but check out what lies ahead as a visitor.
Cal's Road Games in 2021
Date
Opponent
9/11
TCU
9/25
Washington
10/15
Oregon
11/6
Arizona
11/20
Stanford
11/27
UCLA
Oregon State Beavers
Pac-12 Odds: +4000
2020 Record: 2-5
I hinted at "QB competition" being a common theme in the Pac-12 leading into the summer. Add Oregon State to the list of Pac-12 schools that are undecided at quarterback.
Tristan Gebbia and Chance Nolan could end up splitting time, but no more Jermar Jefferson means the passing attack needs to take off. The Beavers threw for a pedestrian-like 211.3 yards/game in 2020.
Jonathan Smith will juggle pieces trying to field an adequate offense; his hands are completely tied when it comes to rolling out a sustainable product on D.
It's one thing to give up 6.5 yards per play and more than 33 points per game. It's another when your top three defenders moved onto the NFL and not one four- or five-star defender was added to the roster.
+4000 odds to win the Pac-12 might seem enticing, but don't bother taking a flier. It's not quite the same as lighting money on fire – but it's close.
Arizona Wildcats
Pac-12 Odds: +6600
2020 Record: 0-5
A bet on Arizona surging to the top of the Pac-12 standings – now that would be the same thing as taking a lit match and throwing it on your cash. The Wildcats had the worst offense and the worst defense in the conference and enter the year on a 12-game losing streak.
I won't harp on last season any longer, but UofA totaled two team sacks in five games. To say this football team is a mess would be a massive understatement.
School officials had no choice but to ax Kevin Sumlin, which leaves the burden of returning this program to relevancy on the shoulders of Jedd Fisch. The 45-year-old returns to the collegiate level after stints with the Rams and the Patriots as an offensive assistant/quarterbacks coach – I like the hire overall.
At the same time, I'm not putting any extra faith that Arizona turns it around in 2021 just because my wife graduated from Tucson. The Wildcats figure to be a substantial underdog in all of their games – save for a matchup at home game against Northern Arizona.
Pac-12 Prediction: Betting on Who Wins
Without any confidence that the defense in SoCal is going to get much better, I'm jumping on the Ducks at +225. Of all the schools showcased in this Pac-12 football preview, they're the one with the deepest roster.
Oregon also looks like the squad with the easiest path to "The Granddaddy of Them All."
Those looking to hedge, the Sun Devils at +400 has merit as well. Arizona State is loaded with explosive playmakers and can build off a successful 2020 campaign.
Interested in checking out more college football conference previews for the 2021 season?