Previewing the Surfing Events at the Tokyo Olympics – Betting Odds and Top Contenders

Betting on surfing at the Tokyo Olympics? Not sure who takes the gold in the men's or women's tournament?
You are not alone. But by the time you finish my preview for wagering on surfing in Tokyo, you'll be more than prepared to place those bets.
Along with karate, skateboarding, and sports climbing, surfing makes its first appearance at the Olympic Games. Despite being an ancient pastime and cultural practice, the Hawaiian sport is in.
The best surfers in the world will converge on Tokyo this summer with a shot at glory. I'll be looking over the Tokyo Olympics surfing betting odds for the likes of Gabriel Medina, Carissa Moore, John John Florence, and Sally Fitzgibbons, and assesing their chances of winning.
The dates and schedule for surfing heats and knockouts, as well as the rules and judging criteria, can all be found in this Tokyo Olympics surfing betting preview.
Grab a seat, relax, and I'll take you through all you need to know about gambling on the Tokyo Olympics surfing tournaments.
Surfing Odds for the Tokyo Olympics
You can get your hands on the latest odds for surfing at the Tokyo 2020 by visiting the best sites for betting on the Olympics.
There are two separate sets of surfing odds for the Tokyo Olympics available. The first set is for the men's shortboard gold medal winner. The second is for the odds for the women's gold medal surfing winner in Tokyo.
Odds for Surfing Shortboard Gold Medal Winner (Male)
Gabriel Medina +160
Italo Ferreira +200
John John Florence +450
Kanoa Igarashi +650
Julian Wilson +1400
Owen Wright +2000
Jeremy Flores +4000
Hiroto Ohhara +5000
Frederico Morais +6600
Leonardo Fioravanti +6600
Michel Bourez +6600
Ramzi Boukhiam +8000
Rio Waida +8000
Gabriel Medina tops the list of the men's odds for surfing at the Olympics.
I'll be looking at the Brazilian's chances further down. I'll also take a look at other Olympic surfing betting favorites like Italo Ferreira and Kanoa Igarashi, a little later.
Let's not forget the United States' John John Florence, who will also be looking to make a big impression on the judges in Tokyo.
Odds for Surfing Shortboard Gold Medal Winner (Female)
Carissa Moore +200
Caroline Marks +350
Sally Fitzgibbons +350
Tatiana Weston-Webb +450
Johanne Defay +700
Stephanie Gilmore +700
Amuro Tsuzuki +2500
Brisa Hennessy +4000
Silvana Lima +4000
Pauline Ado +5000
Bianca Buitendag +6600
Mahina Maeda +6600
Teresa Bonvalot +6600
Sofia Mulanovich +10000
The odds for women's surfing at the Tokyo Olympics hint at a tougher competition for all when compared with their male counterparts.
The bookies are finding it difficult to separate the top contenders for gold. I'll be discussing the chances of current favorite Carissa Moore against other talented prospects such as Caroline Marks, Sally Fitzgibbons, and Tatiana Weston-Webb.
But before we do that, let's check out how surfing works at the Tokyo Olympics, as well as the dates and schedule for the tournament.
Tokyo Olympics Surfing Schedule and Tournament Format
Every single outdoor event at the Tokyo Olympics could be affected by the weather.
But unlike almost every other event, surfing is dependent on the elements. In other words, wave conditions play a huge role in when all surfers at the Tokyo Olympics can compete.
The following dates are subject to wave conditions at Tsurigasaki Surfing Beach, where all Tokyo Olympic surfing events are to be held. There is a chance they might change, but the tentative tournament schedule is as follows.
| | | | | | |
| --- | --- | --- | --- | --- | --- |
| | July 25/26 | Jul 26 | Jul 27 | July 28 | July 29 |
| Men's | R1 and R2 | R3 | QFs & SFs | Final & Bronze | Reserve |
| Women's | R1 and R2 | R3 | QFs & SFs | Final & Bronze | Reserve |
Here's a breakdown of the dates and schedule for surfing at the Olympics in Tokyo.
July 25
Men's Round 1 Heats (1-5)
Women's Round 1 Heats (1-5)
Men's Round 2 Heats (1-2)
Women's Round 2 Heats (1-2)
July 26
Women's Round 3 Heats (1-8)
Men's Round 3 Heats (1-8)
July 27
Men's Quarterfinals (1-4)
Women's Quarterfinals (1-4)
Men's Semifinals (1-2)
Women's Semifinals (1-2)
July 28
Men's Bronze Medal Match
Women's Bronze Medal Match
Men's Gold Medal Match
Women's Gold Medal Match
July 29 is held as a reserve day.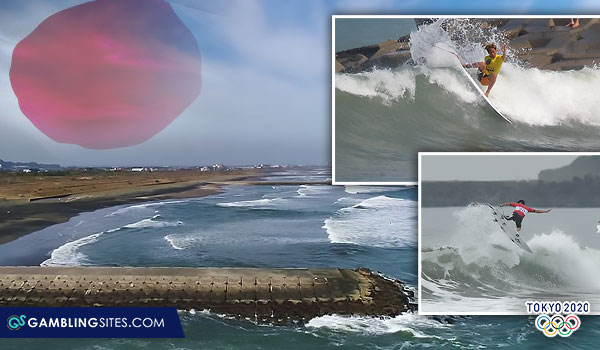 Judging and Rules for Surfing at the Tokyo Olympics
A four-person heat structure will be used.
Depending on conditions and weather, heats may last between 20 and 35 minutes.
Five judges will award points to each performer.
There is a scoring system of one to ten, with two decimal places. For example, 7.4 or 9.5 out of 10.
A competitor's two highest-scoring waves will be merged for their total score.
A perfect ride is worth 10 points while a perfect heat gets a surfer 20.
The highest and lowest scores awarded for each wave are disregarded, with the average of the remaining scores applicable.
The unpredictability of waves means that there are five factors that all five judges must adhere to when awarding points.
You can read more about how surfing at the Tokyo Olympics is judged here. Otherwise, the following sums it all up.
Commitment and Degree of Difficulty – In essence, judges are looking for the most difficult waves and the risk of maneuvers that a swimmer performs.
Innovative and Impressive Maneuvers – Aerial variations and other progressive moves will earn higher scores from judges. So, the more creative and competent with that flair a surfer is, the more points they should accrue.
Variety of Maneuvers – The same old tricks and maneuvers are not going to appeal to judges. So, a variety of tricks are important for a surfer looking to make an impression.
Combination of Major Maneuvers – Combining turns, barrels, flips and other high-scoring moves is a surefire way to pick up high points tallies.
Speed, Power, and Flow – As with many other sports, a surfer that can demonstrate elite athleticism, complex movement, and the power and flux to put it all together will typically yield high scores.
Tokyo Olympics Surfing Betting Favorites – Men
If you're wondering who wins gold in the surfing at the Tokyo Olympics, it's hard to look past these guys in the men's category.
Competition will be tough, but there can only be one winner. Will one of the following surfers win the gold at Tokyo?
Gabriel Medina +160
Brazil's Medina is one of the best surfers on the planet.
An incredible trickster, the highly popular 27-year-old has 2014 and 2018 WSL World Champion honors under his belt. He is also miles ahead of Italo Ferreira in the Championship Tour standings, with a gulf of more than 8,000 separating him from his fellow countryman.
The only competitor in history to pull off a perfect backflip in competition, he is arguably the top surfer at Tokyo 2020.
Italo Ferreira +200
Reigning world champion Ferreira is one of the top surfers to watch at the Tokyo Olympics.
The 2019 men's World Surf League winner is an entertainer, first and foremost, with a daring streak that is lauded by fans of the sport. However, this propensity for innovation at all costs can sometimes work against him.
On his day, he is unstoppable. Just check out his WCT wins.
| | | |
| --- | --- | --- |
| Event | Location | Year |
| Rip Curl Pro Bells Beach | Bells Beach | 2018 |
| Corona Bali Protected | Keramas | 2018 |
| MEO Rip Curl Pro Portugal | Supertubos | 2018 |
| Quiksilver Pro Gold Coast | Queensland | 2019 |
| MEO Rip Curl Pro Portugal | Supertubos | 2019 |
| Billabong Pipe Masters | Banzai | 2019 |
John John Florence +450
The United States' best surfer at the Olympics, Florence is absolutely in with a chance of bagging the gold medal.
The Hawaiian legend is regarded by some as the best all-rounder in the game. A true surfing superstar, Florence is representing the state where the sport was born.
Will Florence win the men's surfing gold medal? There's a great chance he can. But recent surgery after an injury might put some off. This could lead to bettors looking to win money betting on Olympic surfing looking elsewhere.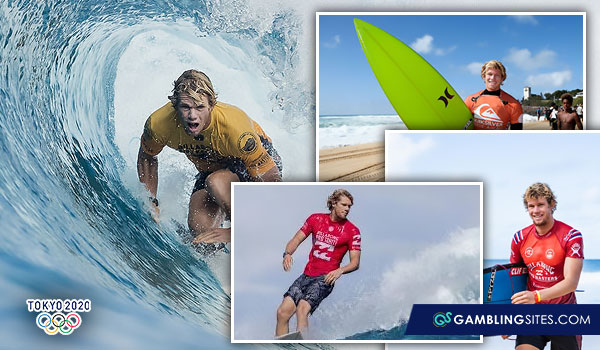 Surfing Betting Favorites for Tokyo (Women)
It looks highly likely that the winner of the women's category will come from one of these surfers.
If you've already done some reconnaissance for placing bets at the surfing at the Tokyo Olympics, these names might ring a bell. But if you know anything about the sport, these ladies will be more than just names to you.
Carissa Moore +200
A member of the Surfers' Hall of Fame, Moore has WSL Women's World Tour Champion has honors in the 2011, 2013, 2015, and 2019 editions of the competition.
The living legend, also of Hawaii, is expected to win the gold in Japan. And if she is even at 90% of her peak power, there is no one else capable of catching her.
Moore is, quite simply, one of the best chances Team USA has of winning gold at the Tokyo Olympics.
Caroline Marks +350
Just 19, Marks' future in surfing is blindingly bright.
A multiple-time national champion, Marks owns the honor of being the youngest woman in history to feature in a World Surf League event.
The Floridian is regarded as the second-favorite to win the gold medal at Tokyo 2020. If she does, her life changes overnight.
Sally Fitzgibbons +350
2019 Rio Pro winner Fitzgibbons is another surfer to look out for in the Summer Olympics.
The Australian faces a tough task in toppling a wildly-talented US pairing but has the tricks to push herself into the gold medal round.
Ranked #1 in women's surfing in 2019, the 30-year-old native of Gerroa, New South Wales will see some love from surfing bettors looking to make money on the 2020 Tokyo Olympics.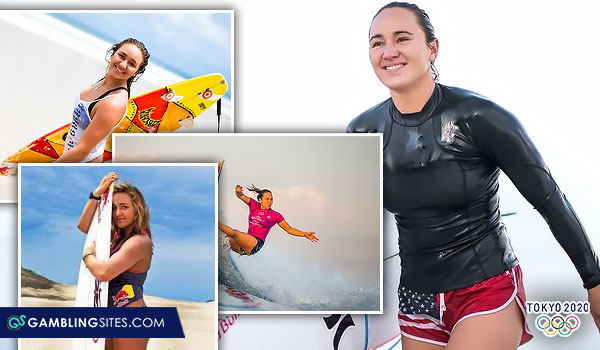 Sleepers and Underdogs for Surfing at Tokyo 2020
Julian Wilson to Win Men's Gold Medal (+1400)
Johanne Defay to Win Women's Gold (+1600)
Amuro Tsuzuki to Win Women's Gold (+6600)
The first of my betting sleepers for surfing at the Tokyo Olympics is Julian Wilson.
The Aussie is +1400 to win gold in the men's category. I think there is value to be had here on the 2011 ASP World Tour Men's Rookie of the Year.
Wilson is worth some pocket change if you are looking to cast your net a little wider than the top three favorites to win gold at the Tokyo Olympics surfing for men.
But speaking of betting value, how is Johanne Defay to win gold so juicy? At odds of +1600, she's one of the best sleeper picks for the Olympics. Period.
Defay has a recent win over Tokyo surfing favorite Carissa Moore. The Frenchwoman is not as popular on the world scene but that can only be a good thing for her odds.
Finally, a longshot surfing bet for the Tokyo Olympics is Japan's own Tsuzuki to win the women's gold medal.
Not only is she on home water this summer, but a big performance could hold particular sway given Japan is the host nation. At the odds above, she is certainly worth a few nickels.
Tokyo Olympics Surfing Betting Preview – Final Words
If you're looking to place wagers on surfing at the Tokyo Olympics, you should have a much better understanding of things now.
There is a lot of truly talented surfers all vying for glory in Tokyo, and we're going to get to see some top-class competition. Let's just hope the waves are firing!
I can't ignore that Brazil looks the most likely country to produce an Olympic surfing gold medalist in the men's category. The USA looks pretty solid ahead of the female tournament, but there is some value to be had on some of the peripherals competitors, too.
Well, that's almost all for now. Remember to visit our Olympics blog for more quality gambling for content for Tokyo 2020.
Oh, and don't forget to drop in on our Olympic picks section for recommended wagers.
Before I bid you farewell, I'll leave you with some recommended content. Take a look!
Until next time!