Hide Bonus Offers
| | | | | |
| --- | --- | --- | --- | --- |
| #1 | Bovada Sports | 50% Up To $250 | Visit Site | Bovada Sports |
| #2 | BetUS | 125% Up To $2,500 | Visit Site | BetUS |
| #3 | MyBookie | 100% Up To $1,000 | Visit Site | MyBookie |
| #4 | Everygame | 100% Up To $500 | Visit Site | Everygame |
| #5 | BetOnline Sports | 60% Up To $1,000 | Visit Site | BetOnline Sports |
Previewing the NFC South Division for 2021 – Are the Buccaneers Unbeatable?

Even with a regressing Drew Brees, the New Orleans Saints remained the class of the NFC South last year. The Saints swept the Tampa Bay Buccaneers during the regular season, and narrowly lost to the Bucs in the NFL playoffs.
Heading into 2021, however, Brees has since retired, and there is a big question mark under center for New Orleans for the first time since 2006.
The Bucs, meanwhile, are fresh off a Super Bowl win, and appear to be regrouping for an encore. Is this Tampa Bay's division to lose?
Let's find out in this 2021 NFC South preview with betting odds and predictions.
Tampa Bay Buccaneers
NFC South Odds: -175
2020 Record: 11-5
X-Factor: Joe Tryon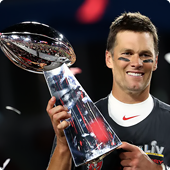 Tampa Bay did like Kansas City did a year ago, and they brought back all their key starters. The hunger for a title may die out a bit, but the Bucs enter 2021 with the mental sharpness, experience, and talent of a Super Bowl champion.
Tom Brady knows a thing or two about running things back, so if the ageless quarterback can continue to defy Father Time, there isn't much reason to down the Bucs.
Offensively, Tampa Bay is absolutely loaded. There have even been breadcrumbs sprinkled about a potential Julian Edelman signing down the road.
I don't think the Bucs even need the shifty slot demon, of course, as they're so good that viable guys like Scotty Miller and Tyler Johnson may continue to fight for scraps.
As stellar as Tampa Bay was offensively last year, their defense is what got them to and won the Super Bowl. Their run defense is stout, and their pass rush is downright suffocating.
That unit may have only gotten better, too, as the team held onto Shaq Barrett in free agency, and provided more depth with the addition of first round pick Joe Tryon.
It's unfair at this point, as the former Washington product displayed serious pass rushing chops in 2019 (8 sacks) and was constantly in the opposition's offensive backfield (12.5 tackles for loss).
He's a luxury addition to a loaded defense, and if he can make any kind of an impact at all, Tampa Bay's defense will only get scarier.
New Orleans Saints
NFC South Odds: +325
2020 Record: 12-4
X-Factor: Taysom Hill
The next best bet to win the 2021 NFC South division would be the Saints, who took home top honors a year ago.
New Orleans has been dominating this division for a while now, but bettors have to be aware of the potential dip accompanied by Drew Brees retiring.
Head coach Sean Payton is a genius, of course, and there is a pretty strong argument that the Saints were still as good as they were in recent years in spite of a regressing Brees.
In theory, the Saints could enter 2021 with a more dynamic option in Taysom Hill, or the big-armed Jameis Winston. In-house NFL expert Michael Wynn believes it's Hill that will answer the bell and thrive at quarterback, of course.
He said as much in his 2021 NFL bold predictions.
Both would have their flaws, but they would also be potential upgrades over Brees in certain capacities.
They would also walk into the starting gig with a full cupboard at their disposal, as Michael Thomas and Alvin Kamara head a very explosive offense.
Defensively, the Saints still have loads of talent, and are among the best units against the run.
Quarterback is a question mark, and it's hard to envision a Brees-less Saints team topping the Bucs. That said, their +325 price to keep doing as they've been doing is fairly alluring.
Atlanta Falcons
NFC South Odds: +600
2020 Record: 4-12
X-Factor: A.J. Terrell
The Falcons pull in third when looking at the odds to win the NFC South division in 2021. Matt Ryan and Julio Jones are still a solid duo to go to war with, but the latter has been involved in recent trade rumors.
Both have in some regard been discussed as potential movers and given the fact that the Dirty Birds were 4-12 and dead last in this division a year ago, a shakeup could make sense.
Atlanta is still a capable team offensively, while they were largely competitive a season ago. The team moved on from head coach Dan Quinn, too, so it is possible a minor tweak to a talented roster could be what is needed.
Kyle Pitts only enhances an already potent offense, but the Falcons need to find a way to run the ball better, as well as put together a respectable defense.
The running game is a question mark, but the defense has gobs of talent. Second-year cover man A.J. Terrell's development will be key for a spotty pass defense, but he and the rest of this defense have the tools to be better.
I still doubt Atlanta's ceiling in a division with Tom Brady and the Bucs, however.
Carolina Panthers
NFC South Odds: +1000
2020 Record: 5-11
X-Factor: Sam Darnold
You need to turn over every stone when trying to come to a 2021 NFC South prediction, and yes, that includes the Panthers.
BetOnline prices them as major long shots, and I get it, as they are tying their 2021 hopes and dreams to Sam Darnold.
The latter was laughably bad in New York last season, but an argument exists that Adam Gaes and a terrible Jets team ruined a talented kid.
In theory, with an impressive array of weapons and a better coaching staff, the former #1 overall pick could hit the reset button and salvage a once promising NFL career.
If you are to buy Carolina stock this year, you have to believe that's possible. The good news is there is reason for optimism, as Darnold can make plays few can, and he is reunited with a guy in Robby Anderson that he has established chemistry with.
Throw in a solid coaching staff, a rising defense, and an elite offensive weapon like Christian McCaffrey, and the Panthers shouldn't be scoffed at so quickly.
2021 NFC South Predictions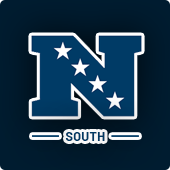 If you are looking for a wild NFC South division winner prediction, you won't find it here. I'm eating the chalk here, as the Bucs stand out as a terrific bet at -175
The craziest part about the Buccaneers, is they won a title even though their star quarterback didn't even have the playbook down until mid-way through last season.
Tampa Bay's biggest threat got worse, and the Falcons and Panthers simply are too far behind. The Bucs nearly won this division in Tom Brady's first year on the job, and they brought everyone back to give it another go. Betting against them feels like a mistake.
If you do want to get crazy when betting on who will win the NFC South in 2021, I think going with Carolina at +1000 is the funnest bet.
Carolina seems to have solid coaching in place, they have a very dynamic offense, their defense is on the rise, and Sam Darnold is hypothetically an upgrade that could make this thing click.
The odds understandably have the Panthers coming in at a longshot, but if you're betting against Tom Brady (who notoriously won the AFC East basically every year for two decades), you're already taking on a ton of risk.
The smart bet is to just hammer the Buccaneers to win the 2021 NFC South and call it a day.
Want more insight, odds, and predictions for who will win NFL divisions in 2021? Check out some more NFL division winner breakdowns below.