Previewing the NFC East Division for 2021 – Will Washington Win Again?

The NFC East was an embarrassment a season ago. It was a collective effort, to be fair.
Nobody expected much out of the New York Giants or Washington Football Team, while injuries and steep regression under center derailed talented Cowboys and Eagles teams.
At the end, the NFC East was still relatively wide open, and Chase Young fueled a strong defensive WFT squad to the top.
In theory, Washington projects as the most stable team heading into 2021, but they are not the favorite to win the NFC East at the top NFL betting sites.
Instead, that honor goes to the Dallas Cowboys. Is that how bettors should roll this year? Or is there a different NFC East team you should be itching to bet on?
Let's explore the upside to all four teams in this 2021 NFC East preview with betting odds and predictions.
Washington Football Team
NFC East Odds: +220
2020 Record: 7-9
X-Factor: Ryan Fitzpatrick
In looking at how to bet on the NFC East this year, I'll start things off with Washington, who managed to win this division at just 7-9 last year. They became just the fifth team in NFL history to do that, too.
That's not really history to hang your hat on, but hey, they were good enough to steal this trash division, and for a second there, they gave the eventual Super Bowl champs a scare in the playoffs.
Remember this guy?
Taylor Heinicke's TD run is a playoff moment we won't forget! ?@WashingtonNFL pic.twitter.com/JghjNlOm9V

— NFL UK (@NFLUK) January 28, 2021
Taylor Heinicke isn't the starter going into 2021, but he's still on the roster, and he reminded everyone that if Washington has competent quarterback play, they're a problem.
Washington wasn't amazing last year, but they were competitive, and they pieced together a strong foundation. This team is well-coached, they can run the ball, they can stretch the field offensively, and they can dominate on defense.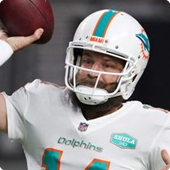 The defense is only going to get better, and the offense added Ryan Fitzpatrick, who remained as aggressive as ever with the Dolphins last year.
Throw in Curtis Samuel and Adam Humphries, and suddenly Washington boosts their overall offensive upside and stability.
Fitzmagic may be an aging commodity, but he was still highly effective in Miami last year. If he is still the same guy, he could put up solid numbers with Terry McLaurin and the rest of this offense.
The beauty is Fitzmagic just has to barely lift the ceiling for this offense, as Alex Smith and Dwayne Haskins kept it grounded in 2020.
A slightly better offense attached to a great defense makes Washington a viable NFC East title bet, and their +200 odds feel like a steal over at Bovada.
Dallas Cowboys
NFC East Odds: +120
2020 Record: 6-10
X-Factor: Keanu Neal
If you are seeking out 2021 NFC East predictions, it's admittedly very tough to quit the Dallas Cowboys. The interest in betting on the Cowboys to win the NFC East (or do anything at all, ever) remains their tantalizing talent.
Jerry Jones has refrained from getting in the way of this team's progress lately, as the Cowboys drafted a stud linebacker in Micah Parsons, and brought in versatile safety, Keanu Neal.
Neal reunites with former Falcons head coach Dan Quinn, and the two could be vital cogs for a turn around when it comes to the Dallas defense.
It's unclear just how Neal will be utilized, but his athleticism and versatility doesn't exactly put him in a box. Dallas can deploy him all over the field, and if used correctly, he could team up with Parsons and a potentially motivated Leighton Vander Esch to help the 'Boys defense take things to the next level.
Offensively, the Cowboys figure to be in good hands with Dak Prescott back to 100% and signed to a long-term deal.
That's no longer a distraction, and a healthy Prescott makes this loaded Dallas pop off the paper.
The Cowboys still need to get the job done in the actual games, but Prescott has a litany of weapons at his disposal with Ezekiel Elliott, Amari Cooper, Michael Gallup, and CeeDee Lamb itching to make an impact.
If the defense is better and Prescott is the same guy, look out.
New York Giants
NFC East Odds: 400
2020 Record: 6-10
X-Factor: Kenny Golladay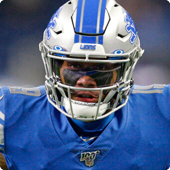 Like the Cowboys, the G-Men finished just one game out of first place in this division last year, and they tied Washington (4-2) for the best record within the NFC East.
Much like Washington, the Giants have good coaching, a rising defense, and a potentially balanced offense.
While somewhat underwhelming, the Giants have to be on your radar if you're doing any 2021 NFC East division winner betting this year.
A healthy return from Saquon Barkely is probably what decides everything here, but the addition of Kenny Golladay may be more important.
To this point, Daniel Jones has not turned into the franchise passer New York drafted him to be. However, adding a game-breaking wide receiver may be what he needs to unlock his full potential.
On paper, this offense looks pretty good.
This has been a team of flashes. If the running game and defense stay the course, and Jones can become more consistent, New York may be onto something here.
Philadelphia Eagles
NFC East Odds: +550
2020 Record: 4-11-1
X-Factor: Devonta Smith
When trying to predict who will win the NFC East in 2021, you can't ignore Philadelphia.
The Eagles finished dead last at 4-11-1 last year. Most expected them to be competitive due to a Super Bowl-winning head coach in Doug Pederson, and a talented overall roster.
Unfortunately, would-be franchise quarterback Carson Wentz completely went off the rails, the Eagles couldn't consistently generate offense, and their offensive line eroded due to injuries.
This is still a talented team, but Pederson was booted in the offseason, and now the Jalen Hurts era begins. He flashed some dynamic ability in spurts last year, but he's a raw passer that some simply don't believe in.
It's unclear if the Eagles even do, as it's reported that Hurts will have to earn the starting gig.
The #Eagles head coach not naming Jalen Hurts the starter is either dumb, a lie or a dumb lie pic.twitter.com/EDwFAzUOQg

— Emmanuel Acho (@EmmanuelAcho) April 22, 2021
That said, Hurts is probably the guy, and it's undeniable that he could make the Eagles a ton of fun.
They still have Miles Sanders to lead what should be a healthy rushing attack, their defense has solid talent, and incoming speedster Devonta Smith could be what makes this offense hum.
Smith and Hurts both went to Alabama, so the potential for instant chemistry is evident. If everything clicks, it isn't crazy to imagine Hurts and Smith dominating and running lanes opening up for Sanders.
If that happens, the formerly inept Eagles could soar, and their +550 odds to win the 2021 NFC East would look laughable.
NFC East Predictions for the 2021 NFL Season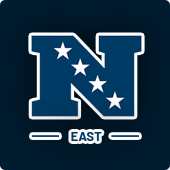 So, who will win the NFC East in 2021? That is the big question. Sure, some will scoff at this division no matter what, as they had the dubious honor of producing a playoff team below .500 last year.
But that does not mean this division can't get better, and it also doesn't mean at least one of these franchises can't take a huge step forward.
Of the lot, the team that continues to stand out to me is Washington.
They have a nice foundation with a balanced offense that can take deep shots, they have a wily veteran in Ryan Fitzpatrick that can execute their system, and they have a nasty defense that's only getting better.
Dallas is flashier, the Giants are slowly improving, and Philly has untapped upside if Jalen Hurts can figure it all out. But when you look for a team that has the core foundation to do some damage, it's the Washington Football Team.
Agree or disagree with my 2021 NFC East division winner prediction? I welcome all takes in the comments below.
All I care about is that I am helpful in some manner and that bettors remember to turn over every stone before placing bets. That, and be sure to use the best sites for betting on the NFL East so you can get the best wagers and odds available.