Previewing the NCAAF SEC in 2021 – Assessing All 14 Teams in the Conference

Alabama stole the show in 2020, not only in the SEC but in the entire land of college football. On the opposite end of the spectrum, LSU was all out of sorts. The Tigers finished 5-5, posting the program's first non-winning season since Gerry DiNardo was in charge back in 1999.
One year after four new coaches arrived in the Southeastern Conference, another four-pack of new hires highlights a busy offseason of musical chairs. For a closer look at each of the teams, as well as their realistic expectations, keep reading this SEC football preview.
Alabama Crimson Tide
Division: SEC West
Odds to Win the SEC: +100
2020 Record: 13-0
There are some terrific recruiters in college football, but no program has demonstrated its ability to re-tool during the offseason like the Crimson Tide.
Despite tying the record for the most players drafted in the first round from one school (6), Bama saunters into 2021 as the cream of the crop regarding the National Championship contenders.
Rebuilding the offensive line won't be an issue. The Tide inked the top two tackles in the 2021 class, and Evan Neal is poised to become one of the most coveted "hog mollies" in the 2022 Draft.
The defense will be better than it was a season ago; perhaps the biggest question mark is how the offense performs transitioning from Mac Jones/Steve Sarkisian to Bryce Young/Bill O'Brien. Don't be surprised if it doesn't skip a beat.
Georgia Bulldogs
Division: SEC East
Odds to Win the SEC: +250
2020 Record: 8-2
Could this finally be the year that Kirby Smart can knock off his former mentor in the SEC Championship game? The Bulldogs have to get there first, but things are looking quite pleasant in Athens thus far in the spring.
J.T. Daniels sparked this offense late in 2020 – he's back under center and will be surrounded by several key returners.
At least 15 starters are coming back, including playmakers Zamir White and Darnell Washington, and the hope is that George Pickens will recover from his knee injury in time to factor in.
On the other side of the ball, the secondary is restocked with several talented DBs who have been waiting in the wings. Leading tackler Nakobe Dean is back and will be joined in the middle level by a couple of five-star linebackers who have already enrolled.
Kirby Smart impressed by JT Daniels' 'command' of the huddle https://t.co/Kb7L7kECCw

— UGA Football Live (@UGAfootballLive) April 27, 2021
Texas A&M Aggies
Division: SEC West
Odds to Win the SEC: +700
2020 Record: 9-1
After compiling a resume worthy of being selected into the College Football Playoff, Jimbo Fisher and his crew took out their frustration by walloping the Tar Heels in the Orange Bowl.
As terrific as A&M performed this past season, it's time to hit the reset button in College Station now that Kellen Mond has moved on.
Haynes King and Zach Calzada are battling to take over, but keep an eye on true frosh Eli Stowers.
The 6'4" freshman needs to get some reps under his belt, but the word on the street is that Stowers has the highest ceiling of any QB on the roster.
Evaluating a defense that returns eight starters and welcomes DT Shemar Turner to the fray, you might not find a stronger D in all of the SEC.
LSU Tigers
Division: SEC West
Odds to Win the SEC: +1000
2020 Record: 5-5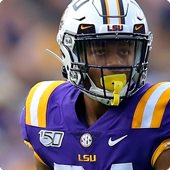 So much for Bo Pelini being the guy to keep the defense plugging along after Dave Aranda bolted for the head gig in Waco.
Surrendering an inexcusable 34.9 points per game was all the school officials needed to see. Pelini was relieved of his duties after just one season in Baton Rouge.
Daronte Jones was hired as the new DC and will inherit a unit that should be much better than the 2020 iteration.
All-world cornerback Derek Stingley Jr. returns (opted-out in 2020) to join forces with two of the top-4 safeties in the 2021 class. Clemson transfer Mike Jones Jr. (LB) is slated for a big role.
The mystery lies within the offense.
Kayshon Boutte looks to be the next great LSU wideout to gain national recognition, but Arik Gilbert's transfer is a hard act to follow. On top of that, the starting quarterback job is completely up in the air, according to Ed Orgeron.
Between Myles Brennan, Max Johnson, and TJ Finley, Coach O left it simple.
Florida Gators
Division: SEC East
Odds to Win the SEC: +1200
2020 Record: 8-4
The good news – Dan Mullen's offense averaged 39.8 points per game and was a serious force to be reckoned with.
The bad news – QB Kyle Trask is gone, and so are his top-3 pass catchers (Kyle Pitts, Kadarius Toney, Trevon Grimes).
To say that the Gators have a lot of work to do to repeat their success on offense would be quite an understatement.
Emory Jones slides in for Trask and gives Mullen a sincere dual-threat option, but a substantial drop-off in production is likely. Given the defense yielded nearly 31 points per game, it's hard to imagine this team improving from their 8-4 mark a season ago.
One sign of hope could be an elevated secondary on the heels of Miami Palmetto (HS) teammates Jason Marshall and Corey Collier getting thrown into the fire.
Auburn Tigers
Division: SEC West
Odds to Win the SEC: +1600
2020 Record: 6-5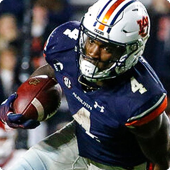 The Gus Malzahn era is over as the University of Auburn ushers in Bryan Harsin to the helm.
The hope is that the former Boise State HC's offensive philosophies can translate to the SEC and bring the Tigers back to relevance.
Derek Mason comes over after being fired from Vanderbilt to take control of the defense – this is a true changing of the guard for those chanting War Eagle.
The running game figures to be in good hands with Tank Bigsby in the fold (138-834-5 as a freshman), but will the shortcomings from Bo Nix once again hold this team back?
Harsin's first order of business in his new role will be to instill confidence in the rising junior and get his play up to snuff. Trips to Penn State and LSU are part of a difficult 2021 schedule, but at least the games against Alabama and Georgia will be played at Jordan-Hare Stadium.
Missouri Tigers
Division: SEC East
Odds to Win the SEC: +1600
2020 Record: 5-5
As Eli Drinkwitz looks to take strides in his second season in Columbia, a lot will be predicated if sophomore QB Connor Bazelak can take the next step.
Workhorse RB Larry Rountree II is gone, and so is do-it-all linebacker Nick Bolton. And while most schools in the SEC were gobbling up four- and five-star recruits, 21 of Mizzou's 23 incoming freshmen are of the three-star variety.
The Tigers will play hard, and they have a handful of winnable games on their schedule. However, the supporting cast on offense simply pales in comparison to their competition.
Damon Hazelton and D'ionte Smith can each make plays, but here's the reality. One is a grad student, and the other is a walk-on who transferred from a community college.
Ole Miss Rebels
Division: SEC West
Odds to Win the SEC: +2500
2020 Record: 5-5
We expected Lane Kiffin to inject some life into the Rebels offense, but not even the boosters in Oxford anticipated the team averaging north of 39 points per game.
Matt Corral clocked in at 333.7 passing yards per contest, completing 70.9% of his throws, but don't get too caught up with his 14 interceptions. 11 of those came in two games – he threw no picks in 6 of his 10 starts.
Elijah Moore might set the offense back at the outset, but the trio of Jonathan Mingo, Dontario Drummond, and Braylon Sanders give Corral plenty of ammunition. Scoring points won't be the issue; it's the defense that needs work.
Without any advancement, the Rebels will be on the way to another season, hanging around .500. It's just too hard to maintain a spot in the top-25 rankings if you're allowing an astronomical 6.7 yards per play.
Tennessee Volunteers
Division: SEC East
Odds to Win the SEC: +4000
2020 Record: 3-7
AD Danny White and HC Josh Heupel have arrived in Knoxville after an incredibly productive run at Central Florida.
A new coaching staff syncs up with a depleted roster going through plenty of turnover – highlighted by the departures of Trey Smith and Josh Palmer and a trio of impact players that transferred to Oklahoma.
The quarterback competition is wide open; a starter may not be named until the season begins.
Talk about having a tough time in year one of the Heupel regime. Rocky Top closed out 2020 by losing and seven of their final eight (including six in a row) – all by more than 10 points apiece.
Forget about dreams of an SEC East crown in 2021 – getting to 6-6 even sounds a little too ambitious.
Kentucky Wildcats
Division: SEC East
Odds to Win the SEC: +5000
2020 Record: 5-6
After years of watching a dull offense with not much firepower through the air, changes are expected in Lexington this season.
Whether Joey Gatewood (Auburn transfer), Will Levis (Penn State transfer), or Beau Allen (the hometown kid) starts at quarterback remains to be seen. Still, new OC Liam Coen promises to breathe some fresh air into the offense.
The Rams quarterbacks coach in 2020 puts the Wildcats on the right track and will help integrate a system that gets the ball out quickly.
Having said that, expectations need to be curbed for a unit that ranked last in the SEC in yards per play. In fact, Kentucky has never finished better than 8th in the conference in scoring in the eight seasons Mark Stoops has been in control.
Arkansas Razorbacks
Division: SEC West
Odds to Win the SEC: +10000
2020 Record: 3-7
The Razorbacks 3-7 record doesn't tell the full story for Sam Pittman's job in his first year in Fayetteville. Remember, Arkansas finished 2-10 in back-to-back seasons. The 36.8 points they allowed in 2019 ranked dead last among all P5 schools.
The defense was better in 2020, and the offense got good play from Feleipe Franks, but here's the thing about that.
I think sophomore KJ Jefferson will be even better under center.
The 6'3" 240-pound dual-threat QB has all the tools necessary to excel at this level, and he can lean on a couple of big-time receivers in Mike Woods and Treylon Burks, who can win one-on-one matchups.
The only reason I'm not higher on the Hogs is because of their brutal schedule.
Besides traveling to these schools, Arkansas has a non-conference tilt versus the Texas Longhorns penciled in on September 11th.
Arkansas' Road Games in 2021
Date
Opponent
10/2
Georgia
10/9
Ole Miss
11/13
LSU
11/20
Alabama
Mississippi State Bulldogs
Division: SEC West
Odds to Win the SEC: +10000
2020 Record: 4-7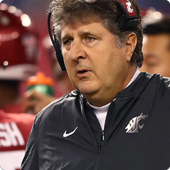 The exuberance in Starkville was short-lived. Following an opening victory in Death Valley, the Bulldog's only victory over their next eight games was against the winless Commodores.
In other words, it didn't take long for the Mike Leach doubters to surface.
If there's anything for the Mississippi State fanbase to fall back on heading into 2021, it's that Will Rogers will have a full offseason to absorb Leach's air raid philosophies.
Rogers completed over 69% of his throws as a true freshman and has the full support of his head coach. Or at least he did until Southern Miss transfer Jack Abraham turned heads at spring practice.
Leach went on to mumble some poppycock about the position being wide open, but it'd be a surprise if Rogers weren't the guy under center when MSU takes the field in their opener.
South Carolina Gamecocks
Division: SEC East
Odds to Win the SEC: +15000
2020 Record: 2-8
After stints at Virginia Tech, Georgia, and Oklahoma, Shane Beamer returns to South Carolina, where he was an assistant coach for four seasons (2007-2010). The first-time HC follows his legendary father's footsteps and hopes to build a legacy in Columbia.
It might happen, but it's going to take some time to materialize. The Gamecocks ended 2020 losing six straight games by an average of 24.8 points.
One of few teams in this SEC football preview that seemingly has its plan at quarterback figured out, Luke Doty could be the catalyst that leads to a turnaround for South Carolina.
The rising sophomore has drawn some serious praise from his head coach and could start sneaking onto the radar of NFL scouts.
"I was around Jalen Hurts at Oklahoma. Jalen's ability to lead, intelligence, athleticism, and the way he's able to run the football and throw it well enough, Luke reminds me of him in a lot of ways."
Vanderbilt Commodores
Division: SEC East
Odds to Win the SEC: +50000
2020 Record: 0-9
Clark Lea can only take the Vanderbilt program in one direction in what'll be his first year captaining the ship. The Commodores became the first school in the SEC to finish a season without any wins since 1999.
The table below helps illustrate just how lopsided things were between Vandy and their opponents.
Vanderbilt's 2020 Season in a Nutshell
Points Per Game
Yards Per Game
Turnovers
Offense
14.6
328.8
17
Defense
37.3
487.4
9
The Ken Seals to Cam Johnson connection should look solid in-the-box scores, but another winless season isn't all that far-fetched. This is especially true if Vanderbilt can't beat Eastern Tennessee State and UConn during the non-conference slate.
The Commodores are likely to be substantial underdogs in every SEC contest they play.
Betting on the SEC in 2021
I'm tempted to pull the trigger on Georgia at +250 but feel uneasy about putting my faith that Kirby Smart can get over the hump.
Alabama does such an amazing job replenishing year after year. I think the value play is actually latching onto the Tide at plus money.
People around Tuscaloosa are in the know, but the general public is still waiting to find out how talented Bryce Young is.
Once the cat gets out of the bag, that +100 price tag next to Alabama's name is going to drift into oblivion. Bama's SEC odds could be sitting at -150 by the time the summer months wind down, possibly even less favorable than that.
If you enjoyed this SEC preview for the 2021 college football season, check out the post below dedicated to the Big Ten.