Hide Bonus Offers
| | | | | |
| --- | --- | --- | --- | --- |
| #1 | BetOnline Sports | 60% Up To $1,000 | Visit Site | BetOnline Sports |
| #2 | Bovada Sports | 50% Up To $250 | Visit Site | Bovada Sports |
| #3 | BetUS | 125% Up To $2,500 | Visit Site | BetUS |
| #4 | Everygame | 100% Up To $500 | Visit Site | Everygame |
| #5 | MyBookie | 100% Up To $1,000 | Visit Site | MyBookie |
Previewing the NCAAF ACC for 2021 – Who's Clemson's Biggest Threat This Season?

Notre Dame's impromptu invitation to join the ACC was short-lived. The Fighting Irish return as an independent and the Atlantic Coast Conference is back to a 14-team league.
Looking ahead to the 2021 campaign, Clemson finally turns the page on the Trevor Lawrence era.
Although you'd never know by a quick glance at the ACC football odds.
As you'll gather sifting through this ACC preview, the Tigers are an overwhelming favorite to win their 7th straight conference title. I'll shed light on what to expect in the upcoming season with dedicated blurbs on each team.
Clemson Tigers
ACC Odds: -835
2020 Record: 10-2
If DJ Uiagalelei plays well, Clemson should cruise to an ACC title and be among the National Championship contenders. If he plays great, they're a good bet to get back to the CFP and vie to be the last team standing.
The offense restocked around Uiagalelei with a bevy of big-time recruits – none more exciting than the top all-purpose back in the 2021 class, Will Shipley.
If you're looking for a justifiable comp – think of Christian McCaffrey or a young Adrian Peterson. Think of a smaller Derrick Henry who's more versatile with faster wheels.
Equally enthralling is how much talent the Tigers bring back on defense.
Brent Venables' unit accumulated 46 sacks (1st in the country) and 109 tackles for loss (2nd in the country) in 2020. 45 of those sacks and 105 of those TFLs are accounted for on the 2021 roster.
Miami (FL) Hurricanes
ACC Odds: +700
2020 Record: 8-3
Improvements were made in Coral Gables during Manny Diaz's second season, but the Hurricanes looked severely overmatched when they faced Clemson and North Carolina. How competitive will the Canes be in 2021?
We'll find out early thanks to a Miami vs. Alabama clash at Mercedes-Benz Stadium on September 4th.
"The U" landed the top defensive tackle (Leonard Taylor) and the top safety (James Williams) in this year's class, and their roster was bolstered thanks to a couple of big-time transfers.
Tyrique Stevenson (Georgia) is on the radar as a first-round pick in 2022 and represents a big boost at corner. Charleston Rambo (Oklahoma) is a huge addition to the wide receiving corps.
Of course, whether or not the Hurricanes factor into the ACC Championship picture hinges on the health of D'Eriq King. Fortunately, the Miami QB remained upbeat at spring practices. King sounded confident that he'll be locked and loaded when August rolls around.
"That's the plan to be ready for camp. I'm still on track right now. I've reached every bench mark that they have set for me. I've just got to keep going."
North Carolina Tar Heels
ACC Odds: +700
2020 Record: 8-4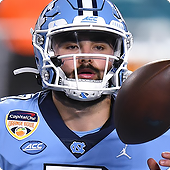 Chazz Surratt will be missed, but the consolation for Mack Brown is the rest of his defense returns pretty much intact. Not to mention, UNC added depth in the middle level in the form of a handful of highly-touted freshmen.
This defense should be better than it was in 2020 when it surrendered 29.4 points/game, but can the offense be as explosive?
Javonte Williams and Michael Carter are now in the NFL, as are the Tar Heels top two receivers from their 2020 lineup (Dyami Brown, Dazz Newsome).
This quartet combined for a whopping 2,406 rushing yards and 2,355 receiving yards. They scored 48 touchdowns.
The saving grace?
Sam Howell returns under center as a sincere threat to win the Heisman. The rising junior racked up 68 TD passes compared to just 14 interceptions during his first two seasons in Chapel Hill. In the fourth quarter, Sam's thrown 19 touchdowns and 0 interceptions.
NC State Wolfpack
ACC Odds: +1800
2020 Record: 8-4
It's unlikely anyone in the Atlantic Division can challenge Clemson's throne. However, NC State can still win 9-10 games and cement their status as a top-25 team in America.
They won eight games in 2020 and bring back their top three pass-catchers and top-two running backs.
Quarterback Devin Leary is working his way back from a broken leg and brings a ton of charisma to the huddle.
In all, 18/22 starters are coming back to Raleigh. Four-star wideout Micah Crowell will be integrated into the game plan from the outset – this is a well-rounded group that can do a lot of damage.
A lot could be on the line when the Wolfpack play their in-state rivals in the regular-season finale. Thankfully for NC State, that tussle will take place at Carter-Finley Stadium.
Louisville Cardinals
ACC Odds; +2500
2020 Record: 4-7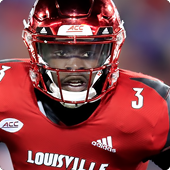 Scott Satterfield made a wrong turn somewhere and headed in the wrong direction in 2020. After an 8-5 season in his first year at the helm, Louisville finished 4-7.
First and foremost in year three of the Satterfield regime, the Cardinals need to replace a bunch of speed that bolted for the NFL. RB Javian Hawkins and WRs Tutu Atwell and Dez Fitzpatrick all found homes at the next level, leaving Malik Cunningham searching for a supporting cast.
Jalen Mitchell will step in in the backfield and Braden Smith is ready for an elevated role. All five starters on the offensive line are back – maybe there's some hope.
We'll see how well the offense transitions thanks to games against Ole Miss, Eastern Kentucky, and UCF, all before September 20th.
This opening slate gives the Cardinals O plenty of chances to hit their stride when the 2021 college football season breaks out.
Virginia Tech Hokies
ACC Odds: +2500
2020 Record: 5-6
Coming off his second losing season in Blacksburg, Justin Fuente has some scrambling to do if he's going to be sticking around beyond the 2021 season.
His left tackle was a first-round pick, Khalil Herbert is gone, and Hendon Hooker transferred to Tennessee. Quincy Patterson left for North Dakota State leaving Oregon transfer Braxton Burmeister to step in and fill the void at QB.
Burmeister's a 56.7% career passer with four touchdowns and seven interceptions to his name. And he's a pocket passer with limited mobility.
The Hokies will have to make major tweaks to the play-calling after running the football on more than 63% of their plays in 2020 (2nd highest among all P5 schools).
VT's defense ranked 10th in the ACC last year (32.1 ppg) and waved goodbye to their best linebacker and best defensive back. Jordan Williams' arrival (Clemson transfer) is a good place to start the re-tooling process, but there are no guarantees this team wins more than six games in 2021.
On top of finishing the year with road games at Miami and Virginia, Virginia Tech plays at West Virginia and battles Notre Dame in their non-conference slate.
Florida State Seminoles
ACC Odds: +3300
2020 Record: 3-6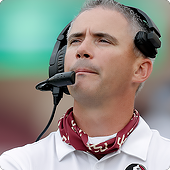 The 2021 team in Tallahassee won't look anything like it did in 2020.
At least that's what Mike Norvell is hoping after he flooded the transfer protocol and added a wealth of talent on both sides of the ball. Most notably, McKenzie Milton at quarterback.
We last saw Milton being carried off the field in November of 2018 after a gruesome leg injury left many wondering if he'd ever play again. Fast forward to today and he's the early leader in the clubhouse to be FSU's signal-caller in 2021.
Milton has received nothing but praise thus far from Norvell.
"I felt we hit an absolute home run by adding McKenzie Milton to our team. He's an incredible leader, he's a guy that has had as much success as anyone else playing the game in NCAA right now. We're excited about who he is and where he's at."
While there is reason to be enthusiastic about the path that Florida State is taking, I still think it'll be tough sledding in year two for Norvell. An ACC schedule that includes trips to North Carolina and Clemson is bookended with games against Notre Dame and Florida.
Virginia Cavaliers
ACC Odds: +3300
2020 Record: 5-5
It was a mixed back last year in Charlottesville. The 'Hoos responded to a four-game losing streak by winning four in a row, ending the year 5-5 after winning the Coastal Division in 2019.
The good news is dual-threat QB Brennan Armstrong is back after leading Virginia's offense to 31.9 points per game in the nine games he started. Additionally, the entire starting O-Line returns, as do all of the key playmakers other than Tony Poljan.
Having said that, Oklahoma State transfer Jelani Woods is ready to make his presence felt. Like Poljan, the 6'7" 265-pound TE was a former quarterback who changed positions in college.
"Wow, Jelani Woods is probably the brightest spot that I've seen in our program this spring. He is big and he's fast and he's physical and he's a great blocker, and man, is he thankful to be here."
The offense will be formidable, but winning games will come down to getting stops on the other end. Of the 127 qualifiers in 2020, the Cavs ranked 123rd in passing yards allowed (304.4).
Boston College Eagles
ACC Odds: +5000
2020 Record: 6-5
Led by one of the best QB-to-WR connections in the country, look for Boston College to keep making strides under the direction of Jeff Hafley.
Despite being picked to finish in the cellar of the ACC standings by most NCAAF touts, the former co-DC in Columbus guided the Eagles to a 6-5 record in his first season at the controls.
Unheralded to some, Phil Jurkovec has a chance to climb draft boards and be among the first quarterbacks plucked in 2022. The 6'5" Notre Dame transfer threw just one interception over his last five starts and did a tremendous job spreading the pigskin around.
Highest-graded QBs throwing past their first read in 2020:

? Zach Wilson, BYU – 94.7
? Spencer Rattler, OU – 89.2
? Justin Fields, OSU – 87.6
? Phil Jurkovec, BC – 84.8 pic.twitter.com/mqjIzmvKeG

— PFF Draft (@PFF_College) March 16, 2021
Five pass-catchers hauled in at least 28 balls in 2020 and the top performer of the group is coming back for more. Two years into his collegiate career, Fort Lauderdale native Zay Flowers is on a trajectory that has him penciled in for a bright future on Sundays.
Zay Flowers – By the Numbers at Boston College
Year
Catches
Yards
Yards/Catch
Touchdowns
2019
22
341
15.5
4
2020
56
892
15.9
10
The only man to reel in more 15+ yard receptions than Flowers last season was Heisman Trophy winner DeVonta Smith.
Pittsburgh Panthers
ACC Odds: +5000
2020 Record: 6-5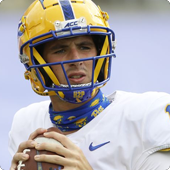 The Panthers topped the ACC by a wide margin in rushing yards allowed and should once again be incredibly stout up front. Losing Rashad Weaver and Patrick Jones II will sting, but a trio of four-star defensive lineman arrive. Including a kid with some pretty good bloodlines.
Following in the footsteps of his uncle Aaron, Elliot Donald is likely to blossom into a star in the interior of the trenches.
Kenny Pickett returning for a fifth year solves any questions at quarterback, but it's also likely to cap how far this team can go. Back-to-back seasons throwing 13 TDs and 9 interceptions leave the coaching staff wanting more.
Pickett's completion rate hovers around 60% and he offers nothing as a runner.
Unless something dramatically shifts and this offense becomes more potent, Pitt's likely to be a 6- to 7-win team and just barely sneak into a bowl game.
Georgia Tech Yellow Jackets
ACC Odds: +6600
2020 Record: 3-7
It's easy to understand why Georgia Tech scheduled a pair of cupcakes to open the season. After facing Northern Illinois and Kennesaw State, the Yellow Jackets embark on a 10-game slate where finding wins will be tough to come by.
Georgia Tech Football Schedule – Final 10 Games in 2021
Date
Opponent
9/18
@ Clemson
9/25
vs. North Carolina
10/2
vs. Pittsburgh
10/9
@ Duke
10/23
@ Virginia
10/30
vs. Virginia Tech
11/6
@ Miami
11/13
vs. Boston College
11/20
@ Notre Dame
11/27
vs. Georgia
Among the bright spots – Jeff Sims should make a big jump in his sophomore season. Arm strength and athletic ability may have carried Sims through high school, but he found out quickly that's not enough in the ACC.
A full spring and summer camp working with OC Dave Patenaude will lead to a much more comfortable presence under center.
With Jahmyr Gibbs heading the stable of running backs, this offense should take a step forward and be much more consistent.
The defense gets some help by launching Keion White, a ferocious edge rusher who racked up 19 tackles for loss at Old Dominion in 2019 (opted out in 2020).
However, Geoff Collins needs more than that after landing 14th in the ACC in points (36.8) and yards (459.3) allowed.
Wake Forest Demon Deacons
ACC Odds: +6600
2020 Record: 4-5
Wake Forest isn't going to make any noise at the top of the conference standings, but gaining bowl eligibility isn't completely out of the question.
Boogie Basham is a big loss on the edge of D-Line, but experience should play a big factor for the Demon Deacons in 2021. Almost all of the starters are back on both sides of the ball.
Sam Hartman will be looking for Jaquarii Roberson early and often after the standout basketball player in high school burst onto the scene a season ago. Roberson caught six passes for 80 yards and one touchdown in nine games in 2019.
In nine 2020 games, Jaquarii posted a nifty 62-926-8 line and was among the most productive wideouts in the conference.
What WF has going for them that some of the other teams in this ACC football preview don't are a slew of winnable games at home. Playing at UNC and at Clemson isn't a big deal -the Deacons were probably going to lose those games anyway.
Pivotal matchups versus FSU, Louisville, Duke, and NC State will be played in Winston-Salem.
Duke Blue Devils
ACC Odds: +10000
2020 Record: 2-9
If the 5-7 season was a disappointment in 2019, what do we call the Blue Devils 2-9 record (1-9 in ACC play) in 2020?
How about abominable?
Duke's defense was trampled on to the tune of allowing more than 38 points per game. With pass-rushing studs Chris Rumph II and Victor Dimukeje off to the NFL, it'll be an uphill climb all year for the football program in Durham.
David Cutcliffe will try again at quarterback with his third different starter in the last three years with either Gunnar Holmberg or Luca Diamont expected to shoulder the load. Cutcliffe has ceded the play-calling duties to Jeff Faris – perhaps the reshuffle is a good thing given the struggles of Duke's offense in 2020.
I could continue bashing the Blue Devils for things they don't do well, but I'll instead end with a positive.
Mateo Durant exploded as a backup RB and will take some pressure off whoever is under center.
Mateo Durant is Heating Up
Season
Carries
Rushing Yards
Yards/Carry
Rushing TDs
2017
17
43
2.5
0
2018
97
461
4.8
1
2019
120
817
6.8
8
Syracuse Orange
ACC Odds: +10000
2020 Record: 1-10
You think Dino Babers was frustrated with Syracuse's 1-10 performance?
After getting smoked by Notre Dame in the last game of the season, the 'Cuse coach didn't mince any words about the hand he was dealt.
"There are guys out on the defense, and I mean a lot of them, that can't touch me in the weight room and I'm almost 60 years old. This is not about me, but they can't even lift with me."
The sad part is the Orange defense wasn't even the real issue.
Not only did Syracuse clock in dead last in the ACC in points per game (averaged 6.1 points fewer than the next-worst team), they ranked dead last in rushing yards per game and dead last passing yards per game.
Remember the 127 qualifiers in FBS, well, the 'Cuse ranked 124th in yards per play. So much for Babers being a so-called offensive guru.
It'll be interesting to see if Dino rolls with Tommy DeVito once again or if Mississippi State transfer Garrett Shrader receives the nod. In any case, a 4-8 record in 2021 would be considered a success.
ACC Football Predictions in 2021
Clemson is my pick to emerge from the ACC Championship game. At the same time, I have little interest in laying -835 that it comes to fruition. North Carolina and Miami are both dangerous teams and although unlikely, either could get hot at the right time and spoil Dabo Swinney's party.
NC State and Boston College are my sleepers in this ACC preview, but targeting them on Saturdays from September through November is how I'll go about trying to profit.
What to expect in the 2021 college football season from the other Power Five conferences?
Here's a look.