Hide Bonus Offers
| | | | | |
| --- | --- | --- | --- | --- |
| #1 | Bovada Sports | 50% Up To $250 | Visit Site | Bovada Sports |
| #2 | BetUS | 125% Up To $2,500 | Visit Site | BetUS |
| #3 | MyBookie | 100% Up To $1,000 | Visit Site | MyBookie |
| #4 | Everygame | 100% Up To $500 | Visit Site | Everygame |
| #5 | BetOnline Sports | 60% Up To $1,000 | Visit Site | BetOnline Sports |
Previewing Charles Oliveira vs. Michael Chandler – Betting Odds and Analysis

Looking for where to find the best odds for Charles Oliveira vs. Michael Chandler at UFC 262 on May 15? Fear not, as I have you covered.
I'll talk you through those odds today in this betting preview of the upcoming clash for the vacant UFC lightweight title.
Additionally, I'll be giving you some key information for both fighters that could help you win your bets for UFC 262's main event.
This is an interesting scrap, to say the least, as it features two fighters with contrasting backstories.
Oliveira has been knocking on the door for a title shot for some time now and takes an eight-fight win streak into the Octagon. Chandler essentially scored a title shot with a KO win over Dan Hooker in his UFC debut back at UFC 257.
If you are hoping to make money gambling on Oliveira vs. Chandler, you will want to know these fighters from top to bottom. So stick with me as I will be breaking both men down ahead of what should be an awesome UFC lightweight title bout.
First, let's get to those odds.
Best Odds for Oliveira vs. Chandler
At the time of writing, these are top odds for Oliveira vs. Chandler online.
If you're looking to wager on Oliveira's odds to beat Chandler, MyBookie has what you are looking for.
To be honest, I expected the betting line for Oliveira vs. Chandler to bend much closer to the Brazilian, so am pleasantly surprised to see this price.
Sure, Oliveira was always going to be the betting favorite for UFC 262's main event. But these early odds are well worth taking if your loyalties lie with "Do Bronx."
If you're betting on Chandler to beat Oliveira, BetOnline is the place to go. The online sportsbook is offering the best price I have seen so far on the American to come through with the win.
Now, there is a chance that you are still unsure whether to back Oliveria to beat Chandler or vice versa. But keep reading and you will have a better understanding of what both men bring to the table.
I'll be profiling the pair after I explain a little about betting on Oliveira vs. Chandler online, which is up next.
How and Where to Bet on Oliveira vs. Chandler
Before you can bet on Charles Oliveira vs. Michael Chandler, you're going to need a betting site.
Head over to the top online UFC betting sites and take your pick from our recommended sportsbooks.
As time is of the essence, I won't go deep into why these are our highest-ranked sites for UFC betting. But I will say that they match our criteria of what a great site for betting on MMA should be.
For example, we look for sites that provide but are not restricted to the following.
A 100% Safe and Secure Betting Environment
Highly Competitive Odds
Great Markets
Fast Payouts
Numerous Top Payment Methods
So, that covers where to bet on Oliveira vs. Chandler but as for how to bet on the fight? Do not worry, it is a walk in the park.
In a nutshell, you sign up for your site, deposit to your account, find your top bets for Oliveira vs. Chandler, and hit "Bet."
It's that easy. Whether you are betting on UFC 262 or any other card in the future, it's really that simple.
If you want to know more, we have a dedicated guide to betting on UFC fights.
Oliveira vs. Chandler Tale of the Tape
Before I break down Charles Oliveira and Michael Chandler, look over the details below.
| | | |
| --- | --- | --- |
| Charles Oliveira | Tale of the Tape | Michael Chandler |
| 30-8-1 (8 KO/19 Sub) | Record | 22-5 (10 KO/7 Sub) |
| Brazil | Nationality | USA |
| "Do Bronx" | Cage Name | "Iron" |
| 5'10" | Height | 5'8″ |
| 155 lbs. | Weight | 155 lbs. |
| 74″ | Reach | 71″ |
| Orthodox | Stance | Orthodox |
| 31 | Age | 35 |
Can you identify anything from that information that influences who you will back in this fight?
Perhaps the fact that Oliveira has a staggering number of submission victories could have you looking for the top prop bets for Oliveira vs. Chandler?
Well, I won't be making my predictions for the fight today. But I will be helping you to understand the strengths and weaknesses of two of the best fighters in the UFC lightweight division.
Let's analyze Chandler first.
Can Chandler Beat Oliveira?
Michael Chandler is one of a select group of fighters that UFC fans wanted to see tested under the promotion's banner. A three-time Bellator lightweight titleholder, Chandler finally made the move to the UFC in 2020.
He stormed to a knockout win in his debut against Dan Hooker, blasting the Kiwi away in just 2:30 of the first round. To make things even better, that win was on the co-main event of McGregor vs. Poirier 2.
Chandler earned NCAA Division I All-American honors while studying at the University of Missouri. This gave him a strong wrestling base to work off before he developed his striking skills to a world-class level.
The eight Bellator champion to sign for the UFC, Chandler himself on the precipice of joining Eddie Alvarez as the second man to hold titles in both promotions.
Will Chandler beat Oliveira at UFC 262? He certainly has the tools to do just that.
His elite wrestling and dangerous right hand make him a headache for
any fighter at 155.
Stylistically, he will push Do Bronx, testing the Brazilian's defense on the feet and perhaps most importantly, his much-improved wrestling game.
On the flipside, Chandler will have a lot of riddles to crack with Oliveira. Especially when it comes to how far and how frequently he wants to push the UFC's submissions record holder to the mat.
Of course, the American has claimed that his "sixth sense" will protect him from being submitted by Oliveira. But are you buying that? Better yet, are you happy to bet on it?
Essentially, Chandler can beat Oliveira, but this is arguably the toughest test of his career to date.
Remember Oliveira is 8-0 from his last eight and has submitted or stopped every one of his opponents in that time, except for Tony Ferguson.
Here are Chandler's strengths and weaknesses ahead of his UFC lightweight title scrap.
Strengths and Weaknesses of Michael Chandler
| | |
| --- | --- |
| Main Strengths | Main Weaknesses |
| Wrestling | Age |
| Boxing | Chin |
| Power | Short Reach |
| Aggression and Pressure | Cardio |
Chandler's power and explosive takedowns make him a tough test for Oliveira.
Now training under the awesome Henri Hooft, we have marked improvements in his striking game.
I would go as far as to say that the evolution of his striking base over the past couple of years has made him one of the most dangerous strikers at 155.
He has always possessed power in that right hand. But now we are getting to see a little more variation in his shot selection with more emphasis on combinations and even leg kicks. His technique when leading has also come up a notch.
The former Mizzou wrestling captain is excellent in the transition, but given this is a five-round fight, I'm not sure he's going to want to expend a lot of energy early on.
Additionally, he will leave himself open to submissions, which could influence how he approaches the fight overall.
Still, Chandler is as confident as they come.
Can Oliveira Beat Chandler?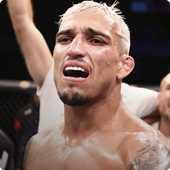 At just 31-years-old, Charles Oliveira has more submissions in the UFC than anyone. The Brazilian has tapped 14 of his opponents under the banner, putting himself above luminaries such as Demian Maia (11) and Royce Gracie (10). Not bad.
What's more, Oliveira is tied with Donald Cerrone for the most stoppages in UFC history (16). Dangerous? Yup, that's one word to describe this guy.
Not only can he wrap around you like an anaconda but he can also knock you out in the blink of an eye.
When comparing the skillsets of Oliveira and Chandler, I'd lean towards the Brazilian as the more complete fighter. But in Chandler, he faces someone with exceptional power and skills inside the pocket.
If he allows the American to find range, everything on paper is worth diddly.
Still Oliveira deserves to be the favorite in this fight. The good Lord knows that he has worked his backside off for a chance that, just a couple of months back, did not really look like coming.
It is solely down to Khabib's retirement that he is getting a look in, and he will understand just how crucial it is to take this opportunity with both hands.
Let's take a look at positive and negative factors for Do Bronx ahead of May 15.
Oliveria's Strengths and Weaknesses
| | |
| --- | --- |
| Main Strengths | Main Weaknesses |
| Submission Game | Slow-Starter |
| Grappling | Chin |
| Muay Thai | Disruptable |
| Age | Confidence |
There is no upside to ignoring Oliveira's ridiculous submission game just for the sake of it. So let me remind you once more how dangerous he is on the mat.
Oliveira has 15 submissions from his last 20 wins, which works out as 75% of those wins ending by sub. That's absolutely ridiculous and Chandler — who has never been submitted in his career — will need to be very careful with how he handles certain exchanges.
Once regarded as an excellent BJJ black belt with good striking, Oliveira is certainly more of a well-rounded competitor today.
He will also be the younger, rangier fighter in this contest, which gives him another upper hand.
Having spent years killing himself to make 145, and often failing, the eleven-year veteran of the UFC has settled into 155 like a circle in a round hole. But that's not to say he is without his weaknesses.
Oliveira is a slow starter, evidenced by four of his eight losses coming in Round 1. He can be thrown off his game, even if this is something that he has worked hard to rectify in recent times.
What's more, his chin will be tested by Chandler, who would become the fifth man to KO/TKO Oli in the UFC, if he can pull it off. The question is, can he?
And That's All for Now
I hope you've enjoyed this initial betting preview of Charles Oliveira vs. Michael Chandler.
This one could be up there with the UFC top fights of the year and will be an interesting one to bet on. Hopefully, you have a better grasp of things now and are on the right track with your wagers.
If you are looking for my Oliveira vs. Chandler betting pick, I will be hitting you with that via our UFC picks section a little closer to the fight.
Until then, you can check out the latest UFC odds, bets, and picks for the next event on the calendar.
If you enjoyed this piece, why not give the following preview of McGregor vs. Poirier 3 a shot?
Enjoy!