Hide Bonus Offers
| | | | | |
| --- | --- | --- | --- | --- |
| #1 | Bovada Sports | 50% Up To $250 | Visit Site | Bovada Sports |
| #2 | BetUS | 125% Up To $2,500 | Visit Site | BetUS |
| #3 | MyBookie | 100% Up To $1,000 | Visit Site | MyBookie |
| #4 | Everygame | 100% Up To $500 | Visit Site | Everygame |
| #5 | BetOnline Sports | 60% Up To $1,000 | Visit Site | BetOnline Sports |
Previewing the 2022 NFL Draft – First Round Mock

The 2021 NFL regular season is complete. We'll watch as 14 teams compete for the Super Bowl, but what about the other 18 teams? They'll now look forward to the offseason.
One of the biggest priorities in an NFL offseason is the NFL Draft. This gives teams a chance to upgrade their roster without making a big trade or free agent signing. It's not a big quarterback class, but that doesn't mean we won't see some excitement.
We still have the Senior Bowl and NFL Combine, but I wanted to put out this mock draft to see where things stand following the end of the college and NFL season. Let's start with a quick run-down of picks 32-11.
Predicting Picks 32-11
32. Green Bay Packers – David Bell, WR, Purdue
31. Tennessee Titans – Christian Harris, LB, Alabama
30. Tampa Bay Buccaneers – Jahan Dotson, WR, Penn State
29. Kansas City Chiefs – David Ojabo, LB, Michigan
28. Dallas Cowboys – Daxton Hill, S, Michigan
27. Detroit Lions – Drake London, WR, USC
26. Buffalo Bills – Kenyon Green, OL, Texas A&M
25. Cincinnati Bengals – Trevor Penning, OL, Northern Iowa
24. Arizona Cardinals – Roger McCreary, CB, Auburn
23. Las Vegas Raiders – Kaiir Elam, CB, Florida
22. Miami Dolphins – Tyler Linderbaum, C, Iowa
21. New England Patriots – Treylon Banks, WR, Arkansas
20. Pittsburgh Steelers – Matt Corral, QB, Ole Miss
19. Philadelphia Eagles – Trevon Walker, DE, Georgia
18. New Orleans Saints – Chris Olave, WR, Ohio State
17. Los Angeles Chargers – Jordan Davis, DL, Georgia
16. Philadelphia Eagles – Andrew Booth Jr., CB, Clemson
15. Philadelphia Eagles – Devin Lloyd, LB, Utah
14. Baltimore Ravens – Charles Cross, OT, Mississippi State
13. Cleveland Browns – Garrett Wilson, WR, Ohio State
12. Minnesota Vikings – Ahmad Gardner, CB, Cincinnati
11. Washington Football Team – Jameson Williams, WR, Alabama
The first thing that stands out to me is all the wide receivers. Seven wide receivers will go in the first round, starting with Jameson Williams. Williams suffered a torn ACL in the National Championship Game, but I don't think that affects his stock.
Matt Corral is the lone quarterback in this section. The Pittsburgh Steelers need to replace Ben Roethlisberger, and his replacement isn't on their roster.
This section also features many offensive linemen and defensive backs. A good offensive line is key to having time to throw and opening up run lanes.
Now, it's what everyone wants to see. Here is my prediction for the top 10 picks.
10. New York Jets – Nakobe Dean, LB, Georgia
The New York Jets have two selections in the top 10. It wouldn't hurt to use both on a defensive player. New York had a terrible defense in 2021, allowing the most yards and points. They have many holes to fill, and they can start with selecting Nakobe Dean.
Dean played an integral role in Georgia's National Championship run. Check out his numbers in 2021.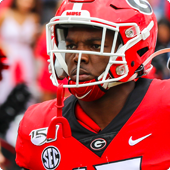 72 tackles
6 sacks
2 forced fumbles
2 interceptions
6 passes defended
His outstanding season earned him the Butkus Award for the top linebacker.
Dean has the quickness and athleticism to move all over the field. He can rush the quarterback and stop the run. His coverage is the only knock on him, but his strengths outweigh that. He'll have plenty of time to improve that facet of the game.
He should form a nice pairing with C.J. Mosley.
9. Denver Broncos – Kenny Pickett, QB, Pittsburgh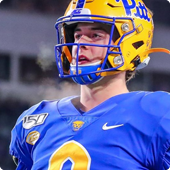 The Denver Broncos have been looking for a quarterback since Peyton Manning retired in 2016. They traded for Teddy Bridgewater in the offseason, but that didn't work out. It doesn't look like Drew Lock is the answer.
There were some rumblings that Aaron Rodgers or Deshaun Watson could land with the Broncos, but we haven't heard anything recently. That leads us to Kenny Pickett.
Pickett didn't do much in his first four seasons, but the fifth-year senior nearly won the Heisman with a big 2021 season.
Highest passing grades in a season by an ACC QB since 2014

1️⃣ Kenny Pickett (2021): 92.3
2️⃣ Sam Howell (2020): 91.5
3️⃣ Trevor Lawrence (2018): 90.6 pic.twitter.com/oFGJV4czNo

— PFF College Football (@PFF_College) January 14, 2022
Pickett finished the season with 4,319 passing yards, 47 total touchdowns, and seven interceptions. That's a big jump considering he failed to clear 3,100 yards or 13 passing touchdowns in his first four seasons. He wasn't even on our list of top 20 prospects midway through the season.
Denver has a solid group of pass-catchers. Jerry Jeudy looks to take a step forward in his third season with Courtland Sutton, Tim Patrick, and Noah Fant. They'll help take the pressure off the rookie quarterback.
8. Atlanta Falcons – DeMarvin Leal, DT, Texas A&M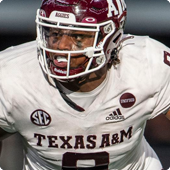 It seems like the Atlanta Falcons defense has been terrible for a while. The first step towards improving it is drafting an impact player. That's what they'll get with DeMarvin Leal.
Leal is a disruptor in the middle of the defensive line. Last season, he had 58 tackles, 8.5 sacks, and a forced fumble. There are countless highlights of him breaking through the defensive line and taking down the quarterback or running back.
DeMarvin Leal has some FUN tape!

(@boimarv9) pic.twitter.com/NYzjACCQR5

— Kyle Yates (@KyleYNFL) January 14, 2022
Atlanta needs a player like that. They didn't have a defensive tackle that recorded over 30 tackles last season. The Falcons also allowed the sixth-most rushing yards.
Leal is the best interior lineman in the draft. The Falcons have to be happy about landing one of the most athletic defensive linemen in the draft.
7. New York Giants – George Karlaftis, DE, Purdue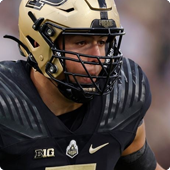 There is no shortage of defensive ends in this draft. Kayvon Thibodeaux and Aiden Hutchinson might overshadow George Karlaftis, but there's no denying his talent.
Karlaftis had a big freshman season, racking up 54 tackles and 7.5 sacks. He only played in four games in 2020, but he bounced back with 36 tackles, 4.5 sacks, and two forced fumbles in 2021.
The New York Giants have Leonard Williams, but they could use another edge rusher. Karlaftis could give them a mean duo on the defensive line. That means teams wouldn't be able to double team Williams.
George Karlaftis is coming to the NFL to make life difficult for opposing QBs. Wow.

(@TheGK3) pic.twitter.com/AtQ7sYBohh

— Kyle Yates (@KyleYNFL) January 12, 2022
Karlaftis specializes in getting to the quarterback. Last season, the Giants were bottom 10 in sacks. It doesn't seem like their offense is getting any better, so they better fortify that defense.
Williams and Karlaftis could give NFC East quarterbacks nightmares for the next decade. New York shouldn't pass up this opportunity.
6. Carolina Panthers – Ikem Ekwonu, OL, NC State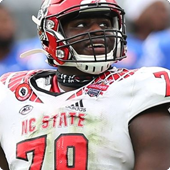 It might surprise some people not to see a quarterback at this spot. Ultimately, I felt it was too high to select a quarterback.
I think the Panthers either trade back or give Sam Darnold another year. One way they could help is by upgrading their offensive line.
According to pro football focus, the Panthers had the second-worst offensive line in 2021. They'll likely miss out on Evan Neal, so Ikem Ekwonu is their next best option.
Ekwonu might be the best run blocker in the draft. That bodes well for Christian McCaffrey and the Panthers' run game. There's a chance he transitions to guard, but I don't think the Panthers would mind.
He was a unanimous All-American last season. He isn't quite on Neal's level, but that might not last for long. In our December NFL Draft update, Dan Vasta precited Ekwonu would go ahead of Neal.
Carolina would gladly take an upgrade to their offensive line. It would take a lot of pressure off their quarterback.
5. New York Giants – Evan Neal, OL, Alabama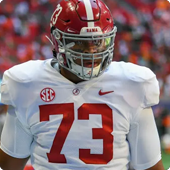 I imagine the New York Giants would run to the podium if Evan Neal was on the board at No. 5. The Giants' offensive line has been pretty bad for a few years. They have an All-Pro caliber running back, but it doesn't mean much if he doesn't have any blocking.
Neal was a consensus All-American in 2021. Many people think he has a chance of going No. 1 in the draft. We don't know if the Giants will make a quarterback change this offseason, but either way, they need someone to protect said quarterback.
This Evan Neal rep ? ? pic.twitter.com/QHw1q3KuMJ

— Sam (@samcrnic) January 12, 2022
What makes Neal so valuable is his versatility. He played left guard, right tackle, and left tackle in three years at Alabama. Left tackle likely represents his best spot.
He should be anchoring the Giants' offensive line for the next decade. New York's quarterback shouldn't have to worry about his blindside.
4. New York Jets – Kyle Hamilton, S, Notre Dame
We talked about how bad the New York Jets defense was in 2021. A big reason for that was their weak secondary. They allowed the third-most passing yards and had the third-fewest interceptions. One way they can help that is by drafting Kyle Hamilton.
Hamilton has a wide array of skills. He is great in coverage and isn't afraid to get in the run game. Check out his numbers in three years at Notre Dame.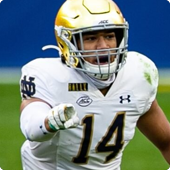 138 tackles
8 interceptions
17 passes defended
New York will likely need to replace Lamarcus Joyner. Hamilton would fit nicely next to Marcus Maye. Hamilton's presence has to improve the Jets' defense.
Hamilton is a swiss army knife. His versatility gives the Jets a lot of options. They could use him similar to how Clemson used Isaiah Simmons. Simmons was a top 10 pick, but it looks like Hamilton will top him.
3. Houston Texans – Derek Stingley Jr., CB, LSU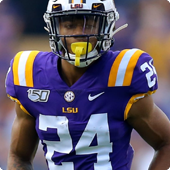 As great as Kyle Hamilton is, he isn't the best defensive back in the draft. That honor belongs to Derek Stingley Jr.
Stingley missed time in 2020 and 2021, but that shouldn't scare teams off. After all, Ja'Marr Chase didn't play in 2020 and he had a historic rookie season, establishing himself as a rookie superstar.
There aren't many bad things I can say about the standout cornerback. He has enough speed to cover the fastest wide receivers. He is great in coverage and has the ball skills to rack up interceptions.
Here are two speed outs defended by Derek Stingley Jr. He played the first rep well, but watch the tweak in approach after the initial backpedal extended his pursuit.

Later, Stingley stood his ground and fired his hips to jump the route. Took notes and adapted for the takeaway. pic.twitter.com/18RTANdei1

— Cole Topham (@HamAnalysis) January 12, 2022
The Houston Texans have plenty of needs on both sides of the ball, so best player available should be their mentality.
Surprisingly, the Texans ranked top 10 in interceptions. However, they allowed the second-most yards and sixth-most points.
Stingley can give the Texans a shutdown corner for the next 10 years. They shouldn't pass up an opportunity to draft the best defensive back.
2. Detroit Lions – Aidan Hutchinson, DE, Michigan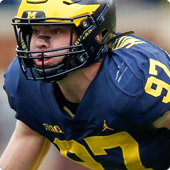 Like most teams at the top of the NFL Draft, the Detroit Lions have a lot of needs. Quarterback is one of them, but it's way too early to select a quarterback. They need to select one of the top two edge rushers.
Hometown kid Aidan Hutchinson represents the best option for the Lions. The Lions' defense was not good in 2021. They allowed the second-most points and fourth-most yards. Adding an impact player like Hutchinson will change that.
Hutchinson could've been a high pick in the 2021 NFL Draft but opted to return to Michigan for his senior year. That was a wise decision as he racked up 62 tackles, 14 sacks, and two forced fumbles. He played a big hand in Michigan's win over Ohio State.
He has the safest floor among the top edge rushers. Hutchinson should make an immediate impact for the Lions.
1. Jacksonville Jaguars – Kayvon Thibodeaux, DE, Oregon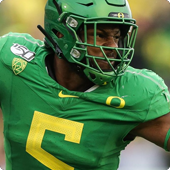 The No. 1 pick in the 2022 NFL Draft will likely come down to a pair of edge rushers. The top NFL betting sites have Kayvon Thibodeaux and Aidan Hutchinson at the top of the board.
Depending on which sportsbooks you check, Thibodeaux might give you some value.
Many people view Thibodeaux as a better long-term option than Hutchinson. The Jacksonville Jaguars won't be contending any time soon, so it makes sense to go with Thibodeaux.
Thibodeaux has the speed and strength to get around the tackles and rush the quarterback. Can you imagine him and Josh Allen rushing off the edges for the Jaguars? That would instill fear in the Jaguars' opponents.
Jacksonville's defense needs a lot of help. They can take a step in the right direction by making Thibodeaux their second straight No. 1 overall pick.
Advice for Betting on the 2022 NFL Draft
We're still three months away from the 2022 NFL Draft, so I wouldn't lock anything in yet. It seems like the No. 1 overall pick will come down to Kayvon Thibodeaux and Aidan Hutchinson, but I wouldn't count out Evan Neal.
I'm sure there will be a prop on quarterbacks, and I'd go with the under. I have two quarterbacks going in the first round. We could see someone like Malik Wills or Desmond Ridder sneak into the first round, but some quarterback-needy teams will fill their spot in free agency.
As we move closer to the NFL Draft, we should have more betting information available. Make sure you keep an eye on our NFL blogs for more information.