Hide Bonus Offers
| | | | | |
| --- | --- | --- | --- | --- |
| #1 | Bovada Sports | 50% Up To $250 | Visit Site | Bovada Sports |
| #2 | BetUS | 125% Up To $2,500 | Visit Site | BetUS |
| #3 | MyBookie | 100% Up To $1,000 | Visit Site | MyBookie |
| #4 | Everygame | 100% Up To $500 | Visit Site | Everygame |
| #5 | BetOnline Sports | 60% Up To $1,000 | Visit Site | BetOnline Sports |
Initial Preview of the 2018 PGA Championship – Setting the Table for Bellerive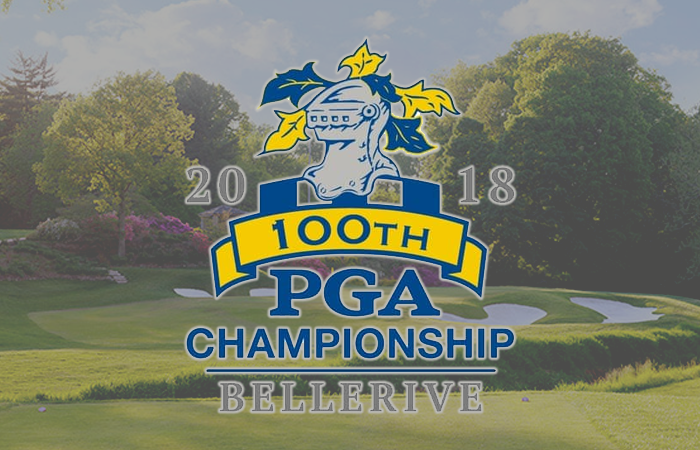 Can Tiger Woods put it all together and win his 15th major? Can Jordan Spieth get back on track and complete the career Grand Slam?
I can promise you that I'll be tuning in to the PGA Championship next week to find out!
While the top players in the world are still negotiating Firestone CC in Akron, Ohio, it's time for bettors like you and me to start getting prepped for next week's action.
You might be wondering how the course is going to be set up. What do the initial odds look like, and which golfers are primed to contend?
The good news is that that's exactly what this blog is intended for! I'm going to preview the PGA Championship in great detail so that you know exactly what to expect when the players tee it up Thursday morning.
Before we look at the odds for who will take home the Wanamaker Trophy, let me briefly introduce the venue.
Bellerive Country Club
The host track for the 2018 PGA Championship is an absolute gem in the Midwest. If you want an expansive guide to Bellerive Country Club, you'll enjoy that link to the one we have prepared.
From how and why the club was started to a detailed course description, you'll be able to find just about anything you'd ever want to know about the quaint property just west of St. Louis.
As far as some basic facts, Bellerive is 7,547 yards. It's a par-72 (converted to par 70 for the 2018 PGA Championship) golf course that has hosted one PGA Championship before. Nick Price was victorious at the 1992 PGA Championship at Bellerive, the third major triumph of his career.
I'd also like to note that Bellerive CC hosted the 1965 U.S. Open, the site of where Gary Player completed the career Grand Slam. For a full list of the prestigious events that have been played at Bellerive, take a look below.
| Tournament | Winner |
| --- | --- |
| 1965 U.S. Open | Gary Player |
| 1992 PGA Championship | Nick Price |
| 2004 U.S. Senior Open | Peter Jacobsen |
| 2008 BMW Championship | Camilo Villegas |
| 2013 Senior PGA Championship | Kōki Idoki |
With what's brewing in the world of golf right now, something tells me that the event next week is going provide lots of drama and plenty of excitement. In terms of who the favorites are as of right now, let's take a look.
Odds to Win the 2018 PGA Championship
I decided to look at three of the most reputable sites that exist in terms of betting sports online. In terms of golf tournaments, Bovada.lv, BetOnline.ag, and Sportsbook.ag seem to reign supreme when it comes to the selection of bets and trustworthiness of the payouts.
You already know how imperative it is to compare and shop your lines, and the table below will illustrate that. Take a look at how the three online sportsbooks have listed the top 25 golfers and notice the significant discrepancies.
| Player Name | Bovada.lv | BetOnline.ag | Sportsbook.ag |
| --- | --- | --- | --- |
| Dustin Johnson | +1000 | +1000 | +1000 |
| Rory McIlroy | +1200 | +1200 | +1000 |
| Jordan Spieth | +1400 | +1100 | +1000 |
| Justin Rose | +1800 | +1600 | +2500 |
| Justin Thomas | +1800 | +2000 | +2000 |
| Rickie Fowler | +2000 | +1600 | +1600 |
| Tiger Woods | +2000 | +1600 | +1800 |
| Brooks Koepka | +2200 | +2000 | +2000 |
| Francesco Molinari | +2200 | +2500 | +2500 |
| Jon Rahm | +2500 | +2500 | +2500 |
| Jason Day | +2500 | +2500 | +2500 |
| Tommy Fleetwood | +2800 | +2000 | +2400 |
| Hideki Matsuyama | +3500 | +3300 | +3000 |
| Henrik Stenson | +3500 | +3300 | +3500 |
| Patrick Reed | +4000 | +2800 | +3000 |
| Sergio Garcia | +4000 | +3300 | +2500 |
| Bubba Watson | +4000 | +4000 | +4000 |
| Xander Schauffele | +4000 | +3300 | +4000 |
| Paul Casey | +5000 | +2200 | +5000 |
| Tony Finau | +5000 | +4000 | N/A |
| Alex Noren | +5000 | +3300 | +4000 |
| Phil Mickelson | +6600 | +3300 | +4000 |
| Matt Kuchar | +6600 | +5000 | +4000 |
| Patrick Cantlay | +6600 | +5000 | N/A |
| Branden Grace | +6600 | +5000 | +5500 |
It is necessary for you to see this chart in plain view, as there some enormous differences when you look closely. Let me show you what I mean by giving you a few examples.
Look at Jon Rahm and Jason Day. As you can see, regardless of which of the three sites you are betting on, both golfers are listed at +2500 across the board. Now, look at a player like Justin Rose. Don't you dare bet on Rose at BetOnline.ag at +1600 when he's sitting at +2500 over on Sportsbook.ag!
Do you want to place a wager on Phil winning at +3300? Or would you rather get double the payout if you head over to Bovada and snag him at the amazing price of +6600?
I think you know the answer to that question. It's important to be completely aware of the different bets and different prices you'll find on the various sites. If that table isn't a perfect indication that you need to be shopping your lines, then I'm not really sure what is!
Where Is the Early Value?
By the time Wednesday afternoon arrives, I will have released an extensive betting preview for the PGA Championship, loaded with my favorite wagers of the week. Whether those are strictly head-to-head matchups or whether I'm mixing it up with some of the entertaining props, I'll be sure to unlock whatever value I can find.
Until then, the sites have teased us with the preliminary odds for each golfer to win the tournament. While these aren't the most lucrative bets on a week-to-week basis, it's hard not to want to throw a few bucks down on the players who have legitimate shots of hoisting the trophy.
Based on the odds listed, there are a few bets that are at least piquing my interest.
There's enough early value here that you may want to place a couple of these bets right now before it's too late and these handsome prices go away!
Justin Rose +2500 on Sportsbook.ag
To me, it seems a bit egregious that Sportsbook.ag has listed 8 golfers ahead of Justin Rose on the betting sheet. Another 4 men have the identical +2500 price attached to their name!
Perhaps people are panicking because Rose withdrew from the WGC-Bridgestone, citing back spasms on the range on Wednesday afternoon.
For now, I'd look at this as more of a precautionary for someone who has a hectic upcoming schedule. My guess is that he wants to make sure he's operating on full cylinders before next week's PGA Championship, not to mention the FedEx Cup Playoffs and the Ryder Cup.
You'll have to monitor the situation, but I imagine that "Rosey" will be "full-systems go" by his Thursday tee time in Town and Country.
After finishing runner-up to Francesco Molinari at Carnoustie, Justin is playing the same exquisite golf we've come to expect from the 38-year-old Englishman. Anytime you can get the #2-ranked player in the world at this large of a discount, something has to be said. Or in this case, a wager needs to be placed.
Rose's game will fit the Robert Trent Jones design famously, as Rose has been known to pound out fairways and greens.
He's 4th on the PGA Tour in birdies per round, and he clocks in at 2nd in overall scoring average. Even better, he's in the top 5 in bogey avoidance, meaning this dude has everything it takes to win major championships.
I think the +2500 number is just too intriguing to pass up, especially when he is listed at +1600 and +1800 on opposing sites.
Tommy Fleetwood +2800 on Bovada.lv
Clearly, some sites are respecting Tommy Fleetwood more than others. Bovada.lv has Fleetwood down at +2800, behind 11 other golfers. On the other hand, BetOnline.ag has Tommy at +2000, the same price they are offering for Justin Thomas and Brooks Koepka.
If you have been watching the biggest tournaments in the world of golf for the past year or so, then I don't have to tell you how good and consistent of a player Tommy Fleetwood is. Since he finished 7th at THE PLAYERS Championship, we saw him finish solo-second at Shinnecock Hills after a remarkable 63 on Sunday.
He placed 6th at the Canadian Open after a 12th at the Open Championship. This recent resume is oozing of someone who is on the brink of getting a win.
Considering I know Tommy likes to strut out his best stuff in the most acclaimed events, I wouldn't be surprised to see him kissing the Wanamaker Trophy on Sunday.
If he does, I'll be stoked that Bovada.lv let me in at +2800.
Justin Thomas +2000 on BetOnline.ag and Sportsbook.ag
I see no reason why the defending PGA champ should have double the odds that Rory McIlroy or Jordan Spieth have. Quite frankly, I find it borderline criminal that Sportsbook.ag has Spieth at +1000 and Thomas at +2000. Justin not only hits the ball longer, but he's the one playing much better golf this season.
If you are going to bet on golfers to win the tournament, you'd better pick ones who provide value at the price given. You'd also better choose someone who truly has what it takes to win a major championship.
Justin Thomas at +2000 fits that bill.
For someone who grew up in Kentucky and played his college golf at the University of Alabama, Thomas can handle the sweltering heat and humidity that will likely be present.
While some golfers will falter and lose focus due to the trying conditions, Thomas is someone who should excel and embrace the setup at Bellerive CC.
I won't bore you with the stats about how good the 2017 FedEx Cup champion is, because I think you have a pretty good idea. The fact that Sportsbook.ag doesn't have Justin listed as one of the top-5 favorites to win boggles my mind and makes me fascinated about placing this bet.
Thoughts to Take Away
Before you go running to the online sites and throw all your money down on players to win the PGA Championship, take a big, deep breath.
It's okay to allocate a portion of your betting allotment to who you think will win the event, but save the majority of your funds for the bets that offer even more value.
I'm talking about the matchups and certain props that will become available by Monday and Tuesday. If you don't want to spend the time or energy scouring the sites and searching for the best bets, you don't have to.
You can check out my Twitter page on Wednesday, and I'll have an organized guide to all the best bets for the week.
You are going to have a blast watching Tiger and the gang battling it out for the year's final major. My goal is to help you make a little bit of money in the process!