Hide Bonus Offers
| | | | | |
| --- | --- | --- | --- | --- |
| #1 | Bovada Sports | 50% Up To $250 | Visit Site | Bovada Sports |
| #2 | BetUS | 125% Up To $2,500 | Visit Site | BetUS |
| #3 | MyBookie | 100% Up To $1,000 | Visit Site | MyBookie |
| #4 | Everygame | 100% Up To $500 | Visit Site | Everygame |
| #5 | BetOnline Sports | 60% Up To $1,000 | Visit Site | BetOnline Sports |
Predictions With Betting Tips for the Amir Khan vs. Kell Brook Fight

Looking to bet on the Amir Khan vs. Kell Brook fight? If that's a yes, then I've got you covered.
Although about five years too late, two of Britain's biggest names will collide in a 149-pound catchweight bout in Manchester on February 19. There is a lot of interest in the clash, despite this. Especially when it comes to gambling on the culmination of this old rivalry.
Call me a sceptic, but this is pretty much a final payday for both men. So, why not try to make some money for yourself on this one, too?
I'll be looking to aid you in that department by providing my best betting tips for Khan vs. Brook. Additionally, I'll be looking over the top odds for this "war of the roses" tear-up, as well as making some predictions for how things might pan out.
Let's get started with the odds for the Amir Khan vs. Kell Brook fight and work from there.
Betting Odds for Khan vs. Brook
I've taken the Khan vs. Brook odds from the BetUS sportsbook.
Amir Khan's Odds to Win
+150
Kell Brook's Odds to Win
-180
As you can see, Khan's odds to beat Brook are +150. If you wager $100 on the Bolton-native to win, you can expect a profit of $150 if he gets the job done.
Although considered a 50/50 fight at one time, there are reasons why Khan's odds for the Brook fight make him the underdog. I'll explain what they are a little later. Even though you might already have some idea of the method behind the bookies' pricing.
The odds for Brook to win the Khan fight come in at -180. That means that you would need to place $180 to see a return of $100, should "Special K" beat Khan.
Brook is the favorite to triumph in the bout billed "Judgement Day," and it's tough to make a case against him. With both guys closer than ever to the retirement button, this is the last we could see of Khan and Brook inside the ropes.
Khan vs. Brook Predictions – Who Wins this Fight?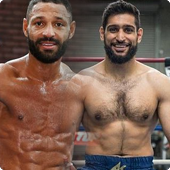 Predicted Winner: Kell Brook
Method of Victory: KO/TKO
Round: 8
I will expand on my predictions for Khan vs. Brook a little later. But allow me to briefly explain my line of thought.
These two are nowhere near where they were even five years ago, which is unfortunate for fight fans. With that said, this could be an easier fight to call in 2022 than it would have been in 2017 and even a decade ago.
Khan's hand speed and skills would have come in very handy against Brook in his heyday. But with over 30 months of inactivity — when he fought the widely unknown Billy Dib — it's hard to know what he brings to the table.
On the other hand, Brook fought one of boxing's best in Terence Crawford just a year ago. Although he was stopped in that fight, he will have taken heart from a few of their exchanges.
What should matter most in this fight, especially with both at 35 and past their respective peaks, is durability and power. I'll explain why when I go deeper into my predictions for the Khan vs. Brook bout later.
Khan vs. Brook Fight Details and History
Khan vs. Brook Date: February 19, 2022
Venue of Fight: Manchester Arena – Manchester, England
Titles on the Line: N/A
Amir Khan and Kell Brook will finally share a ring following a decade of will they, won't they nonsense.
The sad part for fight fans is that both once world-class welterweights have one foot in retirement. That's not to say that the bout will be a poor spectacle, of course, but let's not kid ourselves by pretending this is anywhere close to the matchup it would have been in 2012.
The odds for Khan vs. Brook favor the Sheffield-native. A former IBF welterweight champion, Brook was named as the world's best 147-pounder by The Ring magazine in May 2017. He is coming off a loss to Terence Crawford in November 2020, which snapped a three-fight win streak. Albeit, against much weaker opposition.
Khan is a former unified world champion at light-welterweight and was, at one point, the golden boy of British boxing. A shocking first-round upset loss to Breidis Prescott in 2008 saw his caliber come under scrutiny, but Khan did manage to carve out a solid career for himself.
| | | |
| --- | --- | --- |
| Amir Khan | Tale of the Tape | Kell Brook |
| 39 | Fights | 41 |
| 34 | Wins | 39 |
| 5 | Losses | 2 |
| 21 | KOs | 26 |
| 5'10" | Height | 5'9″ |
| 71″ | Reach | 69.5″ |
| Orthodox | Stance | Orthodox |
| Bolton, UK | Fighting Out Of | Sheffield, UK |
| 35 | Age | 35 |
Tickets for Khan vs Brook flew off the shelves when the fight was announced in 2021, putting it up there with the fastest-selling events in the history of British sports. It is already the largest take for an indoor sports event in Britain and is also the fastest-selling British fight of all time.
Much of this is down to the rivalry between Khan and Brook, which goes all the way back to the Athens Olympics in 2004. Both fighters were vying for a spot on the British boxing team. The place ultimately went to Khan, who became Britain's youngest boxing medalist at an Olympics by bagging a silver aged 17.
These two have teased a fight for years but nothing has come of it. Until now, of course. So, if you're planning to wager on the Khan-Brook fight, now is your chance to do so.
It's OFFICIAL ??
KHAN VS KELL BROOK Feb 19th LETS GO! #KhanVsBrook @boxxer pic.twitter.com/5yTDEQ7Onl

— Amir Khan (@amirkingkhan) November 29, 2021
Here are some top tips for Amir Khan vs. Kell Brook to get you started.
Top Betting Tips for Khan vs. Brook
Fight Ends in Rounds 7-12
+350
Fight Ends in Rounds 7-9
+1000
Before I break down my top bets for Khan vs. Brook, I want to cover something that I deem important for bettors to know before they place their wagers.
There is nothing on the line in this bout as far as a title goes. It's been billed as a British grudge match, but it's more of a business transaction than anything else.
If that takes a bit of the fun out of it for you, you can choose to ignore me and go on your way. But I'd play it safe here, given that these two are fighting for the money. If they are making bank, why wouldn't they consider a rematch further down the line?
The bottom line is that you should play this one safe. With that in mind, here's the first of my Khan vs. Brook betting tips.
Back Brook to Win at -180
Again, Khan's main weapons are not what they were.
As a boxer, one of the first qualities to diminish is hand speed, along with torque in general. Given that the Bolton lad has been inactive over the past few years, I don't exactly anticipate him coming into this bout as fresh as a daisy.
Brook, on the other hand, will rely more on power and durability. Although he has been beaten three times, with all three losses ending in stoppages, the names of those who beat him are stellar.
Terence Crawford – TKO (4)
Errol Spence – KO (11)
Gennady Golovkin – TKO (5)
Although Brook has suffered from facial injuries following two brutal stoppages at the hands of Golovkin and Spence, Khan does not have serious power. If he targets the right eye that was damaged against the Kazakh in 2016, he could get lucky. But I'd back Kell to come through the fight with the win.
Wager Cautiously on the Fight to End in Rounds 7-12 (+350)
If you are asking for predictions for Khan vs. Brook on a whim, I'd say back Brook inside 7-12 at these odds.
But keep in mind that these two could potentially double their retirement package with a rematch. A brutal knockout at any point in the fight might be enough for the public to say "no mas," and class the rivalry as done and dusted.
With that said, I like the odds for the fight to end in 7 to 12. A late stoppage could be on the cards, considering Brook's power and Khan's chin. For that alone, you should consider this bet. Just don't go over the top with your stake.
Bet Small on the Fight to End in Rounds 7-9 (+1000)
This is the best value pick for Khan vs. Brook, in my opinion.
Khan is 8-2 from his last ten, with Canelo Alvarez and Terence Crawford the men that have beaten him. It took both fighters until the 6th to stop "King" and I can't see Brook doing any better. Especially with this fight a little past its sell-by date where respective skill sets are involved.
Still, the odds for Khan vs. Brook ending within this three-round frame are very nice. A small to moderate bet could return a nice profit, but again, don't go crazy.
There are even more bets for Khan vs. Brook to look at on the top apps for betting on boxing, if these don't do it for you.
Why Brook Beats Khan – Power Over Speed?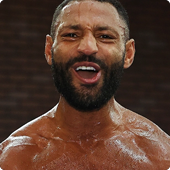 Let's pick back up on my predictions know we have my betting tips for Amir Khan vs. Kell Brook out of the way.
I guess the most important thing to consider here if you are looking to make money on the Khan vs. Brook fight is that, well, that's what they are doing. There is no title on the line, nor any future for either man where such accolades are involved.
Call me skeptical, but boxing is a business. The business end of things is never as prevalent as when two guys are ready to hang up their gloves and go their separate ways. One fight will bring in a nice payday for both. Two would make it even better.
We can forget all about what could have happened if these two had fought ten years ago. That ship has long sailed so we need to focus on what is more likely to happen when they take to the ring in February.
First, I think all parties will want to keep the possibility of a rematch open. Think Tony Bellew vs. David Haye 1, when a late stoppage ended the fight but was good enough for them to go at it again. If Khan and Brook can do something similar, happy days for them.
With that said, it will be a fight between a fast but defensively weak guy in Khan and a powerful but slower hitter in Brook. As mentioned before, Khan's speed is unlikely to show itself in more than a few flurries here and there. Brook's power and durability, however, should be prevalent throughout the fight.
The crux of things is that Brook's skillset will not look as worn and torn as that of his rival.
I think Kell will probably take longer to warm up and find his rhythm, but will eventually time Khan coming in and land a shot that wobbles him. I expect Brook to follow up on that and stop Khan somewhere in Round 8.
My final prediction for Khan vs. Brook is that there will be a rematch in the late summer/fall. Whether that will significantly contribute to what should be a great year for boxing in 2022 remains to be seen. But I sincerely doubt it.
More Betting Advice for Khan vs. Brook
If you're looking to gamble on the Amir Khan vs. Kell Brook fight, I'd recommend a little caution.
I'm always wary when it comes to betting on fights where there is nothing tangible on the line. You can talk all day about pride, and rivalry where both guys are concerned. But if that was the case, why didn't this fight happen even a few years ago?
The money that will be generated from this bout is a nice final payday for both men. But if they can double that sum, do you think either guy will turn it down? Would you?
There are ways to approach betting on boxing matches, depending on what's at stake. Our expert boxing betting strategy will help you make the right choices in this fight. So, give it a read.
I'll leave you with some additional tips that will hopefully steer you in the right direction before this one. Good luck!