Hide Bonus Offers
| | | | | |
| --- | --- | --- | --- | --- |
| #1 | Bovada Sports | 50% Up To $250 | Visit Site | Bovada Sports |
| #2 | BetUS | 125% Up To $2,500 | Visit Site | BetUS |
| #3 | MyBookie | 100% Up To $1,000 | Visit Site | MyBookie |
| #4 | Everygame | 100% Up To $500 | Visit Site | Everygame |
| #5 | BetOnline Sports | 60% Up To $1,000 | Visit Site | BetOnline Sports |
Predictions on Which Head Coach Will Be Fired First in the 2018 NBA Season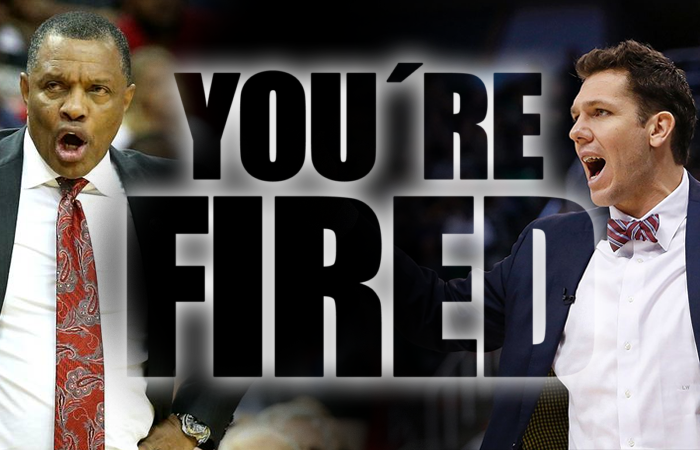 The NBA regular season is good for a few things. Ridiculous trade rumors are one. Absurd actual trades are another. And you know you tune in to see the top stars go at it.
Sometimes there can be entertainment via a little negativity, too.
While there are only a handful of truly elite teams in the association, there are quite a few that are horrendous or fail to meet expectations. Whether deserving or not, the head coach usually catches the heat for slow starts or steep regression.
Last year, David Fizdale was one in-season casualty that probably wasn't all that deserving. He and star center Marc Gasol apparently didn't see eye to eye, and a banged-up Memphis team was falling from the playoff team they used to be.
Somebody had to stretch their neck and get the axe.
That was Fizdale, but he's not alone. He was just another big name in a long line of NBA head coaches that have gotten canned before the regular season even ended.
When NBA front offices have seen enough, they don't waste long before moving on. That "living in the now" mentality isn't always the best stance to take, but if it gets you past the rough times a little quicker, some will argue the ends justify the means.
Which Coaches Are at Risk?
I'm not here to argue for or against it. Instead, with NBA head coach firing odds popping up earlier in the summer (and sure to return to your favorite NBA betting sites), I thought I'd take a look at the league and see who is at risk.
You need to consider the worst of the worst and teams that have high expectations and may not meet them.
Here are the big names I'd keep an eye on and consider betting on once those types of NBA prop bets become available.
Fred Hoiberg – Chicago Bulls
Michael Malone – Denver Nuggets
Tom Thibodeau – Minnesota Timberwolves
Billy Donovan – Oklahoma City Thunder
Alvin Gentry – New Orleans Pelicans
Luke Walton – Los Angeles Lakers
Doc Rivers – Los Angeles Clippers
There are a few other spots where you can raise an eyebrow and ponder what some franchises actually plan on doing from a long-term perspective.
Would a brutal start keep the Suns, Hawks, or other bottom feeders from sending a message and firing their current head coach? Maybe not, but there are teams so bad right now that it'll almost be expected for them to be sluggish out of the gates, if not pretty terrible for much of the year.
Instead of targeting bad teams with new head coaches, I'd spend more time focusing on good to great teams that are supposed to do big things but simply haven't or won't this year.
Of the names above, I probably would quietly shed Donovan, Hoiberg, and Rivers off the list.
Rivers probably bought himself some time with a slew of moves over the past year, while finally moving on from his son displayed a lack of bias. With the Clippers starting over, he deserves the ability to rebuild with them.
The same can be said for Hoiberg, who has often fielded a competitive Bulls team but had to endure a quick rebuild. Provided Chicago doesn't regress into a bottom-three team, he should be safe.
Donovan has to be on thin ice to a certain degree, just because when he came into OKC, Kevin Durant was there, and the expectation was chasing a title. Since then, KD fled for the Bay Area, and the Thunder have only gotten worse.
I don't blame Donovan necessarily, while the Thunder made some nice moves this offseason to improve across the board. Not improving and/or getting even worse would put him at serious risk, though.
All that said, the main guys I'd worry about are Walton, Gentry, Malone, and Thibs. Let's take a look at each coach and see why they might be worth betting on getting fired this year.
Michael Malone – Denver Nuggets
Malone is an interesting pick, seeing as he knows full well what it's like to get handed a pink slip during a season. It happened to him with the Sacramento Kings after just 24 games during the 2014-15 NBA season, and if he's not careful this year, it could happen again.
I won't say Malone is a bad coach. He preaches team defense, and he's worked hard to hash out a very good rotation for a rising Nuggets team. Still, for all of his efforts, Denver has missed the playoffs each year he's been on the job.
Don't ignore the progress, though. Malone has pieced together a versatile offensive team that actually can defend, while the Nuggets have improved their win total every season he's been at the helm.
The Nuggets are rising so quickly, in fact, that they currently look like a fun bet (+400 at SportsBetting.ag) to chase down a division title.
Injuries have largely held Denver back in a loaded Western Conference, but I'm not sure excuses like that will save Malone in his fourth season.
With LeBron James coming to La La Land and the west getting even stronger, it'll be even harder for Malone and company to finally break into postseason play.
If Denver gets off to a brutal start or looks like missing out on the playoffs, Malone could be sent packing in-season for the second time in his career.
Alvin Gentry – New Orleans Pelicans
I am a fan of Gentry. He puts together explosive, free-flowing offensive teams, and he gets his teams to play together and compete.
It hasn't always been pretty, but he did lead the Suns to the WCF in 2009-10, and after his third season calling the shots, he got the Pelicans to the playoffs last year.
It probably shouldn't be that difficult when you have a stud like big man Anthony Davis to work with, but there's something to be said for the Pelicans' steady progress under his guidance.
This team has morphed into an offensive juggernaut, and when they're clicking, they can compete with anyone in the league.
The Pelicans look so good that SportsBetting.ag and other NBA betting sites are giving them middling +6600 odds to win the Western Conference.
That's not a ringing endorsement, but it sure beats the bottom of the league.
The problem is that Gentry has been at it for going on four years now. The Pels have been assembled in his image, and if they can't fly now, it's possible they never will.
At risk is losing franchise player Anthony Davis if the team can't keep progressing. I'm not anticipating a huge drop-off. In fact, the Pels looked great to close out last year and should keep improving.
The issue is if I'm wrong about that. If so, Gentry may need to be the first casualty in an effort to finally make this thing work.
Luke Walton – Los Angeles Lakers
The story is similar with Walton. After impressing as an understudy to Steve Kerr in Golden State, Walton was lauded as a player's coach and a master of the game. In theory, he was the perfect young pupil to groom into the next Phil Jackson.
Unfortunately, the early returns have been lacking for the Lake Show.
That's to be expected. Walton was brought in to nurse the Lakers through the post-Kobe days, and if all went well, he'd be a future fixture at courtside.
The first season was miserable, but with more young talent added to the roster, the Lakers saw a small bump with 9 more wins last year.
I'm not sure it's even possible to truly grade Walton yet, but with LeBron James coming to town, he may have no room for error.
After all, he came into LA with virtually zero expectations, and suddenly the Lakers hold crazy +1000 NBA Finals odds.
King James is here to turn the Lakers back into playoff threats, and if Walton isn't part of making that happen, he could easily be a goner.
Tom Thibodeau – Minnesota Timberwolves
The guy I'd be most worried about? Thibs. The former Bulls head coach has been calling the shots in Minnesota, and he's responsible for getting the T'Wolves back to relevancy last year, but at what cost?
Minnesota traded away Ricky Rubio, Zach LaVine, and a first-round pick to facilitate moves that netted Jimmy Butler and a slew of former Chicago scrubs. Thibs has always preached high-level defense and maximum effort, yet Minnesota's defense was often below average, and the personalities on his team have clashed.
With Jimmy Butler possibly wanting out and Karl-Anthony Towns and Andrew Wiggins unsatisfied with how things have gone, Thibodeau may not have a very wide window to obtain success.
Complicating things is his odd infatuation with attracting former players to his new squad. Guys like Luol Deng, Derrick Rose, and Taj Gibson have been brought on and handed roles when (aside maybe from Gibson) they shouldn't have been.
Thibs' moves will be his own undoing. Minnesota is expected to do great things, but in a loaded Western Conference, they simply won't.
Who Gets Fired First?
I really think everyone on this list (and even more) is at risk of getting canned at some point this year or at least after the 2018-19 NBA regular season.
Any NBA head coach prop bets you find online will almost certainly demand you correctly predict who will get fired first, however.
Again, everyone I touched on here has a direct path to that unfortunate reality. They all have lofty expectations in front of them, and if they don't deliver – even excruciatingly early in the year – they could be sent packing.
Of the lot, though, Thibs may be charging toward his end at the fastest rate.
The roster construction under his watch has simply been downright laughable. He's basically assembling the 2005 Bulls, and at this point, that's a very bad thing.
There honestly isn't a place for Rose or Deng in the current NBA, and Gibson is a role player off the bench at best. Once a franchise cornerstone, I'm not even fully sure that Jimmy Butler is worth building around anymore.
Everything Thibs has done has likely set the Wolves back at least a few years. Instead of finding a way to maximize Andrew Wiggins, he's kicked him to the side and allowed Butler to trump him. The same could be said for KAT.
Hey, maybe I'm wrong. Perhaps Thibs has a bigger picture I'm missing, and maybe Deng is the final piece to the puzzle. Maybe the Wolves as they stand – at full strength – can contend for a top-three spot and push for a championship.
Thibs has really only known success wherever he's gone. In just his second year on the job, he got Minny back to the playoffs after years of being away. He deserves some credit for that.
That's small-time, though.
Thibs was brought in to build a title winner, and judging by last year, I don't think he has or can. Should that be made more obvious early in the 2018-19 season, perhaps the Wolves correctly bail before he hacks up their roster even more.