Predicting Who the Texans Will Select in the 2022 NFL Draft

The Houston Texans head into the 2022 NFL draft looking to fill multiple voids. No disrespect to Houston, but they might have the worst roster in the NFL. Thankfully, they have multiple draft picks to upgrade their team.
The Houston Texans' 2022 NFL mock draft will address their biggest needs while gaining some young talent. Hopefully, Houston can use their two first-round picks to land a franchise player.
Which players should be in the Houston Texans NFL mock draft for 2022? Let's see where they'll be picking in 2022.
Houston Texans Draft Picks for 2022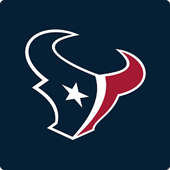 Round 1, Pick 3
Round 1, Pick 13
Round 2, Pick 5
Round 3, Pick 4
Round 3, Pick 16
Round 4, Pick 2
Round 4, Pick 3
Round 6, Pick 4
Round 6, Pick 26
Round 6, Pick 28
Round 7, Pick 24
The Houston Texans 2022 NFL mock draft featured many selections, but it only improved when they acquired a first and fourth-round pick in the trade that sent Deshaun Watson to the Cleveland Browns.
Let's talk about the biggest needs for the Texans' 7-round NFL mock draft.
Assessing the Texans' Biggest NFL Draft Needs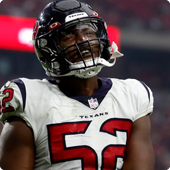 The Houston Texans have many holes to fill. Their main focus in the 2022 NFL should be an edge rusher, cornerback, and offensive line.
Houston lost J.J. Watt ahead of the 2021 season. It'll take a lot to replace him, but they haven't done enough to upgrade the position. Their 32 sacks last season were the fifth-fewest. It was even worse for a run defense that allowed the second-most yards.
Jonathan Greenard emerged as a solid player, but Houston needs to make more upgrades.
The Texans' didn't allow a ton of passing yards last season, but that was a product of teams going run-heavy against them. Check out their passing attempts and rushing attempts allowed.
Passing Attempts: 546 (25th)
Rushing Attempts: 523 (2nd)
Houston needs a difference-maker in the secondary. It'd be wise for the Texans 2022 NFL mock draft to address that early.
Lastly, we'll discuss the Texans' offensive line. Houston's offensive line was one of the worst in 2021. Davis Mills showed potential in his rookie season, but how much can he grow with a weak offensive line?
There were rumors that Laremy Tunsil could be on the move. Either way, the Texans need to upgrade their offensive line.
Houston Texans Mock Draft Predictions for Day One
The Houston Texans have a pair of top 15 picks in the first round. We know they have many voids to fill, so let's see which direction they go in the first round.
Round 1, Pick 3: Travon Walker, DE, Georgia
Edge rusher is a primary need for the Houston Texans. It only makes sense they use their top-five pick on one of the fastest-rising prospects.
Aiden Hutchinson and Kayvon Thibodeaux were the early favorites to be the first edge rushers off the board. However, Travon Walker has joined them after being a big winner of the 2022 NFL combine.
Check out his numbers from the 2021 season.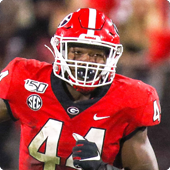 33 tackles
7.5 tackles for loss
6.0 sacks
1 fumble recovered
Georgia's dominant defense led them to the National Championship. They had many great players, but Walker has emerged as their top NFL draft prospect. He is in a strong position to go first in the Houston Texans 2022 NFL mock draft.
Walker has moved up NFL draft boards because of his speed and athleticism. He ran a 4.51 40-yard dash while excelling in the three-cone drill. He'll give the Texans' run defense a significant boost.
He does have some work to do with his pass-rushing, but his potential is among the best in the 2022 class. Houston isn't close to competing, so they shouldn't have an issue waiting on him to develop.
Round 1, Pick 13: Derek Stingley Jr., CB, LSU
One of the more intriguing first-round prospects is Derek Stingley Jr. Stingley was a standout player in his freshman year, helping LSU win the National Championship. He recorded 38 tackles and six interceptions.
Unfortunately, his production dropped off as he dealt with injuries in 2020 and 2021. Stingley didn't participate in the NFL combine drills, but he looked impressive at his Pro Day.
We know the Houston Texans need to upgrade their secondary. We've already heard about the Texans' interest in Stingley.
2019 First-Team All-American LSU CB Derek Stingley is in Houston for a Top 30 visit with the #Texans today

The 2020 First Team All-America DB could be a MAJOR addition to this D. Stingley has the potential to be 1 of the top CBs in the NFL

Should the #Texans draft him at #13? pic.twitter.com/BOcyfdhQ4A

— Clutch City Entertainment (@ClutchCityENTX) April 10, 2022
Stingley's potential alone makes him a top target for the Houston Texans' 2022 NFL mock draft. He has elite speed, allowing him to keep up with the fastest wide receivers. His versatility makes him a great option in man and zone coverage.
And that issue with the Texans' run defense? Stingley's physicality will help in that department. There's not much to dislike about his game.
The biggest downside to Stingley's game is he doesn't play up to his potential. He hasn't been able to recapture his 2019 glory. Honestly, I think that's more because of injuries. If he puts that behind him, this could be one of the top value picks.
The best 2022 NFL draft betting sites could give you value on Stingley or any draft selection.
Day 2 Houston Texans Mock Picks
The Houston Texans have three picks in the second and third round. How will the Houston Texans NFL mock draft for 2022 use those picks to upgrade their roster?
Round 2, Pick 5: Jaquan Brisker, S, Penn State
The Houston Texans' issues in the secondary extend beyond their cornerbacks. Safety is a position they need to upgrade, and Jaquan Brisker will give them a reliable option on the back end.
Brisker excels as a box safety. He has no problem being physical and disrupting the run game. He can play near the line of scrimmage, covering the underneath routes. Check out his numbers from the 2021 season.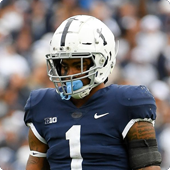 63 tackles
6 tackles for loss
5 passes defended
2 interceptions
1 fumble recovery
He seems like an optimal target in the Texans' full 2022 NFL mock. Houston needs someone that can assist in the run game. Brisker can play near the line of scrimmage and slow down the running back.
The biggest weakness of his game is his ability to play in deep coverage. Brisker struggles against faster players, so the Texans might want to limit using him against those players. He is physical enough to match up with tight ends.
Houston currently has Terrence Brooks and Eric Murray as their starting safeties. Both players have bounced around the league, so that Houston could use a stable option. Brisket will give them an every-year starter.
Round 3, Pick 4: Darian Kinnard, OT, Kentucky
It has taken a while for the 2022 NFL mock draft for the Houston Texans to address one of their biggest needs, but I promise the wait was worth it.
Darian Kinnard played three seasons at Kentucky as an offensive tackle. He'll likely need to move to guard to realize his potential, but that works perfectly for the Texans. They have Laremy Tunsil and Tytus Howard at tackle.
One of the biggest assets of his game is pulling on zone run plays. That skill will be on full display when he moves to guard. That move will also help mask his weakness against edge rushers.
#9 Darian Kinnard, Kentucky (9/11)
Draft Range: Day 2

Intriguing blend of size, power & quickness, he needs to become more polished and consistent with his technique at the next level but he's got ideal size to play either guard or tackle in the NFL, possesses legit upside pic.twitter.com/02QEqkoPHK

— MRCROCKPOT TPL (@mrcrockpot) April 9, 2022
Most scouts will tell you that Kinnard has potential, but he needs to work on his technique. He can struggle with controlling blocks because of his hand placement. That leaves him off balance and unable to block the defensive lineman effectively.
Kinnard's versatility should make him a popular option for the third round. He should grow as a guard while being an emergency option at tackle.
The Texans' offensive line needs help on the interior. It might take Kinnard some time to develop, but he could become a reliable starter.
Round 3, Pick 16: Isaiah Spiller, RB, Texas A&M
Isaiah Spiller might not be the Houston Texans' top pick, but his name recognition should make him an appealing option for fans.
Of course, a running back can't succeed without an offensive line. Darian Kinnard helped address that issue, and Spiller will give the Texans a quality option in the backfield.
Spiller is an elusive runner that shows great patience in the backfield. However, that was an issue during his final season with Texas A&M, as he didn't have a great offensive line. Will that be an issue with the Texans?
It'll be interesting to see where he would fit in the Texans backfield. Spiller isn't much of a receiver, so he'll likely be off the field on third downs. He could serve as a rotational back with Marlon Mack and Rex Burkhead.
Those are quality backs, but do they have the potential of Spiller? Mack tore his Achilles in 2020, and Burkhead has bounced around the NFL. I doubt Spiller changes the Texans' Super Bowl 57 odds, but he'll give them a fresh face.
I'd like to see Spiller become more aggressive as a ball carrier. He has good patience, but he doesn't always attack the hole. He might not have a ton of time behind the Texans' offensive line.
Houston Texans Mock Draft Predictions for Day Three
Round 4, Pick 2: Justyn Ross, WR, Clemson
Round 4, Pick 3: Channing Tindall, LB, Georgia
Round 6, Pick 4: Charlie Kolar, TE, Iowa State
Round 6, Pick 26: Logan Bruss, G, Wisconsin
Round 6, Pick 28: Vincent Gray, CB, Michigan
Round 7, Pick 24: Tre Turner, WR, Virginia Tech
The Houston Texans NFL mock draft for 2022 features six picks on day three. Let's start by discussing their fourth-round picks.
There was a time when people thought of Justyn Ross as the next great Clemson wide receiver. Unfortunately, spinal surgery cost him the entire 2020 season. He has the potential to be a jump ball wide receiver, but can he recapture his pre-spinal surgery form?
Channing Tindall is one of many Georgia defensive players in the 2022 NFL draft. He should be able to impact the Texans' run defense.
Charlie Kolar might be my favorite value selection for the Texans. There's a strong chance he isn't available in the sixth round, but I'm taking a chance. His ability to get open will be great for Davis Mills.
Highest graded TE's against single coverage last season

1️⃣ Charlie Kolar: 92.9
2️⃣ Trey McBride: 92.4 pic.twitter.com/SZo9SbRfYG

— PFF Draft (@PFF_College) March 25, 2022
The Texans will close their 2022 NFL draft by upgrading their depth on both sides of the ball. Logan Bruss is an athletic guard that excels in run-blocking. He'd be a welcome addition for Isaiah Spiller.
Vincent Gray and Tre Turner give the Texans some depth at corner and wide receiver. Both players could work their way into the lineup.
Mocking the Houston Texans' 7-Round Draft for 2022
The Houston Texans have a long way before contending for a playoff spot. The Houston Texans 2022 NFL mock draft should be a good start. They should be able to land a few impact players, with their top 15 picks being in the spotlight.
Honestly, Houston should focus on developing their young players. That'll go a long way towards returning to playoff contention.
I can't imagine many people will bet on the Texans in 2022. However, bettors can wager on the 2022 NFL draft. The NFL draft betting guide will give you all the necessary betting information for the NFL draft.
2022 NFL Draft Betting Guide
Advice for betting on the NFL Draft.