Hide Bonus Offers
| | | | | |
| --- | --- | --- | --- | --- |
| #1 | Bovada Sports | 50% Up To $250 | Visit Site | Bovada Sports |
| #2 | BetUS | 125% Up To $2,500 | Visit Site | BetUS |
| #3 | MyBookie | 100% Up To $1,000 | Visit Site | MyBookie |
| #4 | Everygame | 100% Up To $500 | Visit Site | Everygame |
| #5 | BetOnline Sports | 60% Up To $1,000 | Visit Site | BetOnline Sports |
Predicting Which Teams Will Make the 2022 NHL Playoffs

The 2021-22 NHL season is entering the home stretch. Most teams have around 20 to 25 games remaining, so if they weren't already in playoff mode, now would be a good time to start.
We've seen teams like the Colorado Avalanche and Carolina Hurricanes separate themselves as Stanley Cup contenders. Meanwhile, the Western Conference playoff race features six teams battling two wild-card spots.
These 2022 NHL playoff predictions will provide you with playoff locks, bubble teams, and a prediction of the 16-team field. If you're here for NHL playoff predictions, though, the chances are good you're also eager to bet on what happens next. If so, consider using some of the best NHL sportsbooks you can find online.
Here are my favorite NHL betting sites for betting on the 2022 NHL playoffs:
Current 2022 NHL Playoff Picture
| | |
| --- | --- |
| Eastern Conference Playoff Picture | Western Conference Playoff Picture |
| Florida Panthers vs. Boston Bruins | Colorado Avalanche vs. Dallas Stars |
| Carolina Hurricanes vs. Washington Capitals | Calgary Flames vs. Nashville Predators |
| Tampa Bay Lightning vs. Toronto Maple Leafs | St. Louis Blues vs. Minnesota Wild |
| New York Rangers vs. Pittsburgh Penguins | Los Angeles Kings vs. Vegas Golden Knights |
The Eastern Conference might look one-sided at the top but don't count out the Boston Bruins and Washington Capitals. Boston has a rich pedigree, including making the 2019 Stanley Cup Final. Washington has defeated the Carolina Hurricanes twice this season.
I'd say the Tampa Bay Lightning vs. Toronto Maple Leafs series could bring much excitement. Everyone wants to know when the Maple Leafs will exercise their demons and make a deep playoff run.
The Colorado Avalanche is miles ahead of everyone in the Western Conference, but every other playoff series should bring competitive action. It'll be interesting to see if the Vegas Golden Knights can remain in the NHL playoff projections. We've seen them tumble down the standings lately.
They'd draw a tough matchup anyway, as the Los Angeles Kings have been surging.
Locks to Make the 2022 NHL Playoffs
Despite 20+ games remaining, we can confidently say these teams will be in the hockey playoff in 2022. These odds will reflect their chance to win the Presidents' Trophy.
Colorado Avalanche (+175)
It's fair to say most people's 2022 NHL playoff predictions have the Colorado Avalanche at the top. They entered the season as the Stanley Cup favorites, but they didn't have the best start.
Following a loss on December 4, Colorado was 12-7-2 with 26 points. They weren't terrible, but everyone wanted to know why they weren't playing up to their potential. Following the COVID break, Colorado flexed their muscle.
Check out their record in January and February.
January: 15-0-1
February: 7-2-1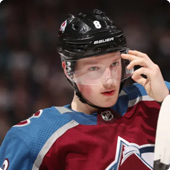 I'd say that's why the NHL playoff prediction has them as a lock. Despite losing four of their last five games, the Avalanche's 87 points lead the NHL. They have the Central Division locked up, with their sights set on the Presidents' Trophy.
Colorado has plenty of playmakers, with Nathan MacKinnon, Nazem Kadri, and Mikko Rantanen. However, I want to highlight Cale Makar.
This season, the defenseman has been impressive, recording 21 goals, 44 assists, and 65 points. The 2022 NHL Awards predictions make him a big favorite to win the James Norris Trophy. He could even garner MVP interest.
The hockey playoff predictions have the Avalanche at the top. Will they win the Presidents' Trophy?
Carolina Hurricanes (+275)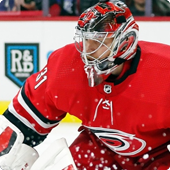 Despite a great 2020-21 season, the Carolina Hurricanes didn't open as Stanley Cup contenders. Well, it didn't take long for their NHL team projection to change. Carolina started the season on a nine-game win streak, reaching a 14-2 mark.
We've seen the Hurricanes have inconsistent stretches, but they usually follow those up with big runs. They are amidst one of their great performances, winning eight of their last ten games.
Carolina is in a tight battle with the Florida Panthers for the most points in the Eastern Conference. However, they have an eight-point lead in the Metropolitan Division. The playoff predictions for the NHL should give them the division title.
The biggest reason for Carolina's success is their one-two punch in the net.
Team Goaltending – March 5 pic.twitter.com/CoP8PAlxKX

— JFresh (@JFreshHockey) March 5, 2022
Frederik Andersen is the Hurricanes' primary goalie. He is third in the NHL with 2.08 goals against per game, and a .928 save percentage. Anderson is having a breakout season after five solid seasons with the Toronto Maple Leafs.
Antti Raanta has put up solid numbers himself, with 2.31 goals against per game and a .918 save percentage. Together, they can lead Carolina to the top in the 2022 NHL playoff predictions.
Florida Panthers (+175)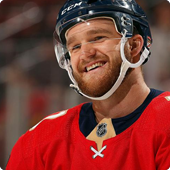 The Florida Panthers entered the season similar to the Carolina Hurricanes. They had a great 2020-21 season but weren't among the 2022 Stanley Cup contenders. Like the Hurricanes, the Panthers had a great start, winning 10 of their first 11 games.
Florida had a rough stretch before COVID paused their season. Since their resumption in late December, they've gone 22-6-1. Overall, their 85 points have them No. 1 in the Atlantic Division.
I'd say the primary reason the NHL playoff 2022 predictions have the Panthers near the top is their offense. Their 243 goals lead the league and are 26 ahead of the second-place team.
They have five players with over 20 goals, but their best player is assisted extraordinaire Jonathan Huberdeau. Huberdeau has a great year, leading the league with 64 assists and 82 points. His assist numbers have him on a record-setting pace.
Helping set up 4 of his @FlaPanthers goals in a 6-3 win over the Flyers on Thursday, Jonathan Huberdeau is closing in on the single season record for assists by a left winger as he now ranks tied behind only 6 on this list (and only needing 7 more "apples" to take over 1st place) pic.twitter.com/ooiy1SVfBd

— StatsCentre (@StatsCentre) March 11, 2022
Considering over 20 games are remaining, he should break that record. That'd be a fantastic accomplishment, but he wants the Stanley Cup trophy. The NHL predictions for the playoffs have the Panthers in a good position. How will things look at the end of the season?
Tampa Bay Lightning (+900)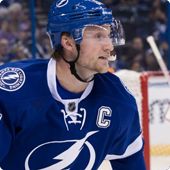 The Tampa Bay Lightning is the lone team to make this section that isn't leading their division. Still, it's hard not to consider the two-time defending Stanley Cup champions a lock to make the playoffs.
We haven't seen the Lightning go on one big run this season, but they've been consistently good. They have lost three of their last five games, but that came on the heels of a five-game win streak. Tampa Bay is lurking as they pursue a third straight title. In our latest Stanley Cup update, they had (+700) odds.
As I mentioned in the last section, Tampa Bay has one of the best offenses in the league. The leader of their offense is Steven Stamkos.
Stamkos has always been a great player, but he struggles to stay healthy. He has only missed one game, posting these impressive numbers.
27 goals
36 assists
63 points
It's great to have Stamkos on the ice all season. With Victor Hedman, Alex Killorn, and Brayden Point, Tampa Bay has other pieces, but Stamkos is their star.
We all know the Lightning's pedigree. It wouldn't surprise me if some people had them No. 1 in their 2022 NHL playoff predictions.
Teams in Danger of Missing the NHL Playoffs in 2022
The 2022 NHL season hasn't been kind to every team. The NHL playoff predictions have these teams missing out on the postseason. Which borderline teams will miss the playoffs?
Edmonton Oilers
Every year, it seems like we're waiting for the Edmonton Oilers to become Stanley Cup contenders. They have two of the best players in the game but only have one playoff victory in the Connor McDavid era.
Edmonton entered the season with (-350) odds to make the playoffs, and they looked like a serious contender early. They held a 16-5-0 record on December 1, but COVID took a toll on their season.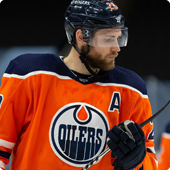 They only played 15 games from December 3 to January 20. The Oilers pummeled down the standings, going 2-11-2 in that stretch. They bounced back in February, but they've lost six of their last nine games.
The Oilers are one point behind the Dallas Stars for the final wild-card spot. That's not good for the NHL playoff 2022 predictions. McDavid continues to play at an elite level, but I'd like to see more from Leon Draisaitl.
The top NHL betting sites had Draisaitl as the favorite to win the Hart Trophy early in the season. I wouldn't say he has been bad, but we're not seeing MVP-caliber numbers. The Oilers need that level of play if they're going to make the playoffs.
Vancouver Canucks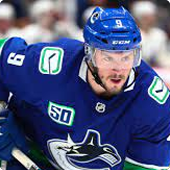 The Vancouver Canucks came into the season with decent expectations. They were a middle-tier team that could contend for a playoff spot. Their preseason playoff odds had them missing the playoffs, but they've made a push.
Vancouver had a rough start, going 6-14-2, but they followed that up by 10-1-1 in their next 12 games. Since then, we've seen them hang around .500. That was until a recent stretch saw them win eight of ten games.
The Canucks placement in the NHL playoff prediction for 2022 will come down to J.T. Miller. Check out his numbers this season.
23 goals
44 assists
67 points
Miller leads the team in all three statistical categories. His presence is significant for the Canucks playoff hopes. NHL trade deadline betting for 2022 includes Miller, as the Canucks could deal him.
With Miller, the Canucks are a borderline playoff team. Without him, I doubt you'll see Vancouver in many people's 2022 NHL playoff prediction. The trade deadline is March 21, so that'll be a big day for Vancouver's playoff hopes.
As of now, they are three points out of the final wild-card spot.
Anaheim Ducks
The Buffalo Sabres entered the season with worse playoff odds than the Anaheim Ducks. Anaheim had the second-fewest points last season, and there wasn't much hope for the 2021-22 season.
Following a 2-4-3 start, the Ducks went on an eight-game win streak. At that point, I bet some people wished they had Anaheim in their NHL playoff predictions for 2022. Their season reached a high point on December 15. Unfortunately, they haven't done much in the 2022 calendar year.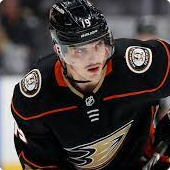 January: 6-6-1
February: 2-5-0
March: 2-3-0
Considering their preseason expectations, it's not a terrible stretch. Still, we expect more after their great start. Anaheim has a 27-24-9 record with 63 points. They are four points behind the Dallas Stars for the final wild-card spot.
If the Ducks are going to fight their way back into the hockey playoffs in 2022, they'll need more out of Troy Terry.
Terry leads the Ducks with 28 goals and 49 points. We've seen him have big stretches, but his numbers have gone down since the All-Star break. This is the most crucial time of the year, so Terry needs to return to his early-season success.
Winnipeg Jets
The Winnipeg Jets came looking for their fifth straight playoff appearance. They weren't a Stanley Cup contender, but I doubt many people left out of their 2022 NHL playoff predictions. Things haven't gone according to plan as we move into the closing stretch.
Winnipeg looked great out the gate, starting 9-3-3. Unfortunately, that was the extent of their success. They had multiple losing streaks, leading to a 26-22-10 record. Their ten overtime losses are the most in the Western Conference.
There isn't anything special about the Jets. They rank mid-pack in goals scored and goals allowed. If someone is going to lead them to the playoffs, it's Kyle Connor.
The 25-year-old is on pace to set career highs in goals, assists, and points. He leads the team in goals and points and is second in assists.
omg Kyle Connor ? pic.twitter.com/5rAFGlpz6A

— Sportsnet (@Sportsnet) March 11, 2022
He can make highlight-reel plays, but will that be enough for the NHL season predictions to include Winnipeg in the playoffs? The Jets have a few teams to pass, but they're up for the challenge.
Will you include them in your NHL playoff prediction?
Predicting the 2022 NHL Playoffs
Atlantic Division
Florida Panthers
Tampa Bay Lightning
Toronto Maple Leafs
Metropolitan Division
Carolina Hurricanes
New York Rangers
Pittsburgh Penguins
Wild Card
Boston Bruins
Washington Capitals
Central Division
Colorado Avalanche
Louis Blues
Minnesota Wild
Pacific Division
Calgary Flames
Vegas Golden Knights
Los Angeles Kings
Wild Card
Nashville Predators
Edmonton Oilers
You may have noticed my last section didn't include any Eastern Conference teams. Well, that's because there's a 13-point gap between the Washington Capitals and the Columbus Blue Jackets. It'd take a big collapse from Washington and a big run from another team to change the playoff picture.
Aside from that, I don't have any changes in the Eastern Conference.
I have some movement in the Western Conference. My NHL playoff predictions for 2022 have the Vegas Golden Knights surpassing the Los Angeles Kings in the Pacific Division. Jack Eichel should make a bigger impact as he becomes more comfortable with Vegas.
The Edmonton Oilers will snag the final playoff spot in the Western Conference. Connor McDavid and Leon Draisaitl should do enough to earn them a playoff spot.
Betting on Who Makes the NHL Playoffs in 2022
It won't be long before the NHL reaches the end of the regular season. Until then, we'll likely find ourselves asking who will make the 2022 NHL playoffs?
Unfortunately, the sportsbooks don't currently have odds to make/miss the playoffs, but we'll likely see them return soon. Once that happens, the top hockey betting sites will give you the best odds.
I don't have much movement in my NHL playoff prediction, but don't let that stop you. You can actively bet on the games themselves, and we've got you covered every day. Just stop by our hockey betting picks page for the latest odds and predictions