Predicting What's Going to Happen at the 2022 NBA Trade Deadline

The NBA Trade Deadline is coming up fast and the trades are going to be coming quickly. Certain teams will be going all in on this year as they chase an NBA Finals trophy, while others will be looking to get a ring later down the road.
To prepare for the trade deadline, we must assess all of the rumors going on. We have superstar players on super teams, but that hasn't made them untouchable. Big name players could be on the move and this trade deadline could be one of the most exciting in a very long time.
With that being said, let's check out our predictions for this year's NBA Trade Deadline, which is set for Thursday, February 10th.
Julius Randle Traded to the Kings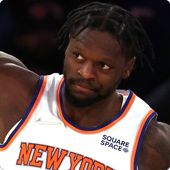 One of the biggest names who have been rumored to want a trade include Julius Randle of the New York Knicks.
The Knicks have been terrible this year after making a solid run in the playoffs last year. The Knicks are 24-29 currently and they don't look like they are getting better anytime soon.
That means they should have a lot of players who could be shipped out this season. New York should be looking at yet another attempt at trying to shake up their roster the right way.
They have always been trying to land the biggest names in free agency, but they just can't seem to get it done. Randle has been a great pickup for them since 2019, but his play is down this year and can be looking to move on.
He went from scoring 24.1 points per game last season but hasn't been able to repeat his success with just 18.7 points per game this year.
Randle denied the report of a trade request, but it still looks like it is very possible to happen with the way the Knicks have been playing this season.
The 2014 7th overall pick signed a 3-year, $62.1 million contract with the Knicks and is a free agent at the end of this season. The Knicks might let him go in free agency, but they could also try and get some future pieces for him while he is still on the roster.
With Randle's declining play and expiring contract, other teams might not want to trade too much for him. I am guessing a top tier team is not in the mix here, so a team like the Kings make sense.
C.J. McCollum Traded to the Lakers
The Blazers have already started making trades earlier this week. They dealt Norman Powell and Robert Covington to the Clippers for a package, which was underwhelming.
The Clippers are trading Eric Bledsoe, Justise Winslow, Keon Johnson and future second-round pick to the Trail Blazers for Norman Powell and Robert Covington, sources tell ESPN.

— Adrian Wojnarowski (@wojespn) February 4, 2022
If this is a trade that indicates the direction the Blazers are heading at this year's deadline, everyone could be on the trade block. Damian Lillard has been out for a while and their season is looking to be lost already.
C.J. McCollum is often injured himself, but he's still a very good shooting guard. A playoff team could use a great shooter like McCollum and the Lakers make sense here.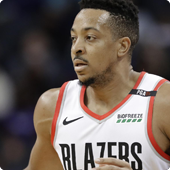 With the Lakers having a lot of ball handling in the Westbrook, LeBron, and AD trio, McCollum should be able to fit well in that mix.
Los Angeles will have to have a package worth Portland's consideration, but they can offer a lot of picks and younger guys for a top player like McCollum.
McCollum is shooting 38.4% from three-point range to go with his 20.5 points per game. With the Lakers struggling this year so far, they could get a little desperate here in favor of a major roster change.
Russell Westbrook has been a major disappointment for the Lakers, and he just might have played his way out of there. It might be unlikely, but the Lakers are probably going to get rid of him if they want to maximize their NBA Finals chances while they still have LeBron James.
Westbrook would not fit in the Blazers lineup and his rivalry with Damian Lillard could make for a very bad outcome in Portland. I would think a 3-team trade makes sense here, with a lower ranked team taking on Westbrook's contract.
James Harden Stays Put in Brooklyn
There has been a lot of noise regarding James Harden and his future with the Brooklyn Nets.
He has been playing at a very poor level and Brooklyn has been struggling this year. Harden has been caught absolutely sleeping on defense and appears flat out lazy at times.
For a roster that has 3 of the very best players in the NBA, the Nets find themselves with a lot of questions heading into Thursday's deadline. The Nets and head coach Steve Nash have said that Harden is staying put, and I think that will be the case.
Steve Nash says the Nets are not trading James Harden pic.twitter.com/RkfiPj1qnv

— Bleacher Report (@BleacherReport) February 6, 2022
It may not be the correct decision for the Nets to move forward with Harden, but I just don't think there is enough traction here for a deal. There was a lot of noise regarding a Harden and Ben Simmons trade, but the 76ers have been very stern about their asking price.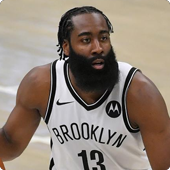 Harden and Simmons might be swapped for each other eventually, but that might be something that happens in the offseason rather than the deadline this year.
I have a question that doesn't seem to be among the rumors so far, why don't the Nets try and trade Kyrie Irving? Irving can only play half of the Nets' games due to his vaccination status and that could be huge later this season.
Irving could land the Nets a couple of solid players to fill out their roster and could be highly sought after if made available. Why would the Nets hang onto him if he can only play half of their games?
I don't think the Nets make any drastic moves, but I am not excited about them moving forward.
Jerami Grant Gets Traded to Portland
Another solid player who should be traded at the deadline is Jerami Grant of the Detroit Pistons.
Grant is an underrated player and could be a solid player to a playoff team. He hasn't played a ton this season so far (27 games), but he's been great when he does play.
He averages 19.6 points per game along with around a steal and block per game as well. He's a capable 3-point shooter at 34% as well, which is a nice bonus.
Grant could get a solid return for the Pistons because he still has another year on his contract. Although that does make it more likely that the Pistons could hold onto him this season, I think they should explore their options now.
I think a team like Portland makes sense even though they might be trading McCollum. McCollum's injury problems have been a huge problem for the Blazers, and they could be tired of it. Grant would be a nice replacement and he and Lillard could fit well together.
This would make a lot of sense for next season's Portland team. Lillard, Grant, and Nurkic would make for a solid offensive team with 3 levels of scoring. Defense has been their downfall as well as injuries, but trading for Grant could still be a real possibility.
At the end of the day, I do think Grant will be on the move.
He is a very solid player right now and the Pistons probably won't be competitive for a couple years or so. That means that they should try and flip Grant for a future pick or younger player so they can help build around Cade Cunningham.
Ben Simmons Stays in Philadelphia
This has probably been the biggest storylines of this year in the NBA. Ben Simmons is not playing for the 76ers, but that hasn't made them drop their asking price for him.
It is odd to say the least that the 76ers are willing to let one of their best players just not participate for them, while the rest of the team can win the East.
Joel Embiid is having himself an MVP caliber season and the 76ers should try and cash in now. Simmons sitting on the bench instead of playing or being traded for players who want to play, could hurt both sides drastically more than they think.
The 76ers and Nets have been rumored to talk about a Harden/Simmons deal, but I don't think that'll happen. I don't think any team matches the 76ers asking price for Simmons, especially when he is seemingly not interested in playing basketball this year.
With that said, Ben Simmons should remain in Philadelphia throughout the remainder of this season. If he is going to be moved, it is likely going to be after the conclusion of this season.
Bovada offered a prop on Ben Simmons' team after the 2022 Trade Deadline. He was (-300) to remain on the 76ers, and I think that seems like the correct move.
De'Aaron Fox Traded to Toronto
Sacramento just can't seem to get it right despite having decent players over the years. De'Aaron Fox has been one of those players and could be shipped elsewhere at the deadline.
Fox is under contract for a while, but I still think the Kings could trade him this year if a team is willing. Fox does not become a free agent until the 2026-27 season, so a team looking to compete this year and in the next several could look to grab him.
.@KyleDraperTV has no interest in Julius Randle in a potential De'Aaron Fox trade.@momoragan believes Fox gets moved, but maybe not until the offseason pic.twitter.com/upFVy1tHWG

— Kings on NBCS (@NBCSKings) February 6, 2022
I think the Toronto Raptors would benefit from a trade here too. They have a solid roster now and could be a very underrated team heading into the postseason. Fred Vanvleet has been their point guard this season, but he spent most of his time there as the shooting guard.
Fox can take over at point guard and Vanvleet could switch to shooting guard almost seamlessly. They have some players who are going to be under contract past this season as well, so they could be a force down the road.
Vanvleet, Siakam, Anunoby, Barnes, and Fox would be a very underrated Raptors' lineup throughout the next several seasons or so. It will just have to come down to what they have to give up for him.
Pacers Sell the House
A team that has already made moves to sell this year away is the Indiana Pacers. They just traded Caris LeVert to the Cavaliers for a solid package and more will be on the way.
Full trade: Indiana sends Caris LeVert and a 2022 second-round pick via Miami to Cleveland for Ricky Rubio, lottery-protected 2022 first-round pick, 2022 second-round pick via Houston and a 2027 second-round pick via Utah, per sources.

— Adrian Wojnarowski (@wojespn) February 6, 2022
Domantas Sabonis and Myles Turner are two very underrated big men in the NBA. Malcolm Brogdon is a solid point guard for them as well. With the Pacers struggling this season, they will look to cash them in for some future pieces.
Indiana is currently 19-35 and are a ways away from the playoffs, which is good for 13th in the Eastern Conference.
Sabonis is going to be the most sought-after player at the deadline for Indiana. He is a double machine, averaging 19.1 points and 12.1 rebounds per game. A lot of teams can use a player like Sabonis who can contribute down to the paint.
Turner is one of the best, if not the best shot blocker in the NBA. He is averaging 2.8 blocks per game this year, which is most in the NBA. If he finishes at the top at the conclusion of this season, he would be the blocks per game leader for 3 out of the past 4 years.
Brogdon is a solid veteran point guard as well. He is averaging 18.5 points, 5.9 assists, 5.1 rebounds, and only 2.2 turnovers per game this year. He could be one of the sneakiest grabs of the year for any playoff team.
The Pacers should be able to get a ton of pieces for their future. These 3 players should be able to fit into a lot of rosters very nicely.
2022 NBA Trade Deadline Recap
This year's version of the NBA Trade Deadline is shaping up to be a big one.
After a lot of years of the same teams in the Finals every season, it is refreshing to see the NBA wide open again. We have so many different teams who could pull it off this season and the trade deadline could be the reason why.
With the excitement surrounding the NBA Trade Deadline, now is the time for you to get in on the action. The best NBA betting sites offer trade deadline specials, which could win you money.
You can bet on all sorts of things like player landing destinations and even how many draft picks will be traded on deadline day. Be sure to follow Adrian Wojnarowski on Twitter for tons of trade deadline movement.
Check out our blog below on tips and advice for more help on how to bet on this year's trade deadline.
September
Casino of the Month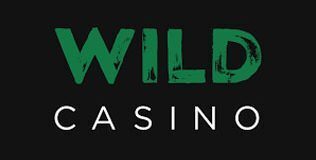 Welcome Bonus
250% up to $5,000