NBA Specials: Predicting Lebron James' Next Team in 2018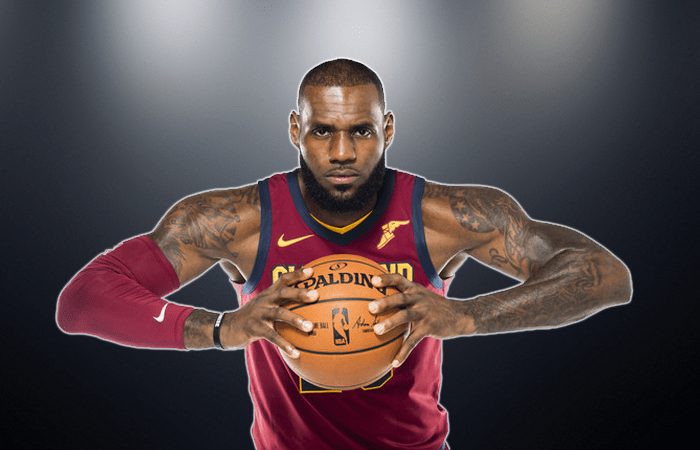 Do you want to know where Lebron James will be playing this time next year? Me too! All of the possible destinations are plus money, even staying in northeast Ohio with the Cleveland Cavaliers.
The rumor mill has been swirling like a Texas twister on Memorial Day. According to the odds, the next most possible destination is down on the third coast to play with Chris Paul and James Harden. These two have already shown that they can gel with haste.
The biggest concern with destination Houston is that those other two superstars are ball dominant. If you know anything about King James, he is most comfortable with the ball in his hands. Something will have to give, but these guys are at the highest level and you can expect nothing less.
Another team on the radar of Lebron is the Los Angeles Lakers. The Cavs just made a trade with them which still doesn't answer our pressing question. LA would, of course, be an even bigger spotlight for the King. He has never been one to shy away from the attention or the responsibility.
LA is young, and without any current superstars, is still rebuilding. The addition of Lebron alone to the team wouldn't likely be enough firepower to contend with Golden State or Houston, much less OKC or Minnesota.
Do you believe in Magic though?
No, not David Blaine or David Copperfield! I'm talking about Earvin Magic Johnson who has made a strong commitment to recruiting at least two superstars to the Lakers this coming offseason. They will need it if they want 'Bron 'Bron
I mentioned the Golden State Warriors previously, and right now they are the fashionable rumor for the next home of the Lebron James show. This is one of the best teams I have ever seen. The Cavs were all but broken a couple games into last year's NBA Finals.
There's an old saying my Grandpa used to tell me and that was "If it ain't broke, don't fix it." Well folks, Steph, Draymond, Kev, and the boys are doing just fine.
Would they be a bigger threat to win the title if they added Lebron? Of course. The question is what core players would they have to let go. According to ESPN.com, the Warriors are already at the roof of the salary cap.
There are also a couple of east coast teams that may still land the best point forward in the land. The Philadelphia 76ers are one of the most exciting young teams in the league today and would love to add a superstar in Lebron James who has the experience they don't.
While Lebron and Joel Embiid sounds like possibly the most dominant duo in the league, what about young Ben Simmons? He plays the same position as Lebron James. Of course, Ben would grow and mature faster. Lebron wouldn't be playing there solely for that reason. He wants to contend for a title.
"I'm the King of New York!" Lebron has already said it. Now he has to prove it. While he believes he already has proven it by dominating play in Madison Square Garden, he will have to join the "hot mess" that is the New York Knicks.
There are a few other longshots out there. The Timberwolves of Minnesota have a strong young team similar to the Lakers, but they aren't as likely to bring in more superstars. This is especially true if and when they have to get rid of some of their core players to make room.
What about Oklahoma City? We know Lebron is close with Paul George and Carmelo Anthony. Of course, Westbrook is the man in town. He handles the ball and facilitates better than almost anyone. Also, OKC hasn't shown they can consistently play at a high level like Houston or Golden State.
That leaves the San Antonio Spurs. They already have some aging pieces to their puzzle. Ginobili and Parker are just about done. Kawhi Leonard has played himself too thin trying to make up the slack on both ends of the floor. The one factor in OKC that isn't a factor anywhere else would be Lebron finally playing for a legendary coach in Gregg Popovich.
Now let's take a closer look at the most likely landing spots Lebron "King" James.
Cleveland +300
Let's start with Lebron's loyalty. It was no doubt brought into question when he left blustery Ohio for the white sands and clear waters of South Beach. Cleveland's ownership consistently makes bad decisions. Yes, I am lumping the Cavs in with the lowly Browns. Without Lebron, they are one of the worst teams in the league.
Lebron had to look out for himself when he left, but he returned. Oh, it was a sweet one too. He finally brought a title to Cleveland and it's gritty sports loving residents. Does he have it in him anymore? He recently witnessed a disastrous trade that sent his right-hand man Kyrie Irving to the Celts for a guy who played a couple games, I think.
Now Isaiah is gone, and what superstars are left?
Lebron. While he can still single-handedly take a losing team to the playoffs and maybe even the finals, he can't beat teams like the Warriors by himself. Cleveland hasn't shown any interest in bringing in more superstars to play alongside their King.
Lebron does love his image though. We know there is an ego there. If not, why would he hang on to that hairline with Bruce Lee's kung-fu grip?
Just recently, the Cavs made some trades before the deadline. On paper, these moves were very smart. Of course, only time will tell with their new role players. The players they traded were all underperforming, and have been for a while
Cleveland trimmed the fat well. They are set-up to make some moves in attempts to keep the King in his current chambers. In my oh so humble opinion, it will take more than adding Deandre Jordan in the offseason to keep The King in Ohio.
Houston Rockets +350
Houston…we have a problem. Not really. They have a great team that just beat the Warriors. James Harden and Chris Paul are two of the best guards this league has seen in the past 20 years. They have length and players who know and play their role well.
The Rockets are an established team with playoff experience. They also aren't the enemy. I believe this is the biggest reason I think Lebron would choose the Rockets as his next team. The Warriors have beat him, and KD already took a lot of flack for joining a team that he couldn't beat.
Lebron is a point forward. He loves handling the ball. Chris Paul has learned to play off the ball well with Harden being the primarily handling the rock. Will Lebron play off the ball well enough to gel with these guys?
He may have to change his offensive approach slightly to a more "old man" style like Jordan and Kobe did later in their careers. His post game has shown promise. He could do some major damage there, especially when defenders can't help with Houston's sharpshooters waiting on the wing and the corners.
Los Angeles Lakers +500
The City of Angels they call it. There have been many stars fall in the Hollywood Hills sky never to be the same again. LA is just as cut-throat as New York City. The same people that love you also hate you.
As long as Lebron is in Ohio, he will always be a hero. He is already considered by some experts to be the greatest basketball player of all time.
The guy is a competitor down to his bones, and wants nothing more than to win more championships. After all, Jordan was 6/6 and that's pretty tough to beat.
Should I bring up Lavar Ball and his Big Baller Brand – BSG Inc.? I guess I already did, and I sincerely apologize. He is part of the pie, though. Lavar is a massive distraction to a young team with promise right now. He hasn't slowed down his antics, so if Lebron comes to town the circus will likely get out of control.
Golden State +600
The Warriors are awesome. They play better together than any team I've ever seen. They pass and shoot the ball better than any team today. Their coach seems to be the perfect guy for the job.
So, why would they shake things up? Well, they already did this once bringing in Kevin Durant. I personally don't think they needed him to beat Cleveland again, but it sure made it less difficult. I just don't foresee Lebron joining the enemy, and also can't imagine the best machine the league throwing a giant wrench into their gears
Lebron has been quite specific in the words he chooses when he talks about next year. He hasn't said "I'm back next year. Cleveland is my home, blah blah." He clearly mentions Cleveland and "this season" together when asked about future destinations. So, I don't think he is staying put
I've mentioned already about why the Warriors are most likely to keep their squad as is. That leaves my most likely cities where Lebron may hang his hairline next season.
Finally, the Houston Rockets are my best bet for Lebron's next team. He could play for a squad that is already established with the other pieces in place to win now.
This would give him a much better chance at defeating the Warriors. To me, that's the difference. The Rockets have excellent value at +350. This summer, look for The King to land in H-Town!
Best Bet: Houston at +350