Hide Bonus Offers
| | | | | |
| --- | --- | --- | --- | --- |
| #1 | Bovada Sports | 50% Up To $250 | Visit Site | Bovada Sports |
| #2 | BetUS | 125% Up To $2,500 | Visit Site | BetUS |
| #3 | MyBookie | 100% Up To $1,000 | Visit Site | MyBookie |
| #4 | Everygame | 100% Up To $500 | Visit Site | Everygame |
| #5 | BetOnline Sports | 60% Up To $1,000 | Visit Site | BetOnline Sports |
Post-Combine Mock and Predictions for the 2022 NFL Draft

Now that the NFL Combine has wrapped up, next up is the actual draft. The NFL Draft is always an iconic moment for everyone involved in the NFL. It is the biggest moment for the players, huge for the teams, and great for the fans.
Tons of players' dreams will come to fruition as they hear their name called in the draft. Some might have boosted their draft stock and could be called sooner than expected. Others may have dropped a little lower, but being drafted in general is a dream come true for them.
That brings us to our 2022 NFL Mock Draft following the NFL Combine. Let's look at what the first round might look like following specific performances in the combine.
NFL Draft Mock for 1st Round: (Picks 32-11)
32. (Lions): Roger McCreary, CB, Auburn
31. (Bengals): Bernhard Raimann, OL, Central Michigan
30. (Chiefs): George Pickens, WR, Georgia
29. (Dolphins): Nakobe Dean, LB, Georgia
28. (Packers): Jahan Dotson, WR, Penn State
27. (Buccaneers): George Karlaftis, EDGE, Purdue
26. (Titans): Tyler Linderbaum, OL, Iowa
25. (Bills): Andrew Booth Jr., CB, Clemson
24. (Cowboys): Daxton Hill, S, Michigan
23. (Cardinals): Zion Johnson, OL, Boston College
22. (Raiders): Kenyon Green, OL, Texas A&M
21. (Patriots): Jameson Williams, WR, Alabama
20. (Steelers): Desmond Ridder, QB, Cincinnati
19. (Eagles): Trent McDuffie, CB, Washington
18. (Saints): Matt Corral, QB, Ole Miss
17. (Chargers): Jordan Davis, DL, Georgia
16. (Eagles): Chris Olave, WR, Ohio State
15. (Eagles): Devin Lloyd, LB, Utah
14. (Ravens): Travon Walker, DL, Georgia
13. (Browns): Drake London, WR, USC
12. (Vikings): Kaiir Elam, CB, Florida
11. (Commanders): Treylon Burks, WR, Arkansas
The Lions have the 32nd pick from the Matthew Stafford trade with the Rams. The 49ers traded up for Trey Lance last year, taking the Dolphins spot. The Eagles snagged picks from Miami and Indianapolis, giving them three in the first round.
My favorite picks in the 11 to 32 range include the following.
Titans pick Tyler Linderbaum
Patriots pick Jameson Williams
Eagles pick Chris Olave
Tennessee loves to run the ball, and Linderbaum is a great run blocker. Rodger Saffold was released, and the Titans can find a great replacement here.
Bill Belichick loves to pick players from his old friend Nick Saban, and Williams can be an excellent target for Mac Jones.
The Eagles can pair Olave with DeVonta Smith and finally figure out their wide receiver position.
You can bet on who goes where in the NFL on Bovada, so head over there to place your bets on where you think certain players will go.
10. New York Jets: Ahmad Gaurdner, CB, Cincinnati
Sauce Gaurdner and Derek Stingley Jr. are the top two cornerbacks in the class. You can make an argument for either one getting picked first, and I'm sure the Jets would love to have either one in the 10th spot as they look to continue their rebuild.
This is the second of the Jets two first-round picks, the other being the 4th overall. They got this pick at ten from a few years ago.
They will look to build around Zach Wilson at quarterback, and a player like Gaurdner at 10th overall could be a real game-changer for them.
Robert Saleh is a defensive-minded coach and taking a top-end cornerback here makes a lot of sense.
Although, the Jets will need more than just these two picks to turn their team into contenders. Gaurdner will be a great addition for them and could shut down opposing wide receivers for years to come.
9. Seattle Seahawks: Malik Willis, QB, Liberty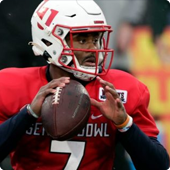 I have the first quarterback being taken off the board in Liberty's Malik Willis. Seattle made a massive blockbuster trade earlier this week, shipping franchise quarterback Russell Wilson to Denver.
They did receive Drew Lock in the package for Wilson, but Lock probably isn't the quarterback they want to build around. This year's QB field is not as deep as last year's, but Willis could still become a good starter in a few years.
Willis' ceiling is very high with his big arm and ability to run. So many top-level quarterbacks being threats on the ground in addition to their passing, Willis could be the next one. He was one of the biggest winners of the NFL Combine.
With that said, he does offer a decent amount of risk. He is not a finished product and will see some growing pains early on in his career. It will be interesting to see if the Seahawks keep their top receiving weapons (D.K Metcalf and Tyler Lockett) for him to throw to.
8. Atlanta Falcons: Garrett Wilson, WR, Ohio State
The Falcons' wide receivers went from a solid pair two years ago to barely anyone left. Atlanta shipped Julio Jones over to Tennessee the last offseason and for gambling on the NFL this year.
They still have Matt Ryan for another two years, so drafting a replacement quarterback might come next year or the one after. Atlanta took Kyle Pitts with the 4th overall pick in last year's draft, but they'll need to restock their WR group this year.
Garrett Wilson and Chris Olave were two big-time receivers for the Buckeyes last year. There are also a lot of other receivers who could go first in this year's draft, and Wilson could be that guy.
Wilson's biggest attribute is speed and considerable play potential. Pitts can work the middle part of the field for Atlanta, while Wilson takes the top off the defense.
7. New York Giants: Derek Stingley Jr., CB, LSU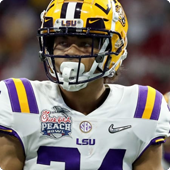 The Giants have the 7th overall pick in this year's draft from the Chicago Bears trade last year. The Bears traded up to get Justin Fields, which gave the Giants this pick and their original 5th pick.
The Giants will be looking to do some damage with these two very early picks. They already have a decent secondary, but it is possible to grab one of the best cornerbacks with this pick.
Derek Stingley and Sauce Gaurdner are interchangeable, so either one makes sense here, honestly.
The Giants have James Bradberry, Logan Ryan, and Adoree' Jackson under contract for this season, but Bradberry could be on his way-out next year.
Stingley could be a shutdown corner in the NFL, and the Giants have tons of spots to fill. They might want to grab the best player they can and figure out the rest later.
6. Carolina Panthers: Charles Cross, OL, Mississippi State
Another team with a ton of spots to fill is the Carolina Panthers. The Panthers will probably rock with Sam Darnold for this year, as he is due almost $19 million this year.
They haven't figured out quarterback and grabbing Willis here could be in the picture as well. I don't think they pull the trigger, but it isn't impossible.
Grabbing a solid offensive lineman could help Darnold out a lot, though. Darnold has shown potential, and you need time to operate at quarterback. They have a very underrated defense and have D.J Moore and Christian McCaffrey on offense.
Charles Cross is a solid offensive lineman that they can grab here, and I hope that Darnold shows them more of what he is capable of.
5. New York Giants: Ikem Ekwonu, OL, North Carolina State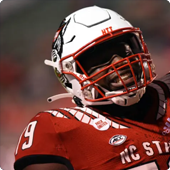 This year, an offensive lineman is a significant need for the Giants, and they should look to grab Ekwonu with the 5th overall selection. Brian Daboll is the new head coach in New York and offensive-minded.
Daboll might be able to get more out of Daniel Jones, but he's going to need a solid offensive line to do so. Ekwonu had a great combine, boosting his draft stock up a bit. The Giants can look to take him and hope that their offense can figure something out.
New York has solid playmakers like Saquon Barkley, Kenny Golladay, Kadarius Toney, Darious Slayton, and more. It would help to stay healthy and have an offensive line to keep their offense moving.
4. New York Jets: Kyle Hamilton, S, Notre Dame
The Jets have their future offensive pieces in Zach Wilson and Elijiah Moore, so how about their future secondary? Kyle Hamilton looks like a fantastic playmaker from the safety position and being paired with a top cornerback like Stingley or Gaurdner could be huge for them.
This year, offensive linemen are very important because of the early-round QBs drafted last year. Those quarterbacks need protection to develop properly, but Hamilton's talent can be too hard to pass up on this year.
Hamilton didn't blow us out of the water with the combine, but that can end up not meaning anything in the long run. He's shown his elite ability in his last season at Notre Dame and should easily make him a top 5 pick.
He's got a huge 6'4 frame and has a serious range for his size. Hamilton can be a serious playmaker in the secondary and is paired with a top cornerback can change them into a shutdown secondary just like that.
3. Houston Texans – Kayvon Thibodeaux, EDGE, Oregon
The Texans have many spots to fill and will need more than just the 3rd overall pick to get back to how they were a few years ago.
It will be interesting to see if anyone bites on Deshaun Watson and gives the Texans some more firepower, but they should look to grab Thibodeaux from Oregon for now.
Kayvon Thibodeaux: No. ___ overall in the 2022 NFL Draft ?
pic.twitter.com/c3OMuh2PH5

— PFF Draft (@PFF_College) March 8, 2022
Thibodeaux was the consensus number one pick for a little bit over the last NCAA football season. Since then, he dropped a few spots, but that could give the Texans a discount on the best player in the draft.
Thibodeaux's combine was questionable, and they only participated in the 40-yard dash and bench. Many of these young players often speculate about work ethic, but it could all be speculation at the end of the day.
Thibodeaux could be one of the best pass rushers in league with some development. He will have to prove the doubters wrong, but he could use their doubt as fuel to become a star in the NFL.
2. Detroit Lions – Aidan Hutchinson, EDGE, Michigan
A big reason Thibodeaux dropped a few spots is that Aidan Hutchinson had himself an incredible year for Michigan last year. He registered 14 sacks in as many games in his senior year in Michigan.
Hutchinson has many tools that he can use to become a superstar himself at the next level. There is no doubt that he will be taken within the first couple spots in this year's draft.
He should be a starter in his rookie year right off the bat. From there, he could develop into one of the best pass rushers in the NFL. The Lions don't have a lot of cornerstone players to build around, but Hutchinson can be one of them.
Hutchinson can be a piece that bumps them up in the 2022 NFL power rankings.
1. Jacksonville Jaguars – Evan Neal, OT, Alabama
The Jaguars will be making the first overall for the second season in a row after taking Trevor Lawrence there last year. Building around Lawrence is their number one plan, and they need offensive lineman to do so.
Evan Neal is ready for the big stage ? pic.twitter.com/cwGO8VoQC6

— PFF (@PFF) March 4, 2022
For that reason, Evan Neal should be their target at the number one spot. He's got a bunch of tools to become Lawrence's blindside protection for years to come.
Neal isn't going to be making those game-changing plays, but the Jaguars should take him here anyways. It would help if you had time to make those big plays, and Neal can give that to them.
I wouldn't be surprised if they opted to trade down here because they already have their future QB. Now they need to build around him. They could take Neal or trade down and grab a lower-level lineman and a couple of other pieces as well.
Predicting the NFL Draft in 2022
This year's NFL Draft may not feature some big-time playmakers like last year's did. With that being said, these players will be vital for teams to be successful.
The draft is also an unpredictable experience. So many draft picks are sent from team to team, which should be the case this year. I'm expecting a decent amount of trading down from a handful of top teams because of the lack of top-tier quarterbacks this year.
You have to expect the unexpected here. Some teams may opt to fill their spots of need, while others will try and grab the best player available. Other teams will make completely random selections that nobody saw coming as well.
If you feel powerful about how this draft will go, head over to the best NFL Draft betting sites below to place your bets and win some serious cash.