Possible Upsets to Target in the Week of 4/23 – 5 Upset Picks for Bettors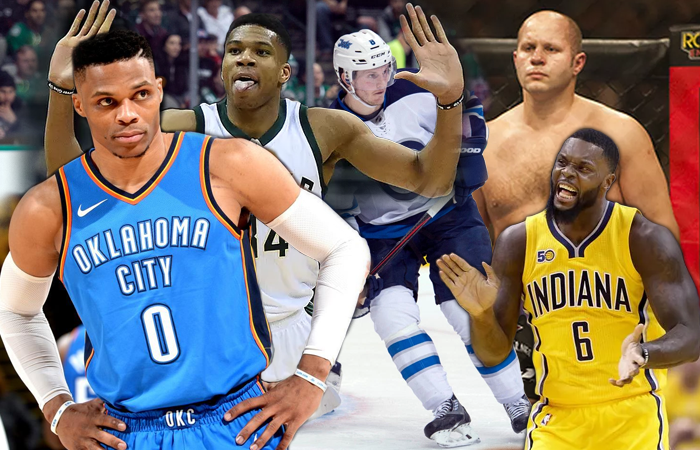 A week ago I took a look at some sports upset pick opportunities for bettors to consider.
A few of my upset calls failed, but you could have ended up profiting if you were selective in which ones you followed.
A 3-5 record isn't anything to get excited about, but this is the nature of the beast when looking for possible upsets.
Although I'll never feel great about a record below .500, as I said a week ago, chasing upsets needs to be taken with a grain of salt.
That being said, when the value calls out to you, it's often difficult to bypass an underdog that not only makes good sense but can also make you good money.
Here are last week's picks and how I did:
Wizards Over Raptors (+255) in Game 2 – L
Bucks Over Celtics (+135) in Game 2 – L
Jazz Over Thunder (+165) in Game 2 – W
New Orleans Pelicans Series Winner (-110) – W
Anaheim Ducks Series Winner (+400) – L
Cub Swanson (+180) Over Frankie Edgar – L
Nationals Over Mets (+130) Series Winner – W
Rangers Over Rays (+150) Series Winner – L
Looking ahead for the rest of the week, here is another batch of fun sports upset picks for the week of April 23rd.
All odds that are referenced in this article were taken from Bovada at 9:25 am CT on 4/24/2018. These odds may have changed since the time of this writing.
Fedor Emelianenko (+115) Over Frank Mir (-145)
This is an interesting fight, seeing as most would classify Fedor as totally washed up and Frank Mir is also past his prime.
Bellator is taking advantage of some big names to prop up their heavyweight champ tourney, but it's fair to wonder if either of these guys really have anything left.
It might not matter. Bettors are getting basically even money to take a side here and while The Last Emperor is far from the dominant force he once was, he still has the power to take anyone out.
This is a dream fight for Frank Mir, but the 38-year old has been regressing about as rapidly as Fedor, losing six of his last eight bouts. Fedor at least is a living legend and comes in with more momentum (5-1 over his last six bouts).
Fedor probably won't last long in Bellator's tourney, but I don't hate betting on him as an underdog. This one should be kept fun and light as you cheer on a former titan of MMA.
PICK
Fedor Emelianenko
+115
Milwaukee Bucks (+150) Over Boston Celtics (-170)
This first round series shifts back to the TD Garden on Tuesday night with everything tied up at 2-2. The Celtics stormed out to a 2-0 series lead, but once things rolled into Milwaukee, it was all Bucks.
Boston is still favored to win this series (although you can back the Bucks at EVENS at Bovada), but I can't help but wonder if Milwaukee has enough momentum to be taken seriously here.
The Bucks absolutely have more star power at this point, while they also win in the length and athleticism department.
Keep in mind the Celtics no longer have Kyrie Irving to bail them out late in games and with the season suddenly hanging in the balance, bettors are about to find out what this young Celtics team is truly made of.
Perhaps they're still good enough to get past Milwaukee, but that doesn't mean they can't drop this game. The Bucks at +150 to tease all of Milwaukee for one more day sounds like a lot of fun.
Indiana Pacers Series Winner (+280)
The Cleveland Cavaliers kept themselves out of a 3-1 hole by closing out a win in Indy in game four. This is another series that shifts home to the favorite's stomping grounds, but seems in limbo at 2-2.
Before the game five winner pops up, bettors may want to think long and hard about whether or not they truly believe the Pacers are about to shock the world.
Indiana has done it twice in this series, taking a 1-0 lead and jumping back out with a 2-1 lead.
If the Pacers can storm into Cleveland and shock the Cavs by winning game five, they'd suddenly have LeBron James and co. in a terrible spot going back to Indiana for game six.
The Pacers have had Cleveland's number all year and the top NBA experts seem to think Indy has a shot. At +280, the Pacers feel like a very intriguing bet to pull this thing off.
Oklahoma City Thunder Series Winner (+600)
Nobody trusts the Oklahoma City Thunder right now. Russell Westbrook's tirade against Ricky Rubio and all the stats he can muster ring hollow, seeing as the Thunder return home down 3-1 in this series.
All hope may not be lost, however.
While a comeback from a 3-1 hole feels unlikely, we've seen it happen several times before in the NBA playoffs and OKC is certainly capable of making it happen.
Having the home court edge over the next three games is precisely why bettors have to consider OKC at a nice +600 price at Topbet.eu. The Thunder may appear to be on the brink, but they still hold all of the cards in this series if they can just get it going at home in game five.
There is absolutely no value in rolling with Utah, so consider living a little and backing Russ to lead his team back from this nasty hole.
PICK
Oklahoma City Thunder
+600
Winnipeg Jets (+133) Over Nashville Predators (-159)
Round two of the 2018 NHL playoffs officially gets started on April 26th and the top underdog to target may be the Jets, who offer up a +133 price on GTbets.
Targeting the best team in hockey (Nashville) normally isn't a winning strategy, but this isn't a bad price for a Winnipeg team that made quick work of the Minnesota Wild.
More specifically, the Jets entered the playoffs hot and were actually decent (20-13-8) on the road during the regular season. On top of that, they provide an explosive offense and figure to be one of the more balanced units in the postseason right now.
The biggest selling point, of course, is how Winnipeg pushed Nashville to the limit in five regular season meetings and only went down 3-2 in the season series.
They are not a cakewalk matchup by any means and while the Predators still feel like a lock to advance, there is value in chasing the game one upset as the Jets look to get off to a fast start in this series.
The Wrap Up
That does it for my upset calls for the week of April 24th. It's never easy locating sure-fire underdog picks, but it's important to gauge which situations are worth your time and money.
Hopefully some of these picks help you profit this week. Either way, happy betting! I'll be back next week to review how I got on and bring you some more picks to target.