Hide Bonus Offers
| | | | | |
| --- | --- | --- | --- | --- |
| #1 | Bovada Sports | 50% Up To $250 | Visit Site | Bovada Sports |
| #2 | BetUS | 125% Up To $2,500 | Visit Site | BetUS |
| #3 | MyBookie | 100% Up To $1,000 | Visit Site | MyBookie |
| #4 | Everygame | 100% Up To $500 | Visit Site | Everygame |
| #5 | BetOnline Sports | 60% Up To $1,000 | Visit Site | BetOnline Sports |
Possible Upsets to Bet on This Week – Upset Picks for 9/25 – 9/30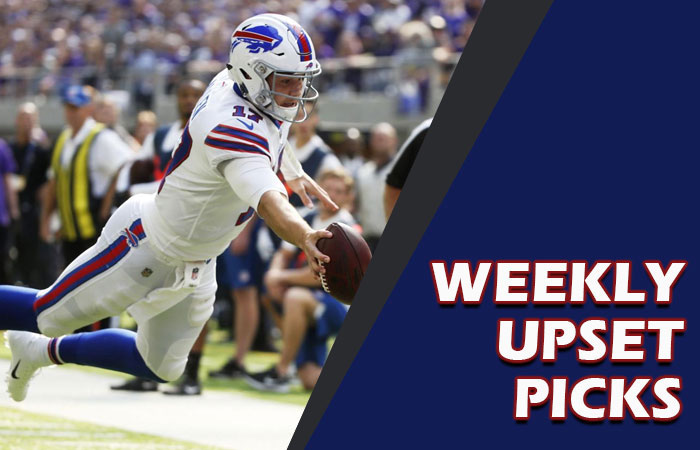 Week three in the NFL was a firestorm of unpredictability. I thought I had my finger on the pulse of the league through two weeks, and suddenly, the rug was pulled out from under me.
The Minnesota Vikings got housed at home by the Buffalo Bills. There were additional startling results to offer double-takes for, but I don't really think I need to expound.
That was simply not in the cards. Quite truthfully, this game was never supposed to be in doubt, and the Bills just flat-out flipped the script.
Minnesota was a massive 17-point home favorite, and the Bills looked so bad over the first two weeks that many felt they had a realistic chance of going 0-16.
Everything NFL bettors thought they knew was challenged in that game alone.
Perhaps that was the perfect illustration of sports going "full sports" on us. One second, you think all the data and logic points to one outcome, then all these humans on a football field go out and ruin it all.
Buffalo mapped out an amazing game plan, played excellent defense, and for at least one day, was simply the far better team.
Sadly, I wasn't on the mother of all week three upsets.
I wish I had the audacity to point you that way, but never in a million years was I going to vouch for that. That's not just because it was risky, but 99% because I really never thought for a second it could happen.
Sometimes we need to take chances in sports betting. That's what this weekly underdog picks column is all about, after all. However, any substantial bet on that game was always going to be a ridiculously massive risk.
Still, props to you if you were for it and hit big on it.

Week in Review
The randomness of week three did not pass over me. One would think I actually would have benefited from how completely backwards this past week of NFL action was, but alas, I did not.
Here's a quick recap of last week's underdog picks and how things panned out.
Denver Broncos over Baltimore Ravens

+195 – W

Oakland Raiders over Miami Dolphins

+141 – L

Boston Red Sox over New York Yankees

+127 – L

Louis Cardinals over Atlanta Braves

+130 – W
Clearly,last week wasn't the best week, as I went just 1-3 and returned one good play at a +130 price. I really liked the value with the Cards on Tuesday, and they responded with an easy 8-1 win.
I was actually pretty close to getting to 2-2 on the week and perhaps even 3-1. Boston lost in New York in a really tight game (3-2), while the Raiders choked away yet another game against the Dolphins.
Obviously, getting a +127 price with the best team in baseball was something I wanted to chase after. Oakland was a risky team to back, but Miami's 2-0 start seemed a little fraudulent.
Overall, I missed more than I hit, and my 1-3 run snapped a really nice tear I'd been on. I walk into the new week sporting a 37-54-2 overall record on the year. Let's get to this week's top upset picks.
San Francisco 49ers (+395) over Los Angeles Chargers (-470)
It is raining hard on the Niners at the moment, as they got off to a shaky 1-2 start and then learned that new franchise passer Jimmy Garoppolo will miss the rest of the year with a torn ACL.
Normally, I'd just pile on the 49ers with the rest of the world, but they are offering elite betting value as huge +395 road dogs when they head to LA to battle the Bolts.
I am digging the Niners at this price for numerous reasons.
The Chargers notoriously start slowly and blow easy games
J. Beathard knows this system
San Francisco was routinely competitive last year
The 49ers have nothing to lose
LA remains banged up – specifically without Joey Bosa
See? I told you there were more than a few reasons to like the 49ers.
Obviously, the Chargers have more talent and are at home. Staring a potential 1-3 start in the face, the Bolts absolutely should win this game. However, the Bolts are known for struggling early in the year and not winning games they're supposed to.
Remember a couple years back when the Bolts went to Ohio and were the only reason why the Cleveland Browns didn't go 0-16 during the 2016 season? I know Cleveland wound up fulfilling their horrifying destiny just one year later, but that just goes to show how hard it is for the Chargers to get out of their own way.
San Francisco isn't a lock, and they're in a tough spot. But at +395, I'm looking at this bet.
PICK
San Francisco 49ers
+395
Buffalo Bills (+330) over Green Bay Packers (-400)
The value drops a bit, but for some of the same reasons I'm interested in the 49ers, I also can't ignore the Bills.
For one, the Bills just marched into Minnesota and slapped around what many feel is a very good Vikings team. Seriously, it wasn't even remotely close.
Green Bay tends to play their best ball at home, but they truly could (should?) be 0-3 right now. Their defense has not been much better than the trash unit everyone saw in 2017, and a hobbled Aaron Rodgers hasn't been consistently great.
Despite their struggles, the Packers are extremely fortunate to only be 1-1-1 after three weeks.
A loss to the Bills at home would be a real eye-opener and reveal that Green Bay simply isn't the title threat everyone wants them to be.
Buffalo proved last week that they can still defend, while raw rookie Josh Allen has the athleticism and cannon arm to potentially rip up a clearly porous Green Bay defense.
I'm going with Bills to follow up their incredible victory last week with another one.
Denver Broncos (+185) over Kansas City Chiefs (-215)
I rolled with the Broncos last week at a slightly better +195 price, but I'm down for going right back to the well in week four. They'll play host to the red-hot Kansas City Chiefs, who are admittedly scorching the earth but have to slow down at some point.
The Chiefs might just prove everyone wrong all year long en route to a 16-0 run. Who knows? While that's fun to think about, I have to wonder how good their offense will look on the road in a hostile environment against a decent Broncos defense.
Denver isn't what they were defensively just a couple of years ago, but they can still put pressure on the quarterback, and they'll get a boost from the home crowd. After all, they're a much tougher test than the defenses Patrick Mahomes has gone up against thus far (49ers, Steelers, and Chargers).
On the other side, Case Keenum heads an underrated Denver offense that could slice up a bad Chiefs defense.
I expect this game to be a lot closer than some project, and if it stays that way late, Denver could squeeze out the big home win and tie the Chiefs at 3-1 for the lead in the AFC West.
Texas Tech (+150) over West Virginia (-170)
I'm not a big college football guy, but I do like to point out value when I see it. Not only do I see value here in the Red Raiders, but this could actually be a flat-out steal.
Texas Tech is very explosive offensively, so while West Virginia has looked impressive on that side of the ball, they could have a match here. That projects this game to be fast-paced and high-scoring, while Texas Tech gives you a very interesting home dog.
The Red Raiders can match the Mountaineers blow for blow if they come in focused, yet they're being treated like a bunch of spares. I'll back the Red Raiders to defend their turf and get a huge win over the #12 team in the nation.
Miami Marlins (+265) over Washington Nationals (-330)
Normally I'd never bet against Mad Max, but the fish have literally nothing to lose in the final week of the 2018 MLB regular season. Both the Marlins and Nats will not be partaking in the MLB playoffs, and considering this is a rivalry clash, anything goes.
Scherzer has dominated the Marlins, to be sure. He's 4-0 against them this year, and he sports one of the nastiest K rates in baseball. In just about every way, he's not a guy they want to face and usually not someone you're laying big money against.
The beauty here is that you don't have to. Thanks to this +265 price at Bovada sports, you're potentially getting a lot back from a mild investment.
With neither team really playing for anything, this one could still easily go either way.
I'm thinking Scherzer's form just hasn't been dominant lately, and the Nats are too heavily favored at -330.
Scherzer gave up 6 runs two starts ago and has coughed up 3+ in five straight outings. Washington has also failed to get him a win five times in his last nine trips to the mound as well.
It's not easy taking the Marlins, but the price is right, and hey, maybe the fifth time facing Mad Max is the charm for them.
Summary


After a shaky week, I'm aiming higher this time around. The NFL can be crazy, so let's get real weird with it and see if the Bills can't run it back and the Niners can't shock the Chargers.
I'll also dip my toe in a big MLB upset and a great value pick in the college football scene.
That gives you five fun upset picks for the week, and if all goes well, I'll boost my season mark and also hopefully help you win a ton of money.
Whether you roll with these bets or not, I wish you luck with all of your wagering this week. Good luck, and enjoy the games!