Possible Upsets to Bet on This Week – Upset Picks for 10/16 – 10/22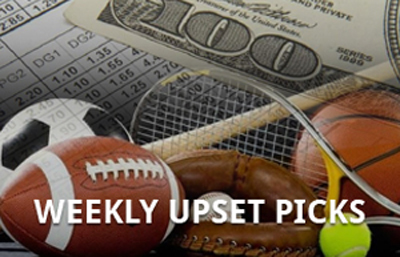 Two weeks ago, I bounced back from a rough drought to go 2-1 and lift my upset picks record to 40-60-2.
It's not a sparkling mark, but I've delivered some awesome value since I started this column, and with the NFL and NBA being my best sports genres, I expect this record to slowly pick up.
That didn't quite happen last week, as I went just 1-3 despite some very interesting plays. The Pittsburgh Steelers (+110) were my lone successful play, but I stand by the majority of my picks.
I still think chasing a few NFL upsets each week is in order, but with pro basketball back this week, our options just grew by quite a bit.
Let's recap how things went wrong last week and look ahead to a fun week of upset picks.

Week in Review
Pro football has been a little more volatile than expected this year, but there was still a ton of enticing value with road underdogs last week. I went with three NFL upset picks in all.
Here's how things played out.
Steelers over Bengals

+110

Colts over Jets

+120

Chiefs over Patriots

+152

Hoosiers over Hawkeyes

+170
The Colts were hungry for a win, and I wasn't really a believer in the Jets, while the Chiefs were undefeated and were a pretty nice price despite that.
Neither of these teams won, as Indy dug themselves a huge hole early and couldn't climb out of it. They did rally but still fell on the road 42-34.
Kansas City did the same, but they almost beat the Patriots in New England. They put up 40 points on the road and still lost, which was probably more a testament of their atrocious defense than anything else. Still, losing out on that sweet +152 price tag and a 2-2 mark on the week was a real bummer.
I also whiffed on a Hoosiers upset bid (badly), but as I've said before, college football upset picks are always dicey.
Luckily, the week wasn't a total loss, as I did score a +110 upset play with the Steelers getting a last-second win in Cincinnati. They made me work for it, but I'll take the 1-3 mark and run.
It wasn't the best week, but I'm glad to get a win. The 1-3 run drops me to 41-63-2 on the year, but hopefully a fresh batch of upset picks can help heat things back up.
Dallas Cowboys (+105) over Washington Redskins (-125)
I wasn't a big believer in the Dallas Cowboys before last week, but they put a whooping on the Jacksonville Jaguars and firmly have my attention.
I've always regarded Dallas as a safer pick at home, but their offense finally woke up in the face of a brutal matchup, and I also came away impressed with their defense.
Dak Prescott showed life in that win, but week seven brings an even bigger game with the NFC East lead on the line.
The Redskins play host and just got done with their own big win, as they took care of business at home against the Panthers.
Washington has a chance to prove they're the class of the division this week, but Dallas has more star power and has a great opportunity to earn their first road win of the young season.
Dallas has won four straight in this series and six of the last seven. This is the first time they'll be taking on the Alex Smith/Adrian Peterson iteration, but I tend to favor the 'Boys here.
The price isn't through the roof, but these rivalry games can go either way, and I'm backing the more talented team with the superior price.
Arizona Cardinals (+117) over Denver Broncos (-137)
While I don't mind taking a shot at a road dog via the Cowboys this week, I'll eat up value with a home underdog in Arizona as well.
I actually already vouched for Arizona against the spread in my early week seven NFL betting lines blog, but now that this price is out, this looks way more attractive.
The Cardinals finally got in the win column two weeks ago and proceeded to give the Vikings all they could handle last week. The Cardinals still aren't a good team, but rookie passer Josh Rosen is learning on the fly, and Arizona is slowly improving.
David Johnson gives the Cards a chance every single week, and after seeing Todd Gurley gash Denver's weak run defense, I tend to think he can set the tone in this one.
Denver is flat-out reeling right now, as their defense has turned to mush for the most part and Case Keenum has flatlined during a brutal four-game skid.
Most bettors will jump on Denver here to snap their losing streak, but playing in the desert is not easy.
Boston Red Sox (+122) over Houston Astros (-132)
My reach for upset picks exits the NFL, as Tuesday offers up a fun MLB playoff clash where bettors can snag some amazing value.
I know the Astros won the World Series last year and will be at home for game three, but you get an awesome +122 price to back the best team in baseball.
Maybe you think that's the Astros, but the Red Sox own the top record in the majors and still have an offense that can get to anyone.
I certainly think they can tag Dallas Keuchel, who is not a high strikeout pitcher and has inexplicably had a difficult time keeping it together at home (4-6, 3.90 ERA) this season.
Keuchel was not great the only time he faced Boston earlier this year (5 runs, 1 HR), either, while his recent form can't be classified as elite.
I understand the Astros don't have the most difficult matchup on the other side, but if this game can turn into a shootout, I like that Boston offers nice betting value.
Denver Nuggets (+1) over Los Angeles Clippers (-1)
I'm not overly excited for either underdog pick when the NBA returns on Tuesday for opening night, but I do think there's some solid value to target in NBA betting circles on Wednesday.
The Nuggets are healthier now than they were a season ago, and while they struggled on the road last year, I think being at full strength helps them this season.
If they can get off to a hot start and keep their key players on the court, they may end up being among the top NBA teams that are good bets to make the playoffs.
Game one is in LA, where an equally healthy and versatile Clippers team awaits. Denver's talent and upside trumps the Clips, however, and they're really only priced as the underdogs because they're on the road.
I will soak up that value all day – even though it's not an insane return on your investment – although the actual line isn't out yet. Either way, take Denver straight-up or to beat this +1 point spread.
Summary
The NBA is a fantastic place to hunt for upsets, and I think in the first full slate of the year (Wednesday), bettors should find something to get excited about.
I'm holding back for now and only going after the game I really like, while adding in some baseball and my usual NFL upset picks. Hopefully you agree with some of these picks and can tack some underdog plays onto your usual betting ledger.
The goal is to profit one way or another, and hitting 1-2 nice upsets can go a long way in making sure that happens. Hopefully my insight and/or picks helps you this week. Either way, happy betting, and enjoy the games!