Hide Bonus Offers
| | | | | |
| --- | --- | --- | --- | --- |
| #1 | Bovada Sports | 50% Up To $250 | Visit Site | Bovada Sports |
| #2 | BetUS | 125% Up To $2,500 | Visit Site | BetUS |
| #3 | MyBookie | 100% Up To $1,000 | Visit Site | MyBookie |
| #4 | Everygame | 100% Up To $500 | Visit Site | Everygame |
| #5 | BetOnline Sports | 60% Up To $1,000 | Visit Site | BetOnline Sports |
Possible Upsets to Bet on This Week – Upset Picks for 10/1 – 10/7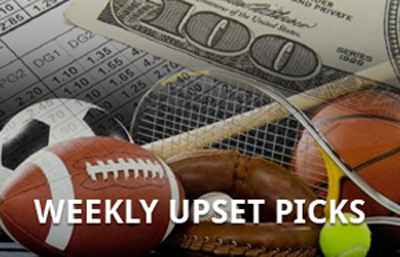 Last week was not a great time for upset picks in the sports betting world.
Not only did I personally struggle with my individual picks, but there just wasn't a long line of amazing underdogs coming through.
In the NFL specifically, there were only a handful of true upsets. The Cincinnati Bengals shocked with a late win in Atlanta, but if you went hard at pro football upsets, you were likely disappointed.
That theme rang true throughout the sports world, and my picks suffered because of it.
Let's take a quick look back at what happened before looking to this week's best underdog bets.
All odds that are referenced in this article were taken from SportsBetting.ag on 10/1/2018. These odds may have changed since the time of this writing.
Week in Review
I think I may have gotten a bit greedy with last week's batch of underdog picks. I saw some fat lines and aimed pretty high and ultimately whiffed in a big way.
The Bills were probably never winning two games on the road in a row, but I had to try it. Their sick +330 moneyline price was just too tempting against a Packers team that hasn't been that impressive.
Of course, raw rookie quarterback Josh Allen looked precisely like that – a raw rookie.
That didn't lead to greatness, but I did come close to scoring a sweet +395 win with the Niners. Close doesn't count, I'm sure, but they lost by two and had a shot at beating the Chargers. It was at least a valid try even if it didn't work out.
Here's a quick look at how last week's wagers fared.
San Francisco 49ers over Los Angeles Chargers

+395 – L

Buffalo Bills over Green Bay Packers

+333 – L

Denver Broncos over Kansas City Chiefs

+185 – L

Texas Tech over West Virginia

+150 – L

Miami Marlins over Washington Nationals

+265 – L
Clearly, last week did not go well. I was on a bit of a roll over the past month or so and had overcome a slow start to enter last week with a respectable 37-54-2 upset picks record on the year.
No, the record itself doesn't look great, but I've taken on some very big underdogs and nailed some key upsets along the way. A bad week drops me to 38-59-2 for this year, but I won't stop trying to attack value when I love it.
Here's my attempt at maximizing betting value for you this week.
Oakland Raiders (+205) over Los Angeles Chargers (-245)
I'll kick things off with the NFL, where I see a good amount of value worth targeting this week. One bet I really like resides in a tense AFC West clash between Oakland and LA.
The Chargers are the understandable favorites here. They're the better team, they're at home, and they were picked by many to be preseason Super Bowl 53 favorites.
Sadly, I didn't hop on that bandwagon. While I'm a fan of Philip Rivers, the Bolts are notorious teases in pro football. They either start slowly or finish horribly, and they almost never do what you expect them to.
Last week was a great example of the Bolts' inconsistency, as I bet against them, and they barely proved me wrong.
After scoring a huge, emotional overtime win last week, the Raiders will be a little worn out, but there is no time to rest thanks to a 1-3 record.
Jon Gruden and these Raiders are catching a lot of heat for their slow start, but they've actually been in every game this year and have shown a lot of fight.
The Chargers can say the same, but they're down a key defensive player in Joey Bosa and simply haven't been that impressive so far in 2018.
This one projects as a tight shootout, yet you can get the Raiders at a sick +205 price. Color me sold.
Arizona Cardinals (+185) over San Francisco 49ers (-215)
Another NFL upset pick I like goes down in the Bay Area, where the 49ers play host to the Cardinals.
Arizona got off to a brutal start with the suddenly inept Sam Bradford holding their offense hostage, and suddenly they're the only winless team in the league at 0-4.
I don't think the Cardinals are without talent, so I don't expect them to stay out of the win column for very much longer.
The Cardinals are on the road this week, but they showed really solid fight over the last two weeks and are inching closer to that elusive victory.
The Niners can be a tough out as well, and I did like them last week, but now they're the favorites, and that isn't a great label for a team lacking reliable talent right now.
Arizona has a capable defense, and rookie quarterback Josh Rosen has flashed really nice ability in his last two games.
If he can finally help David Johnson get going, the Cardinals offer elite betting value here and could get to 1-4 with a big divisional win.
PICK
Arizona Cardinals
+185
Colorado Rockies (+116) over Chicago Cubs (-126)
The 2018 MLB playoffs officially begin on Tuesday afternoon, as the two losers of "game 163" face off in the NL Wild Card game.
Normally it'd be easy to come down on the Rockies or Cubs for blowing a chance to claim their respective divisions, but they both played yesterday and did exactly that.
There won't be time to lick their wounds, as they now have to refocus and play for their playoff lives.
This is a terrific spot to hop on some MLB betting value, as it's a lose-or-go-home mentality with a one-game playoff to see who gets to move on to the NLDS.
Obviously, the Cubs make sense as the favorite. They won the World Series just two years ago and were atop the NL Central basically all year. They also have a viable arm in Jon Lester toeing the rubber and will be at home.
That didn't work out so well for them on Monday, however, while the Rockies are just as good, if not better.
They also have a solid pitcher of their own in Kyle Freeland ready to hit the dirt, so by all accounts, we could have a bit of a wash here.
I actually think the matchup leans in favor of the Rockies, who have a slew of nasty righties who destroy southpaws.
Lester has arguably been fairly fraudulent for much of 2018, too, so running into the likes of Nolan Arenado, Trevor Story, Ian Desmond, and even Charlie Blackmon could spell disaster.
I like the value associated with the Rockies as things stand, but if the wind ends up blowing out at Wrigley Field, this could be a crazy, high-scoring affair.
Either way, the Rockies are a fun play on Tuesday.
Philadelphia 76ers (+4.5) over Boston Celtics (-4.5)
NBA preseason betting is in full swing, as the ball has hit the hardwood for four days now.
It's high time we hop onto some of this action, and I think there might be a nice chance to snag some easy money when the Sixers visit TD Garden to battle the Celtics.
If this were the regular season, I'd take a healthy Celtics squad to cover here.
However, as deep as the Celtics are, they could limit their key players a bit, and star point guard Kyrie Irving (rest) has already been ruled out.
#Celtics coach Brad Stevens said Kyrie Irving (rest) is the only player he does not expect to be available tomorrow night.

— Scott Souza (@Scott_Souza) October 1, 2018
Boston is still very deep, but if Irving is being rested, there is a decent chance others will randomly be rested or limited in this one.
Philly did play on Monday, so there's just as much of a chance that they sit some guys to avoid playing them two nights in a row.
But this is the preseason, folks. Both teams are talented and aren't going to play their key guys for the entire game.
I like the depth for both rosters, but the Sixers offer betting value. As I write this, only the point spread is available, but you can bet on them at +4.5 and also attack the moneyline when it comes out.
PICK
Philadelphia 76ers (+4.5)
-110
Summary
There are more NBA preseason games to give a look throughout the week, and more MLB playoff games will pop up as well. This will eventually give way to the World Series, and of course, the NBA regular season.
With the NFL, CFL, and college football all hanging around hopefully offering solid value bets along the way, we are slowly driving straight into one of the best times of year to be a sports bettor.
Last week should serve as a reminder of how sometimes aiming high too much can be dangerous. Instead, try to ration those crazy dives and grind your way to wins – even when it comes to upsets.
Hopefully, I help you in some manner this week. Here's to scoring some big underdog wins!