Hide Bonus Offers
| | | | | |
| --- | --- | --- | --- | --- |
| #1 | Bovada Sports | 50% Up To $250 | Visit Site | Bovada Sports |
| #2 | BetUS | 125% Up To $2,500 | Visit Site | BetUS |
| #3 | MyBookie | 100% Up To $1,000 | Visit Site | MyBookie |
| #4 | Everygame | 100% Up To $500 | Visit Site | Everygame |
| #5 | BetOnline Sports | 60% Up To $1,000 | Visit Site | BetOnline Sports |
Political Betting: Will Caitlyn Jenner and Kid Rock Run for Senate?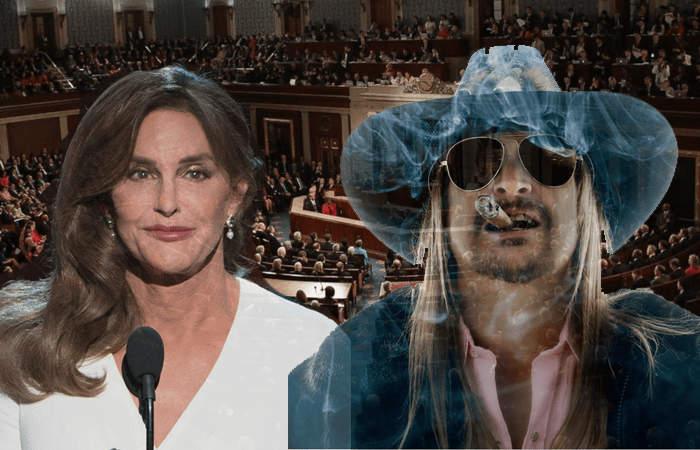 The 2016 presidential election was a monumental and fascinating one for a number of reasons, not the least of which was the fact that a television celebrity wound up winning it. Donald Trump's monumental rise and eventual inauguration as the United States' 45th president has been an incredibly divisive topic for just over two years now.
However, one aspect that isn't often discussed is the potential for copycats. We hear plenty about copycat crimes, but could Trump's election success open the door for other celebrities to start entering the political realm?
It's not as though Trump was the first celebrity to become a politician. He's not even the first celebrity to eventually become president. Ronald Reagan was an actor and sportscaster before entering the political fray. Kal Penn, known famously as Kumar from the "Harold and Kumar" stoner movie series, served in President Obama's cabinet. Jesse Ventura, Arnold Schwarzenegger, and Reagan were governors. Al Franken is currently a Minnesota Senator.
There's plenty of precedent here. Even with Trump having shocked the world in winning the election, it's still surprising to see some of the names that appear interested in throwing their hats into the political ring. The two latest names to show interest in politics are none other than Kid Rock and Caitlyn Jenner.
Yes, Kid Rock, noted rap/rock/country/whatever musician, and Caitlyn Jenner, former Olympic gold medalist, and parent to several Kardashians. Why not?
Both have hinted at possible Senate runs in the near future. Jenner said in a recent radio interview that she's interested in running for a Senate seat in California. Kid Rock drew headlines when he launched a website that indicated he's interested in one of Michigan's two Senate seats. The Detroit native has not said that he's actually planning on running, but that hasn't stopped books from setting betting odds.
Let's run through some of the odds and break them down.
Caitlyn Jenner to Run for California Senate Seat
Jenner is a Republican that publicly supported Donald Trump in his aforementioned presidential bid.
In the interview with John Catsimatidis over the weekend, she said,"I have considered it". I like the political side of it. The political side has always been very intriguing to me. Over the next six months or so, I gotta find out where I can do a better job. Can I do a better job from the outside? Kind of working the perimeter of the political scene, being open to talking to anybody? Or are you better from the inside? And we are in the process of determining that. Yeah, but I would look for a senatorial run."
So, will she actually do it? Vegas seems to think a run is less-than-likely. While Jenner identifies as a Republican, she said that her political leanings don't always align with the right side of the aisle. She said that any political run would be so she would have the power to fight for what she believes is right for her local community.
As someone that identifies as transgender, Jenner is obviously not your standard Republican. Many Republicans refuse to even acknowledge LGBT rights in the first place, so Jenner would certainly be quite unique for a GOP candidate. Even if she doesn't decide to run, she seems willing to make her voice heard on issues in which she believes.
Obviously, the value is on "yes" here at +200.
Considering Jenner seems to indicate serious interest in running, it's worth a flier bet. It won't be a shock if she decides against running, but it would make sense for her to at least dip her toe in the political waters. Go with "yes" on this.
Kid Rock to Run for Michigan Senate Seat
The odds on this one were a bit more surprising. Kid Rock's website seems legitimate, but is it really a run? Or is this just a blatant marketing ploy? There's no telling as of now, but Kid Rock has certainly been mixed up in politics in the past.
He played a concert after a rally for then-presidential candidate Mitt Romney back in 2012. Kid Rock publicly supported the fellow Michigan native back then, and subsequently offered his support for a couple of 2016 GOP candidates, Ben Carson and Donald Trump. Just a few months ago, Kid Rock even visited and hung out with Trump in the Oval Office.
Rock said that he plans to release music during his "campaign" just as political campaign write books during their runs. He also claimed that this is all "not a hoax." He continues to tweet out campaign slogans and beliefs, which effectively makes all of this seem pretty legit.
So, we're siding with Vegas here and will say that yes, Kid Rock will run for a Michigan Senate seat in 2018.
There's value in going with "no" in case this all really is a hoax, but all indications are that Kid Rock really wants to do this.
Will Caitlyn Jenner Win Race for US Senate?
So running for Senate is one thing, but can Caitlyn Jenner actually take this thing all the way and win a seat? If you'd asked us at this time last year whether that would be a realistic notion, we'd have likely scoffed. Now that Trump is president, though, we need to take these things more seriously, apparently.
Democratic Senator Dianne Feinstein won re-election in 2012, but she will be 85-years-old by the time the next election rolls around in November of 2018. There are indications that she may retire rather than seek another term, but for now, she claims to be interested in seeking re-election for a fifth term. Regardless, several candidates have already thrown their names into the ring.
There are a number of Democrats considering running against Feinstein, including current L.A. Mayor Eric Garcetti, House Rep Eric Swalwell and software engineer Topher Brennan. There aren't as many people known to be vying for the seat from the Republican side. In addition to Jenner's potential run, Stephen James Schrader, Caren Lancona, and Timothy Charles Kalemarkian are the only people to have declared their intentions to run.
Considering Schwarzenegger won the race for California Governor a number of years ago, it's safe to say Californians aren't exactly exempt to falling for the cult of personality. Celebrities sell, and we have legitimate evidence to show that. If Jenner is the only face on the ballot people actually recognize, that's going to help her case for winning.
It also depends on what kind of candidate she actually is. If she has an actual message that resonates with voters and isn't just doing this as a publicity stunt, then she obviously has as good a chance at winning as any other candidate does. It's way too early to say whether she'll actually win considering we haven't seen her on the campaign trail yet, but we'd give her better than +1000 odds of winning that Senate seat.
We love the value in "yes" on this one. We have a long way to go, though.
Will Kid Rock Win Race for U.S. Senate?
Interestingly, BetOnline seems to think that Kid Rock has a better chance at winning a Senate seat than Caitlyn Jenner does. Of course, some of that may have to do with the fact that there haven't been as many established candidates announcing their intentions to run as of yet.
Incumbent Democrat Debbie Stabenow will seek re-election for a fourth term, but Kid Rock may try to unseat her in the Senate next year. A few Republicans have announced that they plan to run, including Robert P. Young, John James, and Lena Epstein. Do you know who among this group has the name recognition of Kid Rock? None of them.
The Michigan Republican Party has said that Kid Rock has not formally contacted them about his intentions to run, but one would imagine that will change if he does plan to take his shot. Michigan was one of the states that went Trump's way in the presidential election, so it would appear as though there is some momentum behind Republicans in the state these days.
The value on "yes" isn't as promising as it is for the Jenner bet, but we're going take a flier on it here with Kid Rock, too. Why not? Take "yes" at +600.