Poker or Blackjack – Which Is the Better Casino Game?

The blackjack vs. poker debate reminds me of the age-old argument involving chickens and eggs. Since I don't have enough room to lay down a reasoned argument on either side of the whole chicken/egg fracas, we'll closely examine what explicitly makes blackjack and poker so irresistible.
Answering the question "Is blackjack better than poker?" equivalent to asking which of our children is our favorite. Sure, Suzy is smarter and does better in school. But Biff is a regular chip off the old block and is already making a name for himself on the playing field.
So, it is with poker vs. blackjack. Both have plenty of solid attributes to recommend to anyone but choosing between the two is not so cut and dried.
One of These Things Is Not Like the Other
As the great philosopher Steven Wright pointed out, "You can't have everything. Where would you put it?" Likewise, you can't play blackjack and poker—not at the same time, anyway.
Poker and blackjack each require your full attention. Sure, blackjack may seem like it requires more dedicated attention to the game than poker—when's the last time you saw somebody reading a newspaper at the blackjack table? Or playing Candy Crush on their phone?
For the sake of argument,
Let's look at each game and weigh their individual strengths and weaknesses, their advantages and disadvantages.
When comparing blackjack and poker, it's important to note that both games are a gamble but don't share many other similarities.
Sure, blackjack and poker are both enjoyable games played with a deck of cards. Still, there are many basic differences between the two, and favoring one over the other can often be a simple matter of taste or even whim.
One significant difference that sometimes escapes notice: Who wins when you lose?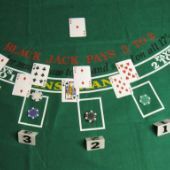 Blackjack — You vs. the House
Blackjack is a house-banked game, meaning the player is pitted against the house. Other people may be at the blackjack table, but they are also trying to beat the dealer. All of you know that the house always wins—and the dealer is smugly aware of that, as well.
In blackjack, there's only one entity profiting from your loss: The house. Now you know why drinks are free. Have you ever wondered if blackjack is about luck or skill at all? Our blog weighs in from both sides.
Poker — You vs. Everyone Except the House
On the other hand, poker pits you against six to nine other poker players, all of whom want to make you have to borrow money for the ride home. The house makes money by taking a small percentage from each pot (called a rake).
And while there are only a few minor variations in blackjack, poker is an entire United Nations of related games with vastly divergent rules of play.
The most well-known of these are a five-card draw, jacks or better, seven card stud, Texas Hold'em, Omaha, Razz, and pause for breath cause that was a mouthfull.
Suffice it to say, there are many games you can play with a single deck of 52 cards, and poker accounts for at least 85% of them.
Looking at Poker and Blackjack from a Different Angle
Not only are blackjack and poker unique games to play, but their real-life versions also differ from their online versions.
For the sake of purity in this debate, I'll be ignoring the existence of video versions of both blackjack and poker.
While the video versions of both have a few things in common with their "real" versions, they each have far too many dissimilarities (video blackjack, for instance, shuffles the deck between each hand—and video poker is a house-banked game) to consider them in this blackjack vs. poker debate.
Blackjack in Real Life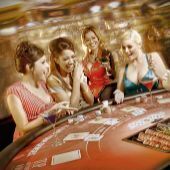 The social factor of all gambling is often dismissed in discussions of which is better, poker or blackjack. That's unfair because an idle wander through any casino with a respectably sized gaming floor will reveal plenty of tables surrounded by both gamblers and spectators. See the excitement? Hear the excitement? Social, thy name is gambling.
Sure, craps and roulette tables seem to have an advantage here, but we've all seen blackjack tables with similar crowds gathered to watch a player on a winning streak face off against the house.
But having a group of strangers cheer you on might not be as important to you as doubling your money. If that's the case, you're no doubt already aware of the number of hands you can play per hour at a real-life blackjack table.
However fast the dealer is, you're only going to see 30-40 hands per hour—and the number of other players at the table can significantly reduce that number of hands per hour.
Playing Blackjack Online
The online world changes rapidly, and online casinos are among the first to make the changes necessary to please their patrons. These days—thanks to the relatively recent introduction of live-dealer games at online casinos—gamblers can use their laptops and even their phones to play live-dealer table games like blackjack, craps, baccarat, roulette, and even sicbo.
The number of hands per hour you can play online is quite similar to the count at a brick & mortar casino. The primary advantage of playing online is convenience and immediacy. Forget taking a shower, getting dressed, driving a few miles, parking, and walking through the casino to your favorite blackjack table.
The online blackjack live dealer doesn't care about the color of your tie, the cologne you're wearing, or the valet ticket in your pocket. You're not going to be judged about the quality of your shoes—or whether you're even wearing shoes at all.
You're both there for one reason: Blackjack. Let's play.
Poker in Real Life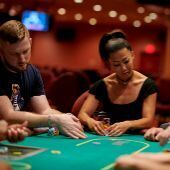 As with IRL blackjack, getting to and from the casino or poker room is inconvenient. Still, real people playing real poker in a real poker room is the complete poker experience. You'll need every one of your gambling skills—psychological, mathematical, and social—if you intend to survive the ordeal (let alone emerge victorious).
And also, as with IRL blackjack, the number of hands you can play in an hour is quite limited: 25-30 per hour. Additionally, the betting limits are higher—you won't typically find anything less than a $1/$2 NL holdem game in real life.
Playing Online Poker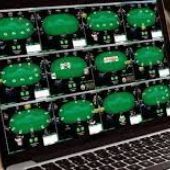 As with blackjack, all the logistics of getting to the game safely and properly attired disappear. Unfortunately, you are unable to spot a bad poker player. In one respect, you're giving up a significant advantage—the opportunity to judge a player's hand by their facial expressions and other actions.
Of course, acquiring this knowledge takes time, and even the best evaluation can be inaccurate. Still, poker is a game of maximizing poor odds and losing the ability to see your opponents is not insubstantial.
But if you remember that Hold'em is a positional game, you soon realize that playing it correctly according to your position vis-à-vis the dealer is far more powerful a tool than assessing people's moods as they play.
And let's not forget the number of poker hands you can play in an hour—anywhere from 60 to 80 hands every sixty minutes. And that's just at a single table.
Now that you have a better idea as to what to expect from these games – and the differences between playing them in a casino or online – you can venture off to some of the best online casinos. Below is a list of the top rated options out there.
How We Rate

Safety & Security
You should be able to gamble online without fear. So we only recommend licensed sites that use the latest security and encryption techniques.

Bonuses
Maximize your bankroll with fantastic bonuses. Our recommended sites offer valuable bonuses with fair terms and conditions, including manageable wagering requirements.

Games & Betting
The best sites have the best wagering options. That's why you will find extensive games and betting opportunities on our recommended sites.

Banking
Getting your money to and from your account shouldn't be a hassle. We only recommend sites with a variety of convenient banking methods, including cryptocurrency and e-wallets.
The beauty of online poker is that you can play multiple tables. Now you can play hundreds of hands every hour. That is, provided your attention, math skills, and bankroll don't give out.
One more difference with online poker—you can find tables dealing at far lower limits than at a brick & mortar poker room. How low? Well, nickel/dime NL Hold'em, anyone? A real-life poker room would go broke dealing poker that cheap, but online seems to have no problem with it.
Fledgling poker players usually take advantage of these heap tables because they are an excellent place to learn the ropes.
What Makes Blackjack Better Than Poker
Regardless of whether blackjack is played at the local casino or online at a reputable live dealer casino, it's a game of elegant simplicity, requiring very little from us than our attention to the cards being dealt—and, of course, our memory of the cards that have already been dealt.
Blackjack is the natural choice for people who like their gambling brief and simple. The learning curve is steep and brief—how hard can it be to sum up, the face value of a few cards?
And regardless of whether the dealer is across the table or in some studio somewhere broadcast over the internet, the game will move at roughly the same speed and statistically the same outcome.
Blackjack is the more consistent gambling experience across the platforms.
Of course, there's one caveat: there's a fine line between a player on a lucky winning streak and an advantage player who wins consistently. Remember, the house has a solid edge in blackjack, and the only way around that is to do things that casinos do not like—counting cars, for example.
Counting cards is not illegal, but neither is being asked to leave the casino.
The trick is to ride that fine line between having a good idea of the cards that have already been dealt from the shoe and tracking the cards dealt.
What Makes Poker Better Than Blackjack
While blackjack requires some time and effort to play, it doesn't offer nearly the challenge to us that poker offers.
In poker, evaluating each opponent and determining what their pocket cards might be is a science and an art all by itself. It typically takes years to develop into a useful and reliable skill. Knowing when a QT suited is worth a call preflop and when it is not is relatively easy to learn, but under what circumstances do you fold pocket aces pre-flop?
This brings us to the math. Once you develop your own abilities for quickly calculating pot odds, implied odds, and of course, your outs, it becomes a joy just to play the game.
It's no coincidence that many of the top poker players in the world took advanced degrees in math-based fields such as computer science and business management.
Advantage gamblers—skilled poker players who understand the intricacies of positional play and the various odds (pot, implied, etc.)—are neither welcomed nor discouraged by the house. Why would the house care? They get their rake regardless, or to put it more bluntly; the house has no skin in the game.
Deciding the Blackjack vs. Poker Debate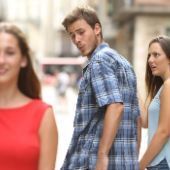 There was a time only brick & mortar opportunities existed to play either blackjack or poker. But even then, the two games presented unique advantages and disadvantages to the player, depending on what that player wanted to accomplish.
For example, if you wanted to kill an hour or so before dinner at a restaurant, then your choice was clear: Blackjack.
On the other hand, if you were ready for an entire day of gladiatorial savagery, the poker room was your happy place.
I've enjoyed playing blackjack and poker in real and the online venues. While I find the discrete nature of each blackjack hand convenient for a busy schedule, I prefer it over blackjack when I have the time to dedicate to poker.
Does that end the endless argument of blackjack vs. poker? No, not for me, and certainly not for the millions of people who enjoy one, the other, or both.
While both games are rewarding monetarily and psychologically, each offers specific features that, under some circumstances, are advantageous and, in others, are not advantageous.
It's a matter of personal preference, the time one has to dedicate to the game, and the skill and experience one brings to each game. Regardless of which side of the poker vs. blackjack fence you reside on, remember that the online versions always offer more opportunity to hone most of your poker and blackjack skills.
So that's it. Choose your game wisely, then find yourself a safe online casino and start sharpening your abilities.
AUGUST
Casino of the Month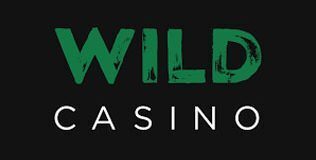 Welcome Bonus
250% up to $5,000
Read Review
Visit Site