7 Players That Should Be in the Pro Football Hall of Fame

Every player dreams of achieving immortality in the NFL, but not everyone makes it. Being inducted into the Pro Football Hall of Fame is a massive honor in part because of the highly selective nature of the induction. Being a great player in the NFL is one thing but being among the best of all time is another.
There have been a lot of talented players throughout NFL history, but we can't give everyone a Gold Jacket. That said, some players have received Gold Jackets before others that could be considered more deserving.
You can even bet on which players get voted in each year at the top sports betting sites. That actually makes the whole debate of who belongs in the HOF or not that much more titillating.
Since there is a voting process involved, there will surely be players that don't make it to the promised land even though they deserve to be there, simply because they didn't make the voting cut. So, let's look at 7 of the best NFL players not in the Hall of Fame, and perhaps a look back at greats that didn't get the nod will help you the next time you place some bets.
Patrick Willis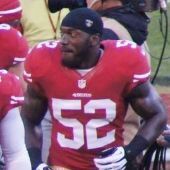 Starting off our list of players that should be in the Hall of Fame is legendary San Francisco 49ers' middle linebacker, Patrick Willis. Patrick Willis was one of the most fearsome linebackers during his time in the NFL.
Willis was the 11th overall draft pick in the 2007 NFL Draft and was instantly an impact player. Not only did he make the Pro Bowl in his rookie season, but he also went on the First-Team All-Pro list.
His rookie season was incredible, leading the NFL in combined tackles (174) and solo tackles (136) while chipping in 4 sacks and 8 tackles for loss.
His absurd number of tackles in his rookie season is still the most all-time, beating out DeMeco Ryans' 126 tackles the previous season.
Following his impressive NFL debut in 2007, Willis made the Pro Bowl 6 more times and the First-Team All-Pro list four more times.
The only year he didn't make the Pro Bowl in his career was his last in 2014, only playing 6 games. He also led the league in tackles again in 2009 and had over 100 combined tackles in 6 of his eight years.
Willis' individual stats were impressive, and he was the heart and soul of the tenacious 49ers' defense from 2007 to 2014. Here are the 49ers' points-allowed rankings from those years:
2007: 20th (22.75 points allowed per game)
2008: 23rd (23.81)
2009: 4th (17.56)
2010: 16th (21.62)
2011: 2nd (14.31)
2012: 2nd (17.06)
2013: 3rd (17.00)
*2014: 10th (21.25)
*Only 6 games played
Willis played a significant role in their defensive success as the captain for San Francisco and was arguably the biggest reason they made it to the Super Bowl in 2012.
He might get knocked down a bit due to his shorter NFL career, but others have been able to make it into the Pro Football Hall of Fame despite being in the same circumstance. Willis was a dominant linebacker in his career and should be inducted into the Hall of Fame.
The 49ers' linebacker was named a finalist in 2022 but wasn't inducted.
Charles "Peanut" Tillman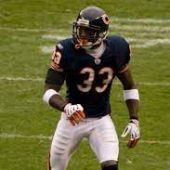 The Chicago Bears may have the most NFL Hall of Famers with 30, but a couple more of their players are deserving. One of their best players not in the NFL Hall of Fame is cornerback Charles "Peanut" Tillman.
Tillman may not have been the most shutdown cornerback of his time, but his legendary "Peanut Punch" will always be remembered.
The move became his trademark after specializing in forcing fumbles throughout his career. He was drafted in 2003 to the Bears (35th overall) and played the first 12 of his 13 seasons with Chicago.
In his 13 career seasons, Tillman was able to force an incredible 44 fumbles. That's the most all-time by a defensive back, a whopping 16 more than the next highest total (Brian Dawkins and Charles Woodson, 28). He even led the league with 10 in 2012, which is remarkable for a defensive back.
Even though Tillman was never the biggest guy on the field, he was still able to be one of the most impactful players in NFL history. Nowadays, opposing defenses are taught how to do the "Peanut Punch" to try and cause a turnover for their team.
Turnovers are the most game-changing plays in the NFL, which can ultimately decide who ends up on the winning side. The Bears haven't had a high-flying offense in a very long time, but they've won a decent number of games on the backs of their strong defense.
Yes, Brian Urlacher and other legendary Bears defenders helped a lot, but Charles Tillman deserves a lot of credit for those talented defenses over the years.
Again, Tillman wasn't the most talented cornerback in his career, but he certainly is among the players that should be in the NFL Hall of Fame due to his famous "Peanut Punch."
Robert Mathis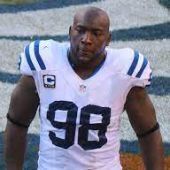 Before we move over to the offensive side of things, let's talk about another one of the best NFL defensive players not in the Hall of Fame, Robert Mathis. The Indianapolis Colts' edge rusher struck fear into opposing offensive lines and quarterbacks.
Although his prime was short, Mathis was impactful in many of his 13 seasons in the NFL (minus 2014, torn Achilles). He led the NFL in forced fumbles in 2004 (6) and 2005 (8), despite only starting 1 of his 29 games in those years.
Considering the past two of our players that should be in the Hall of Fame, I recognize that forced fumbles aren't the only thing that should get you into the HOF. But, on the other hand, causing a lot of forced fumbles throughout your career is certainly noteworthy.
Mathis finished his career with an NFL record of 52 forced fumbles. That's especially impressive considering the number of games other players near him have played. For example, Julius Peppers ranks 2nd all-time with 51 and played 74 (about 4.5 seasons-worth) more games than Mathis.
By far, his best professional season was 2013. He tied Charles Tillman and Osi Umenyiora for the single-season record and also led the league in sacks with 19.5 (tied for 14th most in a single season).
Mathis ended up being a 4-time Pro Bowler, First-Team All-Pro, and Super Bowl XLI champion throughout his career. His 2013 year was his most dominant by a longshot, but he was an impact player almost every season.
He only started in 121 games out of the 192 he played in, which means he could have accumulated way more stats with increased gameplay.
If he started in those 71 games (about 4.5 seasons) and kept to his average of around 9 sacks per year, he would have more than 40 sacks added to his total. Not to mention the NFL record of forced fumbles would be way higher.
Mathis was a semi-finalist in the 2022 Hall of Fame but deserves to be there.
Chad Ochocinco/Johnson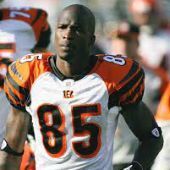 Now moving over to the offensive side of things, we have one of the most entertaining players in NFL history. Chad Johnson, or "Ochocinco," was a major personality during his time in the NFL, which has gotten him into trouble a handful of times.
Nowadays, players' personalities are becoming more encouraged, so maybe he would have been viewed differently if he had played today. Although his personality was huge, that's not the reason why he is one of the top NFL players not in the Hall of Fame.
After retiring post his 2011 season, Johnson became eligible for the NFL Hall of Fame in 2017. He hasn't been able to achieve a spot as a semi-finalist since then, but that should change.
Johnson is among the most memorable NFL players and the greatest Cincinnati Bengals of all time.
The wide receiver ranks number one in Bengals' franchise history in receiving yards with 10,783, receptions with 751, and receiving touchdowns with 66. However, the yardage and receptions translate to 37th and 38th in NFL history.
On Undisputed, Johnson and Shannon Sharpe made several excellent points about the Hall of Fame. For example, comparing statistics is one thing, but not everyone's situation is the same.
Nowadays, you can see multiple receivers on the same team reach 1,000 receiving yards or more and not blink. It was much more challenging for one player to reach the century mark back then.
The rules allowed defenses to play more aggressively, making players' stats like Johnson seem less than they are.
It's also difficult to determine the style of offense a particular team runs compared to others. Not many offenses from 2000 to 2010 were as pass-happy as they are now, which also plays a factor.
At the end of the day, Chad Johnson was an electrifying and memorable receiver throughout his career and is one of the top NFL players not in the Hall of Fame.
Reggie Wayne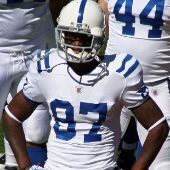 If the Hall of Fame voters don't want to vote in Chad Johnson, that's one thing, but not voting in Reggie Wayne would be blasphemous. Wayne was an incredibly consistent and talented receiver for the Indianapolis Colts and ranked very high in important receiving statistics all time.
He played 14 seasons in the NFL, all with the Colts. With how often players get injured in the NFL, it's remarkable that Wayne could play at least 7 games in every single season of his career.
If you look at his prime, he was one of the most consistent and best receivers in the league. Here's a look at what his stats looked like from his first year as a full-season starter (2003) until his final 1,000-yard season (2012).
| | | | |
| --- | --- | --- | --- |
| Year | Receptions | Receiving Yards | Receiving Touchdowns |
| 2003 | 68 | 838 | 7 |
| 2004 | 77 | 1,210 | 12 |
| 2005 | 83 | 1,055 | 5 |
| 2006 | 86 | 1,310 | 9 |
| 2007 | 104 | 1,510 | 10 |
| 2008 | 82 | 1,145 | 6 |
| 2009 | 100 | 1,264 | 10 |
| 2010 | 111 | 1,355 | 6 |
| 2011 | 75 | 960 | 4 |
| 2012 | 106 | 1,355 | 5 |
Wayne led the NFL in receiving yards and yards per touch in 2007 while having the most yards per touch in 2010.
You could say that Wayne benefited greatly from having Peyton Manning as his quarterback for most of his career, and you would be right. However, Wayne had two good seasons in 2011 and 2012 without Manning.
The Colts' quarterbacks were terrible in 2011 as a unit, while 2012 was Andrew Luck's rookie season. After 2012, Wayne finally saw a decline in his play at the age of 35.
Wayne's eight consecutive seasons with 1,000 receiving yards is tied for 7th most all-time, while he also ranks 10th in receptions and yards and 27th (tied with Anquan Boldin) in touchdowns.
He's been a finalist for the Hall of Fame since he became eligible (2020), but he hasn't sealed the deal. Reggie Wayne remains one of the best NFL players not in the Hall of Fame, but he should be inducted sooner rather than later.
If you want to bet on who you think leads the NFL in receiving yards and other player props, head over to the best NFL betting sites.
Lorenzo Neal
We will take an unexpected path for the next of our best players not in the NFL HOF. The fullback position could be the most underrated in the NFL, especially in today's league. Lorenzo Neal should be inducted into the Hall of Fame to show some recognition for fullbacks.
Neal played a vital role in his team's success throughout his career. He was drafted in the 4th round in 1993 to the Saints but wasn't rewarded for his play until the later stages of his career.
Neal's a player whose production isn't reflected in his stats. As a lead blocker, it's hard to determine how he affected the game. What we can take a look at is his teammates' rushing stats.
The teammate that stands out the most in Neal's career is the amazing LaDanian Tomlinson. LT was one of the absolute best running backs in NFL history, while Neal played a significant role in his success.
If you watch through the plethora of Tomlinson's highlights, you will see that Neal often created the gap for him to burst through. Without Neal, there's a chance that Tomlinson would be stopped at the line of scrimmage or even before it way more frequently.
Tomlinson is currently 7th all-time in rushing yards and has the record for most rushing touchdowns in a single season (28).
Guess who led the charge and was named to the Pro Bowl and All-Pro First-Team that year?
Lorenzo Neal
Neal made the Pro Bowl 4 times, the All-Pro First-Team twice, and the All-Pro Second-Team once in his career. On the other hand, Tomlinson was elected to the Hall of Fame in the first year he was eligible (2017).
The fullback was first eligible in 2014 and was elected in 2018, 2020, 2021, and 2022. Unfortunately, he never even finished as a semi-finalist in any of those years.
You can't have game-changing players in the NFL like LT without great support players like Lorenzo Neal, which makes him one of the best players not in Canton.
Devin Hester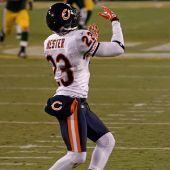 LaDanian Tomlinson could be one of the most entertaining players in NFL history, but Devin Hester can give him a run for his money. We've discussed how Robert Mathis and Patrick Willis struck fear into their opponents; Devin Hester can also be in that conversation.
In his prime, everyone said, "Don't kick it to Hester!" The reason is that he would frequently return kicks, punts, and even missed field goals for touchdowns. As a result, Hester ended up hanging up his cleats with the NFL record of combined kick and punt return touchdowns with 20.
The next person on the list was Brian Mitchell with 14, who finished with a whopping 460 more attempts than Hester. Hester returned about 1 every 30 punts or kicks for touchdowns on average, which means that he would have about 15 more touchdowns if he had the same amount of attempts as Mitchell.
Like his teammate Peanut Tillman, Hester could be credited with changing the game of football forever.
Special Teams has always been called a third of the game for a reason, even though offensive and defensive plays drastically outnumber them.
You could credit Devin Hester with the thought process behind that saying. If you don't have a quality Special Teams unit, a player like Hester can burn you and score free touchdowns for his team.
The Bears' returner led the NFL in punt return yards twice, punt return touchdowns 3 times, yards per return twice, kick return yards twice and kick return touchdowns twice. His 11.7 yards per punt return is tied for 8th-highest in NFL history (Tyreek Hill, Mack Herron).
On top of all his impressive return stats, Hester had one of the most memorable moments in Super Bowl history.
In the end, Devin Hester is the most dangerous returner in NFL history and should be inducted into the Hall of Fame.
Other Players That Should Be in the NFL Hall of Fame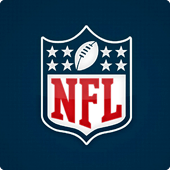 In the end, many players should be in the Hall of Fame, but sadly, not everyone can make it. There's a certain level of achievements and impacts to the game of football taken into consideration, as well as other factors.
That said, these seven players are the best NFL players not in the Hall of Fame. Some of them rank highly in important statistics, have prestigious accolades, or have changed the game of football as we know it.
Believe it or not, the list of the best players not in the NFL Hall of Fame could even be extended, with players such as the following.
Ronde Barber
Joey Porter
Jared Allen
Torry Holt
Andre Johnson
Hines Ward
The list also goes on, which makes it harder for certain players to stand out. So many memorable people have played in the historical league of the NFL, but sadly, they won't ever make it to Canton.
There's also a new batch of players becoming eligible this year and active players that will be first-ballot HOFers when they decide to hang it up. It will be an incredible honor for any player to make it to immortality, but there will be some serious snubs like the ones we mentioned along the way.
Looking for more quality NFL content? How about paying some respect to some more forgotten NFL stars? Here's a look at the very best undrafted players pro football has ever seen.
AUGUST
Casino of the Month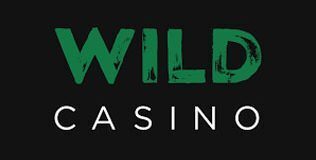 Welcome Bonus
250% up to $5,000
Read Review
Visit Site