Hide Bonus Offers
| | | | | |
| --- | --- | --- | --- | --- |
| #1 | Bovada Sports | 50% Up To $250 | Visit Site | Bovada Sports |
| #2 | BetUS | 125% Up To $2,500 | Visit Site | BetUS |
| #3 | MyBookie | 100% Up To $1,000 | Visit Site | MyBookie |
| #4 | Everygame | 100% Up To $500 | Visit Site | Everygame |
| #5 | BetOnline Sports | 60% Up To $1,000 | Visit Site | BetOnline Sports |
Players That Could Be Steals in the 2021 NFL Draft

When it comes to the 2021 NFL Draft, all you hear about are the quarterbacks. To be specific, Trevor Lawrence is a lock to go first overall, and a slew of other passers could quickly follow him.
San Francisco sparked even more interest when they traded up for the third pick, and now a run of quarterbacks is dominating the first-round conversation.
That is totally fair, but what about the rest of the draft? What about other tantalizing prospects, different positions, and the teams that don't pick in the top-10?
Those first (admittedly huge) selections tend to hang over the draft like a dark cloud, but this thing is seven rounds. A good chunk of the guys drafted early end up being busts, too.
Whether you are betting on the 2021 NFL Draft or you're just a fan, there should still be a lot of interest in hidden gems that aren't really being talked about.
They won't be top-10 picks – and maybe not even first-round picks – but the value and upside they bring to the table isn't anything to scoff at.
With the 2021 NFL Draft almost here, let's take a look at six potential steals that could end up shocking people. And depending on the 2021 NFL Draft prop bets associated with them, perhaps these players can even make you some money.
Gregory Rousseau, EDGE, Miami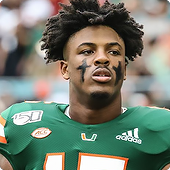 I remember a time when Gregory Rousseau was in the conversation to be picked first overall.
He wasn't favored by any means, but the guy was held in high enough regard to at least get odds from top NFL Draft betting sites like Bovada.
Not every top prospect can say that, while Rousseau has the talent and production of an absolute terror on the next level.
The Miami star enjoyed a stellar 2019 campaign, in which he registered 15.5 sacks. That put him on the map, and maybe he'd have elevated his stock even further, had he played this past season.
Like some other big names, however, Rousseau opted out. That seemingly took him out of top-10 consideration, and now he doesn't even seem like a lock for the first round.
Simply sliding out of the top-10 is going to instantly put Rousseau on the 2021 NFL Draft steals list, but the bottom of round one or out of the first round, altogether?
Yeah, this guy has elite value written all over him.
Javonte Williams, RB, North Carolina
There are bound to be a lot of running backs that stand out as potential steals in the 2021 NFL Draft for two reasons: it's a loaded running back class, and it's a devalued position in general.
If you follow the latest buzz and pay attention to 2021 NFL Draft mocks, Clemson star Travis Etienne presently projects to be the first rusher taken off the draft board.
He's tentatively regarded as a first-round pick, too, but trying to guess who comes next (and when) feels like a hopeless endeavor.
That is undoubtedly going to be one great way to bet on the 2021 NFL Draft this year, too. You will be able to bet on which running back gets drafted first, who goes second, and when all these top rushers get selected.
Williams stands out as a viable second option behind Etienne right now. This is wild, considering there's a compelling argument that he's the most complete running back in this draft.
Nobody forced missed tackles more than he did last year, either. The guy was a problem
Even if you'd argue against that, the explosive and dominant Williams is slowly dipping into the day two conversation, and he is without a doubt a first-round prospect.
Just due to the sheer devaluing of running backs, Williams projects as one of the biggest 2021 NFL Draft steals.
Asante Samuel Jr., CB, Florida State
It never hurts to be the son of a former NFL player, but Asante Samuel Jr. happens to be the offspring of one of the best ball hawks the game has ever seen.
Asante Samuel finished his career with 51 interceptions and was part of two championship teams while with the New England Patriots.
His son will have to work to get the Lombardi Trophy, but he's already flashed greatness as a cover man and playmaker.
With the pedigree and football IQ off the charts, Samuel Jr. already stands out as a guy NFL coaches and GMs don't have to worry too much about.
It helps that he's also an elite talent, blessed with elite athleticism, speed, and ball skills.
He was also a beast in coverage in 2020.
Asante Samuel Jr. allowed a 46.2 passer rating in coverage last season.

Lowest in the 2021 Draft class. pic.twitter.com/tTjKoNdthA

— PFF Draft (@PFF_College) April 5, 2021
Despite all of this, Samuel isn't a lock to be a first-round pick.
A flurry of quarterbacks being selected in the top half of round one is pushing some marquee players down and that will have an impact on guys that should go in the bottom half of the first round.
Samuel is among those at risk of falling out, yet he's primed to be one of the best steals in the 2021 NFL Draft.
Joseph Ossai, EDGE, Texas
It's quite arguable that explosive edge rushers grow on trees as far as raw talent and upside goes. They all don't pan out, however.
Getting it right at the next level is made difficult for several reasons, but production, athletic traits translating, and producing in space are all things a prospect on the outside needs to figure out.
Ossai could slide a bit due to average sack numbers at Texas, but when you look at his size, athleticism, and upside, he's as tantalizing as it gets.
The guy is a freak, and a closer look at his numbers should actually impress you. He racked up 21 tackles for loss over his last two seasons with the Longhorns, as well as 102 total tackles.
Ossai's main drawback is the same for a lot of 3-4 outside linebackers; he looks like a liability in pass coverage. He can get in the backfield and help against the run, however, and his pass rushing ceiling can't be seen.
If he can put it all together, Ossai could end up being an elite bargain pick for one lucky NFL franchise.
Rondale Moore, WR, Purdue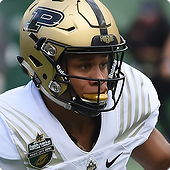 This is a loaded wide receiver draft class. It seems you can say that yearly these days, but it's still true.
Overshadowed while ranking behind Jaylen Waddle, Ja'Marr Chase, and DeVonta Smith is Moore, an elite athlete with masterful route-running ability.
Those guys are bigger names, and most have better attributes when you're talking about size, length, catch radius, and the like.
But Moore can put defenders in a blender.
A shifty, versatile, and deceptively explosive receiver, Moore is an elite offensive weapon in the making. Despite the massive upside and the many ways he can be used, the Boilermaker doesn't project as a first-round lock.
His lack of size is going to drop him into round two, where he'll be a flat-out steal.
Najee Harris, RB, Alabama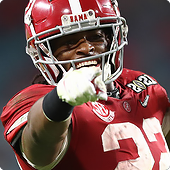 As mentioned, several running backs could be filed among the best 2021 NFL Draft steals this season.
I'm not sure you can say that and finish a post like this without also talking about Najee Harris.
Harris puts on a clinic as a natural runner, as he has the perfect blend of power and athleticism.
That helped him carve out a Heisman-level 2020 campaign, where he compiled nasty numbers: 1,466 rushing yards and 30 total touchdowns.
He'd have probably won the trophy, too, had teammate DeVonta Smith not been even more dominant somehow.
Regardless, Harris was exceptionally dominant and has everything NFL teams want out of a feature back. Throw in underrated pass-catching chops, and he's a steal if he gets out of the first round.
Advice for Betting on the 2021 NFL Draft
Betting on the 2021 NFL Draft can be a lot of fun, and if you play your cards right, you might make some money doing it, too.
One great way to make money betting on the 2021 NFL Draft is to target player draft range props.
For now, I'd say the guys above are most likely going to be 2021 NFL Draft steals because they're not valued enough, and they could slide to the bottom of round one or even further.
Running back is devalued, some receivers lack the ideal size teams want, GMs might prefer more production or pass coverage ability out of their edge rushers – and the list goes on.
That is interesting to track if you're simply a fan of the NFL. It could also be an easy way to profit if you bet on the players above being selected beyond a certain pick threshold or outside of round one.
All those draft props aren't available just yet, but it's April, so before long, they certainly will be. When they are up, be sure you are using the best NFL betting sites to place any bets.