Betting on The International 2018 – My Top Pick and Analysis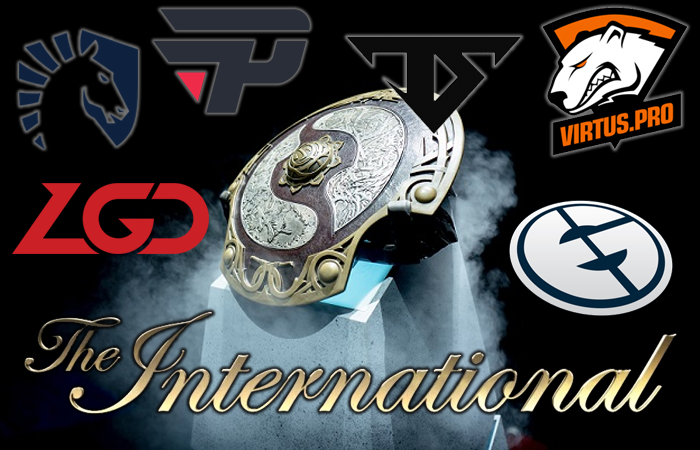 It's almost time for The International 2018. The group stage is nearing its conclusion, and the main event of the leading Dota 2 championship will be starting in just two days.
I already wrote a post covering The International 2018 and its enormous prize pool. That included some details about the qualification process, the structure, and the best betting markets to focus on, so I won't go into all that again.
This post is all about trying to make some money from betting on the tournament.
I'm going to look at the latest odds for the overall winner, offer a free pick, and provide some advice on betting on individual matches throughout the event.
Latest Odds for The International 2018
Here are the latest odds for teams to win The International 2018.
The first thing to note here is that these odds are a little different from the ones I listed in my previous post on The International just 48 hours ago.
This is partly because I've used a different bookmaker this time around. None of my favored US-friendly betting sites were offering odds when I checked initially, but some of them are now. I got the odds listed here from Bovada.
Odds always vary from one bookmaker to the next, so it's no surprise to see some differences here. There's more to it than just that, though.
The odds have also changed because of what's been happening during the group stage. Odds-compilers now have a better idea of which teams are going to make it to the main event and which bracket they're likely to be playing in.
They've had a chance to assess the current form of the teams, too, and this will all have affected how they've priced the market up.
This means that the odds more accurately reflect the likelihood of each team winning The International 2018. In some respects, this has made it harder for bettors to identify where the value lies, but let's not forget that we have the same additional information to work with as the odds-compilers.
Having analyzed all the odds movements, there's only one that's really standing out to me as a having any major significance. The odds on Evil Geniuses have shortened dramatically, and they've now joined the group of favorites at the top of the market.
This is purely down to the fact that, at the time of writing, they have been the best performers during the group stage.
It's impossible to ignore such a big shift in the odds for one team, and I've had to rethink a part of my betting strategy for this tournament as a result.
I was originally pretty well set on backing one team from the group of favorites, one of the mid-priced teams, and possibly one of the longshots, too.
However, the fact that there are now four favorites rather than three makes it more likely that the eventual winner will be one of those favorites. This reduces the value on the teams outside the favorites, meaning my original approach may no longer be optimal.
With that being said, it's not as clear-cut as saying that the ONLY thing to do here is back one of the favorites. I could still make a case for backing one the mid-priced teams; I'm just no longer quite as convinced that it's the right thing to do.
Dilemma!
Of course, facing such quandaries is a normal part of betting. I'm not unduly fazed by this at all, but I have had to give some serious thought about what course of action to take here.
It's interesting because writing this blog post is actually helping me here.
In the past, I've written for websites and paper-based publications who have only wanted me to write about the different betting options in betting markets and then offer my pick(s).
The team here at GamblingSites.com, however, has encouraged me to share more about my whole thought process and the reasoning behind making my selections.
I think this has a genuine dual benefit. First, it should help my readers to really understand why I reach the conclusions I do. This makes it easier for them (you!) to decide whether to follow my picks or not.
At the same time, I'm finding that writing about my thought process is giving me more clarity. I learned a long time ago that I can't just rely on my instincts to make betting decisions and that I have to properly organize my thoughts and weigh up the pros and cons of all possible choices.
I'd like to think that I'm pretty good at that already, and without wishing to sound arrogant, my betting results back that up. However, I feel that putting my thoughts down on paper is making me even better at it.
By making sure that I have to express myself in a coherent manner to my manners, I'm finding that I'm getting a clearer picture of everything that's running through my mind.
Of course, I still want to keep things relatively concise and not bore you too much with the inner workings of my mind! So, here's what I've decided.
The bottom line is that I typically like to make bets when I think the bookmakers have got something a little wrong. When my opinion differs from theirs, that's when I've found the value I'm looking for.
On this occasion, I don't feel the bookmakers HAVE gotten much wrong. I'm confident that the winner of The International 2018 will be one of the four teams installed as the favorites in the betting market. I'm therefore only going to make one bet on this market, on one of those teams.
Which team will it be? Keep on reading to find out!
Assessing the Favorites for The International 2018
Let's take a look at each of the four teams that make up the group of favorites.
Team Liquid (+400)
It makes sense to start with the defending champions. No team has yet won The International twice, but there's no doubt that Team Liquid is in with a very good chance of becoming the first to do so.
One of the things I like best about this esports team is the diversity of their roster. They excel in a number of different games across a range of genres, and they have a varied skillset. There's a strong element of unpredictability in the way they play, which makes it difficult for their opponents to plan how to beat them.
However, their form is also unpredictable. They haven't been especially consistent during the last 12 months or so, despite finishing second in the Dota Pro Circuit (DPC) rankings and earning a direct invitation to The International.
A lack of consistency is a real warning sign for me here. With so many good teams at this tournament, any below-par performances are almost certain to be punished. Can we be confident that we'll see Team Liquid at their best?
Virtus.pro (+400)
Virtus.pro was the best-performing team on this year's DPC by quite some margin. They finished comfortably in first place, well ahead of Team Liquid, and they clearly deserve to be among the favorites for The International 2018.
The Russian team has never finished higher than fifth in The International. That could be a reason for concern, especially as many in the esports community feel that Virus.pro often struggles with the pressure that comes in the biggest tournaments.
Personally, though, I don't really see this team as "chokers." Not these days, anyway. Since RodjER joined their roster earlier this year, they've been the best and most consistent performers at Dota 2 by a distance. They have an aggressive style, and their players share a great understanding.
PSG.LGD (+500)
The Chinese team has been in scintillating form for the last few months. They came third in the DPC rankings behind Virtus.pro and Team Liquid, showcasing their hyper-aggressive style along the way.
Aggression is undoubtedly one of PSG.LGD's key strengths, but it has the potential to be their downfall, too. Although they often overwhelm their opponents, they have a tendency to leave themselves open defensively. There are teams at The International who will take advantage of that mercilessly.
I can't really argue against this team being among the favorites to win this tournament. However, I think they're probably the least likely of the four favorites to end up as champions.
Evil Geniuses
The latest entry to the group of favorites is Evil Geniuses. As I mentioned earlier, they've earned their place among the teams most likely to win due to their performances in the group stage so far.
This team has been nothing short of phenomenal in truth, and if they can take this form into the main event, then they have every chance of winning the whole thing.
The only question for me is whether they'll sustain such a high level. That's not easy to do, while some of the opponents they've faced so far are capable of performing better.
So, what's the conclusion here?
Unsurprisingly, I rate the chances of all four of the teams discussed here. I think the bookmakers have got it spot-on in making these the favorites, and they all have a legitimate chance of taking this tournament down.
I typically value consistency above anything else, though, and that's why I like the Russians best of all. I think this is they year they "break their duck" in this tournament and confirm their status as the best Dota 2 team around.
Match Betting on The International 2018
I may be limiting myself to one bet on the winner of The International, but that will by no means be the extent of my betting on the tournament. I'll be betting on several of the individual matches, too, and I recommend you do the same.
Why?
The simple answer is that it's a lot easier to find value in the betting markets for individual matches. Predicting who will win a one-off match is nowhere near as challenging as predicting who will win an entire tournament.
There will, of course, be some unexpected results throughout the tournament. I'm not suggesting that I'm going to call the winner of every single match correctly. But I don't need to. I just need to find the right opportunities for getting my money down and be right more often than I'm wrong.
The key to success here is selective betting and proper analysis.
The International 2018 is going to feature a lot of matches. Please don't make the mistake of betting on them all. You're far more likely to make an overall profit if you choose your bets carefully and stick to matches where you have a good reason to believe one team will win.
If you make sure that your reasoning is always based on solid analysis, there's every chance you'll place more winning bets than losing ones. And unless you're backing heavy favorites every time, that should be enough to see you come out ahead.
Your analysis should encompass a range of factors to give you as complete a picture as possible of what's likely to happen. I suggest focusing on the following in particular.
Overall ability
Current form
Style of play
Consistency
The overall ability of a team is relatively subjective, of course, but there are objective ways to look at it, too. Statistics and past results, for example, are facts that ultimately can't be argued with.
In terms of current form, I'd be inclined to look only at performances during the group stage, and where relevant, during the main event itself. You COULD consider performances over the month or so leading up to the tournament, too. The further back you go, though, the less relevant form becomes.
Analyzing the style of play of teams is one of the very best ways to predict how a match is going to play out. This is especially true if you're knowledgeable about Dota 2 and its gameplay.
Understanding how the various different styles match up against each other can be invaluable and potentially give you a real edge over the bookmakers.
Consistency is important for obvious reasons. If a team has a track record of consistency, it's far easier to rely on them to perform to their expected level. Inconsistent teams are far less predictable by definition, so you need to be careful about backing them.
Put all of these factors together when analyzing matches, and you'll be in good shape for making accurate predictions. Just make sure that you trust your judgment and don't OVER-analyze.
Once you reach a conclusion that you're happy with, don't then start looking for holes in it. Make your call, stick with it, and get your money down. Or, if you can't make any kind of confident prediction, skip the match and move on to the next one.
Summary
I'm looking forward to seeing how The International 2018 plays out. Obviously, I'm going to be rooting for Virtus.pro to take it down so that my bet comes in, but I won't be TOO disappointed if I lose.
I'm happy enough with how I made my decision to back this team – and only this team – so I can't then be results-oriented if it doesn't work out.
I hope you found this post useful, whether you decide to follow my pick or not. And I hope you have some luck with your match betting or any other betting markets you decide to hit during the tournament.
One final piece of advice to leave you with relates to WHERE you do your betting. There are tons of different betting sites offering odds on The International 2018, but they're not all of the same standard. You need to ensure you only use the reputable and trustworthy ones.
That's something we can help with. Our list of recommended Dota 2 betting sites has been carefully compiled and features only the best sites around. You can sign up with any one of them safe in the knowledge that you'll be treated right.
Then it's just down to you to find the right bets to make. Good luck!