Hide Bonus Offers
| | | | | |
| --- | --- | --- | --- | --- |
| #1 | Bovada Sports | 50% Up To $250 | Visit Site | Bovada Sports |
| #2 | BetUS | 125% Up To $2,500 | Visit Site | BetUS |
| #3 | MyBookie | 100% Up To $1,000 | Visit Site | MyBookie |
| #4 | Everygame | 100% Up To $500 | Visit Site | Everygame |
| #5 | BetOnline Sports | 60% Up To $1,000 | Visit Site | BetOnline Sports |
Outlook and Expectations for Tiger Woods in 2019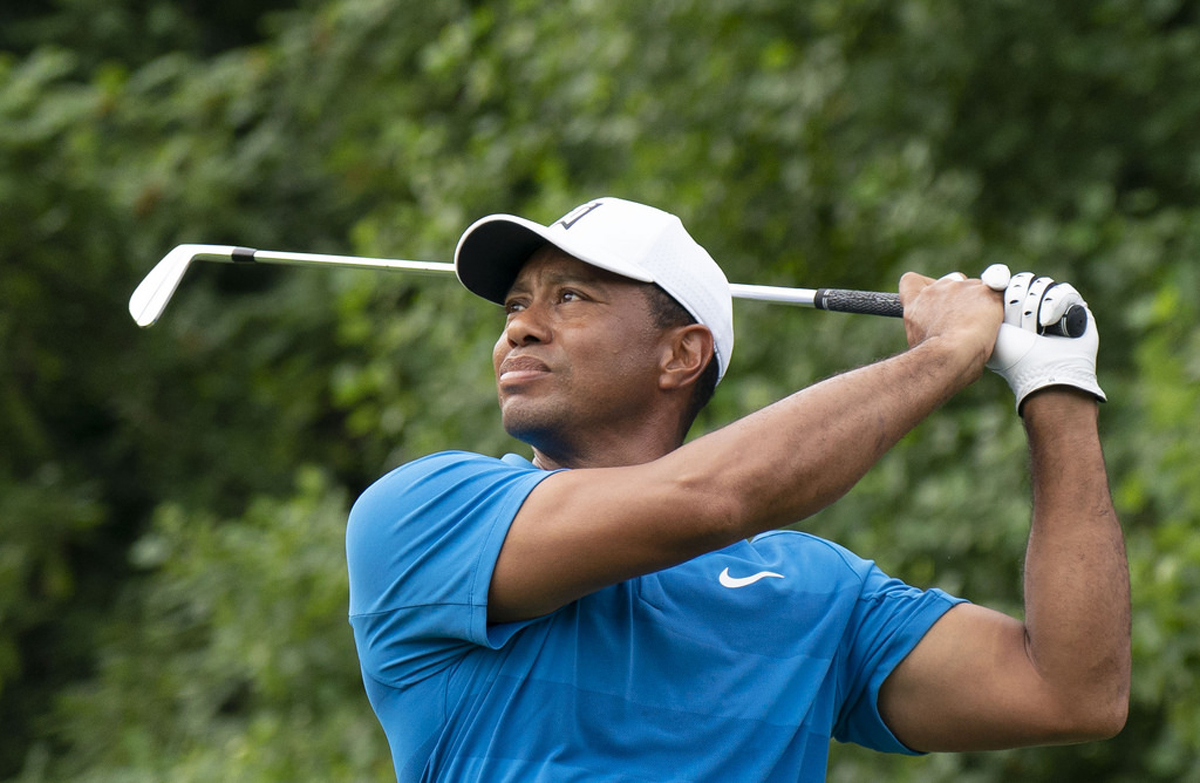 The Big Cat is back. And boy, is he ready to pounce.
Tiger began 2018 surrounded by nothing more than question marks and theories as to when he would play, how he would play, and whether or not he could even be remotely competitive against the best players in the world.
Fast forward to January of 2019, and Tiger has answered all of those questions – and then some. After ending 2017 ranked 668th in the world, Woods finished the 2018 calendar year as the 13th-ranked player in golf.
What will he be ranked when 2019 comes to a close, and will he get back to winning major championships? What about his schedule? When will we see Tiger next, and what events can we expect to see him tee it up in throughout the season?
The goal of this post is to fill you in by answering all of those questions, so follow along carefully.
When Will Tiger Make His 2019 Debut?
Sources say that as of right now, Tiger has committed to playing in just six golf tournaments: the four majors, plus the Farmers Insurance Open in San Diego and Genesis Open at Riviera Country Club in February.
But don't expect him to start piling on events to his schedule, especially in the early portion of the year.
Agent Mark Steinberg admitted to CNN that Tiger ended up playing a whole lot more than originally planned last year and that this year, resting his body for the bigger events will be the priority.
"We're certainly going to be a bit more sensitive and careful on long-haul trips. For the past 20 years, Tiger has been one of the true global travelers for golf but I think he's just going to be more cognizant of his body, what makes sense for his schedule, and just to make sure that he's healthy."
With that being said, we knew we'd see Woods in San Diego for the Farmers Insurance Open at the end of the month at a place that we might as well call "Tiger's stomping grounds."
The South Course at Torrey Pines has been the site of eight of Tiger Woods' 80 professional victories on the PGA Tour. Seven of those wins came at the Farmers Insurance Open, and nobody can forget his thrilling victory over Rocco Mediate at the 2008 U.S. Open.
A Look into Tiger's Potential Tournament Schedule in 2019
So we know Tiger will be in La Jolla. But what else?
There's almost no chance we'll see him the following two weeks in Scottsdale or Pebble Beach. But the middle of February is when we'll get another dose of Tiger at the Genesis Open – the only PGA Tour event that Tiger has competed in five or more times without recording a victory.
After LA, there is a WGC event (World Golf Championships) in Mexico City, and it's hard to say if we'll see "Eldrick" south of the border for that one or not. Given the stretch of golf (Florida Swing) that ensues after the year's first WGC event, there's a real possibility that Tiger will skip the tournament at Club de Golf Chapultepec.
I can't imagine Tiger not being at Bay Hill for the Arnold Palmer Invitational from March 7-10, as it's the site of eight of Tiger Woods' victories. And considering that THE PLAYERS Championship takes place at the Stadium Course at TPC Sawgrass from March 14-17, it's probable that he will evade the Honda Classic at PGA National from February 28th– March 3rd.
Remember, he and Mark Steinberg are going to be keen on not overworking his body, especially early on in the year.
For example, Tiger might opt to pass on the Valspar Championship (March 21-24), despite finishing runner-up there in 2018. The WGC-Dell Technologies Match Play event at Austin Country Club rounds out the month of March, and we all know what's coming the second week of April.
Everything Tiger plays in up until this point is all in preparation for the year's first major. After all, adding a fifth Green Jacket to his closet would automatically make the year a success – no matter what happens the rest of the season.
Trying to round his game into peak form as he heads down Magnolia Lane is exactly what he and his team are building toward, so finding the right balance will be key. We know Tiger doesn't like to play the week before majors, but too much rest and too extended of a layoff could be a hindrance.
I suspect Woods will play just one tournament in between Augusta and the PGA Championship, and that's the Wells Fargo Championship at Quail Hollow Club during the first weekend in May. Don't forget, the PGA is being held in New York at Bethpage Black from May 16-19, not in August as it has traditionally been in the past.
From here on out, things become a bit more clear.
Tiger won't want to miss Jack's Tournament at Muirfield Village GC, as that's a venue where Woods collected five first-place trophies from 1999-2012.
After that, it'll be the U.S. Open at historic Pebble Beach, the place where Tiger dramatically won the 2000 U.S. Open by a whopping 15 shots – a record that still stands today and will likely never be broken.
Depending on how Tiger feels and has played by the time June comes and goes, we may not see Tiger again until a full month later across the pond at the Open Championship. I envision he tees it up the following week in the inaugural WGC-FedEx St. Jude Invitational, and then it's time for the Playoffs!
TPC Boston was dropped from the rotation, leaving us with just three Playoff events in 2019 rather than the four we have been accustomed to. It's hard to picture a scenario where Tiger isn't a factor at the Northern Trust and the BMW Championship, which will send him back to Atlanta to defend his title at the season-ending TOUR Championship.
Now it's time for me to quickly sum all that up.
Here's my prediction for Tiger's 2019 slate of golf tournaments.
| Date | Tournament | Golf Course |
| --- | --- | --- |
| Jan 24-27 | Farmers Insurance Open | South Course at Torrey Pines – La Jolla, CA |
| Feb 14-17 | Genesis Open | Riviera CC – Pacific Palisades, CA |
| Mar 7-10 | Arnold Palmer Invitational | Bay Hill Club & Lodge – Orlando, FL |
| Mar 14-17 | THE PLAYERS Championship | Stadium Course at TPC Sawgrass – Ponte Vedra Beach, FL |
| Mar 27-31 | WGC-Dell Tech. Match Play | Austin CC – Austin, TX |
| Apr 11-14 | The Masters | Augusta National GC – Augusta, GA |
| May 2-5 | Wells Fargo Championship | Quail Hollow Club – Charlotte, NC |
| May 16-19 | PGA Championship | Black Course at Bethpage State Park – Bethpage, NY |
| May 30-Jun 2 | The Memorial Tournament | Muirfield Village – Dublin, OH |
| Jun 13-16 | The U.S. Open | Pebble Beach Golf Links – Pebble Beach, CA |
| Jul 18-21 | The Open Championship | Dunluce Links Course at Royal Portrush – Portrush, NIR |
| Jul 25-28 | WGC-FedEx St Jude Invitational | TPC Southwind – Memphis, TN |
| Aug 8-11 | The Northern Trust | Liberty National GC – Jersey City, NJ |
| Aug 15-18 | BMW Championship | Medinah CC (#3) – Medinah, IL |
| Aug 22-25 | TOUR Championship | East Lake GC – Atlanta, GA |
| Dec 12-15 | Presidents Cup | Royal Melbourne Golf Club – Melbourne, AUS |
This potential schedule includes 15 official PGA Tour events (not including the Presidents Cup), although we could very well see him in Mexico for the year's first WGC event as well.
Tiger could end up throwing a kink into his plans if he feels like he needs extra preparation for the British Open, as the Dunluce Links Course at Royal Portrush is a track that Tiger has zero tournament experience on.
Adding either the Irish or Scottish Open in July wouldn't be a shocker at all.
Of course, this anticipated slate of tournaments is pending that Tiger remains healthy and is swinging the golf club well – two things I wholeheartedly believe will come to fruition.
Prospects for 2019 – Will Tiger Win a Major?
Tiger was getting into contention seemingly every week in 2018, as he really showed signs that his golf game was getting sharp. He ended the year fifth on the PGA Tour in strokes gained total, trailing only Dustin Johnson, Justin Rose, Justin Thomas, and Tommy Fleetwood.
Tiger hit it long, he flushed his irons, and his short game looked eerily similar to when he was classified as the best chipper and pitcher on the planet.
Perhaps the only "fluke" in 2018 was that he didn't win more.
Woods has made it clear that he wants to be a "playing captain" in Melbourne for December's Presidents Cup, and he doesn't want to have to rely on picking himself. That's why playing well in the WGCs and major championships is the best way to rack up points and vault up the standings.
Based on what I have seen, and taking the venues of the majors in 2019 into account, I truly believe he will end his 10+ year drought of shortcomings at the majors and will get to celebrate #15.
Tiger knows Augusta like the back of his hand and has won the Masters more times (four) than anyone not named Jack Nicklaus.
Bethpage Black will host this year's PGA Championship, and here's how Tiger fared the first two times a major was held at the public property in Farmingdale.
He won the 2002 U.S. Open by three shots at Bethpage Black and finished sixth when the 2009 U.S. Open was held there. It is by design that Tiger is currently listed at +1000 (even with Dustin Johnson) as the betting favorite to win the PGA Championship, and it doesn't stop there.
Bovada.lv, one of my favorite golf betting sites, also has Tiger and Dustin installed as the co-favorites to win the U.S. Open at Pebble Beach.
As previously noted, Tiger smashed the field by 15 at Pebble in the 2000 U.S. Open and finished third when the USGA returned to host their National Championship in Monterey in 2010.
There hasn't been a British Open at Royal Portrush since 1951, so it's not like Tiger (or anyone in the field) has a significant edge there. But considering where the first three majors of the year are being contested, Tiger winning at least one isn't out of the question.
In fact, it's probably the likelihood.
So when I see the following bet on MyBookie.ag, I see a wager that is fairly appetizing.
Getting +250 on Tiger winning just one or more tournaments this year seems like incredible value to me.
Before I close things out, I'd like to leave you with a few fun facts about Tiger.
Tiger winning five or more tournaments in a single season wouldn't be as big of a surprise as you think, considering he's done that a ridiculous ten times already in his illustrious career
Since Tiger turned professional in 1996, he's won at least one PGA Tour event every single year in which he made 12 or more starts
Don't worry about THE PLAYERS moving back from May to March. Tiger is the only golfer who has won the tournament in both months
Not many players can say they have won the same golf tournament five times. Tiger can say that about six separate events
Phil Mickelson and Vijay Singh are the only active golfers with 20+ PGA Tour victories on their resume. Tiger has won by four or more shots 24 times
If you think Tiger has a 50% chance of finishing a golf tournament inside the top five, you're actually not too far off. He's done it 46% of the time over the entire course of his career. He's been in the top ten more than 56% of the time
Wrapping It Up
It's still a bit of a mystery as to when and where Tiger will be teeing it up in 2019. However, based on previous years and the information I'm gathering from him and his agent, I bet the schedule I projected will come pretty darn close to what actually pans out.
I've grown up watching Tiger dominate the sport like no man has dominated before, and I absolutely love what I'm seeing from Woods during this "second phase" of his career.
And yes.
I understand the intimidation factor might no longer be present. I'm more than aware of how skilled the top-ranked players in the world are nowadays. But this is still Tiger Woods, and I can promise you one thing.
Next time he gets in contention and finds his name on page one of the leaderboard at a major championship, nobody in the field is going to be surprised. It'll actually be the expectation.