Most Outlandish Prop Bets Available Online Right Now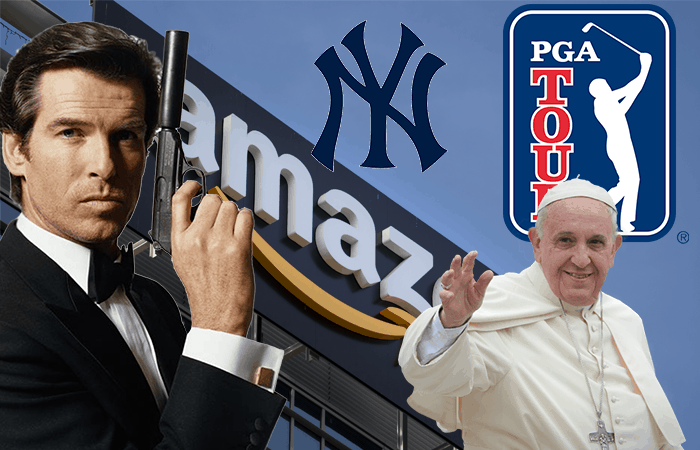 The world of prop bets is constantly evolving. One second you can hop on a wager for who dies next in Game of Thrones, the next one of the greatest shows in television history is nearing its end.
Super Bowl prop bets take over your world for a good week or so, too, but once the big game finally arrives, those enticing wagers quickly disappear.
The point? Prop bets in general are much like moments in life itself – exciting but fleeting as heck.
Because of that, it's pretty crucial to stay on top of the best prop bets the internet has to offer as frequently as you can. After all, not doing so keeps you from enjoying some really fun wagers and also can negatively impact your earning potential.
Nobody wants that, so let's navigate the interwebs to see what the most outlandish prop bets are online right now:
Note: Please keep in mind that even the best prop bets can go away in an instant, but every prop seen in this article was live at the time of this writing.
The Next James Bond
Who doesn't love movies? Heck, who doesn't love James Bond? Combine the two with some betting action and you've got the latest entertainment prop bet at BetOnline – which actor will play James Bond next?
Daniel Craig is rumored to be done with the character following his next (and final) James Bond flick, which has given way to a lot of whispers about who his potential replacement could be.
You can actually find James Bond odds all of the internet, but BetOnline is one of my favorite stops for this wager due to odds and a plethora of options.
Here's how the top five shake out, per BetOnline:
Tom Hardy (+250)
James Norton (+250)
Idris Elba (+500)
Jack Huston (+500)
Tom Hiddleston (+650)
While BetOnline is a great place to bet – and specifically for this wager – they shouldn't be your only stop. Hunting for elite betting value isn't something that ends with prop bets, especially when sites like My Bookie offer the same wager and way more options.
BetOnline offers more value for the leading favorite (Hardy), but it is My Bookie that tacks on a long list of options for the James Bond lead.
Clive Owen, Orlando Bloom and others could return staggering value (+12500) if they somehow land the role.
Next Pope
Oh, boy. You know the betting world is off it's collective rocker when we can start betting on a religious post. I could probably stop there, but this is also a spot that isn't even open at the moment.
Beyond that, My Bookie is offering a laundry list of people who could become the next Pope of the Catholic Church and some of the names included are just ridiculous.
Cardinal Luis Antonio Tagle tentatively leads the way (+330), but it doesn't seem like anyone really has a clue how to approach this wager.
That may indeed be where the smart money lies, but where's the fun in ignoring the likes of Richard Dawkins (+32000) and U2's Bono (+35000)?
I have no clue who the next Pope will be, but it couldn't hurt to do a little research and toss a couple random bets at a plethora of options with playable odds.
PGA Major Wins
Okay, so not all of these prop bets are truly "outlandish", but if you factor in odds and the difficulty, there are some very interesting props and specials to take a look at.
One set resides on the PGA Tour, where bettors can gauge the chances of Dustin Johnson and some of the biggest names in golf securing a major tournament before the 2018 season is up.
Things have only just recently got going and the Masters is coming up, so there remains a lot of time for the stud PGA talent to locate some of that elusive hardware:
My Bookie offers a solid list of talented golfers eyeing a major, but the one with the most intriguing upside is probably Rickie Fowler (+300).
Fowler actually ties with Justin Thomas when it comes to his odds for whether or not he'll win a major this year, but I like him as a more appealing bet. Fowler has been in elite form for much of the past year and already has three top-11 runs in his first five tournaments this season.
Fowler seems to always be in the running for a big tournament win, so getting +300 back for a guy this talented his borderline robbery.
Either way, there are some big names here and there are bound to be some guys who nail some huge wins. Spreading your bets out could make for profitable wagering this year.
Heisman Trophy Winner
Like it or not, some of the best prop bets you're going to find online are bound to be sports wagers. The trick is to locate the ones that both offer plenty of upside, but are also somewhat easy to predict.
I'm not exactly sure how simple it will be to gauge who wins the 2018 Heisman, but there's little denying that Wisconsin running back Jonathan Taylor (+600 at Bovada) at least for the moment leads the way as the top favorite.
He's far from alone, of course. J.K. Dobbins, Tua Tagovailoa and Bryce Love are just three other viable candidates that open next year's race up as serious threats.
The craziness of this prop isn't in it being on the Heisman. It's the fact that there are so many outs and depending on who you bet on, you could be looking at some ridiculous upside.
2018 NFL Draft #1 Pick
From betting on who the best player in college football will be, I'll take you to the pros, where BetOnline and other NFL betting sites ask bettors which player will be taken #1 overall.
This usually ends up being pretty obvious by the time the draft finally rolls around, but this is actually an odd year where it feels fairly wide open.
Not only are the dysfunctional Cleveland Browns making things complicated with the first overall pick, but there is simply a lot of worthy talent this year. That's certainly the case at the quarterback position (which the Browns sorely need), where up to five players could be argued as a viable option.
If Cleveland opted to bypass taking a franchise passer with that top pick (they own a second draft choice inside the top-5), they could open the door to a few other options.
Here's the latest odds for who could go number one in this year's draft:
Sam Darnold, QB, USC (+175)
Saquon Barkley, RB, Penn State (+275)
Josh Allen, QB, Wyoming (+300)
Josh Rosen, QB, UCLA (+450)
Baker Mayfield, QB, Oklahoma (+650)
Minkah Fitzpatrick, CB, Alabama (+2500)
Bradley Chubb, DE, NC State (+3300)
Field – Any Other Player (+1400)
Darnold is shaping up as the safest player here, especially if the Browns wisen up and spend the top pick on a franchise passer. It's impossible to rule out Allen, Rosen or even Mayfield so far, however.
Of that trio, Allen offers the most enticing upside and could potentially offer bettors the most bang for their buck.
Barkley is a viable option if the Browns opt against taking a passer, while the "any" option could bring a few other names into play. Overall, this is a pretty volatile wager with a lot of possible results.
College Football Playoff
The 2018 college football season is still pretty far off, but that doesn't keep bettors from two fun wagers; who will win the national championship and which teams will make up the NCAA's football version of the Final Four.
Bettors have been able to bet on next year's title winner for a while now, but only recently have odds come out for specific team's chances to crack the CFP.
Alabama (-220 to make it) is the most obvious favorite you'll find, but there are some interesting odds for Michigan (+220), Oklahoma (+350) and Penn State (+300) to crack the nation's four-team tournament.
Of that trio, the Wolverines might be the best bet. Jim Harbaugh already has Michigan providing one of the best defenses in the country, but if transfer quarterback Shea Patterson is everything experts think he is, this could be a title-winning team in the making.
Yankees HR Battle
Another crazy sports prop bet you can take on deals with two New York Yankees mashers.
Thanks to the big move that landed Giancarlo Stanton in the Big Apple, BetOnline posted some fun MLB prop bets featuring Stanton competing with New York slugger, Aaron Judge.
The two are teammates now, but there's nothing wrong with some friendly competition for two long-ball artists. After all, the more both of these guys tear the leather off the ball, the more the Yanks are sure to win.
BetOnline bettors can take advantage of these props until the season starts, but time is running out with spring training already under way.
The big one to target is which slugger will hit more home runs:
Giancarlo Stanton (-160)
Aaron Judge (+140)
It's tough to argue against Vegas here. Stanton was a beast last year and that was in a pitcher-friendly zone like Marlins Park. At Yankee Stadium, his numbers could (gulp) actually rise.
Still, Judge at +140 provides amazing value and is going to be awfully difficult to pass up.
Amazon Headquarters
One non-sports prop bet that you'll want to take a gander at is the ongoing decision for where the next Amazon headquarters will be.
Amazon recently narrowed the list down to 20 possible locations in late January and Bovada continues to offer odds for that potential destination.
I'm not going to pretend I know the best way to go here. However, even the favorite Northern Virginia (+260) offers solid value and this seems like a pretty wide open bet. Austin, Texas (+350) ranks second at Bovada and is part of a five-city string of options with +600 odds or better.
That doesn't mean bettors will want to ignore the longshots. This is still a wide-open race, so it's tough to rule out Newark, New Jersey (+3300) or even Miami, Florida (+4000).
Regardless of where Amazon heads next, somebody is destined to make a lot of money simply based on where they end up setting up shop.
Big Brother Brazil
There have been ongoing Big Brother Brazil prop bets, but with things winding down, Bovada is featuring the last wager you'll find for the moment.
That's none other than who will end up winning:
Diego (EVEN)
Lucas (EVEN)
Caruso (+700)
I suggest you actually be a fan and avid follower of the show before laying down hard cash, but no matter who you like, Bovada is offering even money at the very worst. Without knowing a thing about this season's Brazil installment, it's awfully hard to dismiss Caruso's fun +700 odds.
That being said, the top entertainment prop betting sites like Bovada usually don't get these things wrong. Your odds are better rolling with Diego or Lucas.
Again, this is just one of many Big Brother prop bets that you'd find over the course of the year, too. This also echoes my previous sentiment; the online prop bets scene is a constantly evolving beast. If you want to take advantage of the best wagers and odds, you need to monitor it closely and be ready to pounce.
That does it for this look at the most outlandish prop bets available right now. These aren't the craziest props I've ever seen, but you can really only work with what the sites are offering in the moment.
As popular television shows and competitions get going and big events round the corner, more props will be sure to leak out.
The next installment of Dancing With the Stars will provide bettors with a fun entertainment prop, while The Walking Dead, The Oscars and so much more will produce more fun wagers to track in the near future.
Remember to keep an eye out and check back here for our insight as to which prop bets offer the most betting value and overall upside.