Hide Bonus Offers
| | | | | |
| --- | --- | --- | --- | --- |
| #1 | BetOnline Sports | 60% Up To $1,000 | Visit Site | BetOnline Sports |
| #2 | Bovada Sports | 50% Up To $250 | Visit Site | Bovada Sports |
| #3 | BetUS | 125% Up To $2,500 | Visit Site | BetUS |
| #4 | Everygame | 100% Up To $500 | Visit Site | Everygame |
| #5 | MyBookie | 100% Up To $1,000 | Visit Site | MyBookie |
Outfielder Rankings for 2021 Fantasy Baseball

Marcell Ozuna was projected to be in the neighborhood of OF30 in 2020. Instead, the Braves left fielder wound up as the highest-scoring outfielder in all of fantasy baseball. That should tell you about all you need to know about how deep this position is.
Hidden gems are scattered throughout the middle rounds, and there are some sleepers you can grab late that can help you win your league.
Without any further ado, let's get to my 2021 fantasy baseball outfield rankings.
The 10 Best Fantasy Outfielders in 2021
As far as I'm concerned, the four guys at the top are interchangeable. Acuna may have the highest ceiling of the group, but he's also the one with the lowest floor.
In any case, expect all four to be off the board within the first six or seven picks in your fantasy draft.
1 – Mike Trout, Angels
Go ahead and pencil Mike Trout in for a .300+ BA and a .400+ OBP. He'll be among the league leaders in home runs and walks, and he's a good bet to rank 1st in OPS. Considering he's finished 1st or 2nd in AL MVP voting in seven of his nine seasons in the MLB, you'd have a hard time convincing me there's a better hitter in baseball.
Trout's on a clear path toward becoming one of the 10 best outfielders of all time.
2 – Mookie Betts, Dodgers
A .301 career hitter with stout discipline at the plate, the 2018 AL MVP was outstanding during his first season in Los Angeles. The Dodgers leadoff hitter clubbed 16 homers, stole 10 bases, and he finished fourth in the majors in runs scored. This comes after Mookie led the big leagues in runs scored in both 2018 and 2019.
Throw in five consecutive Gold Gloves and we're talking about the ultimate five-tool player.
3 – Ronald Acuna, Braves
41 jacks and 37 steals in 2019 gave us a glimpse at how good Ronald Acuna can be. A wrist injury limited Acuna to 46 games in 2020, and yet he still stuffed the stat sheet and finished among the best fantasy outfielders. He crossed home plate 46 times in those 46 games and registered 14 home runs and 8 stolen bases.
Becoming the fifth player to join the coveted "40-40 Club" (Jose Canseco, Barry Bonds, Alex Rodriguez, Alfonso Soriano) is a genuine possibility.
4 – Juan Soto, Nationals
I'm not even a pitcher and I get intimidated when Juan Soto digs into the batter's box. Soto was a beast during his first two seasons in D.C., and then he exploded in his age-21 season.
Juan Soto in 2020 – By the Numbers
Games
Hits
2B
HR
RBI
SB
BB
SO
BA
OBP
SLG
OPS
47
54
14
13
37
6
41
28
.351
.490
.695
1.185
Juan's .351 clip at the plate led the National League, and he did more than just lead the majors in on-base % and slugging.
Soto's .490 OBP and .695 SLG were the highest single-season marks since Barry Bonds' historic 2004 campaign.
5 – Christian Yelich, Brewers
Let others in your draft be wary about Yelich's disastrous statistics in 2020. Instead, zero in on these hidden numbers:
99th percentile in exit velocity in 2020
98th percentile in hard-hit percentage in 2020
This is a guy who scored more fantasy points in 2018 and 2019 combined than any other outfielder in baseball. Aside from hitting over .325 in back-to-back seasons, Christian is an elite power hitter with tremendous wits on the basepaths. 44 homers and 30 steals in '19 despite missing 32 games allude to his capabilities.
6 – Bryce Harper, Phillies
Marcell Ozuna, Mookie Betts, and Juan Soto. That's the entire list of OFs who score more fantasy points than Bryce Harper in 2020. Bryce's ability to draw walks (led the MLB with 49 BBs last season) made up for his .268 BA, and his durability must be commended.
Case in point – Harper's missed a total of 10 games since 2017.
The Las Vegas native amassed 35 homers and 114 ribbies during his first season in Philly, plus he stole 15 bases. He was on a similar pace in 2020; I doubt much changes in 2021.
7 – Whit Merrifield, Royals
A top-10 fantasy outfielder in each of the last three seasons, forgive Whit Merrifield if he isn't as flashy as some others on this list. All Whit does is keep his head down and produce, not to mention, he comes with second base eligibility.
And if I'm going to laud Bryce Harper for missing just 10 games in the last three years, Merrifield's dependability must be extolled. Whit's played in every game over the last two seasons, and he appeared in 158 games in 2018.
8 – Eloy Jimenez, White Sox
Eloy burst onto the scene as a rookie in 2019, smacking 31 dingers in 122 games. After hitting. 296 with 14 homers and 41 RBI in his sophomore campaign (55 games), Jimenez is firmly entrenched as one of the most enthralling players in the league.
Frankly, something would have to go awry for the 24-year-old Dominican to not end 2021 with at least 35 homers and 105 RBI. Perhaps slotting Eloy 8th in my fantasy OF rankings isn't bullish enough.
9 – Marcell Ozuna, Braves
Credit to Atlanta GM Alex Anthopoulos for retaining Ozuna on a four-year extension worth $64 million. Talk about a sincere bargain, Marcell hit .338 last season and topped the NL in homers (18) and RBI (56). Nobody in the NL racked up more total bases, and I'd argue that Ozuna is in a better position to succeed than any other batter in baseball.
Hitting behind Ronald Acuna and Freddie Freeman gives the Braves the best "1-2-3" in the majors.
10 – George Springer, Blue Jays
The most sought-after free agent this winter rounds out the top-10 fantasy outfield rankings. George Springer probably won't hit over .300, and he's no longer a threat to steal 15+ bases. On the flip side, he's generated video-game-like power numbers at the plate over the last two seasons.
George Springer's Power Surge Since 2019
Games
At-Bats
Home Runs
RBI
Batting Avg.
173
668
53
128
.284
Not bad for your leadoff hitter. Springer will set the table at the top of the Blue Jays order and be the catalyst for one of the best lineups in the MLB.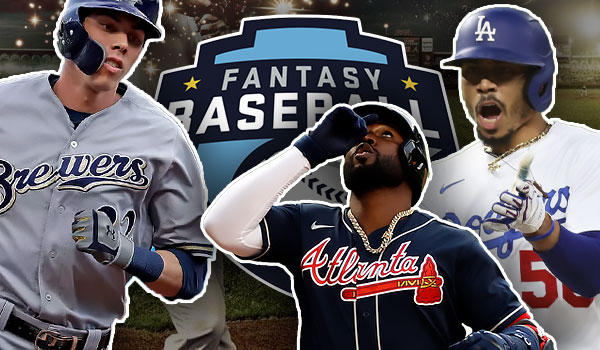 Outfield Rankings Continued (11-60)
11. Kyle Tucker, Astros
12. Cody Bellinger, Dodgers
13. Luis Robert, White Sox
14. Mike Yastrzemski, Giants
15. Trent Grisham, Padres
16. Charlie Blackmon, Rockies
17. Yordan Alvarez, Astros
18. Dominic Smith, Mets
19. Randy Arozarena, Rays
20. Aaron Judge, Yankees
21. Starling Marte, Marlins
22. Michael Conforto, Mets
23. Jeff McNeil, Mets
24. Michael Brantley, Astros
25. J.D. Martinez, Red Sox
26. Cavan Biggio, Blue Jays
27. Alex Verdugo, Red Sox
28. Teoscar Hernandez, Blue Jays
29. Nick Castellanos, Reds
31. Lourdes Gurriel, Blue Jays
32. Eddie Rosario, Indians
33. Brandon Lowe, Rays
34. Dylan Carlson, Cardinals
35. Dylan Moore, Mariners
36. Max Kepler, Twins
37. Clint Frazier, Yankees
38. Joey Gallo, Rangers
39. Kole Calhoun, Angels
40. Austin Meadows, Rays
41. Ryan Mountcastle, Orioles
42. Will Myers, Padres
43. Trey Mancini, Orioles
44. Ramon Laureano, Athletics
45. Victor Robles, Nationals
46. A.J. Pollack, Dodgers
47. Anthony Santander, Orioles
48. Andrew Benintendi, Royals
49. Tommy Edman, Cardinals
50. Aaron Hicks, Yankees
51. Chris Taylor, Dodgers
52. Mark Canha, Athletics
53. Ian Happ, Cubs
54. Andrew McCutchen, Phillies
55. Lorenzo Cain, Brewers
56. Kyle Schwarber, Nationals
57. Mitch Haniger, Mariners
58. Brandon Nimmo, Mets
59. Hunter Renfroe, Red Sox
60. Raimel Tapia, Rockies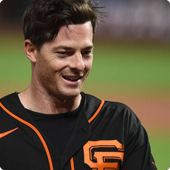 So maybe I was being a bit brash regarding Kyle Tucker when I released a six-pack of bold MLB predictions in early January. However, if Kyle doesn't wind up as to be one of the top-10 fantasy batters in 2021, I certainly think he'll land among the top 20.
The 23-year-old got his first chance to play full-time in Houston last year, and he did anything but disappoint. Nine homers and 42 RBI were intriguing across 58 games, but it's his eight steals and major-league leading six triples that really caught my attention.
In terms of an outfielder I'm higher on than most fantasy baseball OF rankings you'll encounter, Mike Yastrzemski immediately comes to mind. Sure, his last name might be hard to pronounce, but he keeps things super simple at the dish.
If you're not impressed with his robust stat line from 2020 (.297/.400/.568), know that "Yaz" posted a 2.5 WAR. To put that number in perspective, it was tied with Fernando Tatis Jr. for the 7th-highest WAR among all MLB batters.
Diving into the depths of the late-round action, it's important to unlock a couple of fantasy baseball sleepers toward the tail-end of your draft. A name who should be available that I recommend latching onto is Kole Calhoun.
The left-handed right fielder bashed a career-high 33 longballs in 2019 before being he was shipped off to Arizona. Born and bred in Tempe, AZ, Calhoun looked right at home leading the D-Backs in homers (16) runs (35), and RBI (40). Kole finished the year as OF9 one season after finishing as OF27 – I have no idea why so many touts have him outside the top-60 in their fantasy baseball outfield rankings.
Don't be afraid to pull the trigger on Calhoun two-three rounds before his suggested ADP.
Fantasy Baseball Rankings in 2021
With so many worthy outfielders available late in fantasy drafts, don't go overboard early loading up on OFs. Instead, secure your infield and make sure your pitching staff is shaping up nicely before you start worrying about who your fourth and fifth outfielders will be.
Here's a strategy to consider.
Spend one of your first three selections on one of the top-10 outfielders, and pair him with Mike Yastrzemski and Trent Grisham within the first 90 picks in your draft. Make sure to steal Kole Calhoun late and your OF will be in good hands.
Now it's time to make sure you're prepared to fill out the rest of your roster.