One Bold Prediction for Every NFL Team in 2021

The NFL headlines since the draft was completed have been dominated by the Aaron Rodgers saga in Green Bay.
Will the front office trade Jordan Love and try to make amends, or is the damaged relationship between A-Rod and the organization already beyond repair?
With the future of the reigning MVP still up in the air, it's difficult to forecast what's going to happen with the Packers. However, we can still stake claim to some bold predictions.
In alphabetical order, here is a hot take for every team in the NFL heading into 2021.
Arizona Cardinals – Zaven Collins Wins the 2021 DROY
8th in line at the top NFL betting sites with +1400 odds, you might want to snag a ticket on Zaven Collins being honored as the top rookie in 2021.
If drafting him 16th overall doesn't tell you how highly the Cardinals think of their rookie linebacker, know that owner Michael Bidwell didn't just send a plane to pick up Collins from Tulsa following the selection.
Bidwell was in the cockpit flying the plane himself.
Set to anchor the middle level of the Arizona defense alongside last year's first-round pick Isaiah Simmons, look for Collins to be flying around the field on all three downs as a rook. Zaven took two of his four interceptions to the house in 2020 and racked up 236 tackles in 24 college games.
Atlanta Falcons – Atlanta Makes the Playoffs
Coming off a 4-12 campaign, projecting the Falcons to make the playoffs may sound a little far-fetched to some. Dig closely into the numbers and study the offseason activity and it's well within the cards.
Check out this table portraying a handful of NFL team's point differential and you will see what I mean about Atlanta not being as far off as you think.
NFL Point Differential in 2020
Team
Record
Point Differential
Cleveland Browns
11-5
-11
Atlanta Falcons
4-12
-18
Denver Broncos
5-11
-123
Detroit Lions
5-11
-142
Minnesota Vikings
7-9
-45
New York Giants
6-10
-77
Dallas Cowboys
6-10
-78
Los Angeles Chargers
7-9
-42
Las Vegas Raiders
8-8
-44
New England Patriots
7-9
-27
Between injuries, poor coaching, and a bit of bad luck, nothing went right for the Falcons. Enter Arthur Smith to lead the offense and Dean Pees to head the defense. Throw in Kyle Pitts.
It all adds up to the +275-price tag attached to Atlanta making the playoffs being a pretty sweet bargain.
Baltimore Ravens – Ben Cleveland Starts from Day 1
Eric DeCosta executed a brilliant draft. You can put that on repeat every offseason. I could talk about how much I like Rashod Bateman or how talented Jayson Oweh is, but I am here to extoll "Big Country."
The 6'6" 345-pound interior offensive lineman was a mauler at Georgia and lit up the tape at his pro day. His RAS score (Relative Athletic Score) was 9.63 – or "elite."
Linemen picked 94th overall typically take some time to develop – that won't be the case with Ben Cleveland. I expect Bradley Bozeman to be kicked inside to center, paving the way for Cleveland to start at left guard straight from the get-go.
Buffalo Bills – Cole Beasley Catches 90 Balls and Goes Over 1,000 Yards
Cole Beasley's name won't come up in a discussion of the best wide receivers in football. In terms of the most reliable slot options in the league and a viable #2WR in PPR fantasy leagues, Beasley is that guy.
Cole's 76.8% catch rate ranked inside the top 5 among all NFL wideouts in 2020. Among those who hauled in at least 40 balls, Beasley clocked in second behind only Curtis Samuel.
As for his security in this offense, Brandon Beane drafted just one wide receiver. And that was in the 6th round.
Based on Cole's trajectory playing alongside Josh Allen, 90-1,000 might be a modest projection.
Cole Beasley – By the Numbers in Buffalo
Year
Games
Targets
Catches
Yards
Touchdowns
Yards/Game
Yards/Target
2019
15
106
67
778
6
51.9
7.3
2020
15
107
82
967
4
64.5
9.0
Carolina Panthers – Brian Burns Finishes Top-5 in Sacks
After Brian Burns stood out with 7.5 sacks as a rookie, the former DE at Florida State amassed 9 sacks in his sophomore campaign. That was tied for the 14th-most in the National Football League.
Not bad considering Carolina only blitzed on 24% of their plays (24th in the NFL) and finished with just 29 sacks as a team (23rd in the NFL).
Burns does not possess the raw power like a Myles Garrett-type of rusher, but boy is this dude quick of the snap. Strapped with an arsenal of moves and sick juking ability, Burns puts left tackles in a blender when he busts out his spin.
When it is all said and done, I am saying 12-14 sacks on his 2021 resume.
Chicago Bears – Dazz Newsome Emerges as the Bears Slot Receiver
Pegging Chicago's sixth-round pick to emerge as a starter is certainly a bold prediction. Currently buried on the Bears WR depth chart, Newsome must climb several rungs on the ladder to earn meaningful snaps.
Damiere Byrd, Anthony Miller, and Javon Wims are all slotted ahead of Dazz – and that is just the "slot receiver position." Allen Robinson and Darnell Mooney will occupy the two-WR sets.
A deeper look at why the Bears nabbed Newsome offers some insight.
According to Adam Schefter, Chicago has been actively shopping Miller and Wims, along with Marquise Goodwin and Riley Ridley. It sounds like Ryan Pace is warming up to the idea that the UNC rookie can make an impact right away.
"Extremely productive slot receiver and also a good punt returner. We spent a lot of time watching tape on Dyami Brown and we kept noticing this player too."
Cincinnati Bengals – Joe Burrow Leads the NFL in Passing Yards
Joe Burrow was on his way to a fruitful rookie year before his season was cut short due to injury. Joe's 268.8 passing yards/per game ranked 7th in the NFL and he was doing a fabulous job getting the ball out quickly.
According to NFL Next Gen Stats, Burrow ranked 4th in the NFL through week 10 in expected completion % on throws under four seconds.
Cincinnati's 6.5-game win total tells me the "Bungles" should be trailing in plenty of games, and Burrow's leash is as long as any QB around.
I would have loved to see Cincy do more to add to their protections scheme but tossing Ja'Marr Chase into the mix is a sweet consolation.
Integrated into a three-WR set alongside Tee Higgins and Tyler Boyd, the Bengals are armed with one of the explosive passing attacks in the league.
Cleveland Browns – Demetric Felton Catches 50 Balls
With Nick Chubb and Kareem Hunt each locked in for a big load, some may wonder how 6th-round pick Demetric Felton fits into the equation.
Easy.
The UCLA product should handle a chunk of the third-down duties and passing downs out of the backfield and will also line up as a receiver.
Felton reeled in 55 passes for 594 yards and four scores as a junior and caught 22 balls in six games last season. Those fooled into thinking his 4.58 40-time tells the story about his speed, this dude is "football fast."
"At the Senior Bowl while wearing GPS tracking data, Felton clocked at 19.78 miles per hour – which was faster than first-round selection Kadarius Toney, who ran an official 4.39."
A thin wide receiving corps in Cleveland should give Demetric an opportunity to shine.
Dallas Cowboys – Finish Last in the NFC East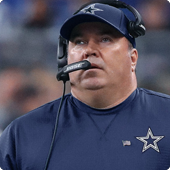 You want a bold NFL prediction, here you go.
Heavily favored to win the NFC East at every online bookmaker and casino in Las Vegas, all signs are pointing toward Dallas getting back on track.
Dak Prescott is coming back, and the team did a nice job during the draft addressing their defensive shortcomings.
Between the Cowboys starting trio of wideouts and Zeke and Tony Pollard in the backfield, you can argue that Dak's weaponry is as potent as any supporting cast in football.
Now I will play devil's advocate.
Washington, New York, and Philly weren't twiddling their thumbs after combining for 17 wins in 2020. The Football Team and the Giants bolstered up during free agency, while the Eagles brought in a fresh coaching staff and walked out of the draft feeling great about their execution.
Speaking of a new coaching staff, that's exactly what Jerry Jones may have to dial-up in 2022. The complete disarray of Mike McCarthy is palpable.
Denver Broncos – Javonte Williams Out-Gains Melvin Gordon
I was high on Javonte Williams throughout the draft process – he was my RB1 in my 2021 running back rankings all the way until the end.
Not only is his addition bad news for Royce Freeman and Mike Boone, but it also spells trouble for anyone who owns Melvin Gordon in their dynasty league.
Remember that Denver did not just draft Williams early in the second round. They traded up five picks to ensure they didn't miss out.
After a superlative junior season averaging 7.3 yards/carry and scoring 22 touchdowns, I guess I wasn't the only one who had Javonte rated as the top RB in this class.
PFF did and check out this excerpt from Josina Anderson's Twitter account.
NFL team source just now to me on @UNC RB Javonte Williams: "He's the best RB in the Draft. He has the ability to be a 1000y rusher & receiver like @CMC_22. He's as physical as @NickChubb21, as gifted as @A_kamara6 on 3rd down and as patient as @LeVeonBell. He is the MF truth."April 30, 2021
Detroit Lions – Amon-Ra St. Brown Leads Detroit WRs in Receptions
Quintez Cephus is the only wide receiver on the Lions roster who caught a pass for this team in 2020.
Kenny Golladay and Marvin Jones are gone. So is Danny Amendola, Mohamed Sanu, and Damion Ratley. The team inked Tyrell Williams, Breshad Perriman, and Kalif Raymond to help curb these losses, but none of these pass-catchers have established a rapport with Jared Goff.
I view Amon-Ra St. Brown as the newcomer most likely to step up. Amon-Ra's got quick feet and great hands – creating separation off the snap is where he does his damage.
Like Goff, St. Brown is a Cali kid and Pac-12 product. He happens to share a lot of the same attributes as Cooper Kupp, and there's little competition ahead of him to take over in the slot.
Green Bay Packers – Aaron Jones Won't Be a Top-10 Fantasy RB
Whether you played in a standard, ½ PPR, or full PPR league, Aaron Jones finished 2020 as a top-5 fantasy RB.
He ran for over 1,100 yards, caught 47 passes, and scored 11 touchdowns. Jamaal Williams signed with the Lions and the Packers paid Jones the wad.
If Aaron Rodgers ends up staying, this likely ends up looking like a foolish prediction. But that's a big if.
A huge part of Jones' success on the ground is predicated on the defense being so keyed in on Rodgers. A-Rod's potential departure is one major concern for fantasy owners of Jones. Another?
Second-round pick AJ Dillon was productive in his chances (5.3 ypc) and is likely to see an increased role around the goal line. Dillon should get mixed in on first and second down as Jamaal Williams did a season ago.
Houston Texans – 15 or More Losses in 2021
A couple of months ago I would have gone with "Deshaun Watson won't see the field," but that's not even close to a bold prediction anymore.
After drafting Davis Mills with their first selection, the growing sense around the league is Watson is unlikely to suit up in 2021.
Frankly, pegging the Texans to lose 15 or more games is not all that bold either. They went 4-12 last year with Deshaun before going through the most calamitous off-season in recent memory.
From the Watson saga to giving J.J. Watt away for free, the current roster in Houston stands little chance of being competitive.
We haven't seen a front office this incompetent in as long as I can remember.
Indianapolis Colts – Carson Wentz is an MVP Candidate
Reunited with Frank Reich, a trade to the Colts could not have worked out any better for Carson Wentz.
The former signal-caller in Philly played his best football in 2017 when Reich was the Eagles OC. The familiarity with Reich and his system will lead to a smooth transition, and it is clear that Wentz's carrying a chip on his shoulder.
Remember when Carson was throwing to a group of guys who were essentially signed off the street?
Fast forward to 2021 and he will be playing pitch and catch with Michael Pittman Jr. and T.Y. Hilton. Parris Campbell is a speedster who can get open and the Colts stable of running backs is as impressive as any in the league.
Did I mention that you will be hard-pressed to find a more dependable offensive line than the one that'll be protecting Wentz?
Installed at +2800 to win the NFL MVP in a few spots, you can find Wentz at +4000 at lots of reputable sites.
Jacksonville Jaguars – Joe Schobert Collects 160+ Tackles
Rather than chime in with my two cents about Trevor Lawrence or Urban Meyer, I am here to praise the Jags middle linebacker.
The NFL's leader in tackles in 2017 was "as advertised" in his first year in Jacksonville totaling 100+ tackles for the fourth straight season.
Joe Schobert Is a Tackling Machine
Year
Games Played
Tackles
NFL Rank
2017
16
144
1
2018
13
103
35
2019
16
133
10
2020
16
141
4
As the Jaguars transition to a new defense put in place by Joe Cullen, Schobert will remain the heart and soul of the middle level. And he won't come off the field.
Schobert played 100% of the defensive snaps in 10 games last season. He played at least 95% of the defensive snaps in the other six.
Kansas City Chiefs – CEH Will Be a Top-10 Fantasy RB
Le'Veon Bell and Damien Williams are out of the picture for good and the Chiefs didn't draft any RBs. Unless you view Jerrick McKinnon as a guy who is going to eat into Clyde Edwards-Helaire's workload, CEH is positioned to be a steady contributor in 2021.
Between his ability as a pass-catcher and how often KC visits the red zone, things are setting up too favorably for Edwards-Helaire to fail as a fantasy running back.
Clyde received 9 of the 11 running back carries in the Super Bowl and is clearly someone who Andy Reid trusts.
Other than possibly mixing Cornell Powell into some sets, no newcomers arrived who are going to take touches away from Edwards-Helaire.
To further shed light on where I stand in regard to CEH's fantasy value, here are some running backs I would pass on in favor of Edwards-Helaire.
Aaron Jones
Ezekiel Elliott
Najee Harris
Antonio Gibson
David Montgomery
Joe Mixon
Las Vegas Raiders – Mike Mayock Will Be Fired
Once again, Mike Mayock reached with a first-round pick. Plucking Alex Leatherwood at #17 wasn't as egregious as drafting Damon Arnette 19th overall (in 2019), but most experts had Leatherwood penciled in as an early day two pick.
Keep in mind – Mayock also reached for Clelin Ferrell in his first year on the job – that hasn't panned out at all.
Knowing the offense needed more to surround Darren Waller, the Raiders GM decided to spend $11 million on a backup running back and did not draft a single pass-catcher with any of his seven selections.
That leaves Henry Ruggs and Bryan Edwards locked into the two-WR sets with Hunter Renfrow in the slot.
Even as a Las Vegas resident, I am having trouble finding reasons to have faith in the former draft analyst. My gut tells me the Raiders miss the playoffs in 2021 and Davis pulls the plug on Mayock.
Los Angeles Chargers – Win 11+ Games/Make the Playoffs
The Chargers are listed at +135 to make the playoffs. I booked this one quickly, you can grab a piece too by heading to BetOnline.
Justin Herbert is a star-in-the-making, that couldn't be any more blatant. Rashawn Slater fell right into LA's lap and gives Herbert a bonafide stud at left tackle for the foreseeable future.
Corey Linsley, Matt Feiler, and Oday Aboushi arrive via free agency and immediately plug in as starters. Bryan Bulaga is back and invigorated, this is a complete offensive line.
I love the addition of Josh Palmer, a 6'2" wideout out of Tennessee who can stretch the field and create space for Keenan Allen to operate. Asante Samuel Jr. is a versatile defensive back that will boost the secondary significantly.
Brandon Staley was my favorite hire off the offseason, and he just so happens to inherit a roster that's ready to contend right away.
So yeah, I think the Bolts will be among the seven AFC teams that make the playoffs in 2021.
Los Angeles Rams – Tutu Atwell Carves Out a Genuine Role
After tipping the scales at just 149 pounds at the medical combine, some NFL executives were writing Tutu Atwell off. Not Sean McVay, who was likely the one who convinced ownership to pull the trigger on Atwell at #57.
Given Los Angeles utilized their first pick in the draft to snag Tutu off the board, my guess is they have some big plans for the burner out of Louisville.
Atwell turned 69 receptions as a sophomore in 2019 into 1,272 yards (18.4 yards/catch) and 11 touchdowns. He may be small in stature, but I can assure you he doesn't lack confidence.
After being chosen by the Rams, Atwell offered the following statement.
"I just need the ball in my hands, and I'll show you everything else. I give you my word."
Miami Dolphins – This Will Be Tua's Final Year in Miami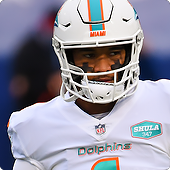 It seems almost impossible for Tua not to succeed given the masterful job Chris Grier has done revamping the roster in Miami. The Dolphins needed speed on offense – in comes Will Fuller and Jaylen Waddle.
Hunter Long is a well-rounded tight end and Liam Eichenberg is good enough to start right away.
There will be no excuses for Tagovailoa in 2021, but there are also no guarantees he develops into an adequate starter.
Tua's 6.3 yards/attempt ranked 29th in the NFL in 2020. His 52.5 QBR was the 26th best and he threw a total of 11 touchdowns in 10 games.
As much as the public is pushing for him to succeed, there are genuine flaws in his game that I'm wary will hold him back. His mobility in the pocket and ability to extend plays out of it are simply not up to par.
Minnesota Vikings – Win a Playoff Game
Hanging out at +120 to stamp their ticket into the postseason, a bet on the Vikings to make the playoffs is one of my favorite futures on the board.
I didn't think it was daring enough to qualify as one of my bold predictions for the 2021 NFL season, so I took it a step further.
I'll say the Vikings win a game in the playoffs. Maybe a couple.
Mike Zimmer was disgusted with his defense last year – the good news is the Minnesota D will look nothing like it did in 2020. Patrick Peterson and Dalvin Tomlinson were great FA acquisitions, while Danielle Hunter returns to anchor the defensive line.
Chazz Surratt and Patrick Jones II will compete for snaps in what could very well be a top-10 unit.
Leaning on Christian Darrisaw, a top-3 RB, and a pair of top-10 wideouts, Kirk Cousins won't have any more excuses.
New England Patriots – Finish the Season Under .500
If you told me Mac Jones would start from day one, I'd probably pick the Pats to make the playoffs. Under the assumption that it will be Cam Newton, I'm reluctant to think they'll even sniff the postseason conversation.
Instead of ripping Cam's mechanics and referring to his horrendous passing stats from 2020, let me remind you what the Patriots wide receiver room consists of.
Kendrick Bourne
Nelson Agholor
Jakobi Meyers
N'Keal Harry
Gunner Olszewski
Kristian Wilkerson
Matthew Slater
Tre Nixon
Isaiah Zuber
Most NFL touts have not heard of half of these guys and the other half leave the fans in Foxborough yearning for more. The personnel on defense is vastly improved, but the level of intensity just isn't the same with Tom Brady no longer present.
The Bills are a Super Bowl contender, and the Dolphins and Jets got a lot better. The Patriots finishing last in the AFC East isn't out of the realm.
New Orleans Saints – Taysom Hill Answers the Bell and Thrives at QB
I think fans want to see Jameis Winston get a shot, but I think Sean Payton believes that Taysom Hill gives his team a better opportunity to win.
Therefore, in the end, I see Hill emerging out of this quarterback competition. From there, I see him grabbing the bull by the horns.
Before you judge Taysom on last year's sample size under center, remember that he was training and working year-round to be the best "Swiss-army knife" that he could be.
With a full offseason of preparation as a full-time quarterback, I think the sky is the limit. Studying quarterbacks across the league, it's a short list of names who are as dynamic as Hill.
New York Giants – Kadarius Toney is a Bust
Like many NFL draft gurus around, I was miffed by the Giants selecting a wide receiver with their first pick. They have Kenny Golladay and Darius Slayton on the outside and Sterling Shepard in the slot. They also took a shot on John Ross in free agency, remember him?
Ross holds the record for the fastest 40-year dash in NFL Combine history (4.22 seconds) and could be a huge asset thanks to a change in scenery.
Throw in all the touches that Saquon Barkley will command, on top of two tight ends (Evan Engram and Kyle Rudolph) that will be a part of the game plan.
There are just not enough balls to go around to Toney.
Despite being the fourth WR taken in the Draft, I'll say at least 10 rookie wide receivers outperform Kadarius Toney in 2021.
New York Jets – Michael Carter is the RB1 in New York
A running back drafted on day three typically doesn't head into the season with genuine aspirations of being the starter.
However, this is a unique situation. As far as battling others for touches in the Jets backfield, Carter's staring at Lamical Perine, Ty Johnson, and the corpse of Tevin Coleman.
Watch these highlights and tell me if any of the names have what it takes to hold off Carter.
I didn't think so.
Fresh off shredding ACC defenses to the tune of 8.0 yards per carry, Carter is an electric RB capable of playing on all three downs. Those caught up in UNC's other big-time RB, don't lose track of the Jets 4th-round pick.
Philadelphia Eagles – Win the NFC East
Philly is coming off a four-win season and has a new coaching staff in place. They have the highest odds to win the NFC East among all four teams in the division, and rightfully so.
Nevertheless, here is why the Eagles make sense as a buy-low candidate, aside from their divisional foes having their own issues to deal with.
Trading up to nab DeVonta Smith and drafting Landon Dickerson next was a clear sign that this organization is committed to developing Jalen Hurts. I think that's a good thing given his uncanny dual-threat abilities.
Aligning with Nick Sirianni's desire to run the ball efficiently, Howie Roseman cooperated by beefing up the RB room.
Drafting Kenneth Gainwell and signing Kerryon Johnson wasn't the best news for Miles Sanders fantasy owners, but it's a positive situation for the offense as a whole.
The defense can't play much worse than it did in 2020 – the addition of Anthony Harris in the secondary and a load of young talent in the trenches ensure this unit improves.
Pittsburgh Steelers – Ben Roethlisberger Gets Benched
As I near the end of my bold NFL predictions for all 32 teams, here's a hot take on the Steelers.
Dwayne Haskins gets a shot under center in 2021, and it's not because Ben Roethlisberger goes down with an injury. It's because Ben Roethlisberger gets benched.
Rather than revel in what Big Ben has accomplished during his illustrious career, let's focus on the here and now. The NFL is a "what have you done for me lately type of business" and Roethlisberger isn't getting it done.
Since leading the league in interceptions in 2018, Ben has started 17 regular-season games. He's averaging 6.2 yards per attempt during that stretch.
That's 32nd in the NFL behind guys like Alex Smith and Andy Dalton.
He is still a gunslinger, it's just that his efficiency and dependability have waned considerably. According to stats from footballoutsiders.com, Roethlisberger led the NFL with 10 dropped interceptions in 2020.
Look for 2021 to be the last hurrah for the 39-year-old QB.
San Francisco 49ers – Trey Sermon Is the Top Rookie RB
I think we will see a lot of Trey Lance and very little Jimmy Garoppolo, but that's old news at this point. A take that's a little brasher is that Trey Sermon ends the season with the most rushing yards of any rookie running back.
Sermon will likely start the year as the "1B" to Raheem Mostert as the "1A," but Kyle Shanahan has big aspirations for the Ohio State product.
Remember, the Niners did not wait around for this Trey to fall into their lap either. Just like they traded up to draft Lance, San Francisco traded up to secure Sermon.
Teams don't sacrifice two picks and trade up for an RB if without a sincere plan in place.
From being one of my favorite running backs coming out of the draft to landing in a great situation, toppling 1,000 yards as a rook won't be out of the question.
Seattle Seahawks – Rashaad Penny Breaks Out
After not picking up his fifth-year option, Rashaad Penny is set to become a free agent at the end of the season.
The first-round pick in 2018 simply hasn't panned out, but Rashaad's shortcomings have more to do with the fact that he hasn't been able to stay healthy.
A torn ACL late in 2019 cost Penny nearly all last year and propelled the Seahawks to extend Chris Carson through 2022. Having said that, Rashaad is healthy entering 2021 and had shown signs of progression before he got hurt.
After averaging 4.9 yards per carry in his first year, Penny averaged 5.7 yards per tote in his second season. Even Carson could not help but praise what his backup brings to the table when healthy.
"We both bring different things to the game, different attributes, but we complement each other so well. I just feel like his limit is ridiculous once he starts getting his feet wet in the game. I think it'll be something special."
Tampa Bay Buccaneers – Devin White Wins the 2021 DPOY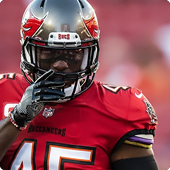 After flashing his skills as a rookie with four fumble recoveries and a couple of touchdowns, Devin White took his game to a whole other level in 2020.
One of five players to accumulate at least 140 tackles, Devin's the only one in that group who had more than three sacks. And he had nine.
White was flying around the field making plays for the Bucs all season long, and the most satisfying part was he played even better in the playoffs.
After being forced to sit out in the wild card round, Devin played 100% of the defensive snaps in Tampa's final three games. He intercepted two passes, recovered two fumbles, and his 38 tackles were 12 more than anyone else in the playoffs.
Entering his third year entrenched in the middle of a stout Buccaneers defense, I don't see anyone impacting the game on this side of the ball more than Devin White.
Tennessee Titans – Jeffery Simmons Turns in a Pro Bowl Campaign
Jeffery Simmons was a force to be reckoned with in 2020. The 23-year-old defensive tackle finished the season with an 83.9 PFF grade – the highest among all second-year defenders in the league.
Jeffery's dominance led to him attracting attract double- and triple-teams in the second half of the season, explaining the gradual drop-off from a statistical perspective.
Thanks to acquiring Bud Dupree and Denico Autry in free agency, Simmons should once again find himself engaged in lots of one-on-one opportunities. That bad news for whoever is playing quarterback against the Titans.
Mike Vrabel noted Jeffery's leap by applauding his progressions as a leader and his willingness to be accountable. As prodigious as Simmons' skill set is, we're looking at a ready-made recipe for a Pro Bowl defender.
Washington Football Team – Ryan Fitzpatrick is a Top-12 Fantasy QB
I'll refrain from talking about the rumors that Washington might be sticking with "Football Team" as their permanent name. Noah Davis hashed that topic out in a blog dedicated to betting on the Washington Football Team name change.
The goal here is to pass along my belief that Ryan Fitzpatrick will outscore a whole bunch of prominent names in terms of their fantasy output.
First and foremost, Fitz's weapons are legit. From Terry McLaurin and Curtis Samuel to Logan Thomas and Dyami Brown, Washington's pass-catching core is no joke.
Secondly, the 38-year-old journeyman won't be afraid to sling it around playing in a division with some pretty sketchy secondaries.
Finally, Fitzpatrick has been a way better fantasy quarterback than you probably give him credit for. In fact, he's generated QB1 numbers (top-12 for the week) in half of his starts over the last four seasons. That includes seven games in which he attempted 18 or fewer passes.
NFL Betting in 2021
After soaking up bold NFL predictions for all 32 teams, surely you're in the mood to fire in some bets.
You know about the futures markets – from betting on division winners and the individual awards to who wins Super Bowl 56. But that's just the tip of the iceberg.
You can bet on the performances of rookies in a variety of ways. Heck, you can even get money down on whether Tim Tebow plays in a game this season. Check out the posts below for more on those topics.
AUGUST
Casino of the Month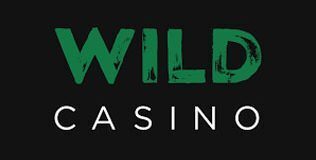 Welcome Bonus
250% up to $5,000
Read Review
Visit Site