Ohio State vs. Michigan: Why the Buckeyes Are Going to Win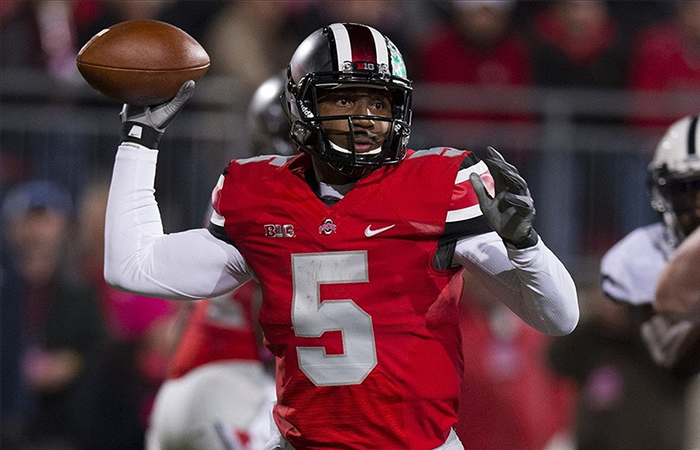 The Ohio State Buckeyes aren't guaranteed anything as they prepare for a monumental clash with the hated Michigan Wolverines this week. If they can come away with a win, however, they just might punch their ticket into the 2017 College Football Playoff.
Urban Meyer's Buckeyes have dominated this series lately, ripping off four straight wins and going 2-0 since he took over at Ohio State. On Saturday they'll have the clear edge to do so again, as they host a Wolverines team that could be without their starting quarterback and doesn't seem to have enough offensive firepower to come away with the upset.
In what could ultimately be a very intense game, all we know for certain is both teams are fully capable of enforcing their will and the games don't get bigger than this:
Betting On The Game
An upset is precisely what would be taking place if Michigan stormed Ohio Stadium and got the win, as most online betting sites are giving the Buckeyes a comfortable -7 spread to get the ball rolling.
The advantage makes plenty of sense, too, seeing as both teams sport elite defense, depend on their rushing attack and one is much more explosive and more dynamic than the other.
That title belongs to the Buckeyes, who rank third in defense in college football, allowing just three more points (13) more than Michigan on the year. Suggesting one defense is better than the other at this point is truly splitting hairs, as Ohio State has a solid run defense (18th) and comes in ranked third against the pass.
Ohio State's play against the pass is especially troubling for the Wolverines this week, seeing as normal starting quarterback Wilton Speight (shoulder) is in doubt to hit the field. His backup, John O'Korn, couldn't even top 60 passing yards last week, further suggesting Michigan badly needs to dominate offensively on the ground to have a chance.
The Buckeyes could give way on the ground, but a top-20 run defense isn't exactly a slacker unit, either.
On the other side, the Buckeyes have an even clearer edge. They don't rely on the pass, but instead try just like the Wolverines to barrel defenses over with the nation's 8th-ranked running game.
Matchup Preview
The harsh reality here is the Wolverines might be in seriously bad shape in the passing game, they're on the road in a hostile environment and they haven't beaten Ohio State in over four years.
It's tough to expect that to change now. Urban Meyer gets his teams ready for big games and the Buckeyes – #2 in the nation right now – have their sights on a spot in the 2017 College Football Playoff and a showdown with the Alabama Crimson Tide in the national title game.
It's not even a lock that they get there just yet, but Ohio State knows a big home win versus the Wolverines gets them one step closer to punching that ticket.
If the Wolverines were 100% and a little more explosive, betting on Michigan might make more sense. However, the Buckeyes have the clear home field edge and are the more dynamic offense. Even if this stays a tight, low-scoring game, the Wolverines more than have their work cut out for them.
One kicker could be the weather, as this game is expected to be cold and possibly windy. That could toss any real impact from either passing game out of the window, which would put an even greater emphasis on both running games and defensive play.
These defenses could very well be a wash, while the rushing game edge is a minor win for the Buckeyes – especially at home. After all, the Buckeyes' only loss in 2016 came on the road against a solid Penn State team, while the Wolverines' lone defeat came on the road against a bad Iowa team.
From a home/away and strength of schedule perspective, Ohio State unsurprisingly again has the edge.
A blowout either way is tough to bank on, given the defense for both sides and the likely weather conditions, but history isn't kind to Michigan here, either. Obviously we know the Buckeyes have won the last four meetings, but the last two with Urban Meyer running the show have been downright ugly – and one-sided.
More specifically, Ohio State won both of the last two meetings with the Wolverines by at least 14 points, and last year in Jim Harbaugh's debut season with his alma mater, Meyer handed Michigan a devastating 42-13 blowout loss.
One other factoid that could be problematic for the Wolverines is they haven't enjoyed much success on the road in this Big 10 series. Their last win came at home in Ann Arbor back in 2011, but their last win in Ohio came back in 1997. Between then and now, the Wolverines have won just twice overall, too, with Ohio State going on a disgusting (and scary) 14-4 run.
The Buckeyes Will Win – Here's Why
Finding a winning argument for the Wolverines this week isn't easy. Ohio State is more talented, deeper, at home and arguably better coached. We're probably in for an intense game and covering the spread feels tricky, but the Buckeyes aren't about to let the Wolverines come in and take away their shot at the College Football Playoff.
If you're looking for a fun upset, you could pull for the Wolverines to dominate with their running game and to shut the Buckeyes down on the other side. Their defense is certainly good enough to make that happen and Jabrill Peppers is an x-factor no one can ignore.
However, the Buckeyes have every advantage you could note and Vegas has them as the clear favorite. We can buy Michigan grinding this one out and keeping it a game, but this is Ohio State's game to lose.
Pick: Buckeyes 20, Wolverines 17