Hide Bonus Offers
| | | | | |
| --- | --- | --- | --- | --- |
| #1 | Bovada Sports | 50% Up To $250 | Visit Site | Bovada Sports |
| #2 | BetUS | 125% Up To $2,500 | Visit Site | BetUS |
| #3 | MyBookie | 100% Up To $1,000 | Visit Site | MyBookie |
| #4 | Everygame | 100% Up To $500 | Visit Site | Everygame |
| #5 | BetOnline Sports | 60% Up To $1,000 | Visit Site | BetOnline Sports |
Odell Beckham Jr. Trade Rumors – Odds and Predictions for His Next Destination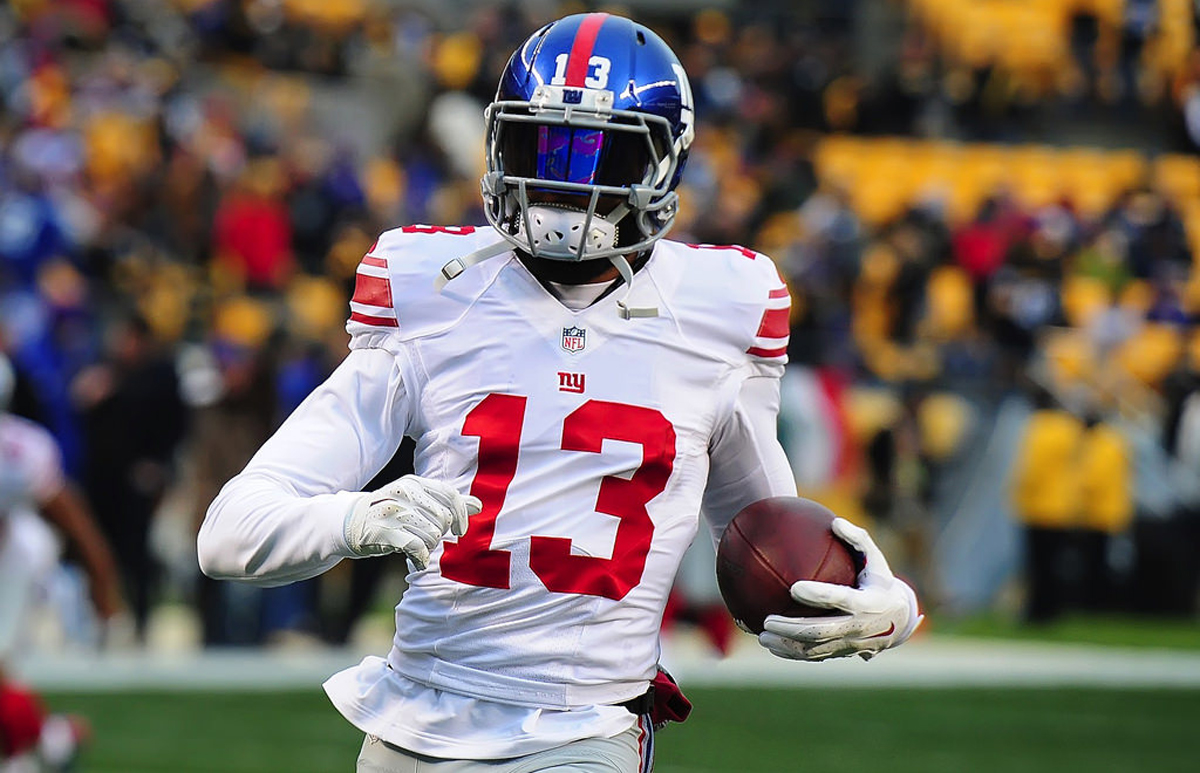 The NFL offseason is not for the weary.
You'd think everyone would take some time to sit back and relax with Super Bowl 53 just wrapping up a couple of weeks ago, but that isn't the case.
NFL front offices are busy trying to prepare for next year already, and writers everywhere are pumping out their latest 2019 NFL Draft predictions.
That applies to free agency and potential NFL trades, too, with our own Michael Wynn touching on NFL player prop bets involving the futures of stars like Antonio Brown, Le'Veon Bell, and Nick Foles.
Joe Flacco was recently traded to the Denver Broncos, too, so the wheels are very much in motion on the 2019 NFL offseason.
Nobody is resting, which is precisely why everyone took it basically as gospel when FOX reporter Jay Glazer offered a "bold prediction" that New York Giants star wide receiver Odell Beckham Jr. could be traded before the 2019 regular season starts.
Yeah, cue the trade buzz.
Odell Beckham Jr. Betting Odds
This isn't the first time Odell Beckham Jr. trade rumors have popped up, but to the best of my knowledge, it's the first time they had any real legs to them. Glazer is a widely respected reporter, and for the most part, when he says something, it can be trusted.
Glazer isn't one for speculation or predictions, either. The fact that he had one pried out of him suggests the Giants really could be sick of Beckham's antics.
Beckham may want out, too, and it's possible this situation already is gaining traction. Beckham himself even addressed it (kind of) with a cryptic tweet following Glazer's declaration.
I also don't recall any Odell Beckham Jr. prop bets on the best NFL betting sites before now, so this is certainly a situation to monitor. Either way, there's no harm in taking a look at the latest Odell Beckham Jr. odds and contemplating where he could be traded to this offseason.
Here are the latest Odell Beckham Jr. odds for where he'll play in 2019, over at SportsBetting.ag.
New England Patriots
+2500
There are even more teams that could trade for Odell Beckham Jr. that aren't listed here.
I doubt the G-Men would trade inside the NFC East, though, so I'm not sure I'd bet on him landing in Dallas, and I also wouldn't gripe about the Redskins and Eagles not being included here.
However, a few other spots make sense and can't be wagered on just yet. Those include, but aren't necessarily limited to, the Colts, Packers, Chargers, Saints, and Seahawks.
I'm a little surprised some of those options aren't listed here, but SportsBetting.ag still has a nice list here with some attractive prices.
For any Odell Beckham Jr. trade to go down, I think some criteria will ideally be met. Financially, someone has to be okay with taking on his huge salary, and they also have to have room (or create it) to bring him onto their roster.
The team trading for Odell Beckham Jr. also probably has to have a pretty glaring need at wide receiver. I also think if Beckham ends up having any say in this, it'd be a team better off than New York that can compete (although I doubt New York would care how he felt).
The Giants won't want to trade Beckham somewhere inside their division, but it's also pretty unlikely they want to deal him in the NFC at all. That's one reason why there aren't many NFC teams on this list.
San Francisco is listed because they've been tossed into Antonio Brown trade rumors for a while now, and they have a great need at wide receiver. Marquise Goodwin is their best option right now, and reports just broke that they'll be moving on from Pierre Garcon.
While the 49ers are in play and offer solid value at their +400 price, I just don't think New York will swing a deal inside their conference if they can help it.
Which NFL Team Will Trade for Odell Beckham Jr.?
There are a lot of teams Odell Beckham Jr. could be traded to, and there's plenty of betting value to chase over at SportsBetting.ag. That leaves the door open to multiple wagers, but in the end, only one can be right.
It's worth noting that New York has been pretty firm about not wanting to trade Beckham in the recent past. They also did just sign him to a huge five-year, $95 million deal last summer, so moving on from him one year later seems a bit rash.
However, Beckham publicly called out Eli Manning and head coach Pat Shurmur, potentially burning bridges and setting up his path out of town.
New York isn't a terrible bet, but at +100, you're getting basically even money. Where there is smoke, there's usually fire. If I'm betting on where Odell Beckham Jr. plays in 2019, I'm aiming a little higher than that.
Of the options you have before you, I think my favorites are the Oakland Raiders (+700), New York Jets (+1000), and the 49ers (+400). But I'd only have real interest in the Niners if some serious reporting connected the dots and if it became known the Giants weren't afraid to deal inside the conference.
For the most part, I see a trade sending Odell Beckham Jr. to the AFC, and whether it's a team that can contend right now doesn't matter.
The Raiders can't be ignored here. They've been loosely tied to Antonio Brown, and after dealing both Khalil Mack and Amari Cooper this past year, you can't know what they're thinking.
Obviously, they're rebuilding their team on the fly and collecting draft picks right now, but if Jon Gruden can turn a couple picks into an established superstar wide receiver, does he not consider it?
Oakland looks like the ultimate wild card. I wouldn't bet hard here, but that +700 price tag is alluring based on how unpredictable that franchise has been.
Ultimately, though, the Jets stand out the most. Few teams have as much salary cap room as New York, so from a financial perspective, this would be a fit. There is also a massive need for star power in New York's offense.
Sam Darnold is a promising franchise passer, but he has very little to work with. Robby Anderson is his top receiver, and he has virtually nothing else. Beckham's personality could clash with what the Jets are trying to build, or it could accelerate things and get them back in the NFL playoffs as quickly as next season.
Nobody can know, but at the very least, this move gets Darnold a legit #1 wide receiver that has the potential to dictate how defenses game-plan this team. Doing that and then also going out and landing a star running back (Le'Veon Bell, anyone?) would dramatically improve this offense and give it more high-level talent than possibly anyone in the league.
Summary
Like I said, there are teams not listed in the latest Odell Beckham Jr. betting odds that I'd prefer to see. He even once wanted to go to the Rams, so if you can find a site with more options, I suggest doing that.
SportsBetting.ag is the place to bet on where Odell Beckham Jr. will play in 2019, however, and for now, I really like that being New York (but with the Jets).