Odds for Rose Namajunas vs. Zhang Weili 2 with Betting Insight

Rose Namajunas defends her strawweight title at UFC 268 against Zhang Weili on November 6 at Madison Square Garden, New York.
What a fight this promises to be as the two best 115-pounders on the roster go head-to-head for the second time. I'll be looking over the odds for Namajunas vs. Zhang and breaking the potential classic down, to help you make the right bets on the scrap.
Namajunas became a two-time champion of the division by beating China's Zhang in April by way of KO in just 76 seconds. The stunning head kick finish ranks up there with the top knockouts of 2021, and "Thug" will be aiming to repeat that feat.
Zhang is out for revenge, with bad blood between the pair making this a real grudge match. Namajunas' personal comments appeared to affect her opponent last time out, but will things be different this time around?
Let's see what the bookies make of this fight.
Namjunas vs. Zhang Rematch Odds
>Rose Namajunas to Win
-125
I've taken the UFC 268 odds for Rose vs. Zhang 2 from the BetOnline sportsbook.
I've been researching the line for this fight over the past couple of days, and it appears that most bookmakers are on a similar wavelength. The fight is a real pick 'em, with the two best strawweights on the planet extremely tough to separate.
The opening line for Namajunas vs. Zhang was set at -110 for both before slight movement in the American's favor.
Rose's performance in the first fight will have certainly made it easier for bettors to take her this time around, although we didn't quite get enough time to adequately gauge how well the pair match up.
There will be a fair number of fans betting on Zhang Weili to win the rematch based upon just how ruthless she looked before that loss.
Can she shake off the heartbreak of UFC 261 and come back stronger? Or will Rose Namajunas show the world that she can hang on to the strap against a bona fide great?
Here's how they match up.
Tale of the Tape for Namajunas vs. Zhang 2
It's always a good idea to know as much as you can about a fighter before getting your wagers down.
| | | |
| --- | --- | --- |
| Rose Namajunas | Tale of the Tape | Zhang Weili |
| 10-4 (2 KO) | Record | 21-2 (10 KOs) |
| 5'5″ | Height | 5'4″ |
| 115lbs | Weight | 115lbs |
| 65″ | Reach | 63″ |
| Orthodox | Stance | Orthodox |
| 29 | Age | 32 |
| USA | Nationality | China |
While the odds for Namajunas vs. Zhang 2 are certainly indicative of a close fight, the vital statistics prove that they are very well matched.
Stylistically, Zhang is a bulldozer that possesses great strength, solid boxing, and a high-pressure game. She has just two losses in her career, with the defeat to Namjunas the first since making her professional debut back in November 2013.
No preview for betting on Namajunas-Zhang at UFC 268 can be complete without expanding on the details. That's why I have dedicated a section each to both fighters, below.
Let's start off with the challenger, who has it all to do at the Garden this November 6.
How Zhang Can Beat Namjunas in the Rematch?
The habit of winning is impressive. But bouncing back from your first significant loss with a victory can often be more revealing.
Especially when faced with the fighter that subjected you to such a gutting defeat.
The odds for Zhang Weili to beat Rose Namajunas prove that she is not being overlooked by anyone. Although she doesn't enter as the favorite this time, she is just as dangerous. In fact, there is an argument to be made that she is even more dangerous this time around.
The 32-year-old fought a grueling battle with Joanna Jedrzejczyk at UFC 248 in 2020 that elevated her to cult status among fans. The clash is now considered one of the best fights in the history of the sport.
Her power and durability were key to getting past the former champion, who, incidentally, lost her title to Namajunas at MSG in November 2017.
But against a technician as refined as Thug Rose, an overly aggressive game plan can lead to disaster. Zhang's loss in April is the perfect case in point.
This time around, the Chinese superstar should enter the fight with the right adjustments and gameplan. And a fully focused, emotionally neutral version of Weili is just about as scary as it gets.
On the topic of emotion, I truly believe that Zhang was hurt by Namajunas' "red or dead" comments before their first bout.
Although the American later looked to soften her comments, the implication that the fight was some kind of "east meets west" battle, with Zhang as the communist baddy, was unfortunate on Rose's part.
With that said, Zhang is an adult who makes a living from beating the breaks off her opponents. Sometimes, the wheel turns and it's you that has to take a beating.
No one will understand the task at hand better than the Arizona-based brawler. Zhang can win this fight. The question is, how?
What Does Zhang 2.0 Bring to the Table?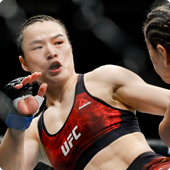 According to training partner Henry Cejudo, Rose Namajunas can expect an improved version of Weili in the rematch.
It's difficult to know exactly how different she will look, but the Olympian's involvement in her training camp explicitly suggests that she will be looking to use her strength and ground game to its full extent against the champ.
What we do know about Zhang's strengths and weaknesses so far is that her power and strength have major factors in her success to date.
She hits very hard, as evidenced by 10 KO/TKOs from 21 wins, which averages out as almost a stoppage in every other fight.
But her game plan involves more than just balls to the wall, swing for the fences striking. Although she is an effective brawler that likes to pressure her opponents, Zhang is also very capable when it comes to technically engaging fights.
It's easy to write off her knockout to Namajunas as a momentary lapse in concentration. But that would not just be doing a disservice to Rose's incredible technique, it would also be flat-out wrong.
She was coaxed into the position to get chopped down with the head kick by her opponent and will need to address that in the second fight with her positioning.
Easier said than done, right?
If you look at Zhang's UFC stats, you can get a basic handle on what she has been doing right and where there is room for improvement.
| | |
| --- | --- |
| Significant Strikes Landed Per Minute | 6.36 |
| Striking Accuracy | 45% |
| Significant Strikes Absorbed Per Minute | 4.42 |
| Striking Defense | 53% |
| Takedown Average | 1.24 |
| Takedown Accuracy | 23% |
| Takedown Defense | 100% |
| Submission Average | 0.5 |
If she does come into this fight bullish and emotional, you would have to fancy the odds for Namajunas to beat Zhang in the rematch.
Closing the distance against a fighter as techically sound as Rose is tough. But if you can close her down and get up close to her, she is there for the taking.
If Weili can find her way inside, she wins this fight.
Will Namajunas Beat Zhang Again?
As we touched upon earlier, the odds for the Rose Namajunas vs. Zhang Weili fight are as close as you can get.
But does Rose come into this fight with any discernible advantages?
Of course, she does. Not only does she have a win over her rival; the victory came by way of a spectacular knockout that will be repeating in the head of the Chinese fighter ever since.
Just the second stoppage via strikes of Namajunas' career, it goes down as her most impressive win to date.
While many will point towards her dethroning of the rampaging Joanna Jedrzejczyk at UFC 217 as her defining win, I disagree. Still, there is the chance that a second win over Zhang would top the lot.
Again, there is a lot to be said for habitual winning. But unlike Weili, Rose's ride to the top has been bumpier.
Rose Namajunas UFC Record from Last Five
Event
Opponent
Result
Date
UFC 261
Zhang Weili
KO (head kick)
April 24, 2021
UFC 251
Jessica Andrade
Win by Decision
July 12, 2020
UFC 237
Jessica Andrade
Loss by KO
May 11, 2019
UFC 223
Joanna Jedrzejczyk
Win by Decision
April 7, 2018
UFC 217
Joanna Jedrzejczyk
Win by TKO
November 4, 2017
Currently 10-4, Thug has losses to Karolina Kowalkiewicz and Jessica Andrade coming in her last seven.
I have no doubt that the lessons learned from these losses have made Namajunas the fighter she is today. She has shown resilience and heart to come back a better fighter after every single one.
If it's not already clear, there is a psychological barrier that stands in the way of Zhang and her ambitions to capture the title.
We know what her opponent is capable of in terms of skill and finesse, but the quality that's harder to pin down is how the challenger will deal with coming off her first defeat in 22 fights, especially with it being the first knockout of her career?
Throw in a hostile New York crowd into the equation, as well as carrying a country the size of China on your back, and the pressure is further amplified.
If Rose can get inside Zhang's head before the fight, she has won half the battle. By using the psychological and environmental factors she has to her advantage, she could have something of a lead before a single punch is thrown.
Of course, she's going to have to be firing on all cylinders. This is a new fight that will, more than likely, be more of a test. Especially if Weili manages to shake off those mental shackles and makes the right adjustments.
Predicting Rose's Gameplan in the Rematch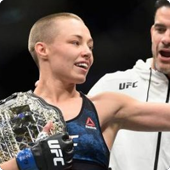 One of the most decisive factors in the first fight between Namajunas and Zhang was the latter's predictability.
In short, she made herself a malleable, stationary target for the American to tee off on. You don't stand in Namajunas' kicking range without good reason, and the former champ paid the ultimate price.
Rose making major changes to her game plan are against the laws of probability. Suggesting that her approach this time around will look different to the one employed in the first fight is a little ridiculous. I mean, how much of it did we get to see?
The fight was over before it got started, with Namajunas making quite the statement with her left leg.
Zhang has Cejudo helping her train before this fight. Rose, on the other hand, has Justin Gaethje. This should make things interesting.
That said, it should not be as easy for the titleholder next time. In fact, I would be very surprised if Zhang does not bring a more measured strategy into the fight that forces the American to back up.
Whether Rose can figure this out and work around it will be interesting to see.
Who Wins the Rose Namajunas vs. Weili Zhang Rematch?
You could make a strong argument for either fighter at this point.
Those making predictions for Rose vs. Zhang 2 to go the same way as the first time around are just as right as they are wrong as anyone opting for a totally different result.
Until the fight is done ad dusted on November 6, everything is up for debate.
Of course, if you're looking to bet on the fight, I will be providing updated odds and recommended bets for the Namajunas vs. Zhang rematch. You will find those in our UFC picks section from Monday, November 1.
In the meantime, get on my analysis with early odds for the main event of UFC 268, below.
AUGUST
Casino of the Month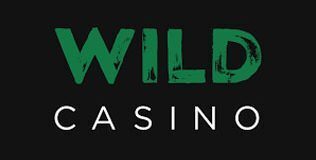 Welcome Bonus
250% up to $5,000
Read Review
Visit Site