Betting Odds and Predictions for the 2022 Puppy Bowl

Everybody's favorite Bowl game happens this Sunday and no I'm not talking about the Super Bowl. The 2022 Puppy Bowl will host their 18th annual game with tons of amazing puppies ready to take the field.
These puppies will be looking to win on the field and in your hearts. The Puppy Bowl is an amazing event to help these puppies find forever homes. There are over 100 puppies ready to take the field and it is sure to be lots of fun.
Team Ruff will be taking on Team Fluff in Puppy Bowl XVIII in hopes of winning for the second season in a row. There was an incredible comeback last season by Team Ruff, beating Team Fluff by a mere 4 points (73-69).
To get in on the action yourself, you can place some bets on this game. Maybe those bets will help you adopt your favorite athlete and be your very own Most Valuable Puppy.
Event Details for the 2022 Puppy Bowl
When to Watch – February 13th, 2022 @ 2 p.m. ET
How to Watch – Animal Planet and discovery+
How Long is the Event – 3 Hours
Where to Adopt – puppybowl.com/adopt
The 2022 Puppy Bowl is kicking off the big bowl games on Sunday a couple of hours before the Super Bowl. We have two amazing coaches and hosts for this game, which are Martha Stewart and Snoop Dogg.
Stewart will be the coach for Team Ruff, while Snoop Dogg will lead Team Fluff on the other end. The goal is for each team to outscore the other by carrying the toy footballs into the end zone. There is sure to be tons of highlights and big plays from these amazing athletes.
Here's a sneak peek at some of the action we will be getting on Sunday.
The Puppy Bowl returns with fluffy cuteness to promote pet adoptions ? pic.twitter.com/kZjvqtz9nt

— Reuters (@Reuters) February 9, 2022
The puppies won't be the only ones getting all the love, as we have an amazing halftime show featuring the kitties. The Puppy Bowl is all about your family pets, all shapes, and sizes.
Here is a look back at the Kitty Halftime Show from Puppy Bowl 6 (2010).
Be sure to start off your bowl watching party off right with the Puppy Bowl before the Super Bowl.
2022 Puppy Bowl Odds and Where to Bet
The Puppy Bowl is an amazing time for animal lovers as well as sports lovers to come together. There are tons of different ways to have fun watching the Puppy Bowl, with betting on it being one of them.
BetUS has provided odds for a couple of different props that you can bet on for the game. There are sure to be incredible plays made by tons of puppies that will keep you on your toes throughout the whole event.
Unfortunately, you can't bet on how many people are going to be smiling while watching the Puppy Bowl, because that would be too easy.
However, you can bet on these following props if you want to get in on the action yourself.
Outright Winner of the 2022 Puppy Bowl
This will be the most popular thing to bet on as most people like to choose a side to bet on for sporting events. Team Ruff has won 2 out of the past 3 Puppy Bowls, but Team Fluff won the 2 out of 3 before that.
Who is going to try and be the next team to start a winning streak? Will Team Ruff be able to make it two years in a row? Or will Team Fluff stand up against them?
There is almost no way to predict a team to win the game, but one of them has to. Pick your favorite team to root for and make it that much more fun to watch.
Puppy Bowl Team to Score First
If you want to get the result of your bet right away, this bet is for you.
There is a ton of scoring that happens in the Puppy Bowl, so get ready for a lot of fast paced action. With how unpredictable this event can be, it can have you at the edge of your seat with excitement.
Puppies are unpredictable. We can have a puppy running with a toy and look like they are going to easily score, but then their attention gets lost in another way. This can happen in the opening seconds, after a couple of minutes, or basically at the same time.
The best part about this bet is that the puppies have no idea what is going on and they are just having fun. Pick your team to score first to win some money yourself.
Most Valuable Puppy Winner Name
Name to Start with A-J
-120
Name to Start with K-Z
-120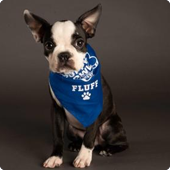 At the end of the day, all these puppies are the MVP. With that said, there will be only one that is named.
If you have your eyes on a certain puppy and you think they are going to take home the individual trophy, you can bet on that as well. Take a look at the starting lineup for the Puppy Bowl to see which puppy is looking like the MVP for this game.
Marshall was your Most Valuable Puppy winner from last year's Puppy Bowl. He was the first Boston Terrier to be given the award in 17 games.
The year before that, Gina was the award winner. Gina is a Lab/Chow Chow mix, which made it two years in a row that that breed won the MVP award. The year before that was another Lab/Chow Chow named Bumble who won the award.
A dog breed can mean that some are more playful than others and might do better in this game. Labs tend to be a more playful dog breed and they have their fair share of MVP wins. Terriers are another popular breed in MVP history.
Marshall was the first Boston Terrier to win, but there have been 5 total Terrier breeds or mixes to win the MVP.
Puppy Bowl 2022 Predictions
Sure, I have predictions for this game. My predictions for this game are that this game will be unpredictable.
There is sure to be lots of fun and even drama if you place your bets. If you aren't the type of person to bet on the Super Bowl, maybe the Puppy Bowl is more up your alley.
There is sure to be tons of scoring going on and lots of fun in this game. Since the Puppy Bowl became a competition-based event in 2015, the games have been insanely high scoring.
2015 – Team Ruff Wins 87-49
2016 – Team Ruff Wins 70-44
2017 – Team Fluff Wins 93-38
2018 – Team Fluff Wins 52-47
2019 – Team Ruff Wins 59-51
2020 – Team Ruff Wins 73-69
Don't be surprised if we see a team hit triple digits this time around. There are going to be even more puppies playing in the Puppy Bowl, which could mean lots of scoring. Team Fluff came just 7 points away from 100 in 2017, so they could look to hit that mark this year.
You can also bet on the Super Bowl Halftime Show if you don't plan on betting on the game as well. Check out our guide to betting on the Super Bowl Halftime Show for more.
Or if you are looking to go even bigger on the Super Bowl, the Puppy Bowl has a chance to load you up before the even bigger game.
Betting on the 2022 Puppy Bowl
At the end of the day, this is all about the puppies. Raising awareness for puppies and animals in shelters is the main goal of this event.
Betting on this event will be super fun and maybe you will be able to afford getting that puppy you've always wanted because of it.
Just look at the cutest little puppy in Nugget to see what you could be adopting by the end of the game.
Just look at this little Nugget ? @flldr

? #PuppyBowl Game Day: Feb. 13 at 2p ET on #AnimalPlanet and @discoveryplus pic.twitter.com/c2d9E9avP5

— Animal Planet (@AnimalPlanet) February 8, 2022
Super Bowl Sunday is going to be filled with lots of fun things to watch. Start your day off right by watching the Puppy Bowl before the Super Bowl. The Super Bowl Halftime Show and the commercials will make this one of the best days to watch sports TV, probably across the whole year.
Hopefully, you hit on your Puppy Bowl bets, because the Super Bowl will be directly after. Check out our Super Bowl betting guide for more details.
We have lots of betting guides on blogs on our site. Make sure to check out our Super Bowl blog page as well as the following articles.