Hide Bonus Offers
| | | | | |
| --- | --- | --- | --- | --- |
| #1 | Bovada Sports | 50% Up To $250 | Visit Site | Bovada Sports |
| #2 | BetUS | 125% Up To $2,500 | Visit Site | BetUS |
| #3 | MyBookie | 100% Up To $1,000 | Visit Site | MyBookie |
| #4 | Everygame | 100% Up To $500 | Visit Site | Everygame |
| #5 | BetOnline Sports | 60% Up To $1,000 | Visit Site | BetOnline Sports |
Odds and Prediction for Who Will Be the Next Manchester United Manager

Ever since Sir Alex Ferguson's retirement in 2013, the managerial situation at Old Trafford has been turbulent. Even high-profile coaches such as Louis van Gaal and Jose Mourino have failed to steady the ship.
Ralf Rangnick was appointed as Manchester United's interim manager in December 2021 following the sacking of Ole Gunnar Solskjaer. But with Rangnick set to move into a consultancy role at the end of the season, who will be the next Man Utd manager?
All the top EPL betting sites have published odds for the next Manchester United manager. So, I thought it would be good to analyze the prices and examine the leading contenders.
Let's get the ball rolling by checking out the following Man Utd manager odds. I will then look at the favorites and outsiders before sharing my prediction.
Odds for the Next Manchester United Manager
As it stands, Mauricio Pochettino (2.50) is the bookmakers' favorite to become the next Manchester United manager. The Red Devils are long-term admirers of the ex-Tottenham Hotspur boss, who currently manages Paris Saint-Germain.
Erik ten Hag (3.75) and Thomas Tuchel (4.50) complete the three-person group of frontrunners. The former is the current head coach of Dutch giant Ajax, while the latter manages United's Premier League rival, Chelsea.
Another current EPL coach, Antonio Conte (11.00), is the fourth favorite to become Man Utd's next manager. The Italian joined Spurs back in November following Nuno Espirito Santo's sacking.
The bookies believe that Ralf Rangnick (17.00) stands a chance of becoming United's manager permanently. Although the 63-year-old is set to move into a consultancy role at the end of the season, he remains in the running for the full-time job.
Simone Inzaghi (21.00), Diego Simeone (21.00), Zinedine Zidane (26.00), Didier Deschamps (34.00), and Julian Nagelsmann (34.00) are all viewed as outsiders.
Following Manchester United Manager Betting Favorites
According to the odds for the next Manchester United manager, there are three obvious favorites for the job. Below, I look at Pochettino, ten Hag, and Tuchel to determine who is in pole position.
Why Is Pochettino the Favorite?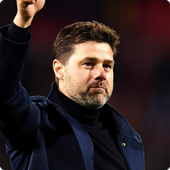 If it feels like Pochettino has been linked with Man Utd for a long time, that's because he has. Ever since the Argentine arrived in the EPL back in 2013, he has been regarded as one of the top coaches in the game.
After spending a season at Southampton, Pochettino enjoyed five successful years at Tottenham. Granted, he didn't win any silverware with Spurs. But he guided them to a Champions League final and three consecutive top-three finishes in the EPL.
Tottenham sacked the 50-year-old in November 2019 after a run of poor results. Following a spell away from the game, he joined PSG in January 2021.
There was a sense that Man Utd would attempt to sign Pochettino after he left Spurs, but the club decided to stick with Ole Gunnar Solskjaer. In hindsight, that decision does not look good.
Following PSG's early exit from the Champions League, Pochettino walks on thin ice in the French capital. That is another reason why he tops the following Manchester United manager odds.
Will Ten Hag Be the Next Man Utd Manager?
When it comes to discussing who will be the next Man Utd manager, ten Hag's name invariably gets mentioned. Why? Because he is one of the top-rated coaches in European soccer.
Having learned his trade at Bayern Munich II, ten Hag joined Utrecht in 2015. It didn't take him long to get the biggest job in Dutch soccer, as he was appointed Ajax manager in 2017. The rest, as they say, is history.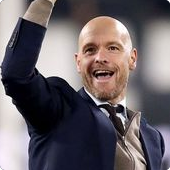 ERIK TEN HAG AT AJAX (DECEMBER 2017 – PRESENT)
Games
Wins
Draws
Losses
Win %
205
152
26
27
74.15
As the table above details, ten Hag's record at Ajax is phenomenal. He has led the club to the Eredivisie-KNVB Cup double on two occasions and has won almost 75% of his games across all competitions.
The 52-year-old became a household name when his team made it to the Champions League semi-finals in 2019. Given United's recent struggles in Europe, ten of Hag's UCL credentials make him an attractive target.
Would Tuchel Swap London for Manchester?
Even just a few weeks ago, the idea of Tuchel becoming the next Manchester United manager would have seemed farfetched. But the unprecedented situation at Chelsea has changed everything.
Chelsea is owned by Russian oligarch Roman Abramovich, who the UK government has sanctioned for apparent reasons. That means the club's future – and the future of Tuchel – is up in the air.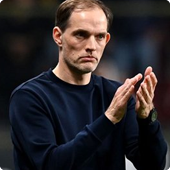 If Tuchel leaves the Blues, the Red Devils would be foolish to disregard him when choosing their next boss. After all, the 2020-21 UEFA Men's Coach of the Year is widely regarded as one of the best managers in the world.
Tuchel lifted six trophies in just two years with PSG before joining Chelsea in January 2021. Since arriving in London, the German tactician has won the Champions League, Super Cup, and Club World Cup.
At the end of the day, Tuchel's record speaks for itself.
Could an Outsider End Up in the Old Trafford Hot Seat?
Big-name coaches are littered throughout the next Man Utd manager odds. Although Pochettino, ten Hag, and Tuchel are favored, it wouldn't be a shock if a betting outsider got the job. It's time to assess the potential candidates.
Conte Could Take Man Utd to the Next Level
Like Tuchel, Conte currently belongs to an EPL club. But that doesn't mean he won't be Manchester United's next manager. Let's not forget that Conte does things on his own terms.
Between 2012 and 2014, the enigmatic Italian won three straight Serie A titles with Juventus. He then guided Chelsea to Premier League and FA Cup glory before returning home to win the scudetto with Inter Milan last year.
Fresh from leading Inter to its first top-flight title in over a decade, Conte left the club after falling out with the owners. See, I told you he does things on his own terms.
Although Conte only took the Tottenham job in November 2021, it is not inconceivable that he could leave Spurs at the end of the season. Man Utd will be ready to pounce if he decides to jump ship.
Simeone Knows What It Takes to Win Silverware
Nowadays, soccer management is a cut-throat industry. Due to the pressure of getting results, coaches are rarely given more than three or four years to prove their worth.
There are a few exceptions, though, and Diego Simeone is one of them.
Simeone joined Atletico Madrid back in 2011. Across the past 11 years, "El Cholo" has guided the club to two La Liga titles, two Europa League crowns, and several other trophies. Atletico has also reached two Champions League finals under his watch.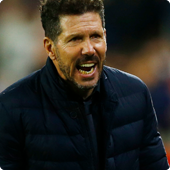 DIEGO SIMEONE AT ATLETICO MADRID (DECEMBER 2011 – PRESENT)
Games
Wins
Draws
Losses
Win %
565
334
132
99
59.12
Having taken charge of 550+ Atletico games, Simeone boasts a win percentage of almost 60%. But all good things must come to an end, right?
If the La Liga titles odds for March are anything to go by, Atletico won't defend its crown in 2022. It wouldn't be a massive surprise if Simeone parted ways with the club at the end of the season, paving the way to move to Old Trafford.
Zidane Could Be the Perfect Fit for Man Utd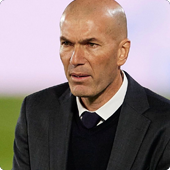 It is not often that a world-class player becomes a world-class coach. However, Zidane bucks that trend.
After winning multiple top-flight titles, a Champions League crown, and the World Cup as a player, the Frenchman enjoyed huge success as Real Madrid manager. He won two La Liga titles, securing three straight UCL triumphs between 2016 and 2018.
Zidane left Los Blancos in May 2021 and has yet to return to management. If the Red Devils are serious about competing for the top prizes again, they should consider Zidane's track record in the Champions League.
Prediction for the Next Manchester United Manager
My next Man Utd manager prediction is Mauricio Pochettino. Of course, he is the bookmakers' favorite – meaning his price is not overly attractive. But all the signs point towards the Argentine.
For starters, Pochettino knows the Premier League inside out. He spent seven years managing in England between 2013 and 2019, with Spurs finishing as EPL runners-up in 2017. Just imagine what he could achieve with Man Utd's budget!
Pochettino also took Tottenham to two cup finals before securing two trophies during his debut season at PSG. That man knows what it takes to be competitive across multiple competitions.
On top of all that, he could be a free agent in the summer after PSG's early Champions League exit. The PSG hierarchy demands European success, but that won't happen this year.
As the next Manchester United manager odds indicate, ten Hag and Tuchel is also realistic contenders for the job. In my eyes, though, Pochettino ticks all the boxes.
Man Utd is in the market for an elite manager, given the club's stature. However, the Premier League hasn't always been blessed with top coaches. Follow the link below to learn about the worst managers in EPL history.