Hide Bonus Offers
| | | | | |
| --- | --- | --- | --- | --- |
| #1 | BetOnline Sports | 60% Up To $1,000 | Visit Site | BetOnline Sports |
| #2 | Bovada Sports | 50% Up To $250 | Visit Site | Bovada Sports |
| #3 | BetUS | 125% Up To $2,500 | Visit Site | BetUS |
| #4 | Everygame | 100% Up To $500 | Visit Site | Everygame |
| #5 | MyBookie | 100% Up To $1,000 | Visit Site | MyBookie |
Odds and Prediction for Who Will Be in the Black Adam Movie

Black Adam is an older character in the DCEU, but he is set to make his first appearance on the big screen.
He is going to be portrayed by none other than Dwayne "The Rock" Johnson and will be an anti-hero. We haven't seen The Rock in a lot of villain-esque type roles, so this will be exciting.
Some don't know much about Black Adam, but the character has actually been in the comics from since 1945.
One of and one of Shazam archenemies, Black Adam's arrival sets up several more projects in the DCEU, and this stand alone film is one to get excited about.
In 2009, he ranked as the 16th greatest comic book villain of all time, according to IGN, which is a good indicator of the hype surrounding the new Black Adam film.
But who will join The Rock on screen? You can literally bet on it. Let's take a look at the Black Adam cast odds and come away with a prediction.
Odds for Who Will Appear in Black Adam
Star Girl and Vandal Savage come in tied for first in the odds race at (+250) over at Bovada.
Oddsmakers are favoring these two because of their encounters with Black Adam in the comics. Star Girl has been rumored to be in the script, so she might be favored over Vandal Savage even more if those rumors are true.
Vandal Savage is an immortal who has been around since the dawn of man, so Black Adam's very old timeline may match up well.
Doctor Mid-Night and Hawkgirl come in tied for 3rd and 4th in the odds lists at (+500). Hawkman has already been confirmed in the upcoming Black Adam movie, so does that mean Hawkgirl has a strong chance to make an appearance as well?
Don't pull the trigger on Hawkgirl just yet, though, as Dwayne Johnson tweeted out a response to the Hawkgirl questions and indicated that she may not be a part of the film.
Hawk Girl was ? in our original JSA team. Sadly, it's a complicated story I'll share w the fans down the road. But it opened up the door for another awesome opportunity for another actress to come in and crush the role of Cyclone. I believe it all works out how it's meant to ?

— Dwayne Johnson (@TheRock) August 23, 2020
Doctor Mid-Night is another member of the JSA (Justice Society of America) and could be an interesting bet here as well.
Green Lantern is not far behind Doctor Mid-Night and Hawkgirl at (+550) and is another member of the JSA. Apparently, The Rock also said that he would like Black Adam to fight Green Lantern, so if he keeps pushing for it, it may happen.
The longer shots include Black Canary, Superman, and The Flash.
Black Canary is one of the founding members of the JSA and could be brought into the movie as well. Superman and The Flash have also had some encounters with Black Adam in other media, so they could make an appearance.
However, since the movie is more of an introduction to Black Adam, I think it is unlikely that we will get a big-name superhero like The Flash or Superman to be in this one.
Who Do We Know Will Be in Black Adam?
There have already been some names that are confirmed to be in the upcoming movie. Here are the 4 characters we know will be in Black Adam.
Black Adam (played by Dwayne "The Rock" Johnson)
Hawkman (played by Aldis Hodge)
Atom-Smasher (played by Noah Centineo)
Cyclone (played by Quintessa Swindell)
Doctor Fate (played by Pierce Brosnan)
There is a slew of names attached to this movie, though, and you can stop over at the film's IMDB.com page to try to guess which actors could play prospective roles.
But this Black Adam prop bet isn't about predicting the entire cast. You're trying to bet on which character provided by the top entertainment betting sites will end up appearing on screen.
One other way to try to predict this is to look at the Black Adam teaser trailer.
Okay, it doesn't reveal much, but we know The Rock's been held back for quite some time, and the word "magic" was thrown around a bit.
This small reveal of Black Adam cast members does leave some good opportunities for other characters to be in the movie, as well.
Which Characters Are the Best Bets?
The oddsmakers do like Star Girl and Vandal Savage to make an appearance in the movie, which could happen, but there could also be characters outside of this list.
The fact that Star Girl was reportedly part of the original script is obviously encouraging, and probably a big reason why she's the favorite to appear in Black Adam.
She and Vandal Savage are undeniably the best bets to get this prop rolling.
The problem? Scripts change. Teasers can be just that – teasers.
After all, there have been DC projects suggesting bigger roles for Deathstroke, Green Lantern, and others in the past. They all ended up being lies.
I would strongly recommend coming back to this list when there are new details being dropped about the movie. There are a bunch of other characters that could appear with Black Adam's rich history.
Betting on Who Will Be in Black Adam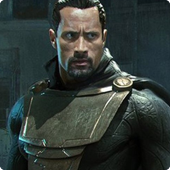 Unfortunately, the movie is set to premiere in 2022 on July 29th. So, we have quite a long wait until we finally get to watch and find out if our bet converts.
Still, that will build a bunch of excitement for it and hopefully a new favorite anti-hero to join Venom and Deadpool. For now, the character that makes the most sense is undeniably Star Girl.
She's rumored to be involved, Hawkgirl isn't going to be in the film, and she is the most logical bet of the options Bovada has provided.
Green Lantern, Superman, and Flash make for fun, high-upside wagers, but Star Girl is probably where you start your Black Adam betting.
With that said, just keep in mind that this could be a volatile betting market.
There could be tons of different characters to make their cinematic debuts alongside the ones already named, which calls for a lot of changes that could happen with this bet.
Like discussing superhero movies/series or even betting on their markets? Check out similar posts below.