Odds and Prediction for Phill Hellmuth vs. Tom Dwan

In a duel that's been years in the making, PokerGO will be delivering the heads-up showdown that so many poker fans have yearned to see.
Phill Hellmuth vs. Tom Dwan is on at the PokerGO Studio in Las Vegas on August 25th.
Watching the match is a given, but did you know that you can bet on Hellmuth vs. Dwan online? Allow me to bring you up to speed.
Hellmuth vs. Dwan Odds
Phil Hellmuth; -130
Tom Dwan; +100
Despite this heads-up match garnering plenty of interest from the general public, a lot of the best gambling sites are sitting this one out.
In fact, the only place I spotted odds for the Hellmuth vs. Dwan match was at BetOnline. Head there now if you already know who you're predicting to win.
If you want to get clued into the details of the match or want some insight into who to pick, continue following along.
Previewing the Hellmuth vs. Dwan Match
After Nick Wright issued a heartfelt speech stating that he was backing out of the challenge, Phil Hellmuth was in search of a new opponent. Considering Hellmuth was originally slated to play Tom Dwan back in June, subbing in "Durrrr" was the natural thing to do.
Having said that, Dwan wasn't exactly pleased that he was bumped in favor of Negreanu for what the second edition of the High Stakes Duel was.
"I was in San Francisco, and I got drunk with Phil Hellmuth, and I think that's when I found out I wasn't going to get to play Phil Hellmuth. He was like, 'oh, did you know?' I said, 'no, I didn't, well, alright.'"
As far as the specifics for those interested in placing a bet on the Hellmuth vs. Dwan match, it's a $200k sit n' go ($100k apiece) that begins at 5:00 pm local time on August 25th. Streaming is available through the PokerGO app.
Why Hellmuth Can Win
The Poker Brat has been an unstoppable force thus far in the High Stakes Duel matches. After sweeping Antonio Esfandiari 3-0 in his first set of matches, Hellmuth once again brought out the broom against Daniel Negreanu.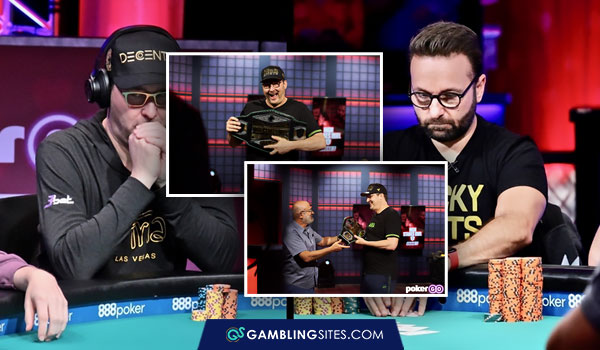 Phil's unblemished record remained intact after thoroughly outplaying Nick Wright down the stretch. Elevating his mark to 7-0 in this format, you can imagine the confidence level the 15x WSOP Bracelet winner is playing with.
Hellmuth has seen it all throughout these experiences – from playing the role as the big-stack bully to expertly navigating his when armed with a diminished stack.
And then let's not forget his so-called "White Magic" – the phrase Phil uses to describe his uncanny reading abilities.
Add it all up and it's a compelling recipe to knock off his next opponent.
Why Dwan Can Win
This pair has clashed on the felt numerous times over the years, however, mostly in six-handed cash games. As far as battling out in this particular format, we have to go back 13 years, but it's happened.
If you thought it might have ended with a classic Phill Hellmuth berating, you'd be spot on.
The heads-up match lasted all of three hands as Dwan effectively stuck 66 blinds in pre with pocket 10s -albeit after Phil had limp-reraised from the button. Sure, it wound up as a bad beat for Phil, but in reality, it was a perfectly standard play from Durrrr.
Fast forward to today and it's difficult to pinpoint the state of Tom's heads-up no-limit game. Always ahead of the curve with his aggressive mentality on the felt, is that still the case?
Has he been polishing his HU NL skills in the last few years, or has he been busy playing nosebleed cash games in Macau? Or has he been dabbling into crypto and real estate and other things outside of poker?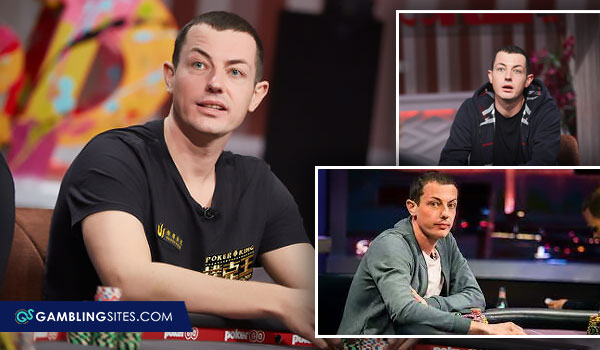 Whatever the case may be, counting out Dwan would be foolish. Hellmuth talked at length about the challenge of facing Nick Wright due to Wright's unorthodox style.
Well, from what I remember, few poker players are as brash and as unorthodox as the man they call Durrrr.
Phil Hellmuth vs. Tom Dwan Betting Prediction
Phil Hellmuth pours everything into his legacy and his image. For crying out loud, the guy dropped 18 F-bombs during this epic 3-in-a-half-minute rant after losing a pot to Nick Wright.
Tom Dwan lives a much more discreet life, and for all we know, could care less about a $100k poker match being televised on an app. My guess isn't that this match means a lot more to Phil, I know this match means more to Hellmuth.
Consequently, Phil is the one dealing with pressure. Hellmuth is the one more likely to be second-guessing decisions. The Poker Brat is the guy already preparing his built-in excuse just in case things don't go his way.
Tom is going to play loose and present chaos that Phil didn't face versus his prior opponents. And therefore, my Hellmuth vs. Dwan betting prediction is to roll with Durrrr.
September
Casino of the Month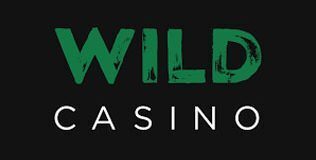 Welcome Bonus
250% up to $5,000