Hide Bonus Offers
| | | | | |
| --- | --- | --- | --- | --- |
| #1 | Bovada Sports | 50% Up To $250 | Visit Site | Bovada Sports |
| #2 | BetUS | 125% Up To $2,500 | Visit Site | BetUS |
| #3 | MyBookie | 100% Up To $1,000 | Visit Site | MyBookie |
| #4 | Everygame | 100% Up To $500 | Visit Site | Everygame |
| #5 | BetOnline Sports | 60% Up To $1,000 | Visit Site | BetOnline Sports |
Latest Odds and Prediction for NBA MVP – March 2022 Update

We're entering the closing stretch of the 2021-22 NBA season. The NBA All-Star break is over, and there are less than 20 games until the end of the regular season. Because of that, it seems like an optimal time to update the 2022 NBA MVP odds.
Joel Embiid has separated himself as the NBA MVP favorite, but a lot can happen over the season's final month. I'd say this race is far from over.
Let's check out the 2022 NBA MVP odds from Bovada.
Updated NBA MVP Odds for 2022
Giannis Antetokounmpo
+600
The updated NBA MVP race odds have Joel Embiid as the favorite, with eight players separating themselves as NBA MVP contenders. Kevin Durant has the next MVP odds for the NBA with (+15000) for reference.
We've seen the top three at the top of 2022 NBA MVP odds for much of the season, but lately, we've seen a pair of new contenders in Ja Morant and DeMar DeRozan.
Morant is having a breakout season, while DeRozan has flourished with the Chicago Bulls.
Many people had Stephen Curry as their NBA MVP prediction for a while. However, his numbers have come down since the beginning of the season. He remains in the race, but his chances of winning a third MVP look low.
I know it looks like Embiid has the award locked up, but it doesn't take much to change the NBA MVP betting odds. One injury could doom his chances. Still, he begins March as the favorite, so it's only fair we start by discussing his season.
Assessing the Current NBA MVP Race for 2022
The big question over the final month and a half will be, can anyone catch Joel Embiid in the 2022 NBA MVP race? We'll go over Embiid's chances, as well as his top challengers.
Why Is Joel Embiid the Favorite?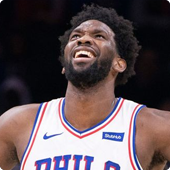 Last season, Joel Embiid was neck and neck with Nikola Jokic in NBA MVP betting. The Philadelphia 76ers' success gave Embiid a slight advantage, but that went away when Embiid missed 12 games in March and April.
Embiid still managed to finish second in NBA MVP voting. This season, he is on a mission to redeem that loss.
He didn't have the best 2021-22 season start, averaging 23.0 points on 43.0 percent shooting in October and November. That likely played a factor in the 76ers opening the season 11-10. He had (+3050) odds to win NBA MVP in early December.
After a great December, Embiid saw his 2022 NBA MVP odds go down. However, we saw him soar to the top in January. From January 12 to January 27, Embiid's MVP odds NBA went from (+3350) to (+325).
I'd say it had to do with this ridiculous stretch.
| | | | | |
| --- | --- | --- | --- | --- |
| | Orlando Magic | Los Angeles Clippers | @ San Antonio Spurs | New Orleans Pelicans |
| Points | 50 | 40 | 38 | 42 |
| Rebounds | 12 | 13 | 12 | 14 |
| Assists | 2 | 6 | 6 | 4 |
| Blocks | 3 | 1 | 1 | 4 |
| Field Goal Shooting | 17/23 | 15/25 | 16/32 | 12/24 |
A week later, Embiid surpassed Giannis Antetokounmpo as the NBA MVP favorite. Honestly, we haven't seen Embiid slow down since that impressive stretch.
In the 2022 calendar year, he's averaging 33.3 points, 11.6 rebounds, 4.9 assists, and 1.5 blocks. The NBA MVP 2022 will likely come down to players playing their best basketball at the end of the season. How will anyone surpass the NBA MVP favorite when he puts up these numbers?
Some people wondered if the James Harden trade would hurt Embiid's 2022 NBA MVP odds, but he has back-to-back 30+ games with Harden. That's a big reason why the 76ers are among the top NBA Finals contenders.
Ja Morant Continues to Climb the NBA MVP Ladder
The Memphis Grizzlies have been among the biggest surprises in the NBA. They entered the season as a borderline playoff contender, but they look like a championship contender. Their success is enough to consider them a lock in my 2022 NBA playoff predictions.
I think everyone knows where I'm going with this one. Memphis' success is all on Ja Morant and his MVP push. Like Joel Embiid, we didn't see Morant have the best start to the season. It certainly didn't help that he missed nearly a month of game action.
When Morant returned from a knee injury in December, he had (+8000) 2022 NBA MVP odds. That quickly surged down to (+1500).
People noticed Morant, but most still considered him an MVP sleeper. However, we've had no other choice to take him seriously after his recent surge. He has cleared 40 points in three of his last four games. That includes this ridiculous performance from February 28.
Morant averages 27.6 points, 6.6 assists, 5.9 rebounds, and 1.2 steals. He is also on pace to set a career-high with 49.8 field goal percentage and 34.4 three-point percentage.
Morant's flashy playstyle is only helping his NBA MVP betting odds. That playstyle means he'll be in the spotlight as he continues to put up great numbers. It also helps that the Grizzlies have exceeded expectations.
Memphis as a team looks like an NBA finals contender. There's a real possibility they surpass the Golden State Warriors for the second-best record in the NBA. That's something not many saw coming before the season.
The latest MVP odds have Morant at (+900). Honestly, that seems a little low, and I believe it'll continue to rise.
DeMar DeRozan Is a Top NBA MVP 2022 Candidate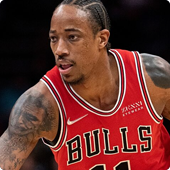 The Chicago Bulls' decision to sign DeMar DeRozan drew criticism, but they look like geniuses after DeRozan has become a top NBA MVP contender.
DeRozan has been an MVP sleeper for much of the season. Even with the Bulls' success, we didn't hear many people talking about DeRozan as a serious MVP contender. It likely didn't help that DeRozan and the Bulls struggled in January.
However, we saw DeRozan make history in February. He became the first player in NBA history to score over 35 points and shoot over 50 percent from the field in eight straight games.
DeMar DeRozan over the last 8 Games:

45 PTS, 9 REB, 7 AST, 60% FG
38 PTS, 5 REB, 4 AST, 59% FG
36 PTS, 5 REB, 4 AST, 68% FG
35 PTS, 6 REB, 6 AST, 63% FG
38 PTS, 6 REB, 5 AST, 50% FG
40 PTS, 3 REB, 7 AST, 67% FG
38 PTS, 6 REB, 6 AST, 59% FG
37 PTS, 6 REB, 3 AST, 71% FG pic.twitter.com/AHS96hcDgq

— Hoop Central (@TheHoopCentral) February 25, 2022
That's the level of play that puts you in the discussion for NBA MVP 2022. His 2022 NBA MVP odds have been in the (+3000) to (+4000) range for much of the season, but the current NBA MVP odds have him at (+1000).
DeRozan finished February by averaging 34.2 points, 6.2 rebounds, 5.2 assists, and 1.3 steals. He also shot a ridiculous 55.6 percent from the field. When looking at NBA future bets, it's crucial to find a player playing great basketball late in the season. That's what we have with DeRozan.
I think most people expected improvement from the Bulls, but they've exceeded expectations. They currently hold the No. 2 spot in the Eastern Conference, trailing the Miami Heat by 2.0 games.
Team success is a big factor in MVP betting. If DeRozan can lead the Bulls to the No. 1 spot over a team like the Philadelphia 76ers, he might garner MVP interest over Joel Embiid.
It'll be tough to keep up this current level of play, but DeRozan wants to prove he belongs among the NBA's elites. It wouldn't surprise me if some penciled him in as their current NBA MVP prediction.
I know Chicago fans would love to see it.
Sleeper NBA MVP 2022 Candidates
It might seem like Joel Embiid has the NBA MVP 2022 wrapped up, but a big month of March could bring a new contender into the race.
Here are my favorite sleepers for NBA MVP futures.
Devin Booker (+2000)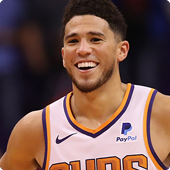 We've talked about a few NBA Finals contending teams, but everyone is looking up at the Phoenix Suns. Their 49-12 record is the best in the NBA by 6.0 games. Phoenix has many high-quality players, with Chris Paul and Devin Booker leading the way.
Before the All-Star break, I wouldn't have considered Booker, a strong contender for MVP. However, Paul will likely miss the rest of the season with a thumb injury. That opens the door for Booker to be the lone star in Phoenix.
Even before Paul's injury, Booker played his best basketball of the season. He failed to average over 25.0 points in the first three months. Over the last two months, he has cleared 27.0 points per game.
Since Paul's injury, we've seen him take on a bigger workload.
| | | | |
| --- | --- | --- | --- |
| | @ Oklahoma City Thunder | New Orleans Pelicans | Utah Jazz |
| Points | 25 | 30 | 30 |
| Assists | 12 | 5 | 7 |
| Rebounds | 5 | 3 | 7 |
| Steals | 6 | 1 | 2 |
| Field Goal Shooting | 9/16 | 10/24 | 12/24 |
The Suns have plenty of talent, but Booker will have to keep up his scoring pace. I don't see them losing the top spot in the NBA, but if Booker wants to be among the MVP favorites NBA, he'll have to increase his numbers.
It's hard to judge his chances for MVP because the 2022 NBA MVP odds have him as a sleeper. However, you'll typically see the best player on the best team garner interest. Perhaps Paul's presence has brought down his MVP chances.
I think we'll need to see a big month of March before his NBA MVP odds at Bovada rise. Booker has the talent to average 30.0 points per game for the remainder of the season. That'll be key towards making a run at NBA MVP.
Luka Doncic (+3000)
The way too early 2022 NBA MVP odds had Luka Doncic as the favorite. Doncic had good, not great numbers to start the season. Unfortunately, his MVP odds NBA took a hit when he missed time in December with an ankle injury.
Even after his return, we didn't see MVP-caliber numbers from Doncic. However, we saw him explode in February. The month included a career-high 51 points against the Los Angeles Clippers.
Doncic averaged 34.7 points, 10.3 rebounds, 8.8 assists, and 1.1 steal for the month while shooting 41.2 percent from the three-point range. He cleared 40 points four times in that stretch.
Surprisingly, more people aren't talking about Doncic as one of the top NBA MVP contenders. Lately, his numbers are on pace with Ja Morant and DeMar DeRozan. We've talked about those players as MVP contenders, while Doncic has (+3000) odds.
Honestly, that's probably a good thing for bettors. Doncic presents a good value, and his odds to win NBA MVP will rise if he keeps up this level of play.
Many people believe Doncic's improved numbers are because of the Kristaps Porzingis trade. The Dallas Mavericks traded the star forward to the Washington Wizards at the NBA trade deadline.
We talked about Doncic's incredible run in February. Check out his first four games after the trade.
| | | | | |
| --- | --- | --- | --- | --- |
| | Los Angeles Clippers | Los Angeles Clippers | @ Miami Heat | @ New Orleans Pelicans |
| Points | 51 | 45 | 21 | 49 |
| Rebounds | 9 | 15 | 10 | 15 |
| Assists | 6 | 8 | 6 | 8 |
| Field Goal Shooting | 17/26 | 15/33 | 5/19 | 17/35 |
| Three-Point Shooting | 7/14 | 6/13 | 2/7 | 7/14 |
Now Porzingis missed time before that stretch, so Doncic's success isn't only because of the trade. Still, it shows his potential as a star player.
If Dallas can catch fire down the stretch, we might see the MVP betting odds NBA move up for Doncic.
NBA MVP Prediction for 2022 – Who Will Win the Award?
The 2022 NBA MVP race is shaping into an intriguing battle between four or five players. Put simply, there are only so many realistic players to have on your 2022 NBA MVP list when getting ready to place a bet. I want to say Ja Morant and DeMar DeRozan will win their first NBA MVP, but I think it's Joel Embiid's award to lose.
Embiid has been playing great basketball for the last two months, and the Philadelphia 76ers are one of the best teams in the league. One of those things would have to change for someone to pass him.
With (+900) odds, I believe Morant presents the best value for what it's worth.
The top NBA betting sites will allow you to bet on any MVP candidate. Head over there to make your NBA MVP prediction.