Odds and Prediction for the 2022 NASCAR Xfinity Series

The 2022 NASCAR Xfinity Series season is underway, with two races in the books. We saw Austin Hill pull off a surprise victory at Daytona and Cup Series driver Cole Custer win at Auto Club.
The sportsbooks have rolled out 2022 NASCAR Xfinity Series odds despite being two races into the season. These will tell us which drivers to watch out for this season. The Xfinity Series lost championship contender Austin Cindric to the Cup Series, but they have multiple championship-caliber drivers.
Let's see which Xfinity Series drivers top the list of championship odds for 2022.
2022 NASCAR Xfinity Series Odds
Bovada gives us the 2022 NASCAR Xfinity Series championship odds. Only 12 drivers make the playoffs in the Xfinity Series, so it makes sense to check out the odds for the top 12 drivers.
Ty Gibbs opens as a slight favorite over A.J. Allmendinger. The 19-year-old won four races last season, despite running a part-time schedule. Allmendinger was neck and neck with Austin Cindric as the driver to beat last season.
Last season's defending champion Daniel Hemric has the third-best NASCAR Xfinity Series betting odds. Hemric moved from Joe Gibbs Racing to Kaulig Racing for the 2022 season.
Austin Hill's Daytona victory moved his 2022 NASCAR Xfinity Series odds to (+1600). We'll see if that victory can give him momentum in his first full-time Xfinity Series season.
Gibbs' great 2021 season earns him the best odds to win the NASCAR Xfinity Series. I'll talk about his 2022 outlook in a second, but if you like the odds above and you're ready to place your bet, feel free to skip the rest and head over to Bovada now.
Why Ty Gibbs Is the NASCAR Xfinity Series 2022 Favorite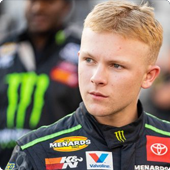 Ty Gibbs has quickly worked his way up the NASCAR ranks. He won multiple races driving part-time in the ARCA Menards Series in 2019 and 2020. Last season, he won 10 races en route to the championship.
The grandson of NASCAR owner Joe Gibbs, Ty Gibbs joined Joe Gibbs Racing for a part-time schedule for the 2021 Xfinity Series season. He stepped into the car and had immediate success.
He became the sixth driver in Xfinity Series history to win their first career start. Gibbs achieved that honor at the Daytona Road Course, holding off road course expert Austin Cindric to score the victory.
That victory wasn't a fluke. He followed that up with a second and fourth-place finish. Later in the season, he had this impressive six-race stretch.
| | | |
| --- | --- | --- |
| Racetrack | Finishing Position | Laps Led |
| Dover | 5th | 0 |
| Charlotte | 1st | 20 |
| Mid-Ohio | 3rd | 16 |
| Pocono | 2nd | 11 |
| Road America | 33rd | 2 |
| Watkins Glen | 1st | 43 |
Gibbs tailed off late in the season, but he picked up his fourth-year victory at Kansas. In 18 starts, Gibbs had four wins, nine top-five finishes, 10 top 10 finishes, 244 laps led, and an average finish of 10.0.
This season, the 19-year-old will have the chance to drive in the Xfinity Series full-time. We haven't seen him do much in the first two races, but that hasn't impacted his NASCAR Xfinity Series title odds.
We should see Gibbs pick up the pace in the next few weeks. He was a threat to win in almost every race last season, and there's no reason to believe it'll be any different in 2022. It doesn't hurt that he drives for the best team in the Xfinity race series.
It won't be long before Gibbs competes for wins.
Other 2022 NASCAR Xfinity Drivers to Consider
Ty Gibbs is the favorite, but the NASCAR Xfinity Series playoff format means anything can happen. The 2022 NASCAR Xfinity Series odds will change throughout the season, so let's check out Gibbs' top challengers.
A.J. Allmendinger (+375)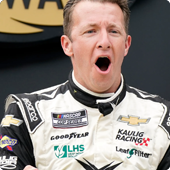 Most people view the Xfinity Series as a place for young drivers to gain experience before moving up to the Cup Series. However, we have a few NASCAR veterans in the sport, including 40-year-old A.J. Allmendinger.
Allmendinger was a Cup Series driver from 2007 to 2018 but returned to the Xfinity Series part-time in 2019. Last season, he drove full-time for Kaulig Racing.
Ahead of the 2021 season, most people considered Allmendinger a road course race. However, he showed his expertise on all track types.
He wasted no time finding victory lane, leading 44 laps en route to victory in the season's fourth race at Las Vegas. In the Summer, he began to hit his stride with seven top-six finishes in an eight-race span.
Allmendinger needed to win the regular-season finale to win the Xfinity Series NASCAR regular-season title. That led to this frantic finish with Austin Cindric.
LEGENDARY. RETWEET TO CONGRATULATE AJ ALLMENDINGER ON HIS WIN AT BRISTOL AND HIS REGULAR SEASON CHAMPIONSHIP!

Watch as he crashes after a battle at the line. Wow. pic.twitter.com/dAf28UUND0

— FOX: NASCAR (@NASCARONFOX) September 18, 2021
That capped off a stretch of five top-two finishes in the final seven regular-season races.
Allmendinger was solid in the playoffs, making the Championship 4. Unfortunately, he didn't have the speed to compete for the title at Phoenix. This season, Allmendinger wants to make sure that doesn't happen again.
He is off to a great start in 2022. He was able to win at Daytona, but Austin Hill took the lead just before the race-ending caution. Last week, he recovered from an issue to finish seventh.
Right now, Allmendinger has a one-point lead over Noah Gragson. He has led 12+ laps in each race, so the speed is there. His next task will be picking up his first victory of 2022.
It wouldn't surprise me if most people had Allmendinger as their NASCAR Xfinity Series prediction for the title.
Noah Gragson (+500)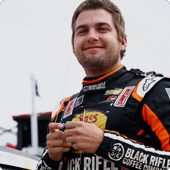 Noah Gragson is no stranger to the Xfinity Series. The 2022 season will mark his fourth full-time year in the Series. He has been one of the top contenders each season, but we're waiting for him to take the next step.
The 2022 Xfinity Series odds reflect him being a championship contender.
Last season was shaping up to be his worst in the Xfinity Series. He spent most of the regular season on the playoff cutline. However, his team gained confidence with this three-race stretch.
| | | |
| --- | --- | --- |
| Racetrack | Finishing Position | Laps Led |
| Daytona | 7th | 16 |
| Darlington | 1st | 40 |
| Richmond | 1st | 22 |
He improved in the playoffs, but his chances weren't looking good after a crash in the Round of 8 at Kansas. In a must-win situation. Gragson led 153 laps to score a monumental victory at Martinsville. Unfortunately, he didn't have the speed at Phoenix to compete for a title.
This is a big season for Gragson. He needs to show he can compete for a championship if he wants to move up to the Cup Series. I know we're only two races into the 2022 NASCAR Xfinity schedule, but Gragson already looks like one of the best drivers.
| | | |
| --- | --- | --- |
| Racetrack | Finishing Position | Laps Led |
| Daytona | 3rd | 12 |
| Auto Club | 2nd | 25 |
Daytona is its own animal, so it's not a great indication of a driver's NASCAR Xfinity Series championship odds. However, his strong performance at Auto Club has to give bettors a lot of confidence. It might be a good opportunity to visit the best NASCAR betting apps to bet on Gragson.
After last season's rough start, it must be refreshing to see him at the top of the standings early in 2022. Hopefully, this is the only beginning of a championship run for Gragson.
Justin Allgaier (+700)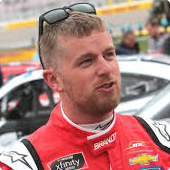 It seems like people have forgotten about Justin Allgaier. The veteran of Xfinity NASCAR racing has made the Championship 4 in four of the last six seasons, but people aren't talking about the 35-year-old.
Last season, Allgaier shook off a rough start by winning twice in the first nine races of the NASCAR Xfinity schedule. He failed to win again, but he was highly consistent.
Allgaier finished 12th or better in the final 20 races, including 18 top 10 finishes. The biggest issue with that stretch was his lack of race-winning speed. He led 92 and 90 laps in back-to-back races at Bristol and Las Vegas, respectively, but that was the only time in the final 20 races he led over 25 laps.
Ultimately, that consistency wasn't enough to earn him a spot in the Championship 4. Perhaps that has affected his NASCAR Xfinity Series betting odds.
This season, we've quietly seen him have a strong start. He finished fifth at Daytona and led eight laps en route to an eighth-place finish at Auto Club. Those finishes have him third in the standings.
I think Allgaier has a solid chance to make the Championship 4. Once there, it'll come down to your success at Phoenix. Luckily, Phoenix has been one of his best tracks.
23 starts
2 wins
8 top-five finishes
15 top 10 finishes
493 laps led
8.7 average finish
In the last ten Phoenix races, Allgaier had led 30+ laps seven times. It's surprising to see him only capture one victory in that stretch. If he makes the Championship 4, his NASCAR Xfinity Series title odds will rise to the top.
The consistency was great last season, but he'll need to win races if he wants to win the championship.
Betting Tips for 2022 NASCAR Xfinity Series Championship
We've gone over the top contenders in the Xfinity NASCAR championship. However, it wouldn't hurt to give you a helpful betting tip or two. Let's see if they affect your NASCAR Xfinity Series prediction.
Bet on the Big Three Teams
The Xfinity Series drivers have a decent parity in the championship battle. However, most of those drivers come from three teams.
Joe Gibbs Racing features Ty Gibbs and Brandon Jones. JR Motorsports is the deepest team, with Noah Gragson, Justin Allgaier, Josh Berry, and Sam Mayer. Lastly, Kaulig Racing features A.J. Allmendinger, Daniel Hemric, and Landon Cassill.
It's no surprise to see these three teams make up the top eight spots in the NASCAR Xfinity Series betting odds. It might not give you the best value, but this helps you narrow down the list of potential championship contenders.
Check out their champions in the last five seasons.
2017: William Byron (JR Motorsports)
2018: Tyler Reddick (JR Motorsports)
2021: Daniel Hemric (Joe Gibbs Racing)
The value play would be to bet on a different team, but the odds aren't on your side. It makes sense to stick with these teams.
Value Winning Over Consistency
Consistency will get you far in the NASCAR Xfinity Series, but winning races is the only way to establish yourself as a true championship contender. That's a big thing for all future NASCAR drivers, including women that could earn their shot in NASCAR.
NASCAR's playoff format is all about winning. A victory will clinch your spot in the next round of the playoffs.
Last season, Noah Gragson made the Championship 4 after winning the Round of 8 finale at Martinsville. Justin Allgaier was in the top four, but his lack of wins left him out of the Championship 4.
We've seen the Xfinity Series Champion win the Championship 4 race in five of the last six seasons. It's almost necessary if you want to win a championship.
A drivers' NASCAR Xfinity Series championship odds will only increase as you win races.
Prediction for the NASCAR Xfinity Series in 2022
Over the last few years, we've seen a few contenders emerge from the pack. This season, we could see more parity, as there isn't a stand-out championship threat. Because of that, I'm not going with championship favorite Ty Gibbs.
I'm going to take a value play and select Noah Gragson. Gragson found some momentum late last season and has carried it over to 2022. Last season, he showed us he could step up when it matters most. I think he'll do it again.
The Xfinity Series championship battle should be fun to watch. If you'd like more NASCAR betting opportunities, check out my favorite NASCAR Cup Series future bets.
September
Casino of the Month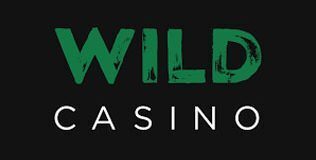 Welcome Bonus
250% up to $5,000