Odds and Prediction for the 2021 NFL Coach of the Year

The 2021 NFL season will be one of a kind. There has been a lot of chatter about some specific superstars changing teams this offseason, so for that reason alone, 2021 could be unique.
But it will also be the first 17-game regular season the league has ever seen.
That complicates things for everyone involved, but the toughest job may go to the head coaches, who need to factor in scheduling, practice, preparation, and fatigue more than ever.
It's also possible some of this plays into how you bet on the 2021 NFL Coach of the Year at the top NFL betting apps. It's perhaps going to be the most trying season the NFL has ever seen, so a chunk of the coaches may be viable candidates.
To get an idea as to which coach you may want to back, let's look at the odds for 2021 NFL Coach of the Year, and come away with a prediction.
Odds to Win the 2021 NFL Coach of the Year
Here you can see the top-10 coaches in terms of odds for winning this award. I won't bore you with all 32 NFL head coaches, but it's a list worth investigating further at BetOnline.
I'll also dig deeper into the 2021 NFL Coach of the Year odds in this post, as I touch on the top contenders, and offer my ultimate prediction.
Looking at the odds above, though, it looks like new Los Angeles Chargers head coach Brandon Staley is the slight frontrunner.
A price of +1000 does not suggest he's a runaway favorite, but he is inheriting a bright young quarterback in Justin Herbert, as well as an extremely talented roster in general.
The problem? He has to contend with Patrick Mahomes in the AFC West, and the Bolts have been notorious for getting in their own way for years.
Stefanski is also a peculiar contender up top. His odds look fun, but he literally just won this award last season.
The NFL voters usually don't hand out consecutive Coach of the Year awards to the same guy, so right away, bettors may want to think outside the box for this bet.
The good news? Literally every coach is priced at +1000 or better. That makes for nice profit, provided you can hammer in the right pick.
Top Contenders to Win Coach of the Year
Before you can bet on who wins the 2021 NFL Coach of the Year, you need to consider the top contenders. You also may want to look back at past winners of this award.
What's the criteria here? It honestly isn't always about masterful coaching, or even the best season. It can be one or the other, a combination of things, or something else entirely.
Last year it was about Stefanski lifting the lowly Browns. They survived an injury to superstar wide receiver Odell Beckham Jr., and even won a playoff game.
He became the third first-year head coach to win in the past four years, though, which is obviously a good reason for the flattering odds for Staley.
Keep that in mind, but however you bet, at least consider the top threats I'm about to break down.
Brandon Staley (+1000)
Staley understandably leads the pack for a few reasons. First, as I mentioned, voters have been kind to first-year head coaches in recent years.
That is partially because it's always impressive for someone to enjoy high-level success in their first try, but also because they produced relatively magical seasons.
Could Staley's debut season lead to a magical AFC West crown? I considered that in a recent look at 2021 NFL division winner sleepers.
Secondly, Staley is an elite defensive mind that quarterbacked the top-ranked Rams defense a year ago. He no longer has Aaron Donald and Jalen Ramsey at his disposal, but he does have Joey Bosa and a pretty talented Chargers defense to go to work with.
Third, and lastly, he's walking into a franchise that found it's star quarterback in Justin Herbert, while the offense around him is loaded with weapons.
Staley has it made in the shade going into year one. If he can avoid messing it up somehow – and navigate around the Chiefs – he just may be the rightful favorite to win the 2021 NFL Coach of the Year.
Sean McVay (+1400)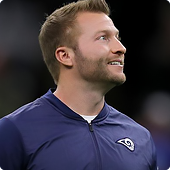 I also can't ignore McVay's chances. He does lose a stud defensive coordinator with the Staley skipping town, but he is otherwise prepared for a strong 2021.
McVay has done nothing but win since arriving in L.A. He has been to the Super Bowl, he's won two NFC West division titles, and he's never finished worse than 9-7.
He's done all of this prior to turning 35 years old, and he had to find a way to be successful despite working with Jared Goff.
The dark days may be behind him, however, as the Rams made a splash move this offseason when they traded for Matthew Stafford.
L.A. has the coaching, defense, and fundamental offense in place to contend. On paper, now they finally have the quarterback they need to execute everything as desired.
If that plays out as McVay and company hope, he could be in for high honors at year's end.
Bruce Arians (+1600)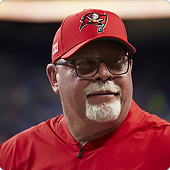 Arians is no stranger to the NFC Coach of the Year, as he won this award twice before. He didn't win last year, however, despite generating elite offensive results and guiding the Bucs to a title.
Perhaps Arians will be in play for an unprecedented third NFL Coach of the Year win, though. The price sure looks nice, and the clearest path to this wild win would be Tampa Bay coming out and being even more dominant than they were last year.
Tom Brady is still in town, while the Buccaneers retained all of the key parts to a roster that can hang 40+ points on anyone, and also shut teams down defensively.
Could we be looking at an undefeated season, or at least 14+ wins in a 17-game season? It's possible, especially with Tampa Bay leading the charge in Michael Wynn's 2021 NFL Defense Power Rankings.
2021 NFL Coach of the Year Sleepers
Literally every coach you can bet on offers value for this wager. A favorite at +1000 is hardly a favorite at all, so no matter which direction you go, you are turning $100 into thousands.
It's a fun wager to target for that reason, but it's also a subjective and unpredictable one.
For instance, in recent years, you absolutely could have argued for Bruce Arians, Matt LaFleur, Andy Reid, Sean McDermott – the list goes on – and yet they didn't win in the years you'd expect them to.
Why? Because this is a tight race. There are numerous teams that rise from the ashes, there are at least a handful of truly elite teams, and there are countless narratives that impress voters.
That calls attention to the coaches who offer even more betting upside, though. With that, here are my favorite sleeper picks to win the 2021 NFL Coach of the Year award.
Frank Reich (+2000)
Reich is an easy guy to like for this bet. Few recall but he was a key player in Philadelphia's lone Super Bowl win just a few years ago.
The former Eagles offensive coordinator took over a decent win-now Colts team, and despite having a revolving door at the quarterback position, he's had two 10+ win seasons, and two playoff appearances.
It's quite arguable that all Reich needs is a viable quarterback to get the job done Indy, and it appears he may have gotten it thanks to a trade for his former pupil Carson Wentz.
Wentz has regressed over the past two years, but he enjoyed his best season with Reich calling the shots on the sidelines. It's possible that reunion jumpstarts Wentz's career, and also vaults the Colts to the top of the AFC.
If so, Reich would be a great bet to win the 2021 NFL Coach of the Year.
Sean Payton (+2500)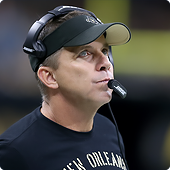 Payton is another guy with an amazing case to get the nod this year. His genius knows no bounds, as he's constantly kept the Saints competitive, as well as near the top offensively.
New Orleans still has a dynamic and explosive offense, as well as a competent defense. On paper, the only thing holding this franchise back was the continued regression of Drew Brees.
While tough to see a living legend go, the Saints may be better off with either Taysom Hill or Jameis Winston running the offense going forward.
It's up to Payton to pick which one is best for the team, and also to make sure they get the job done. If that transition somehow proves effortless, though, Payton will look like a coaching god, and he'd have to be in the running to win this award.
Matt LaFleur (+2500)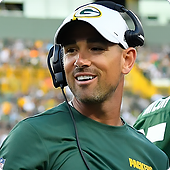 There is absolutely a slew of other 2021 NFL Coach of the Year sleepers to lend cursory glances to, but I'll stop the bargain bin hunting at LaFleur.
To be frank, this is a guy that has been so historically elite already, that he arguably should have some hardware at this point.
That isn't the case, but would a third straight 13-3 campaign do the trick? I'd imagine it would at least get him in the conversation, but what if he was forced to accomplish that without Aaron Rodgers?
Anyone following the NFL knows A-Rod is playing hardball with Green Bay, and he did nothing to diffuse the situation in a recent appearance on ESPN.
Nobody knows what would happen if Green Bay were forced to turn to Jordan Love (or someone else) earlier than expected.
All I know is if that happened and the Packers remained among the NFC's best, LaFleur would get most of the credit.
Predicting Who Will Win the 2021 NFL Coach of the Year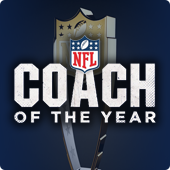 You came here to get a 2021 NFL Coach of the Year prediction. Hopefully, I have gone over the best bets well enough, and pointed you to some viable value options.
And hey, don't completely rule out the tried-and-true options like Bill Belichick, or newcomers like Urban Meyer. As noted, anything can happen when it comes to winning NFL Coach of the Year.
That said, I absolutely have a feel for how things could play out in 2021. It's still somewhat early in the process, but the coach with the best path to this award seems to be Sean Payton.
Drew Brees is gone, so the pressure is on for Payton to prove the system, coaching, and front office moves are what make this thing go in New Orleans.
He's obviously a terrible bet if everything crumbles without Brees, but in the past, the Saints have won without their veteran quarterback.
Ultimately, I think there is enough there to keep the Saints competitive, while it's arguable Brees was actually holding this team back.
Payton offers elite betting value for an award he claimed back in 2006. If he can keep the Saints near the top of the league – or even make them better – with a legend retiring, it will be awfully tough for voters to deny him a second trophy.
There are more ways to make money from betting on the NFL this year, and there is so much content worth checking out. Look at some fun posts linked below.